In the final days of my pregnancy, I have two modes: super efficient get-it-done now and extreme lazy. The former is responsible for me cleaning tile grout with a toothbrush earlier this week. It's not hard to justify even the smallest whim with the knowledge that it's easier to do anything now than it will be later.
The second mode is not really lazy, per se, but a quiet drawing in to myself, where I just want to be at home, with my family, preferably in a horizontal position. A friend texted me last night and asked if I wanted to go to yoga followed by brunch this weekend, and my first thought was "No. No I do not." But then I acknowledged that yes, yes, I do want to see this friend, and if there is any thought about doing it later, see #1 above.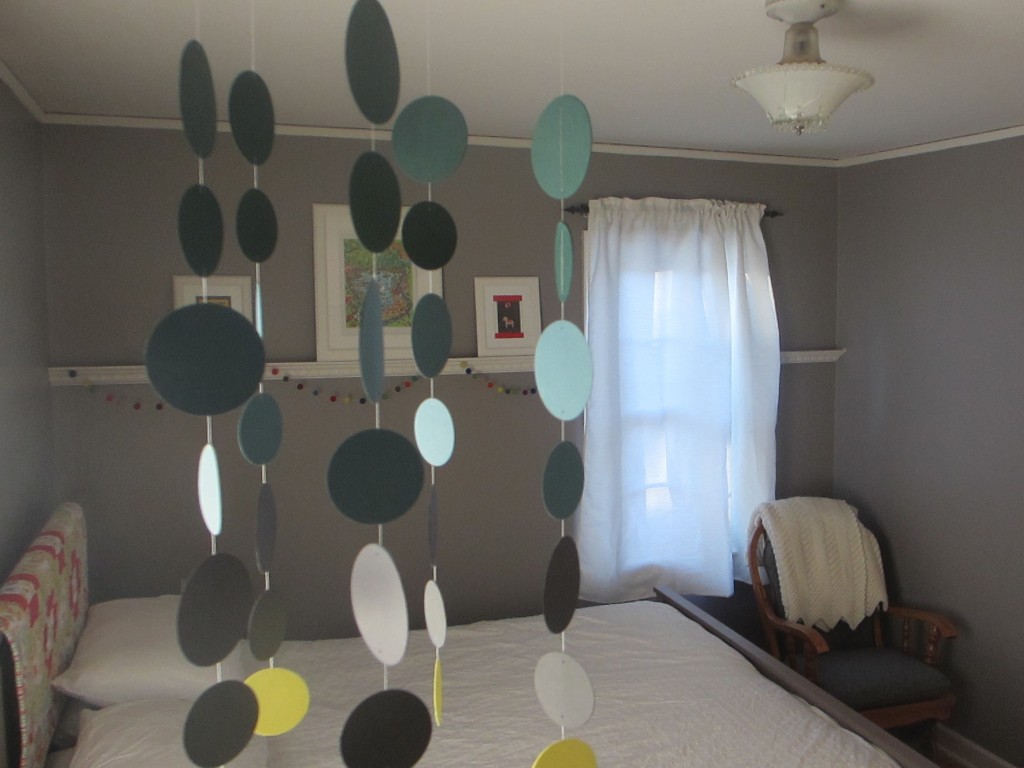 The nursery/guest room is done, although it is kind of plain. I find the uncluttered expanse and neutral gray and white palette soothing, but there are other reasons for the minimal nursery decor, for example, that Beatrice claims any toy or stuffed animal as her own, and I want to make sure the baby has a few things of its own.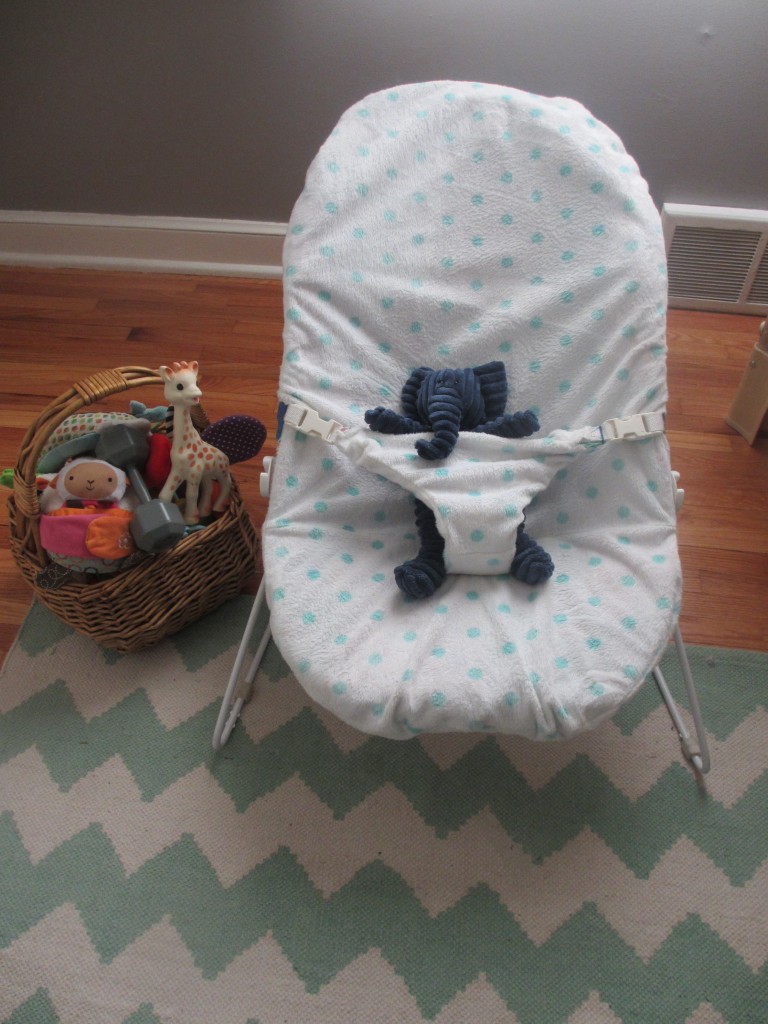 For example, Bee has figured out how to maneuver herself into the bouncy chair, buckled and all. She gets this great dreamy, spaced-out look as she rocks there, perhaps recalling all of the times she was bounced to sleep as a baby.
But I also feel more inspired to decorate the room as the baby's personality unfolds. As I learn more about Bee and what kind of kid she is, I get more interested in creating surroundings for her that reflect that.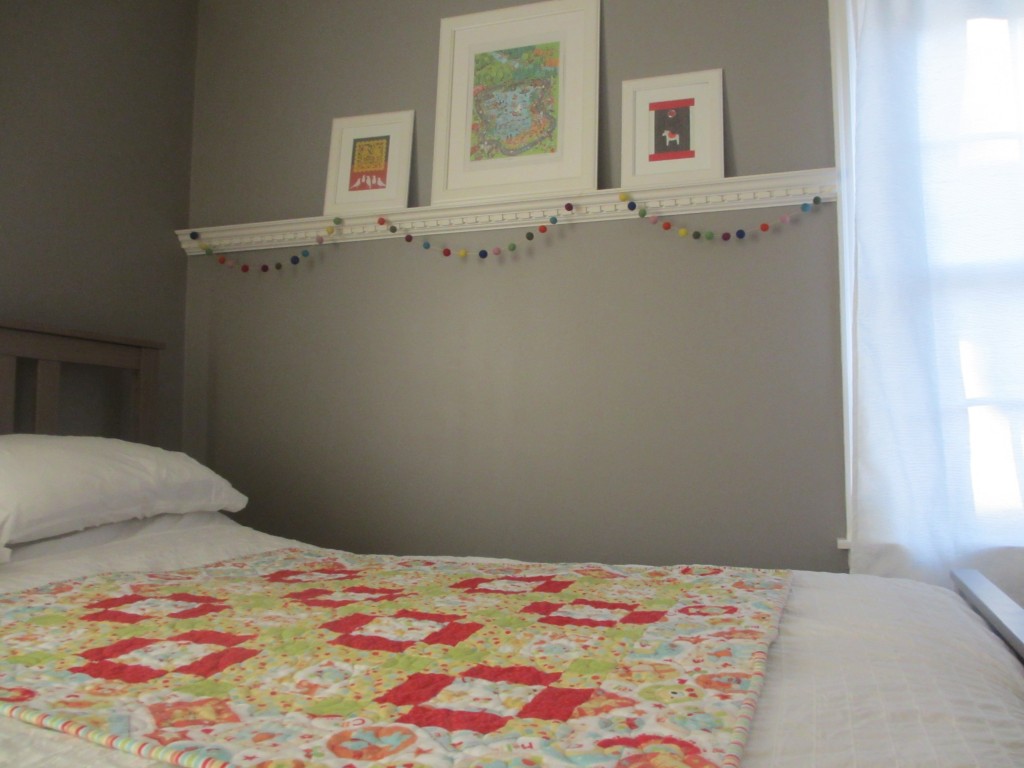 I didn't set out with a firm color palette (here were my nursery planning ideas and inspiration) but I pretty much ended up with one. The pale aqua/turquoise color from the rug and bouncy chair is picked up in the quilt my aunt made for the baby, whose bright colors pull in some of the prints and felt balls I've put up. It's also the color palette of one of the crib sheets and changing pad covers I bought for Bee, so when the crib comes in here it'll be right at home.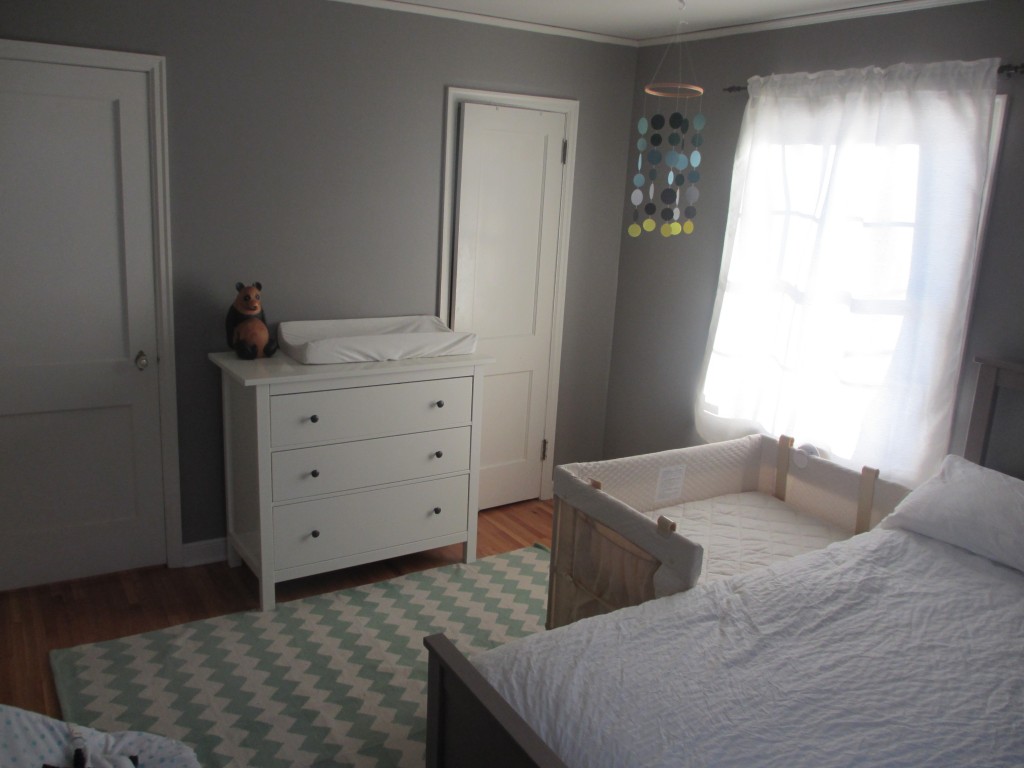 I mentioned before that I was going to try Jen's co-sleeper for the first couple of months with this baby. For Bee I insisted on her crib, in her own room. For this baby, knowing that I'll likely have a c-section and being more intimately familiar with the realities of sleep deprivation, I'm going to try this route.
Nursery pics don't look quite right to me without a crib, however, and I'll confess to trying to manhandle the co-sleeper out of the room and Bee's crib into this room by myself (38 weeks pregnant). I gave up when neither fit through their respective doorways. Bee's crib is still mashed into her door frame as I type; I didn't have the energy to move it back and hide what I'd done, so Adam will have to fix it when he comes home.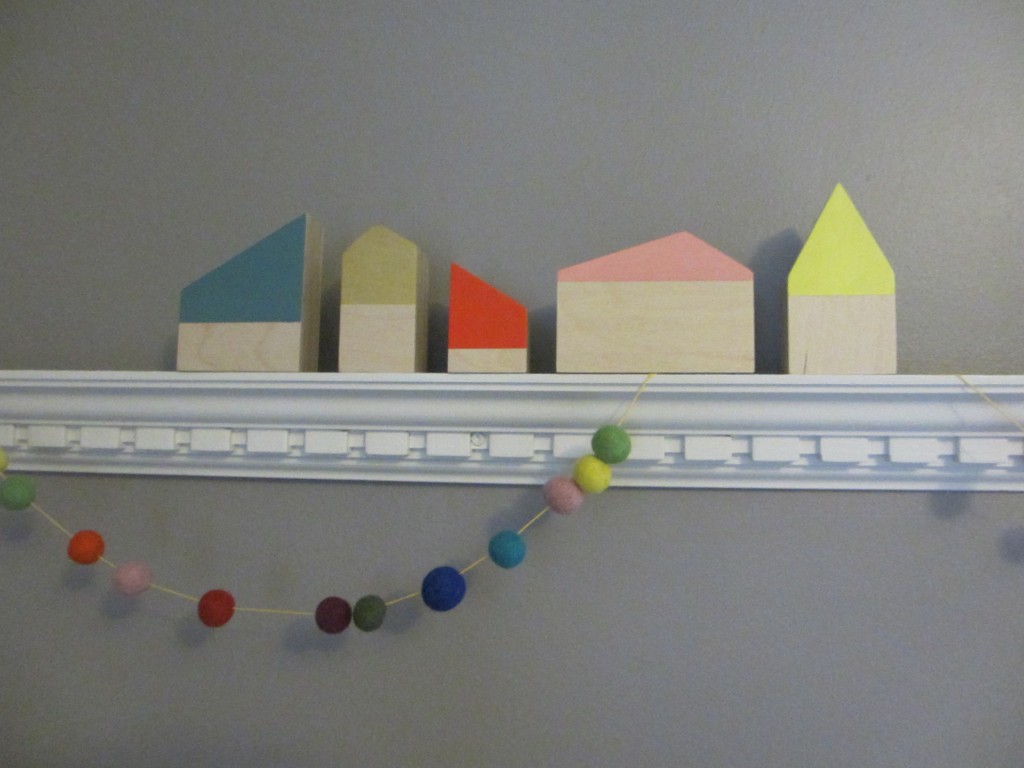 My friend Allie made me these blocks and I couldn't love them more. (They are two-sided with a different color on the other side). And clearly Bee has great taste because she loves playing with them, too. But in between play sessions I'm going to keep them up here where I can admire them all lined up and not, for example, lining around in the doll bed or grocery cart.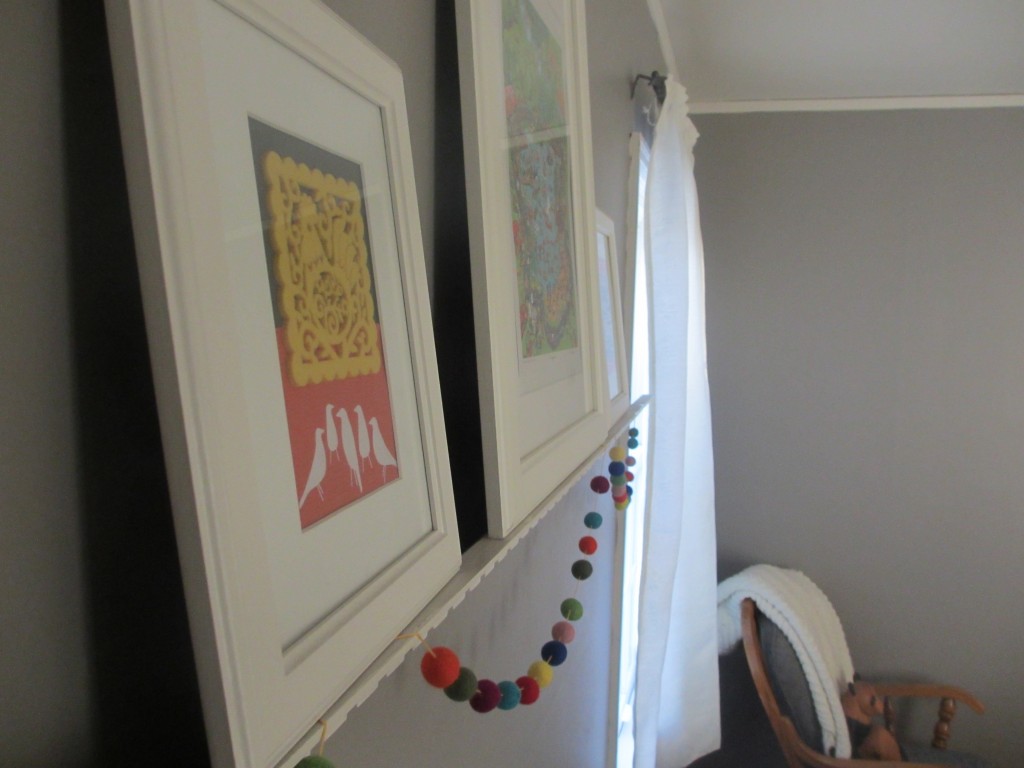 This is a beautiful time of year to wait for a baby. The winter nights are magical, lit by the moon and lights reflecting off the white snow and making everything warm and cozy. The days are sunny with the brightest blue skies, crisp and invigorating yet warm enough to enjoy a walk.
I can't wait to share the news with you about the baby's birth! I should mention something about the baby's name. When Jen and I started Borealis I had mixed feelings about sharing my daughter's name on the internet, and opted to call her by a familiar nickname we use instead. So Beatrice's name is not really Beatrice, although we do call her Bee, and in keeping suit, I will not share the baby's real first name as well but instead use a familiar nickname.
If you're looking for more info about the items used in the nursery, here is a source list:
Paint: Benjamin Moore stone harbor
Bedframe, bedding, curtains, picture frames, dresser: IKEA
Glider and co-sleeper: donated. Crib sheet: Eddie Bauer.
Mobile
Elephant: Jellycat
Felt balls: Etsy
Prints: Local artists
Rug: Urban Outfitters
Bouncy chair: recovered in Cuddlefleece using a pattern I made up
Quilt, blankets: Handmade gifts
Light fixture: Vintage
Wooden panda: Northfield, MN furniture store, c. 1998