I heart yoga.
I started about 18 months ago, shortly after leaving my full-time job. It had been on my I-really-should-but-don't-have-time list for years, and I finally screwed up my courage and took a beginner's class at a studio down the street from me. I had the best teacher who seemed to read my mind (she could always tell if I stopped focusing on my breathing and let my frantic thoughts take over) and who taught us very slowly and carefully. In that stressful transition period between ending my career and starting my new life as an at-home mom, yoga was the perfect partner. Where had it been all my life?
After a few beginners sessions and then continuing classes, I started heading out on my own to different drop-in classes, like the one on Wednesdays at a community center close to our house. The instructor is very good and has a devout following at the various classes she teaches around the city.
So I asked her one day (again, screwing up my courage) if she would consider having a Go Red for Women day at her classes. Her response was an enthusiastic "I love this idea!" I told her about my heart attack (I had just stopped coming to class and then appeared again weeks later with no explanation, and she didn't ask) and suggested we could wear red and I'd get some materials from the American Heart Association. She included my story and an article I wrote about women and heart disease in her email newsletter for three weeks, reaching 275 women.
Our Go Red yoga class was so empowering. I got a little choked up seeing all the people in red, and I shared a bit of my story. What struck me, though, watching everyone's reactions, was how little people know about women's risk of heart disease and heart attacks. They really don't know that it is the number one killer of women.
I said what I really wanted them to take away was knowledge of the risk factors for heart disease, and the knowledge that 80 percent of cardiac events were preventable through healthy choices. But I also wanted them to know that if they did everything right and still had a heart attack, then they needed to know the symptoms and to toss aside women's typical "don't be a bother" behavior and get themselves to the hospital, pronto.
The only man at class that day raised his hand. He is a paramedic, he said, and he wanted to tell us more about the signs and symptoms. Don't smoke, he reminded (I'd forgotten that one), and told us that for women, unexplained shortness of breath can mean a heart attack. I confessed I drove myself instead of calling 911 and he covered his face with his hands with frustration. I'm so glad he was there; I think his message really made an impact.
Yoga always makes me feel calm and strong and powerful, and it was even more so on that day. There's power in knowledge, power in community, and power in women. I felt it today and it felt amazing.
Namaste.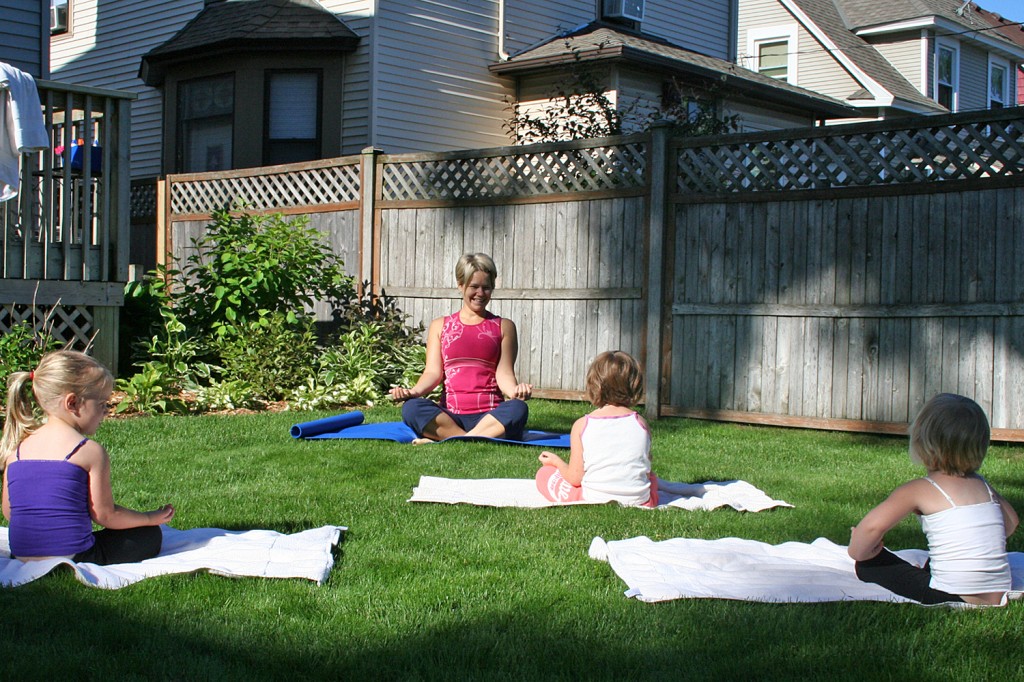 Yoga in my backyard with my nieces.