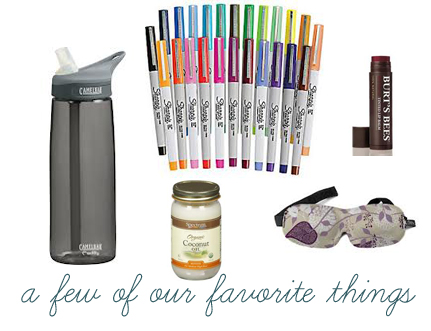 It all started when my favorite water bottle broke. I use my water bottle all the time, and I wanted to replace it with one I LOVED, because it's so satisfying to use something that is well designed.
Then I got thinking about favorite things… you know, the products you have that you are really passionate about and can't stop talking about and end up buying as gifts because you want everyone else to be as fulfilled by this as you are. The things that you would give away if you were Oprah. Things that make you happy whenever you see them.
So I decided to poll my friends and compile a list of their favorite things to share with you. Because we all need beautiful and functional tools to use every day. I got a ton of submissions, including a lot of perennial Borealis favs like SmartWool socks and Campers shoes. I've pulled out the ten best new (and old) favorite things, to put in your must-have list!
BOREALIS'S TOP 10 FAVORITE THINGS (of the moment…)
1. KIND bars. If you need a quick nutrition bar, these are the best mix of tasty and good, honest ingredients.
2. Burt's Bees tinted lip balm in Red Dahlia (Our friend likes it because it just looks like she's applying chapstick and she doesn't look all done-up, but her lips have a bit of color.)
3. Dr. Bronner's liquid soap, in almond or peppermint. It's the best body soap and leg-shaving product ever and smells super super yummy. Plus you can make it into foaming hand soap.
4. Dare Maple Leaf Creams ("The Canadian Oreo")
5. CSAs (community supported agriculture). While we love the good old box of vegetables delivered weekly as much as the next person, what truly raises it to "Favorite thing" status is getting a speciality, limited-item CSAs, like say, one for winter spinach, or one for maple syrup. Swoon.
6. Ultra Fine Point Sharpies. In black and in the amazing beautiful drool-inducing 24 color pack.
6. Bucky sleep eye mask. Because good sleep is that important and there is something relaxing about physically putting a barrier between yourself an everything else.
7. Unrefined coconut oil — as a hair mask, to eat, for a moisturizer. You can do anything with that stuff.
8. Oscar Blandi dry shampoo. Jen's short hair must be dried with a round brush and then flat-ironed, so getting a second day out of a styling is awesome. This is the best she's found, and she tried a lot. Pro tip: Apply dry shampoo at night, not in the morning.
9. PicMonkey. Seriously, how did we ever live without this quick, easy, no-commitment photo editor? It does real photo improvement like color correction, sharpening, and light adjustment, plus a bunch of fun stuff too, like filters, stickers, frames, collages, cool fonts, and a huge section of prettifiers, like teeth whiten, eye brighten, and airbrush.
10. The Joy of Cooking, 1997 edition. This is Jen's go-to cookbook and her favorite bridal shower gift (with a Microplane, of course). Jen has a reputation for being a good cook; this book is her secret weapon.
MORE favorite things, submitted from our friends…
Oil of Olay face lotion with sunscreen, and Oil of Olay bath bars
Bonne Bell Lip Smackers

L'Oreal Lash Out Mascara

Maybelline great lash mascara in black brown

Mirabella makeup
Rhonda Allison skincare. (Our friend says: "This stuff saved me from the adult-onset acne. Gah.")

Post Selects Great Grains Raisins, Dates & Pecans cereal, mixed with plain yogurt, blueberries, and more pecans.

Frozen cookie dough

Microplane graters. We've covered this before in our gear guides, but these are truly a thing of grating beauty and a perennial favorite. So satisfying to use.
Warner's no wedgie hipster underwear.

(Our friend claims "

Those are the best undies. Hands down. Especially for people with flatish butts. Really no wedgies! And also kind of silky so you don't feel like a grandma. I've been on the hunt for comfortable unds for years and those are it! You can find them at Macy's.")
I'm still looking for a great water bottle (I'm using a large canning jar at work, but I need something spill and toddler-breakage-proof at home.) Thoughts?
And how about you, dear readers? Share your favorites with us!