Welcome to Clickery, a weekly feature where we share things we like because maybe you'll like them too.
Breanne's Links
Peanut butter and almond butter are both fantastic, so how amazing would toasted coconut butter be? This two-ingredient recipe couldn't be easier.
Polarn O. Pyret is coming out with four fun patterns for spring (the gummi-bear like animals playing sports is my favorite) and holding a contest to name them! Winners get items in the new collection, and kids entries are encouraged, too.
Jen's Links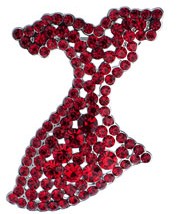 February is American Heart Month, a cause near and dear to my heart. February 1 is Wear Red Day, in honor of and to raise awareness forwomen and heart disease. If you would like to go red with me, find out how on my heart blog.
I heart everything at Out of Print. I have the Mike Mulligan and Pride and Prejudice tees already, but I plan to add to my collection as soon as possible! What should be next, Little Women, Charlotte's Web, or A Wrinkle in Time? Maybe someday I'll get some for my kids, though I don't think they will love them as much as I do.
What's not to love about tights in cool colors? I buy them — lots of them — on impulse and then get home and wonder how to wear them. So I'm very glad to have found this great post (with photos) about how to wear colorful tights on Already Pretty.