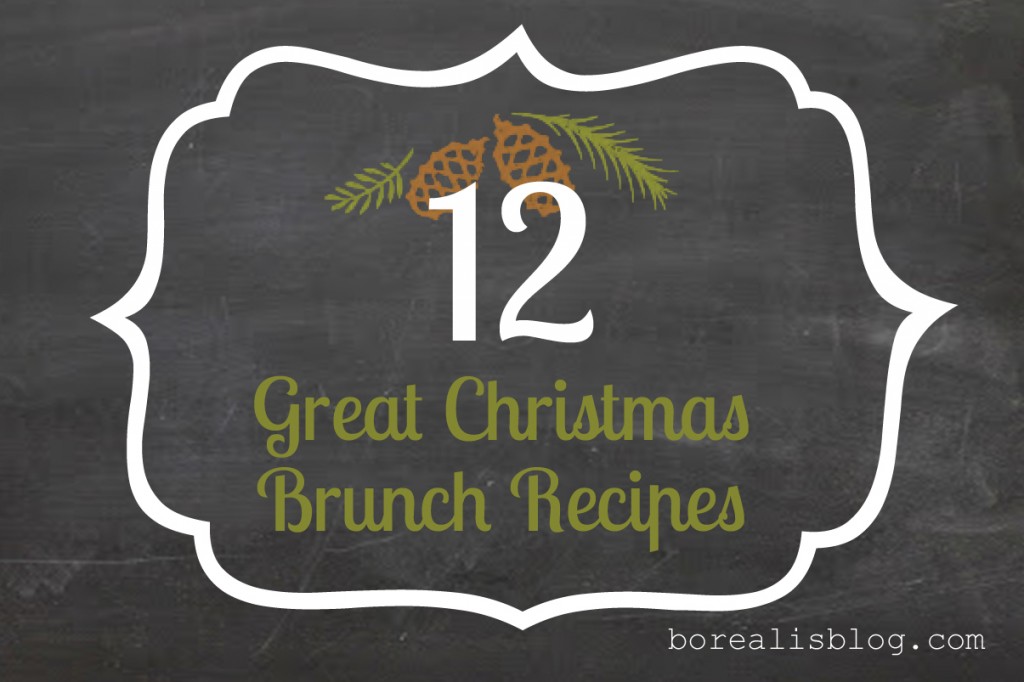 Last year we shared eight great holiday appetizer recipes for you to take to parties or share with your guests. This year, by request, it's Christmas brunch!
For several years I hosted a holiday brunch for my dad's side of the family — aunts, uncles, cousins, grandparents — and when nearly everyone can make it that's more than 40 people. Consequently I've field-tested many easy-on-the-host yet crowd-pleasing brunch dishes. These work for a crowd or for your own family's Christmas morning. Enjoy!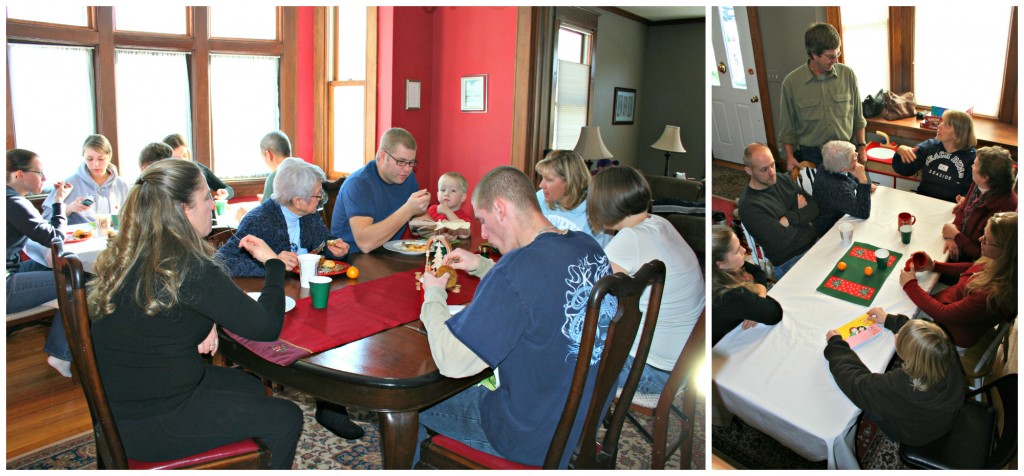 A bunch of brunching Thorsons.
The main course
Egg and Cheese "Muffins"
Mini make-ahead omelets. Makes 24.
1 lb. bacon
10 eggs, beaten
16 oz. container cottage cheese
16 oz. shredded Monterey Jack cheese
7 oz. can of diced green chilis
1/2 cup flour
1/4 cup butter (optional)
1 tsp. baking powder
1/2 tsp. salt
Cook bacon until crisp, then crumble. Combine eggs, cheeses, chili peppers, and bacon. Whisk, cover, and refrigerate overnight. In the morning, preheat oven to 350. Stir flour, butter (if using), baking powder, and salt into the eggs. Spoon into 24 muffin cups (spray with Pam first). Bake for 25-30 minutes, or until slightly golden on top.
Oven Scrambled Eggs
Sounds too easy to be true, turns out delicious. Serves 12.
1/2 cup butter, melted
24 eggs
2 1/4 tsp salt
2 1/2 cups milk
Preheat oven to 350. Pour melted butter into a glass 9X13 baking dish. Whisk eggs and salt, then whisk in milk. Pour into dish. Bake uncovered for 10 minutes, then stir, then bake additional 10-15 minutes until set.
Brunch Eggs (by my Grandma Eunie)
This is everyone's favorite, always requested by my kids and guests. Makes one 9X13 pan, but you may need more than one pan!
2 cups small seasoned croutons (I like Pepperidge Farm for this recipe)
1 cup shredded cheddar cheese
4 eggs
1 cup milk
1 cup cream
1/2 tsp. salt
1/2 tsp. ground mustard
1/8 tsp. onion powder
Dash of pepper
4 slices of bacon, cooked and crumbled
Spray 9X13 casserole and heat oven to 325. Combine croutons and cheese and spread in bottom of pan. Beat remaining ingredients together, except bacon. Pour over crouton mixture. Sprinkle bacon over the top. Bake for 55-60 minutes. (This can be assembled the night before and refrigerated; it will take longer to bake from cold.)
Brunch Enchiladas
These were a huge hit the year I served them at the Thorson brunch. I copied this recipe several times that day. Serves 10.
2 cups browned chorizo
1/2 cup chopped green onions
10 (8-inch) flower tortillas
2 cups shredded cheddar, Monterey Jack, or Mexican blend cheese, divided
1 tbsp. flour
2 cups half-and-half
6 eggs, beaten
1/4 tsp. salt
1/4 tsp. mustard
1/4 tsp. onion powder
1/8 tsp. pepper
Combine chorizo and onions. Place 1/3 cup down the center of each tortilla. Top with 2 tbsp. of cheese. Roll up and place seam side down in a greased 9X13 baking dish. In a bowl, combine remaining ingredients and whisk until smooth. Pour over enchiladas. Cover and refrigerate overnight. Remove from fridge 30 minutes before baking. Cover and bake at 350 for 25 minutes. Uncover and bake for 10 minutes. Sprinkle with remaining cheese and bake until cheese is melted. Let stand for 10 minutes before serving.
Brunch Casserole
Another overnight preparation to make your morning easy. Serves 5.
1 lb. bacon
1 tbsp. butter
2 onions, chopped
2 cups fresh sliced mushrooms
4 cups frozen hash brown potatoes, thawed
1 tsp. salt
1/4 tsp. garlic salt
1/2 tsp. black pepper
4 eggs
1 1/2 cups milk
1 pinch dried parsley
1 cup shredded cheddar cheese
Cook bacon and crumble. Place hash browns in bottom of greased 9X13 casserole. Sprinkle with salt, garlic salt, and pepper. Sprinkle with bacon, then layer onions and mushrooms. In a large bowl, beat the eggs with the milk and parsley. Pour over casserole, top with cheese, and cover and refrigerate overnight. Bake in a 400  degree oven for an hour or until set.
Artichoke Egg Bake
If you would like something a little bit fancier, but don't be surprised if the fresh herbs turn your eggs green. Tell your kids it is green eggs and ham. Serves 4-6.
6 eggs
2 tbsp. half & half
1/4 c. grated Parmesan cheese
3/4 tsp salt
1/2 tsp. fresh ground black pepper
1 tbsp butter
1 tbsp olive oil
1/4 yellow onion, chopped fine
1 garlic clove, minced
2 c. artichoke hearts, drained and roughly chopped
1/4 cup chopped fresh Italian parsley
1 tbsp chopped fresh thyme
Preheat oven to 325. Butter a 9X13 glass casserole. Melt butter with oil in skillet over medium-high. When butter foams, add onion and saute for 3-4 minutes, until translucent. Add garlic and saute 1 more minute. Mix in artichokes and herbs (reserve a bit to sprinkle on top), then scrape all into the bottom of glass pan.
In bowl, beat eggs, half/half, cheese, salt, and pepper. Pour over artichoke mixture and bake for 25-30 minutes, or until set. Sprinkle on some herbs, let cool slightly, then slice into squares. It can be served hot or at room temperature (another benefit). I like mine hot though.
Cinnamon French Toast
My friend Heidi's delicious recipe.
1 loaf stale bread (Heidi uses challah)
8 whole eggs
2 cups milk
1/2 cup heavy whipping cream
3/4 cups sugar
2 tablespoons vanilla
1/2 cup flour
1/2 cup firmly packed brown sugar
1 teaspoon cinnamon
1/4 teaspoon salt
1 stick cold butter, cubed
Grease a 9 x 13 inch pan. Tear the bread into chunks and place them in the greased pan. Mix together eggs, milk, cream, sugar, and vanilla. Pour the mixture evenly over the bread. Cover and refrigerate overnight.
In another bowl, mix together the flour, brown sugar, cinnamon, and salt. Add the butter and mix until the batter comes somewhat together, like little pebbles. Store in a plastic bag in the fridge.
In the morning, preheat the oven to 350 degrees. Take your pan with the soaking bread inside and sprinkle crumb mixture on top.If you like soggier french toast, bake for 45 minutes. For a firmer and less liquid-y french toast, bake for an hour. Serve warm with maple syrup and butter, if desired.
On the side
I can't eat eggs without a starch, and what better brunch starch is there than potatoes?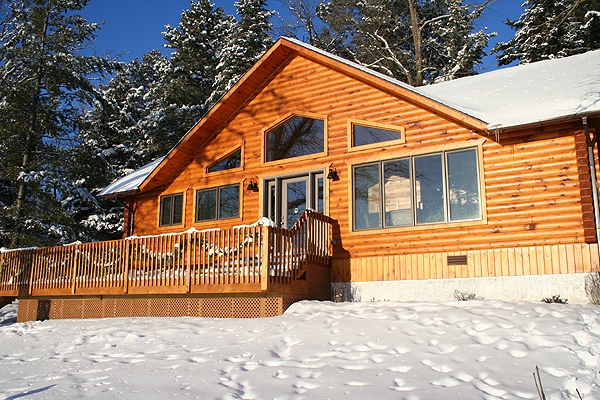 Rosemary-Polenta Potatoes
I made these last Christmas when we gathered with my mom's family at my aunt's resort. Deep snow, pines, frozen lake, log cabin, and this aroma = Christmas perfection. It's not my recipe so I'll just send you to the original, plus then you'll see the gorgeous photos! (My food pics never look like that.)
Sherry's Church Potatoes
The ultimate in cheesy hashbrown goodness. I am famous for them among the Thorsons, but the recipe really is from my stepmom, Sherry Thorson. She said her mom always called this recipe "church potatoes," which is a perfect name. Makes one really, really full pan, but you'll probably need two if you have a crowd. I have mixed these up ahead of time and frozen in disposable foil roasting pans. Remember to thaw them overnight though, or they'll never finish baking.
2 lb. package frozen hash browns
1 can cream of potato soup
1 can cheddar cheese soup
1 tub sour cream (medium size)
10 oz. shredded cheddar cheese
½ medium onion, minced, or however much you like.
Combine all and mix well. Pour in greased 9 X 13 pan and bake at 325 for 1 hour or longer. (It always seems to take longer.)
And something sweet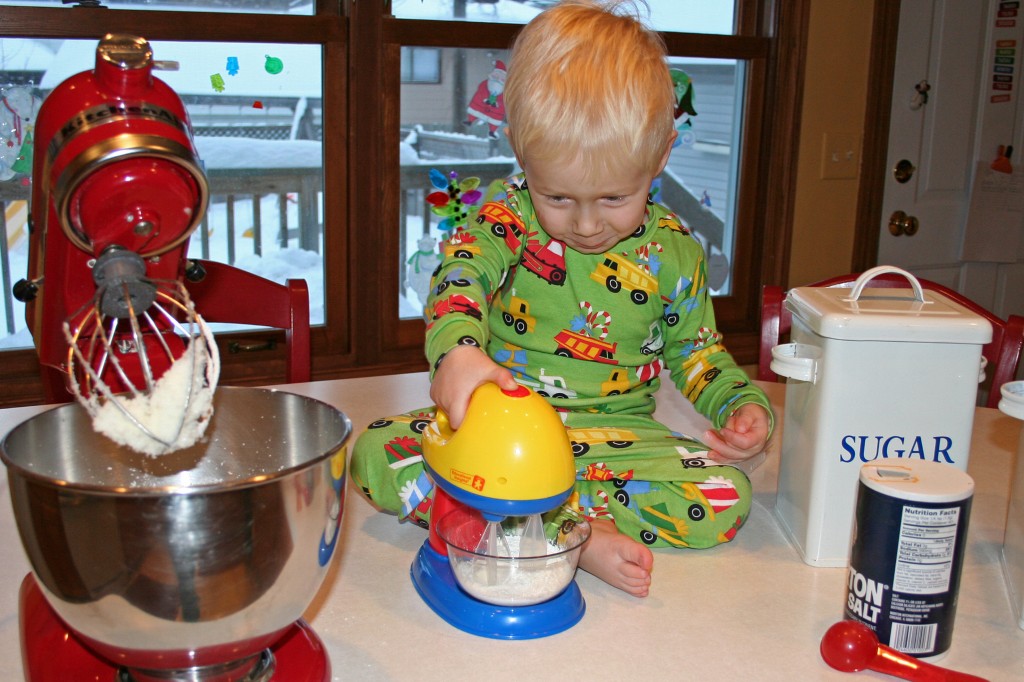 After all that savory goodness, you'll need something a tiny bit sweet (if the above photo isn't enough sweetness for you).
Muffins can be made easy too: make the batter ahead of time, freeze it in paper-lined muffin tins, remove from the tins, and store in a freezer bag. Put the frozen batter back in the tins on Christmas morning and bake as usual, adding about 5 minutes to the baking time. You can do that with any muffin recipe; these two are family favorites.
Banana Muffins
A modification of banana bread. Makes 12 muffins.
1 1/2 cups flour
3/4 tsp. salt
1/2 tsp. baking soda
1/4 tsp. baking powder
5 1/3 tbsp. unsalted butter
2/3 cup sugar
2 eggs
2 very ripe bananas, mashed
1 tsp. vanilla extract
Whisk dry ingredients together. In a mixer, beat butter and sugar on high speed until lightened in color and texture, about 2-3 minutes. Beat in the flour mixture until blended and is the consistency of brown sugar. Lightly beat the eggs with the vanilla and gradually beat into the batter. Fold in the bananas with a spatula. Scoop batter into lined muffin tin. Bake for 20-25 minutes at 350.
Pumpkin Muffins
Our favorite recipe comes from Smitten Kitchen.
Pumpkin Cinnamon Pull-Aparts
If you want to be really impressive, make this delicious pumpkin sweet roll bread. It's not easy or fast, but it is insanely good.
The easiest way to add something sweet to brunch? Buy it or ask your guests to bring muffins to share. Or look at this picture.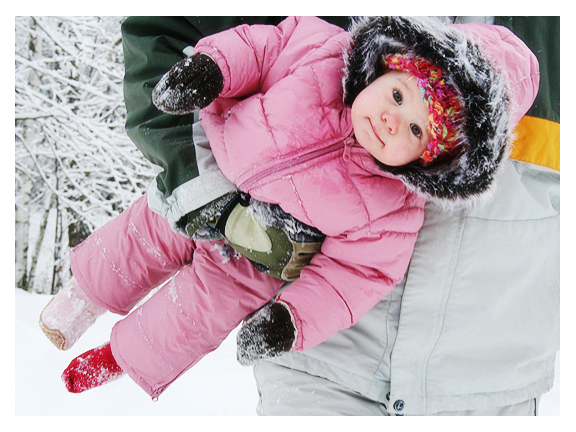 Just another gratuitous adorable child photo, because apparently I have never taken a single photo of food at any of my brunches. This is my niece Natalie, under my brother's arm and missing a boot. Love.