So yesterday was not a very good day for me. Heart disease has forced its way back into my life. It is taking things I wanted. It is reminding me I'm not in control. Most days I can manage that. Some days I can't.
Yesterday was one of those can't-manage days.
My friend Kristen came over to distract me, listen, let me vent, keep me together. We sat in the sun on my blue chairs in the backyard on the last day of summer. (Today it appears winter is here.) We talked about some important things and some silly things and then she asked me to answer this:
"What makes you feel happy when you are all by yourself?"
She was adamant that no other people can be involved – no kids, no friends, no husband. I was more curious how she'd answer it than answering myself, but once I got started it was easy. She just said happy. Not happiest, not most fulfilled, not most meaningful. Just happy.
So here they are, in no particular order:
Drinking my coffee in the armchair in the bay window in my dining room.
My favorite wood earrings.
Wrapping a package or present, and making it extra cute.
Writing
Geeking out on technology; teaching myself to edit php or css files. Reading online tutorials until I get it.
My house when it is tidy and pretty.
Running
The light in the living room in the afternoon.
Getting some idea to make something or organize something or fix something and then finding all the materials right here in the house (see also: hoarding).
Flowers. And mercury glass.
Making up something for dinner with what's on hand and it is so good I write it down in hopes of replicating someday (that never works though).
Things that are resourceful or clever, like figuring out how to freeze pumpkin bread dough at the right point of rising and kneading so it can be baked for a breakfast without getting up at 5 a.m. Or sewing scraps of fabric on to cards.
A good book
Iced tea with mint and lemon
Downloading, sorting, and editing photos; looking at old Facebook albums
Twitter
Feeling like I have a cute outfit on, even though I'm only going to school for pickup.
This helps enormously. I might make another list tomorrow. Go on, try it.
What makes you feel happy when you are all by yourself? Please share in the comments! I really want to know.
UPDATE!
I feel happier every minute when I read your happy lists! Here are the happy lists we received from Facebook and Twitter. And, check out the comments section below for many more great lists of happy things!
Eggrolls
Saturday
Family
A great book
My dog curled up by me
Some type of yummy snack and a beverage
A good book makes me happy
Is drinking an acceptable answer?
I just came from the garden. I know I have other pressing work that needs to be done inside, but the urge to be outside enjoying the weather in the yard just took over. It is part procrastination, yet it is work that brings joy and rewards that come much easier to me than anything else I do.
Dance parties
Receiving mail (that's not a bill!)
Pretty shoes
Baking
Making mixed CDs
Singing at the top of my lungs
Playing piano
Treading water
Sitting on a dock and watching the sunset
Taking myself to the movies
Burrowing under a mountain of blankets
Having a glass of wine on the balcony on a warm summer's night
Walking in nature
Coffee
A nap
Reading the news
Sitting on my porch
A REALLY good TV series that makes me not want to go to bed so I can keep watching it.
Cup of tea
Great fiction book
A clean house
Shopping
Great bargain
Fresh flowers
Red wine
Cooking a great meal
Satisfying work
Great photograph
Fall
Spring
Inspiring music
This picture: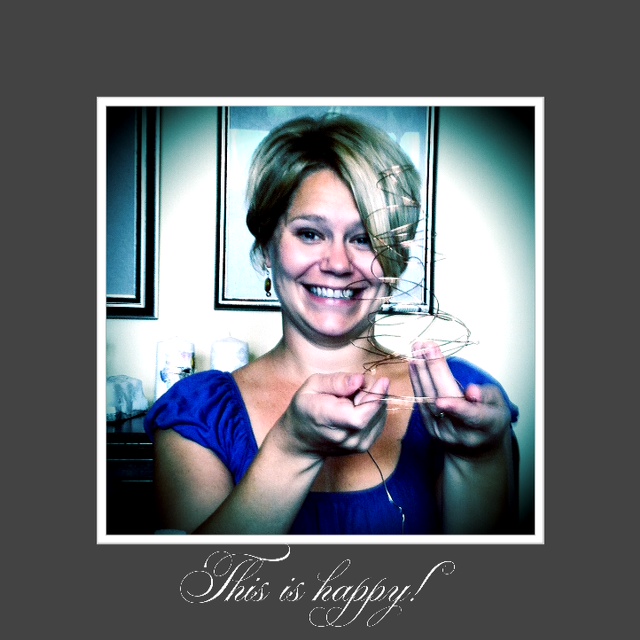 Me holding craft fail #1. (Supposedly if you wrap wire around a cone you get a Christmas tree shape. Sure.) Craft fail #2, the world's ugliest Mod Podged candles, are over my shoulder. Craft fails can also make one happy, if for no other reason than it made Kristen happy to make this little illustration, which now exists for your entertainment.