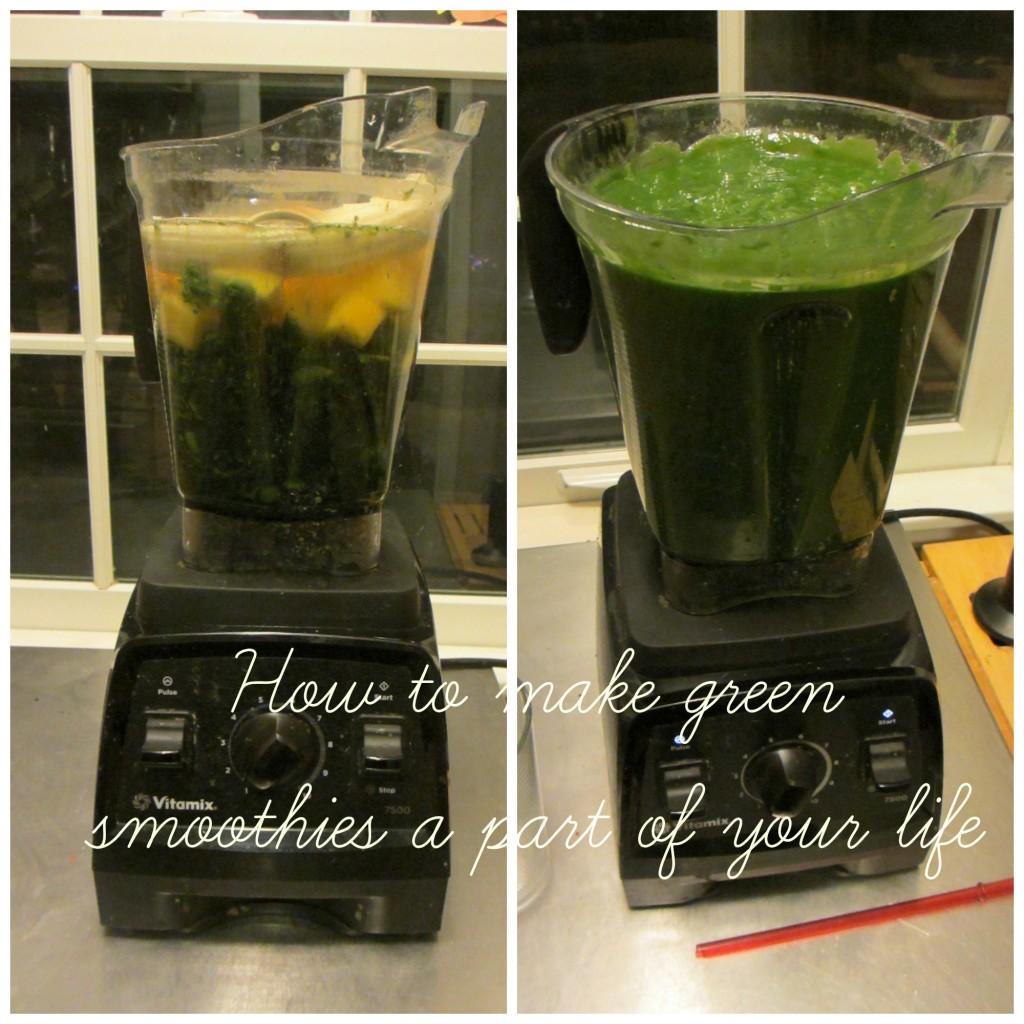 We have a confession: we've become green smoothie addicts.
We know, we know, green smoothies are super trendy. But friends, they are worth the hype. They make you feel so amazing. We're more than seven months into our addiction, if we forgot to make them on the weekend we wonder why we feel so sluggish midmorning. Who knew you could love kale slushies so much? If you're looking for a way to add more whole foods into your diet, then consider trying green smoothies. Like any new habit, they take about two weeks before they become routine, so be patient as you start out.
Here's why green smoothies are awesome:
Starting off the day with a boatload of veggies and fruits makes you feel superhuman.
They are easy to consume — no chewing or sitting down required.
They are super rehydrating, which makes you feel fantastic and energized.
Here are a few tips on how to make green smoothies:
Green smoothies taste better really cold, so use at least some frozen vegetables or fruits or add ice.
Using a straw (like in those clear plastic cups) helps with getting used to the texture.
Your goal with your first smoothie is to find a recipe that tastes sweet enough to be comfortable. After two weeks your taste buds will adjust and you can probably start cutting back on the number of ripe fruit.
We recommend a good blender otherwise the texture might be off-putting. Both of us dived in and bought the unfortunately expensive Vitamix, which grinds up the veggies and fruit up smooth and not stringy. Jen has also heard good things about the less-expensive Ninja blender.
Here are our favorite green smoothie recipes to get started with:
Breanne's green smoothie recipe: (all ingredients can be found at Trader Joe's)
1 bag (16 oz.) frozen kale
1/2 bag (12 oz from a 24 oz bag) frozen mango
1 ripe banana
1 ripe seasonal fruit, such as a pear, peach, apple, or big handful blueberries, etc.
Water — fill the blender pitcher to almost full.
Makes two Nalgenes full (Breanne and Adam each have one for breakfast, and Adam makes a second batch so they have a snack smoothie for mid-afternoon).
What Breanne likes about this recipe is that it's really easy — no measuring cups required. Since it's Adam's nightly chore to make up two batches a quick recipe is critical. Especially since they haven't found room in their small kitchen for the Vitamix base so Adam trudges downstairs to whip them up. The bottle drying rack's days are numbered, however, so the days of Adam getting a bonus stair workout are numbered.
Jen's favorite green smoothie recipe:
3 or more cups fresh spinach and/or kale – smash as much as you can in there (use what you have around; spinach flavor is more neutral)
About 1/2 cup frozen mango chunks (from Trader Joe's)
About 1/2 cup frozen pineapple (also Trader Joe's)
About 1/4 cup fat-free, plain Greek yogurt
Two tablespoons ground flax, rolled oats, or chia seeds (pick your fave heart- and gut-supportive seed)
If it's not under feet of snow, a small handful of mint leaves from the garden – optional
Sometimes a little water is needed or you have more of a green custard. Add as needed when blending.
Makes one big insulated cup.
Jen's second favorite green smoothie recipe:
1/2 cup frozen mango
1 cup frozen blueberries
1 1/2 cup coconut water
2 cups kale
1 tbsp. lemon juice
1/4 avocado
1/4 tsp. cayenne pepper
1 tbsp. ground flax seed
Makes one big insulated cup. (Jen is the only green smoothie enthusiast in her house.) Warning: blueberries + kale + avocado do not = green. This will not be a pretty color, but it tastes good and keeps you full for hours and hours.
Now that we are seven months in, we're experimenting in mixing up our recipes. Breanne and Adam are pushing the sweet envelope by replacing some of their fruit for more veggies, thinking about diversifying their veggies more, and are considering adding coconut oil for a dash of healthy fat.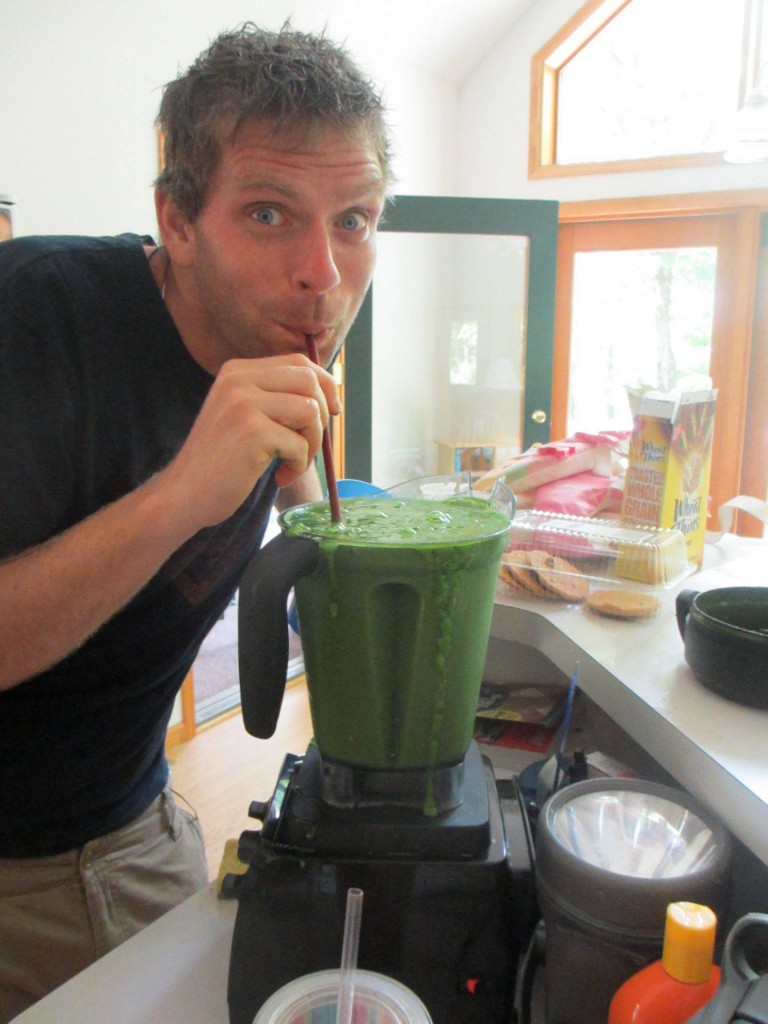 More tips from Adam
If you use all frozen fruit sometimes the mixture is too frozen and doesn't blend well. In that case, add hot or warm water next time.
You don't need to chop up any of the ripe fruits or veggies — just throw them in whole.
It's tempting to think you can add a piece of fruit that is a bit past its prime and not notice, but you will, and it'll ruin the whole batch.
Similarly, using the smoothie as a way to use up other random veggies does not work. Adam tried to sneak some Brussels sprouts in there one time and it tasted like burning.
Wash (or rinse) out your smoothie glass and the blender carafe right away for ease of cleaning.
For your own personal green-smoothie concoction, get some inspiration from this simple formula from Vitamix: Choose your greens, your fruit, your liquid, then blend and enjoy!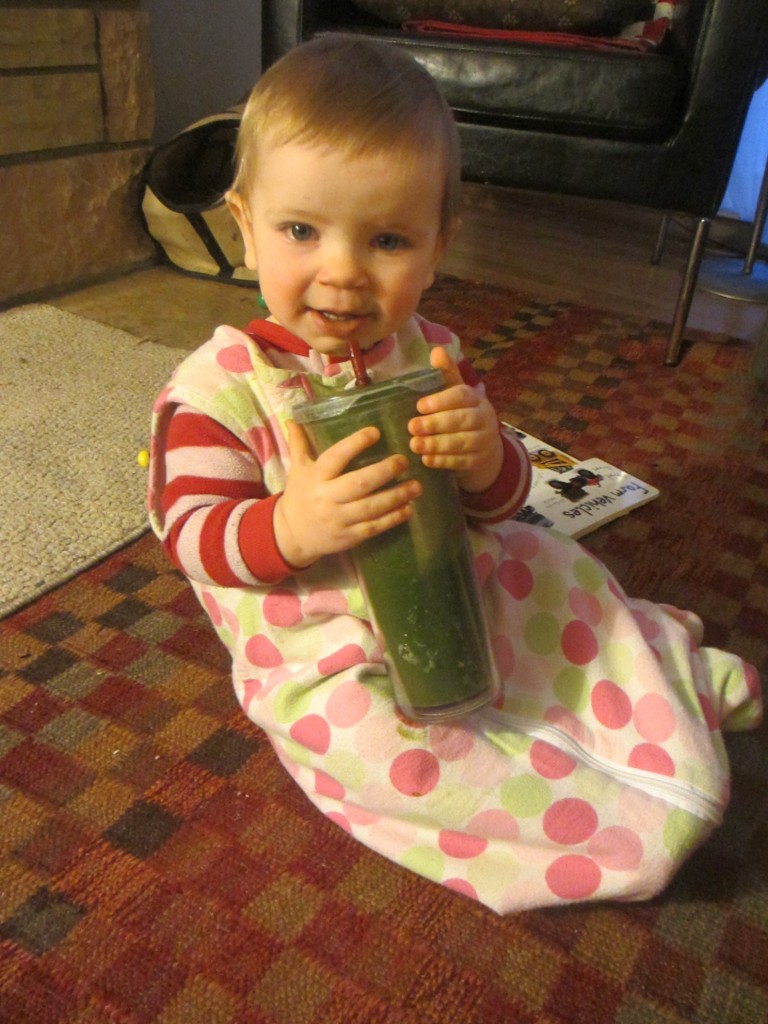 Yes, even Blythe loves green smoothies, although only out of Breanne's cup — not her own.