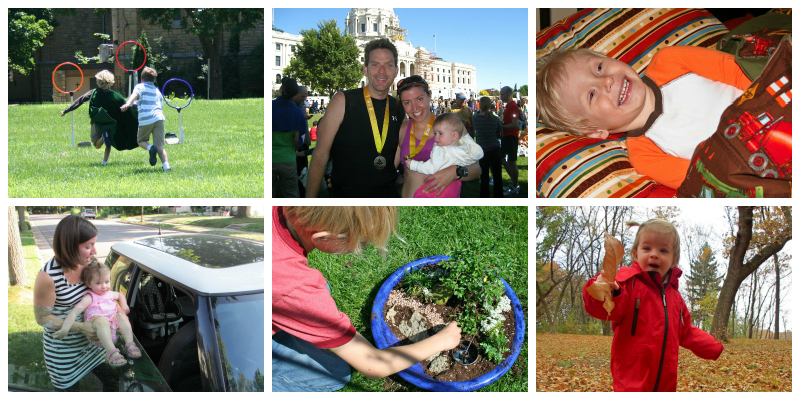 It's the end of the year and all across the Web you'll find "top" lists — the top best, top worst, and top anything-you-can-imagine. Here are ours: the top 12 most-read Borealis posts of 2012.
Breanne's Top 6 Posts
6. Tent Camping with a Toddler: The Right Gear
This post was about realizing we needed a bigger tent for our bigger family. I still feel like a bit of a fraud in the camping and adventuring with kids category — we only made it camping the one time! By the time summer cooled down I was too beaten down by first trimester fatigue to go again. Next year!
5. Running a Marathon Seven Months Post-Partum
I was grateful to those who had written online about training for a marathon with a new baby, so I added my story in hopes that it might help others. I'm glad to see that others found it, and hope that it was helpful!
4. So You're Going to Have a Baby . . . Advice from Seasoned Moms
I really like this post and am glad that others do, too. I feel like these moms (who are a couple years post-baby) have enough distance and experience to really help new moms prepare for what's ahead.
3. Warming Up for Winter with Minneapolis' Hottest New Kids Store — Polarn O. Pyret
We had a blast reviewing PO.P's awesome kid gear and helping welcome them to town. We hope to do more posts like this in the future! (Bee is getting a ton of wear out of her shell overall, which we've nicknamed her "Elmo Suit" in an attempt to get her excited about the process of putting it on.)
2. Five Great Sites for Photo Gifts
This post is one of those that does well on search engine sites, and I stand by the recommendations, but it's certainly not a great post! I plan to go back and add to it, both in content and in pictures.
1. How to Get a Car Seat into a Mini Cooper
I knew by how many times I had turned to Google for advice on putting a carseat in my Mini Cooper that this was going to be one of my most popular posts. I had a lot of fun taking the step-by-step pictures and documenting the process that I was so embarrassed about hiding from other moms.
Jen's Top 6 Posts
All of my top posts have something to do with a project I did or was trying to do. (Or, in the case of my gutter gardens, failing miserably, but that doesn't seem to stop people from finding the post.) I hope these readers found what they were looking for – an idea, a simple solution, a laugh, or just some reassurance that some projects just don't work out as planned.
In which I make a cheater quilt for my construction-machine-loving son's new big-boy bed. It isn't exactly easy, but it was just straight lines and imperfections seemed to work in my favor — exactly my kind of sewing project.
5. Progress (or Lack Thereof) Report: Urban Vegetable Garden 
A confessional post of a sort, where I share a dismal photo of my gutter garden fail. And still people Google "Gutter gardens" every day!
4. Progress Report: Urban Vegetable Garden
A progress report from a happier time in the garden, when we were installing the aforementioned gutter gardens and all was new and hopeful. Then came the rain and the rabbits. Some lovely photos, how-tos for the brave, and some uglier real truth so you don't repeat my mistakes.
I am a lucky girl to have sons that want to make fairy gardens with me, though we added gnomes to make it slightly more cool. Cute pictures and easy ideas and resources for making a miniature garden.
2. Birthday Magic: A Harry Potter Party
Still my favorite birthday party ever, there are a ton of ideas, free downloads, resources, and more cute pictures of my 11-year-old son's Harry Potter themed birthday party. I think I may have had more fun than any of the kids.
1. Pennant Banners: Sewing on Paper is Still Fun
What I love about this post is that I dashed it off in about 20 minutes but it is our most-viewed post of the year. I made the banners for my nephew's graduation party, and had the presence of mind to snap some photos while I was doing it. Sewing on paper is indeed fun.