Welcome to Clickery, a weekly feature where we share things we like because maybe you'll like them too.
Jen's Links
I left my job and career more than two years ago, and while I do intend to reinvent my professional self someday, I don't miss it and I don't appear to be spectacularly ready. So these two lines (of many) in former NPR journalist Mary Louise Kelly's article "When the Sheryl Sandberg Approach Fails" jumped out for me:
"The brutal truth is that I didn't want to 'lean in' anymore."
"I wonder if there isn't room for a more expansive definition of female professional success."
I know that I'm among the few who even have the option, as this author also admits, of deciding I'm done with all that leaning in, or at least taking a break, but I like very much the idea that there are many definitions of professional success.
I haven't read Sandberg's book yet, but I plan to.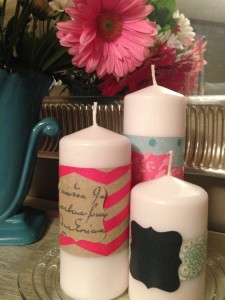 Crazy pivot: Pretty paper + candles = easy, inexpensive happiness. My crafty friend Kristen and I discovered this during our holiday making-things-a-thon last year and she wrote up the how-to on her blog, Snapshot. While you are there, read Oh, Brother too.
You've probably seen this by now, but juust in case: Bring it on down to Veganville!