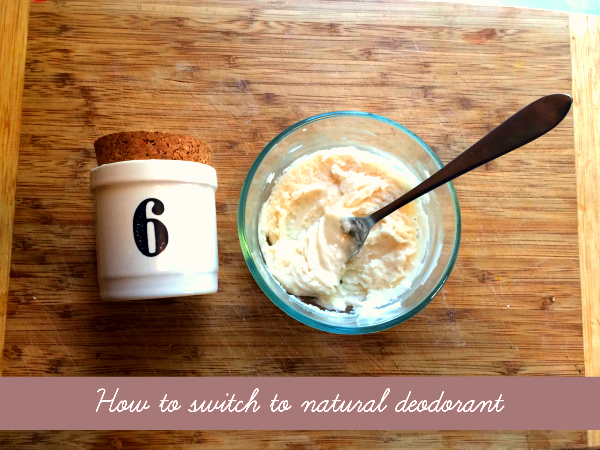 Remember my New Year's Resolution to go more organic with my health and beauty supplies? Well I wanted to share with you what I've learned about natural deodorants, because they can be kind of intimidating. I've been using natural deodorants for years, but had gotten lazy and drifted back after Blythe was born. This year I experimented with a few other natural deodorant products, and I wanted to share the results with you.
If, like me, your first natural deodorant attempt was a failure (I'm looking at you, Tom's of Maine, which actually made me smell MORE), don't be deterred — like most organic/natural products, things have come a long way in recent years.
Here are two options (one store-bought, one homemade) that I've used for more than a year and liked: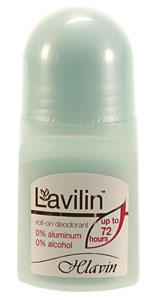 Lavilin
Just because you're going natural doesn't mean you have to get all crunchy about whipping up your own. I tried the Lavilin brand of deodorants and really like them. I was intrigued by the online reviews for it, which were passionate, and many said that the longer they used it, the less frequently they needed to apply it.
Lavilin comes in two versions: a traditional roll-on and a cream paste. It does really work — even on tough workouts or long days. And it doesn't smear on your clothes as easily as regular deodorant. NY Mag tested and reviewed 10 aluminum free, "hippie" deodorants, and Lavilin Roll-On was the winner.
If you like your product pretty, or scented, then consider Routine natural deodorants, out of Calgary, Alberta. This is a nice splurge gift or a good treat-yourself-to-get-started option. The Sexy Sadie scent comes recommended.
Homemade deodorant recipe
If making your own natural deodorant is more your style (or budget), then this recipe is tried and true, both by me and by dozens of online reviews. It's easy to whip up, cheap, and the ingredients are easy to find.
Mix the following, using a fork to blend in the coconut oil:
6T coconut oil
¼ C baking soda
¼ C arrowroot power
Essential oils (12 drops) if desired
Mix until well blended. I like mine to be the consistency of buttercream frosting, so if it's too grainy, add some more coconut oil. Transfer it to a small jar.
Unscrewing a jar lid everyday is too fussy for me, so I put mine in a little crock jar with a cork lid that I got at an Anthropologie sale years ago. 
The only thing I DON'T like about this paste is applying it. For a long time I used my finger, scooping a bit and smearing it on, but I hated getting tiny bits of the gritty paste under my fingernails. So for this deodorant I prefer to use a little scoop or paddle (a baby spoon also works well.)
Some people in warmer locales have to keep this in the fridge since coconut oil melts at 76 degrees, but that is not a problem in these northern climes. If fact, sometimes in the winter it gets too hard or dried out, so I warm it up a little and add some more coconut oil (my non-airtight container contributes to the drying out as well).
How to switch
I read these tips in online reviews and thought they really made a difference:
When switching to a natural deodorant, apply it more often in the beginning. And before you re-apply it, scrub out underarms with soap and water first (wet a washcloth with a little soap and give them a quick scrub).
Once you get established, you may be able to go on an as-needed basis (more than once a day if active, but it may not be needed every day if not).
That's it! Let me know if you have tips or other recipes or products to recommend.