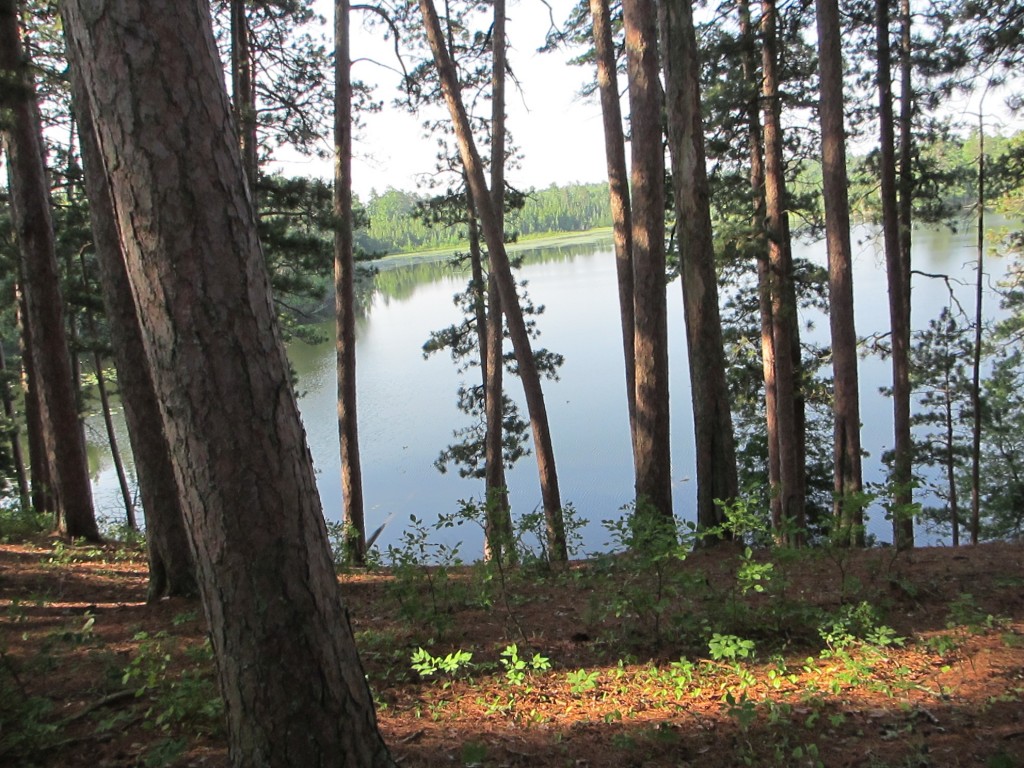 Scenic State Park, near Big Fork, Minnesota
We finally fulfilled our much-talked about promise to take Beatrice camping. Like when we backpacked her in to a winter cabin, I was sort of half hoping that having really low expectations would mean that it would end up being easier and more fun than I thought. But like with the winter trip, there were moments of happy peacefulness that made it worthwhile, and moments of worrying and stress that made it hard.
WHAT WENT WELL:
1. Campsite located close to swimming beach
2. The fact that she was too young to be frightened by thunderstorms
3. Stroller + bug net was a lifesaver when we needed a break from chasing her around
4. Scenic State Park was gorgeous! Old-growth forests, pristine lakes… we especially enjoyed the hike to Chase Point.
5. We were inspired by all of the other babies we saw camping.
6. Good parenting teamwork. When we arrived the storm was already rumbling and we were sticky, hot, and hungry. We quickly put up the tent, then Adam took Bee to cool off in the lake while I built a fire and made dinner. When they came back I grabbed a quick dip while they ate. We shoved in the last bites of dinner as the skies opened up and then dove into tent. (The new tent, by the way, did admirably in the storm, and vented decently in the heat).
WHAT DIDN'T GO WELL:
1. The heat. It was over 90 degrees both days — too hot for her to nap in the tent, even in the shade (we tried).
2. Bugs. Lots of mosquitoes and deer flies.
3. Hanging around in camp with a toddler was as difficult as I feared. Perhaps if we'd brought along more toys we could have kept her more entertained, but when Bee wasn't trying to climb in the fire pit, she was reprising her love of putting rocks in her mouth or generally running away. Also it was too hot to spend much time in full sun.
The best moments were swimming with Bee in the lake, hiking, and finally getting a much belated nap from Bee/quiet time to ourselves at 6:30 p.m. on our last night (she slept an hour or so then woke up, played around happily for a while, then went to bed for the night).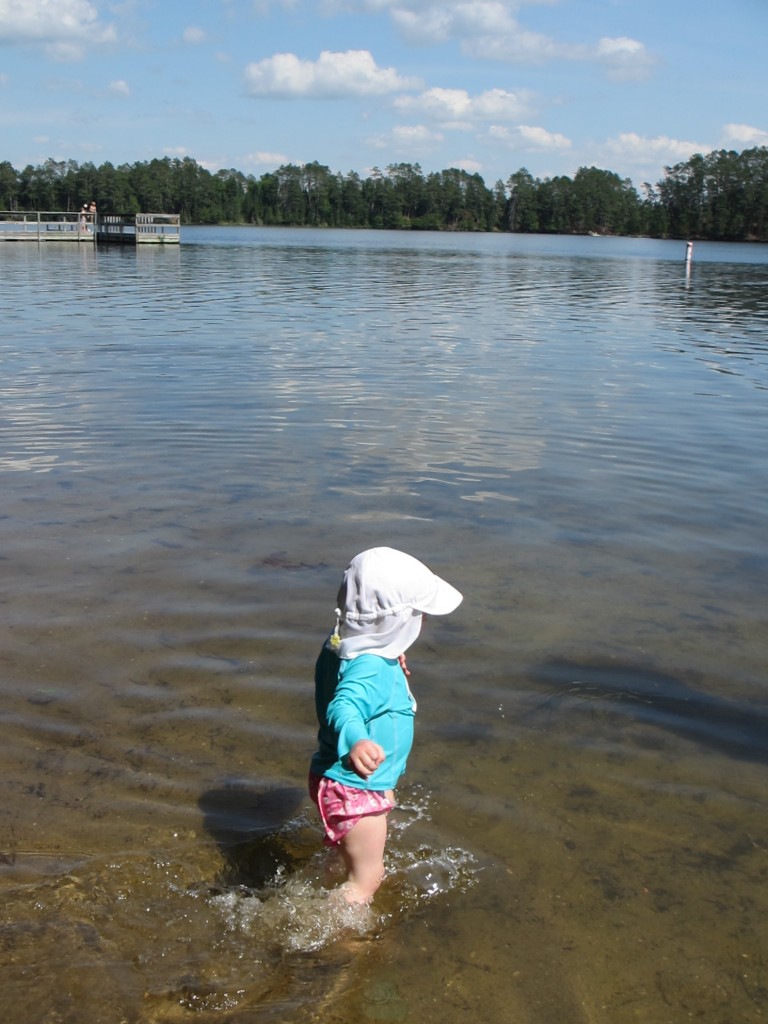 The worst moments were trying to get through the hot afternoon with a kid that wasn't sleeping.
One other thing that clouded our trip was the discovery of an intense rash all over Bee. We thought it was heat rash and felt like terrible parents, then about 10 hours later realized that it was the second half of roseola, an infant virus that results in a fever followed days later by a rash. We had been concerned about the fever a couple of days earlier but hadn't found the cause and she'd gotten better, so hadn't made the connection yet. Once we figured that out we felt much better about the whole trip!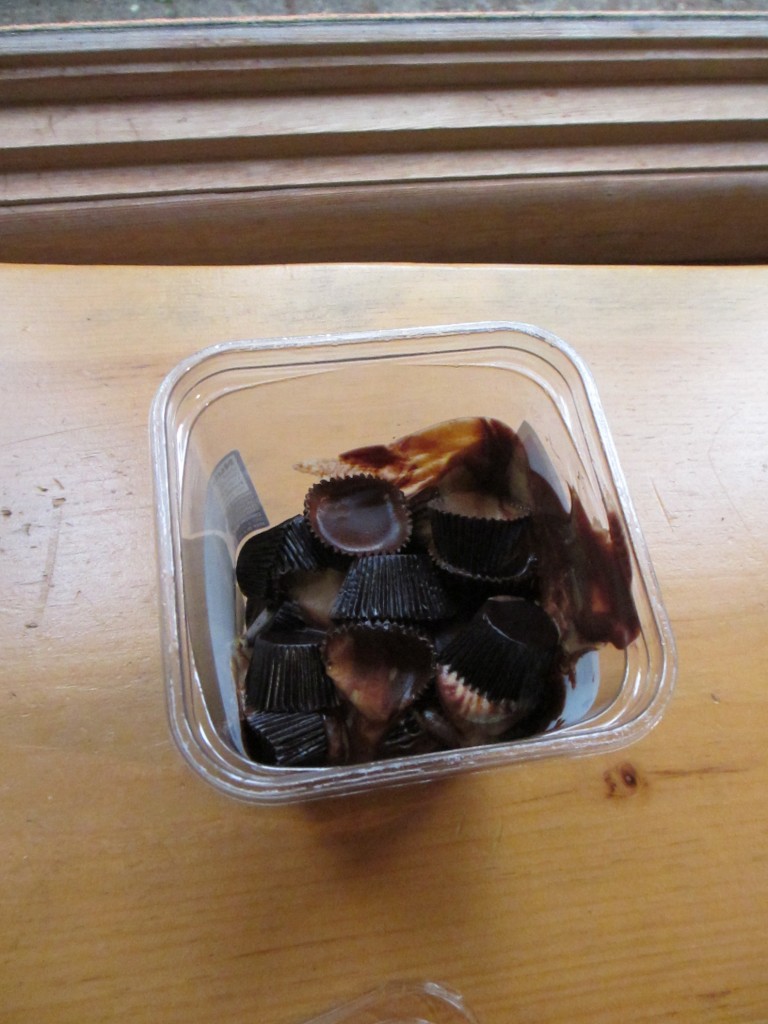 Melted peanut butter cups, a visual display of how hot it was.
It was one of those trips that fares better in the recall than it does in the moment. I think part of the problem is that Adam and I are more backpack campers than car campers, so we aren't really very good at car camping. We don't think about outfitting our campsite for hanging out. Had we been smarter and brought along the bug-free screen tents and tarp shades and outdoor games that our pro camper neighbors had brought, we probably would have fared a little better.
IF YOU GO
Scenic is a beautiful state park with a lot of old growth pine. An historic lodge provides a great place to hang out on rainy/cold/hot days. You can walk from the campground directly to hiking trails and the swimming beach, so once you park your car you can leave it the rest of the trip. The swimming beach is classic Minnesota — sandy, easy entry, beautiful. Bring some inner tubes. We would have enjoyed canoeing if Bee were a bit older.