We like hot breakfasts, and our kids do, too. Having a few make-ahead breakfast recipes in your freezer helps ensure that a hectic morning doesn't need to be a hungry one.
Morning Glory Muffins
From Cooking Light
These are the muffins you make what you want something healthy… a muffin that you can eat without the nagging suspicion that you're essentially eating a frosting-less cupcake for breakfast. These are not the muffins you make for company. They are not pretty — they don't rise very much and are dark and lumpy. But they do taste good.
Cooking spray
1 cup whole wheat flour (about 4 3/4 ounces)
1/2 cup all-purpose flour (about 2 1/4 ounces)
1 cup regular oats
3/4 cup packed brown sugar
1 tablespoon wheat bran
2 teaspoons baking soda
1/4 teaspoon salt
1 cup plain fat-free yogurt
1 cup mashed ripe banana (about 2)
1 large egg
1 cup chopped pitted dates (or raisins or apricots)
3/4 cup chopped walnuts
1/2 cup chopped dried pineapple (or other dried fruit, although the pineapple is delicious)
3 tablespoons ground flaxseed (about 2 tablespoons whole)
Optional: 1/2 cup chocolate chips (if you want to make them a little less healthy and a little more decadent)
Place 18 muffin cups liners in muffin cups; coat liners with cooking spray.
Lightly spoon flours into dry measuring cups, and level with a knife. Combine flours and next 5 ingredients (through salt) in a large bowl; stir with a whisk. Make a well in center of mixture. Combine yogurt, banana, and egg; add to flour mixture, stirring just until moist. Fold in dates, walnuts, and pineapple. Spoon batter into prepared muffin cups. Sprinkle evenly with flaxseed.
Put the trays in the freezer. Once the muffins are frozen, remove them from their trays and place them in a single layer in a gallon-sized Ziploc bag.
When you're ready to eat, preheat the oven to 350° and bake for 25 to 30 minutes, or until muffins spring back when touched lightly in center. Remove muffins from pans immediately; cool on a wire rack.
Oatmeal Buttermilk Pancakes
From the Star Tribune
Notes: This recipe requires a 30-minute resting time (or more, I left one batch overnight). The recipe makes only 16 pancakes, so I'd recommend doubling or tripling it.
The batter on these hearty pancakes is thick, but the results are moist and light. While they make a great foundation for a sandwich, they are, of course, delightful for breakfast, as well. Peanut butter and bananas, or Nutella and sliced strawberries make great sandwich fillings, but almost anything will work. From Meredith Deeds.
3/4 c. rolled oats
2 -1/4 c. buttermilk, divided
3/4 c. whole-wheat flour
3/4 c. unbleached all-purpose flour
2 tsp. baking powder
1 tsp. baking soda
1 tbsp. sugar
1/4 tsp. salt
2 eggs
3 tbsp. canola oil, plus extra for griddle
Combine the rolled oats and 3/4 cup buttermilk in a bowl, and set aside.
Sift together the flours, baking powder, baking soda, sugar and salt.
In another bowl, whisk eggs with the remaining buttermilk and oil. Combine with the soaked oats.
Add the flour mixture to the wet ingredients and quickly whisk together. Do not overbeat; a few lumps are OK. Let sit at least 30 minutes.
Lightly oil the griddle and heat. Drop 1/4 cup batter onto the hot griddle for each pancake. Cook until bubbles begin to break through, 2 to 3 minutes. Turn and cook for about 30 seconds to 1 minute on the other side, or until nicely browned. Remove from the heat, and continue until all of the batter is used up.
Cool on a rack and freeze for up to a month in a zip-top bag with pieces of wax or parchment paper in between the pancakes.
Egg Muffins
This recipe is based a Paleo recipe that is all the rage right now, and has been given rave reviews. You can customize it with your favorite veggies or meat (real or vegetarian). If I need to make these more quickly I use frozen vegetables — Trader Joes makes a great frozen blend of sliced red, green, and yellow peppers. Just be sure to defrost the veggies separately so you can drain off the extra water.
Makes 18 muffins.
4 tsp olive oil
3 cups of chopped fresh veggies, like onion, peppers, broccoli, spinach, etc.
12 large eggs whisked
1/2 tsp black pepper
salt to taste
1 pound sausage, ground pork, beef or turkey, or vegetarian protein (optional)
Preheat oven to 350 degrees. Saute vegetables and meat in olive oil (cooking time varies depending on what you use).
Whisk eggs in a large bowl while the veggies are cooking. When the veggies/meat is done cooking, remove it from the heat and let it cool for a couple of minutes. Then mix it into the eggs and add your salt and pepper.
Coat a muffin pan with olive oil spray and fill each cup with 1/4 cup of the egg mixture. Cook them in the oven for 15-20 minutes depending on the size of your muffin tin, and remove when the tops get fluffy and golden brown.
Arrange cooled muffins in a single layer in a gallon zip-top bag. Remove excess air and seal, then freeze. To reheat, place in the microwave for 1-2 minutes.
Owen's Goodest Pancakes
So named by Jen's son Owen when he was little. He took the first bite and said "these are the goodest pancakes ever" and the name stuck. Make a whole batch one morning, then freeze the extras in a Ziploc freezer bag with a square of parchment or wax paper between layers. That way you can just remove one or two. Reheat for 1 minute in the microwave, or use your toaster.
1 1/2 cups flour
3 tbsp sugar
1 1/2 tsp. baking powder
1/2 tsp. baking soda
1/2 tsp. salt
1 1/2 cups buttermilk
3 tbsp unsalted butter, melted
2 large eggs, beaten
1/2 tsp. vanilla
Mix the dry ingredients and wet ingredients separately. Pour wet ingredients over dry and mix until just combined. Pour by 1/3 cup on to a hot griddle.
Owen's Breakfast Burritos
Owen and Jen figured out last year to make these by the dozens and freeze them individually wrapped (Chipotle-style) in foil. That way, the cereal-hating Owen can grab one each morning, microwave for about 2 minutes, and have a hot breakfast on the way to the bus stop.
Experiment and make these the way you like them. Here's what Owen does:
8-10 eggs, beaten with salt and pepper
Cooked and crumbled bacon
About 1 cup shredded cheese (Cheddar or a blend)
8 flour tortillas (not the huge ones, medium size)
Aluminum foil
Cook the eggs a little less done that what you consider perfect, then add the bacon and stir. Place a tortilla on a square of foil. Sprinkle with cheese. Add some of the eggs, tuck in the ends, and roll up the tortilla. Wrap the foil over the roll once, then tuck in the ends, then continue rolling until completely covered.
You can use any meat, cheese, or veggies that you like. (Jen's version uses a little cream cheese and chopped green chiles instead of the bacon and cheddar.)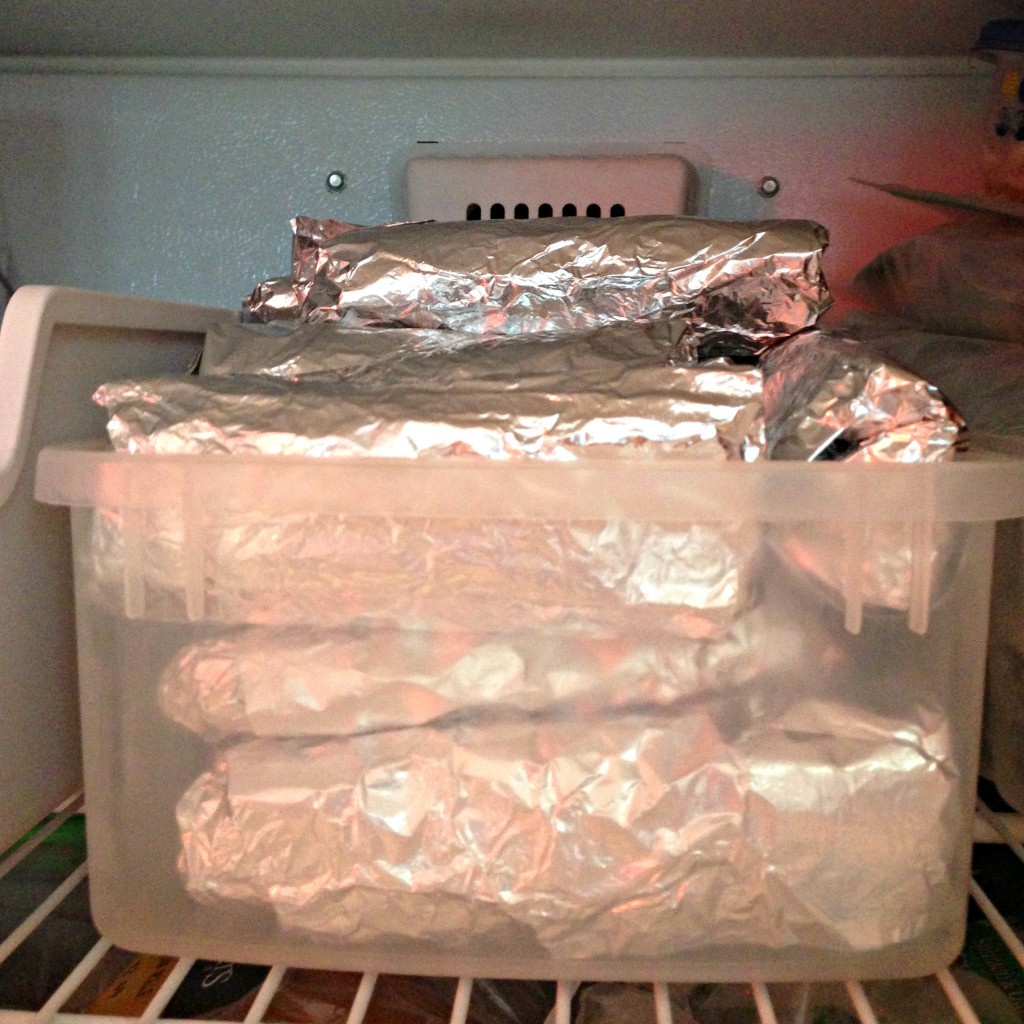 Noah's Pumpkin Pancakes
These are Jen's favorite and her picky Noah loves anything pumpkin. Thank goodness it is packed with nutrition and he hasn't a clue. These are spicy, silky perfection. Just like any pancake, freeze with wax paper between them. Reheat about 1 minute in the microwave. These are best with maple syrup and chopped pecans.
2 cups all-purpose flour (whole wheat works too)
3 tablespoons brown sugar
2 teaspoons baking powder
1 teaspoon baking soda
1 teaspoon ground allspice
1 teaspoon ground cinnamon
1/2 teaspoon ground ginger
1/2 teaspoon salt
1 1/2 cups milk
1 cup pumpkin puree
1 egg
2 tablespoons vegetable oil
2 tablespoons vinegar
Mix together the milk, pumpkin, egg, oil, and vinegar. In a separate bowl, combine the flour, brown sugar, baking powder, baking soda, allspice, cinnamon, ginger and salt, stir into the pumpkin mixture just enough to combine. Heat a lightly oiled griddle or frying pan over medium high heat. Pour or scoop the batter onto the griddle, using approximately 1/4 cup for each pancake.
Check out the rest of the posts in the Stocking the Freezer series:
Top tips for make-ahead meals
Casseroles
Sauces