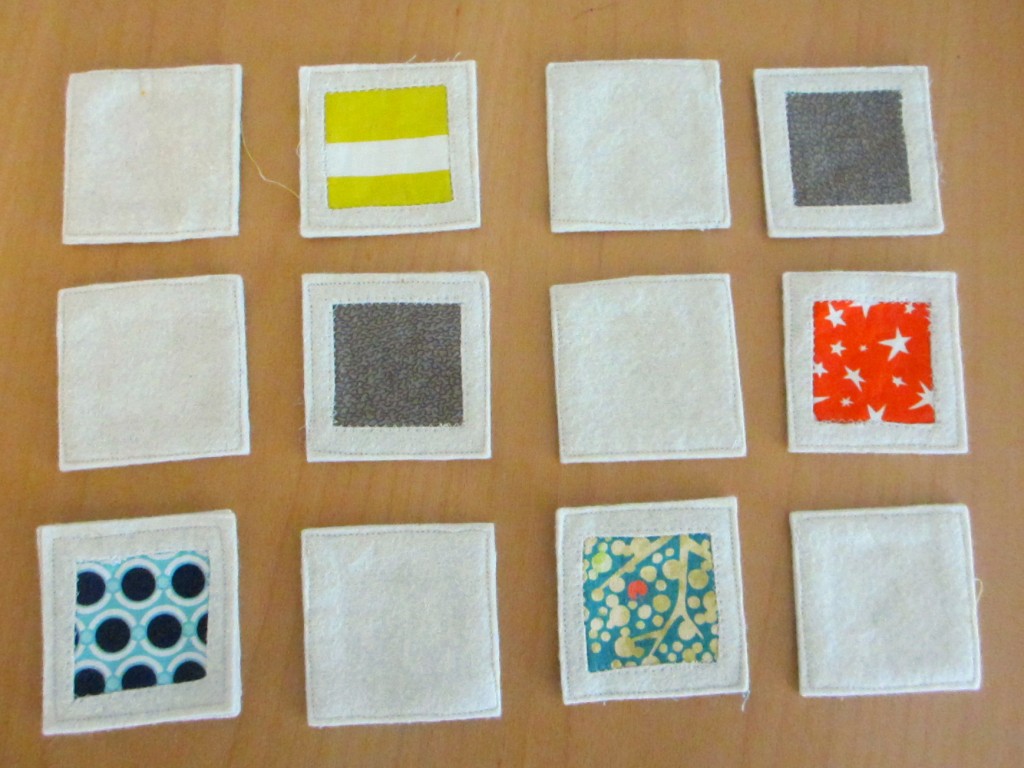 When Breanne's second daughter was born I knew I wanted to try making an appliqued onesie for her, because my sister makes them and they are always adorable. It would go with my favorite homemade baby gift, a little pieced taggie, because those are just so fun to make and I know from experience that the silky tag is the best part of any baby toy.
I picked out gorgeous, not-too-girly-but-still-feminine fabrics that I knew Breanne would love and that would match Blythe's new room. I made the onesie (featuring a little a house) and the matching taggie, and they are indeed cute. But then I started thinking about big sister Bee, such a big girl in some ways, but little enough to need a big-sister present of her own, and that's when I landed on this — the fabric matching game.
I found it on Pinterest, of course, and fell in love with the tactile and pattern perfectness of it, the use of my cute fabrics — yay, it could match her sister's taggie! — and the fun of the game itself. (I am not good at playing with my kids, but I will play games, and I've played hours of matching games with my boys.) It met all my criteria for a sewing project — useful, pretty, straight lines. Perfect.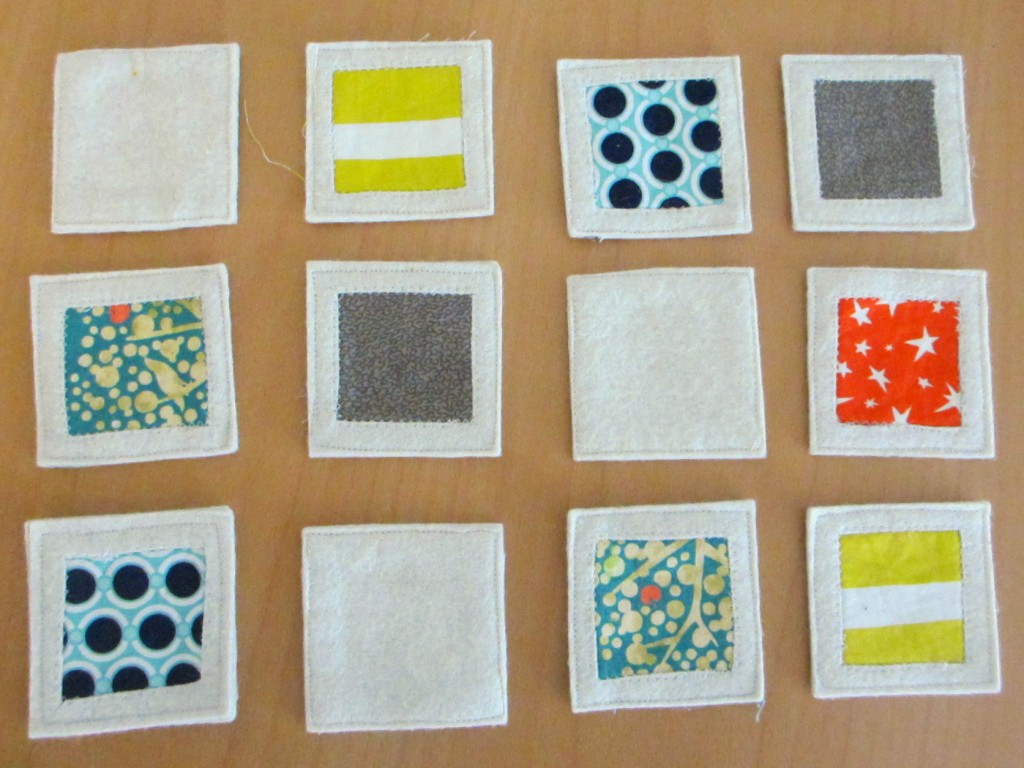 It is perfect, and pretty, and Breanne reports it is well-played with and the wool felt stands up well to baby-sister gumming. What I didn't expect, though, was how hard it was. Not hard in technique, hard in time and the amount of precision required. There are 11 steps to each square:
Cut felt backing
Cut felt front
Cut window into the front
Cut fusible lining for backing
Fuse lining to backing
Cut fabric
Cut fusible lining for fabric
Fuse lining to fabric
Sew fused fabric to felt window
Sew front window to fused backing
Trim around final seam
Repeat 28 times and you've gotta want this matching game pretty bad. Fortunately, I made this when I was home and I could do a little bit at a time. Each step goes fast and is not hard. I'm lucky to have a precision cutter in my household (you've seen his work here), so he cut the 56 squares of felt for me. And best of all, it does not have to be perfect to be wonderful. My lines aren't totally straight and neither are the finished squares and it couldn't look cuter.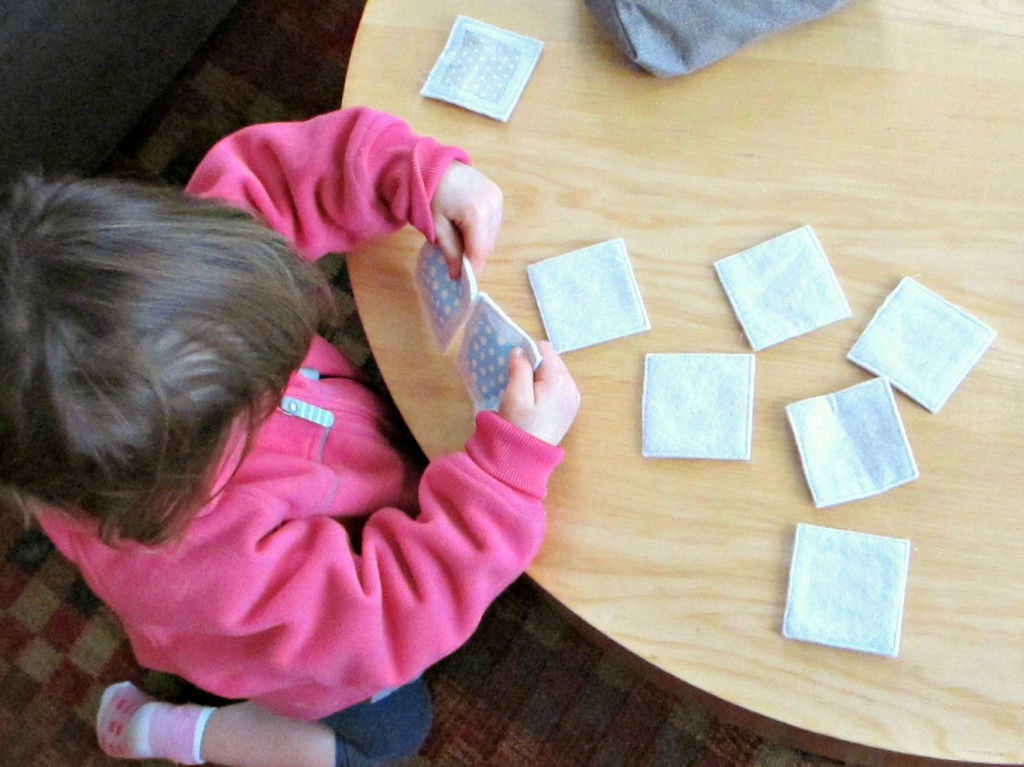 I'm not even going to try to explain how to do this, because it is the Purl Bee's project and their tutorial does it so well. (And you don't want to miss the gorgeous photos either.) I will admit I tried a shortcut, thinking it wasn't really necessary to do all 11 steps. But it was, and it is, so just follow the directions.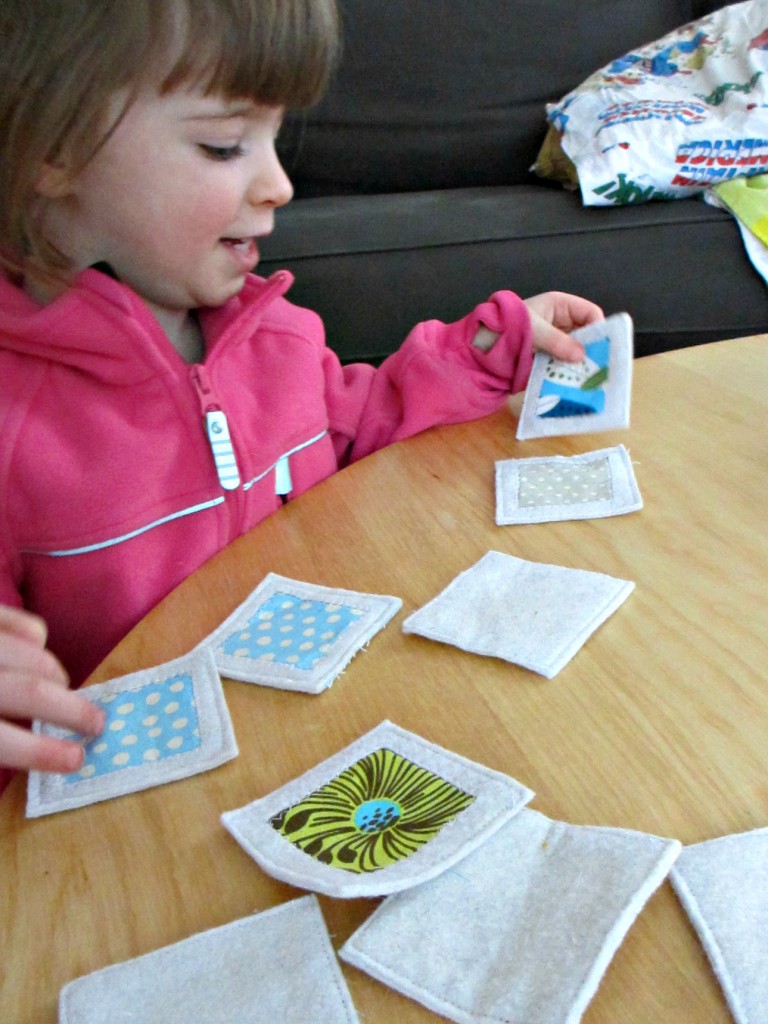 Even though it was time consuming, I recommend making this project, at least once, especially if you have someone to give it to as wonderful as this girl and her mama. It was just so satisfying — the cute prints, the way the wool feels, how they look all lined up in a grid, knowing that this is a great game for little ones and their parents, knowing it will last forever. Yes, it is 308 steps. Every one of them worth it.