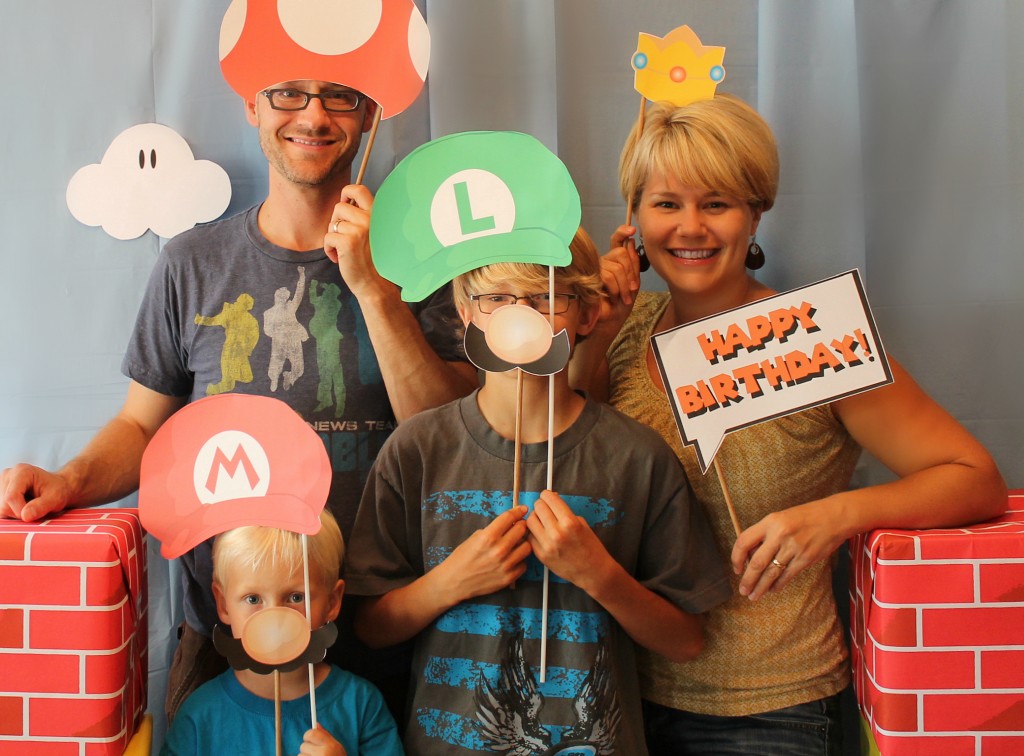 My son Noah is almost as obsessed with Super Mario Brothers this year as he was with Star Wars last year. So it is no surprise that he requested a Super Mario Brothers party for his 6th birthday.
Since his dad and I played the original Super Mario Brothers (heck, we even played the prequel, Donkey Kong), this one was fun for us to do. The colors are bright, the characters are fun and varied, and materials easily found (unlike his fourth birthday request, Chuggington, a train-character cartoon from England). The action of the game translates well into live-action, school-age kid games too.
We made most of the decorations and game props, and kept the food non-fussy and to a minimum. Here's what we did, how we did it, and where to get what you need for your party.
Super Mario Brothers Party Decorations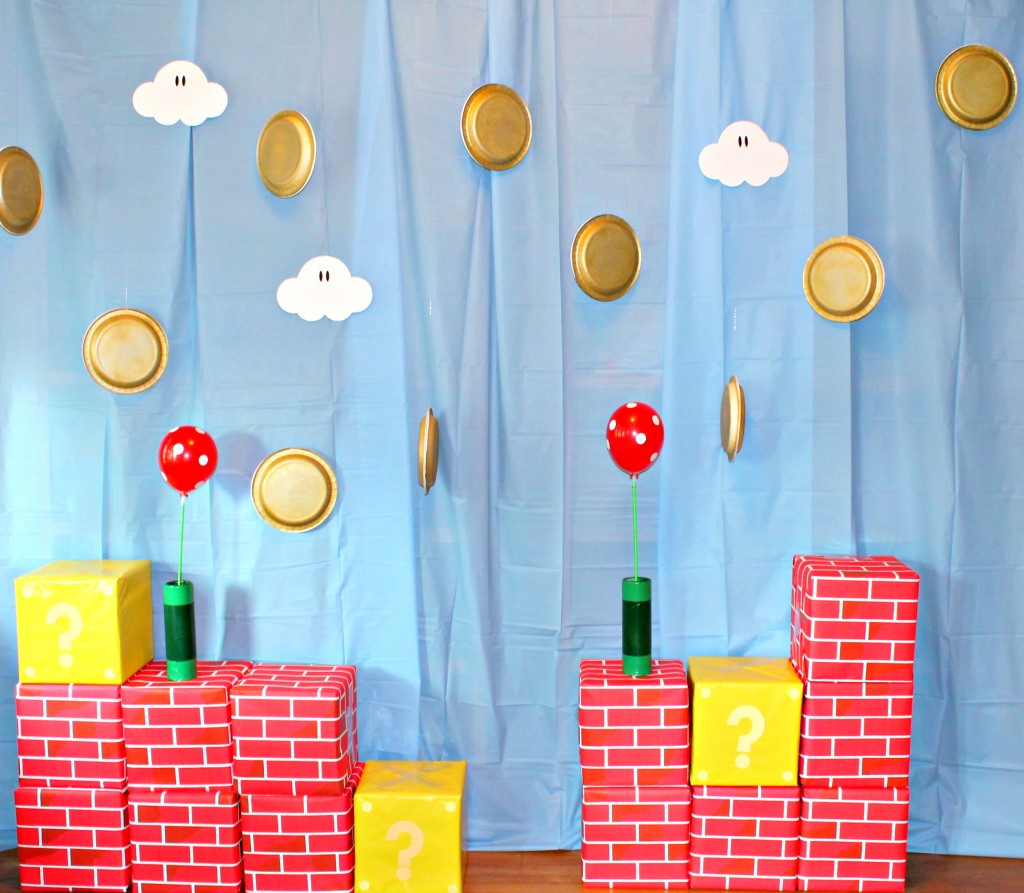 We made this awesome photo/play backdrop in the playroom, right inside the front door. The gold coins are spray-painted paper plates glued together, the Piranha Plants are balloons, and the sky is plastic party-store tablecloths. The blocks are square boxes are wrapped in brick paper and yellow paper. (Tutorials for the props at the end of the post, along with supplies lists and links.)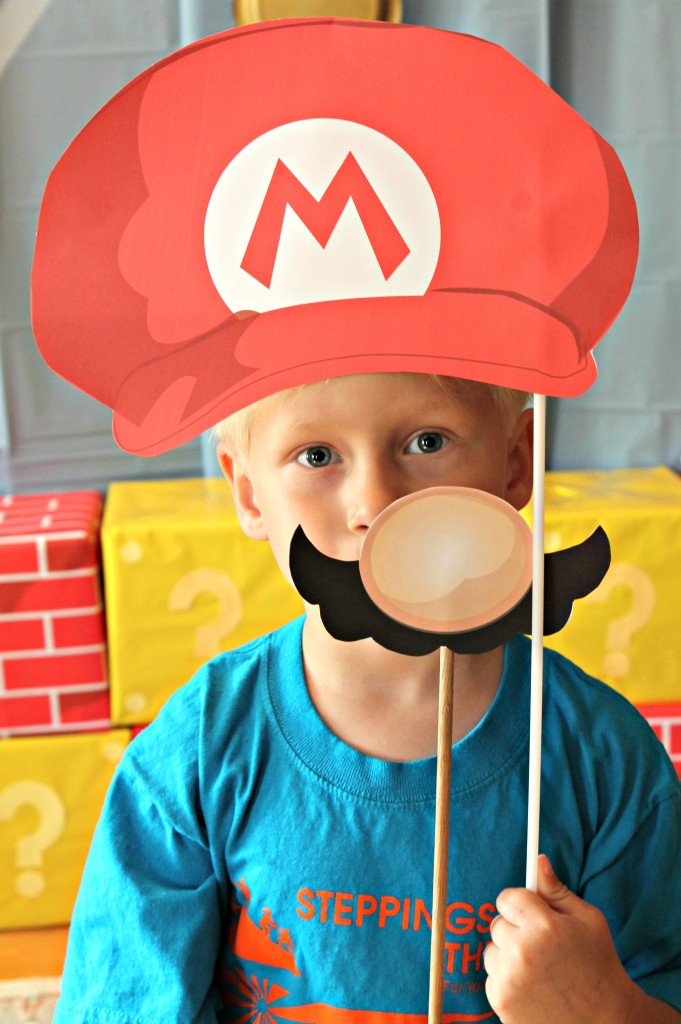 I got the photo props from Crafty Bouquets on Etsy, an instant-download, print-at-home product. I love the scale and colors of these props and it was such a large set that I didn't even print them all.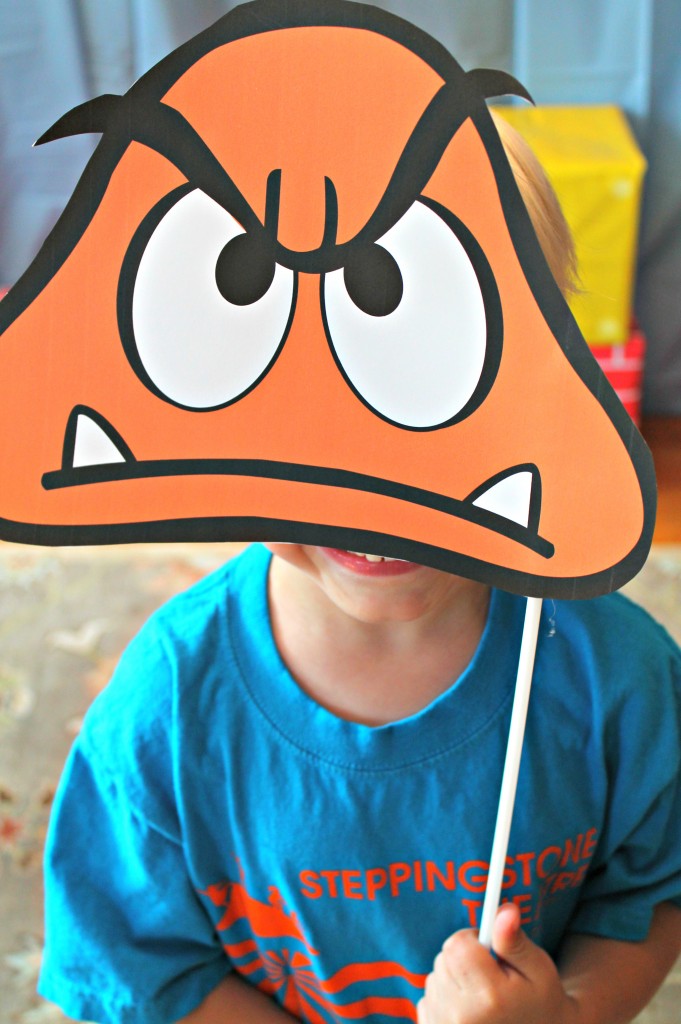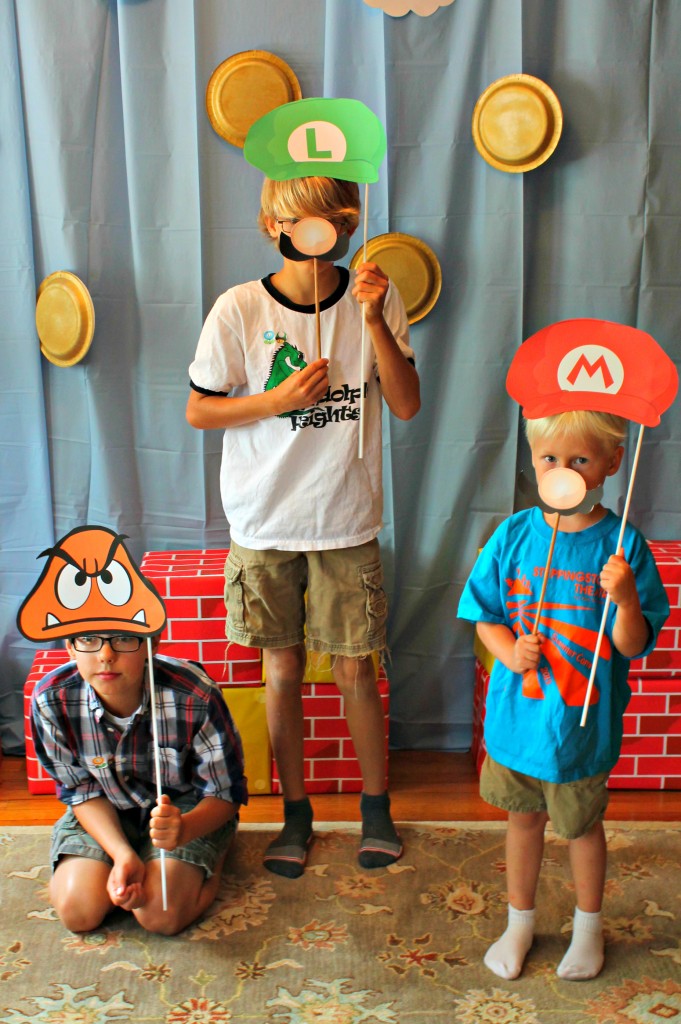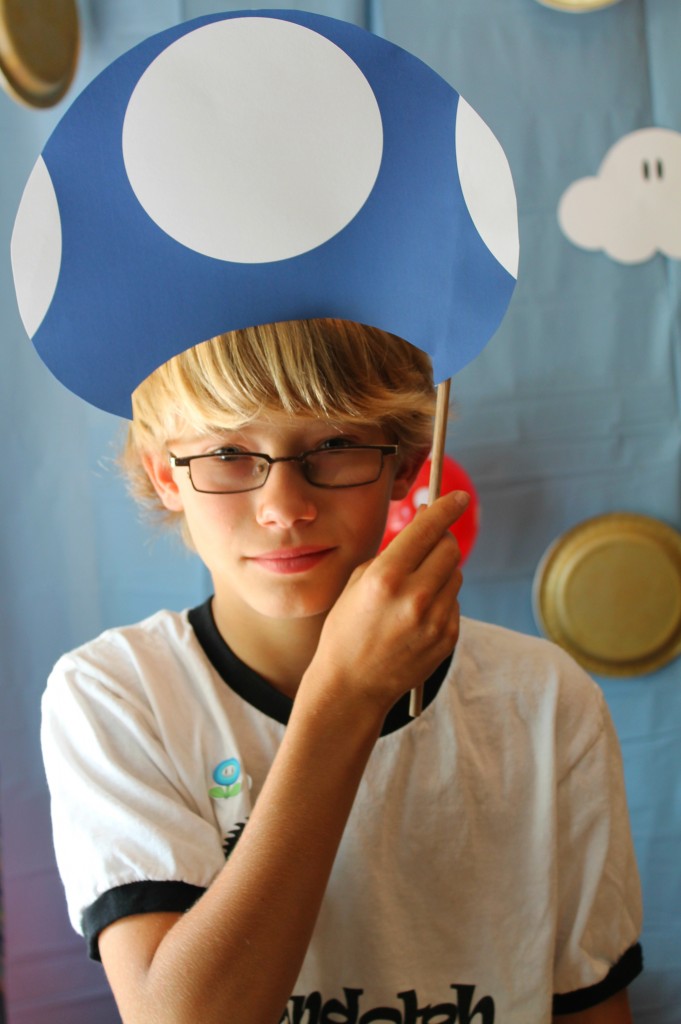 I also bought a set of wall decals and the boys put them up all over the playroom walls.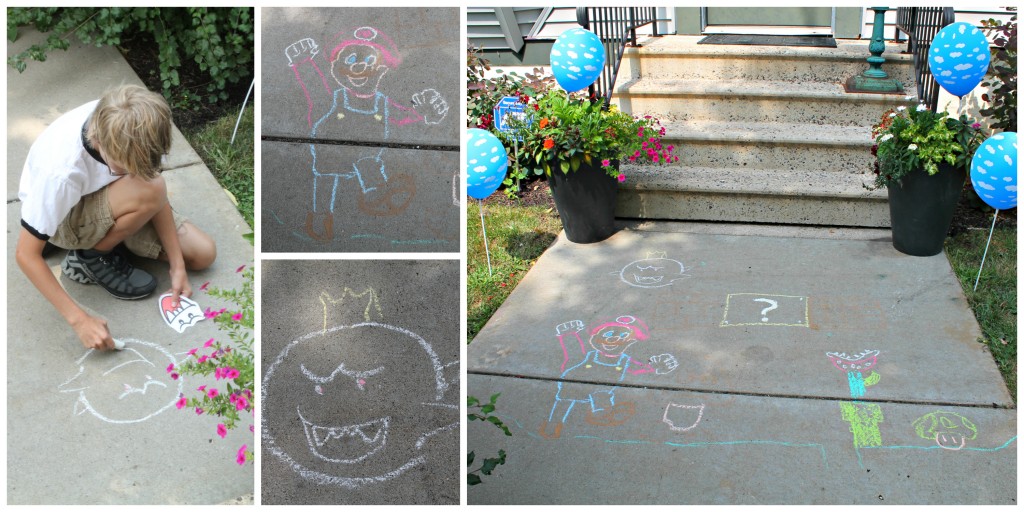 Owen decorated the front walk with some very good chalk art. Cloud balloons added some Mario atmosphere. (One of my new favorite party decorating tricks is these balloon sticks. Balloons stay where you want them and you don't need helium.)
Super Mario Brothers Party Food and Cake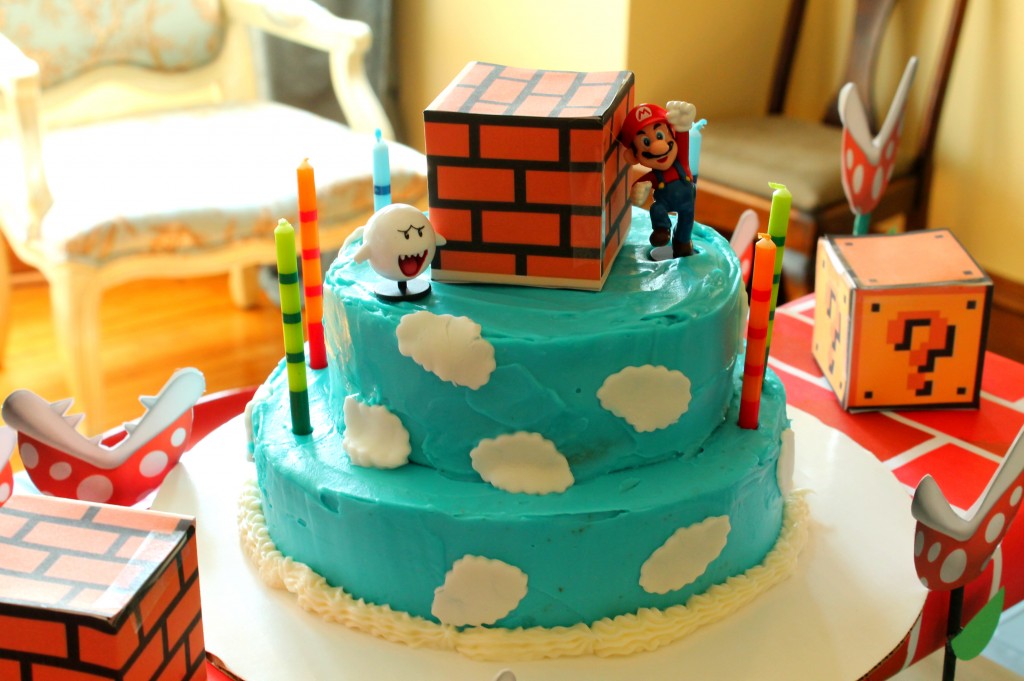 Noah had all kinds of ideas for the cake — "Mom, I want Mario jumping and punching!" "It should be Mario jumping from world to world, with planets and stars!" My suggestion that it be a Power-Up star — and therefore easy — was met with disdain. Finally I stopped asking him and just made this up the night before the party. Two round cakes, blue frosting, fondant clouds, and some characters on top. It still needed something so I googled "downloadable Super Mario Brothers bricks" and voila! I was cutting and taping these blocks at midnight. I think it looks cute, and it certainly was easy and low-stress. The kids all liked the Piranha Plants cupcakes better.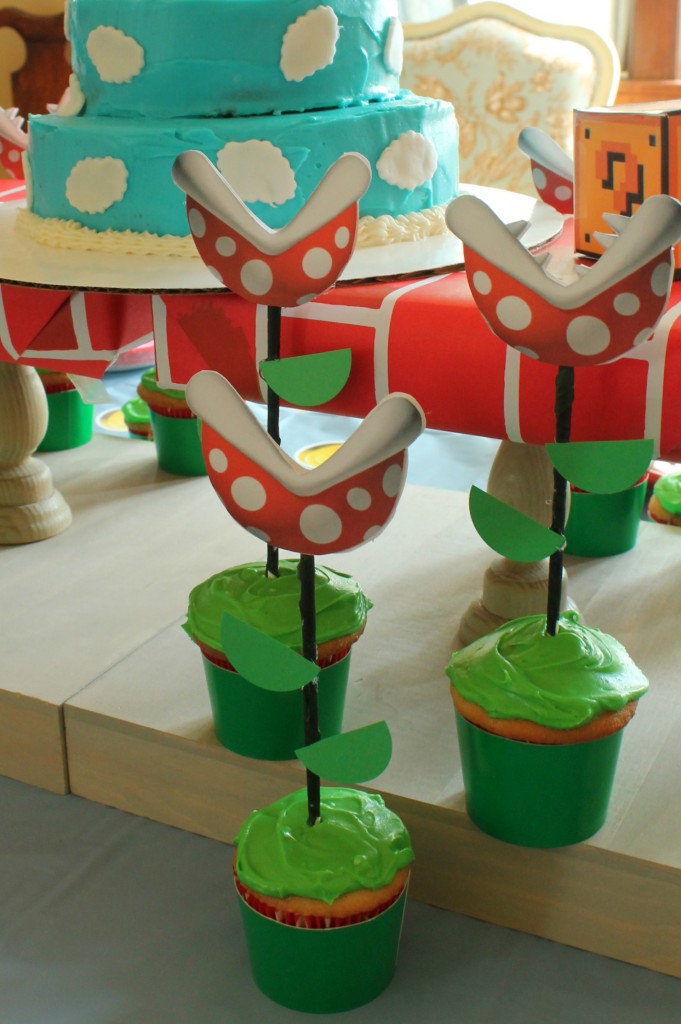 To make the Piranha Plant cupcakes, I downloaded an image, printed it a dozen times, and cut them out. (You can see some have teeth and some don't. I got sick of cutting teeth.) I wrapped candy sticks in green tape and glued on paper leaves. I love using paper for parties; you can keep your fancy fondant. (Tutorial at the end of the post.)
The rest of the food was simple snacks with Noah's adorable illustrations. We also had Power-Up star frosted cookies from my mom (aka Grandma Cookie Dough), which I apparently neglected to photograph, and fruit cut out with the same star cookie cutter. We took two snack breaks and the kids ate all the fruit and all the cookies. When it came time for cake, no one really ate any!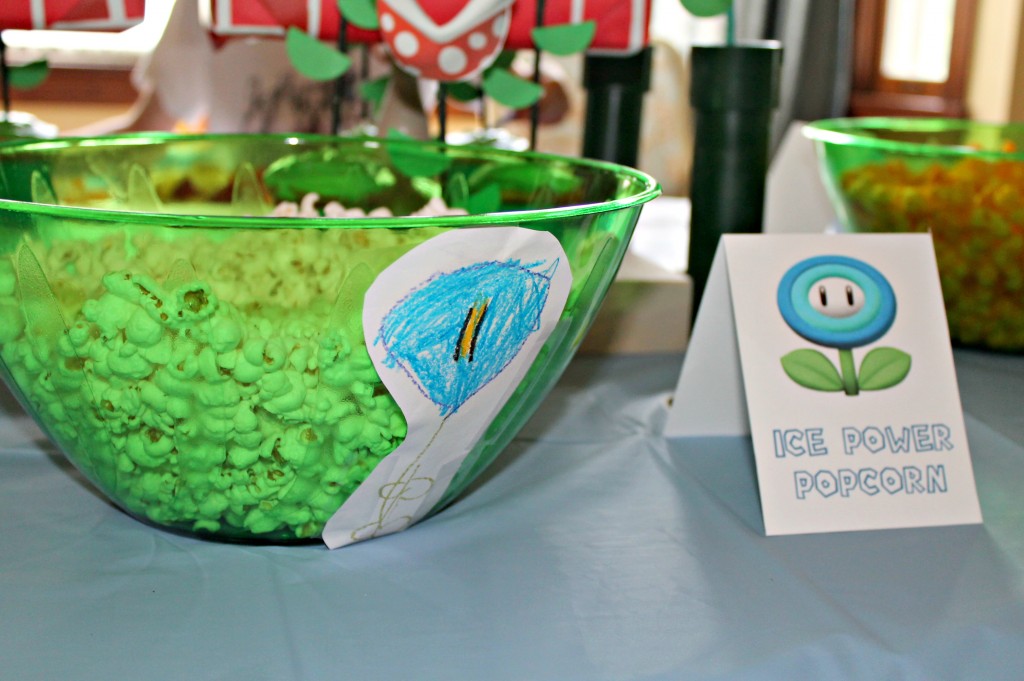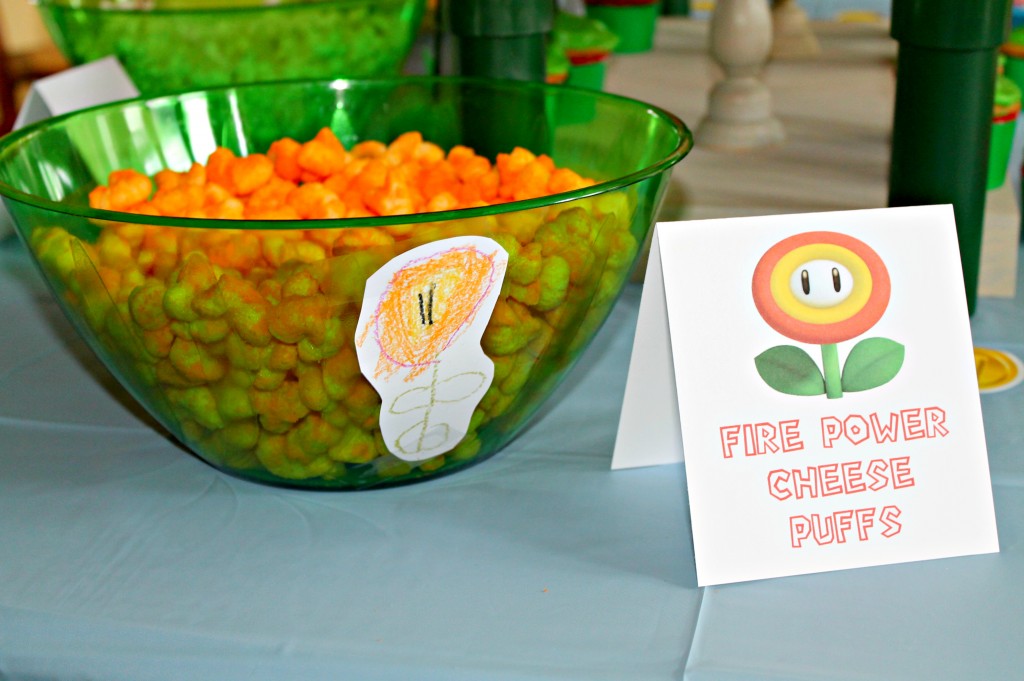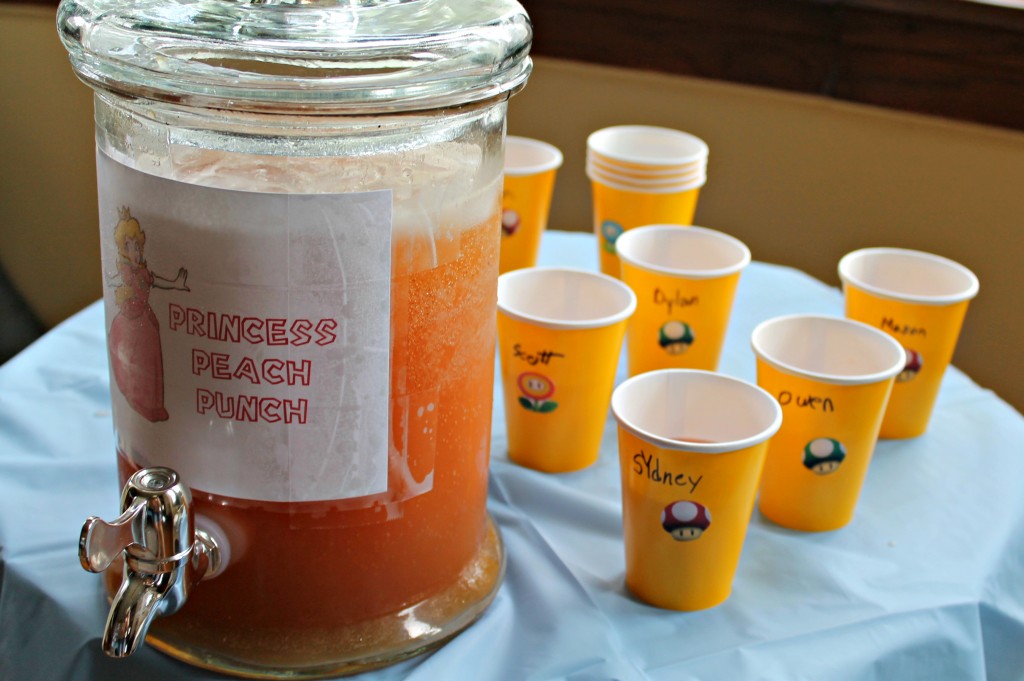 Princess Peach Punch was ginger ale, lemonade, and peach nectar and it was tasty. I added stickers to party-store cups, because I can't not-brand something.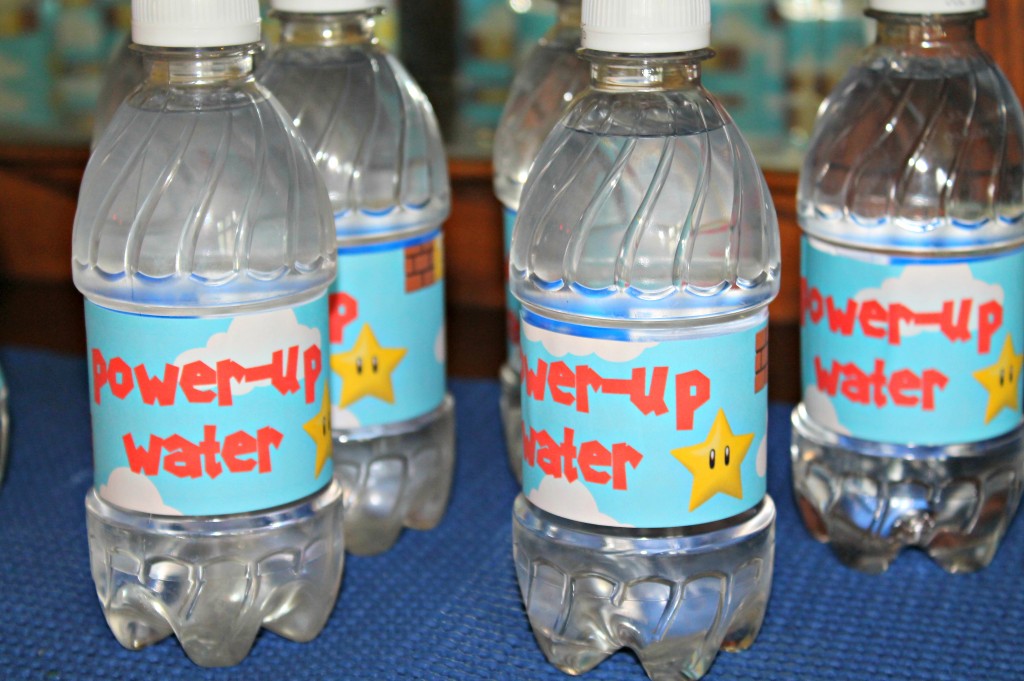 My sons' birthdays are in July and August and their parties are always 90+ degrees. This party was no exception. We took water and cool-off-inside breaks after each game. The Power-Up water labels are from Lulu Cole.
Super Mario Brothers Party Games
Like the Harry Potter and Star Wars parties before this one, the party games are my favorite part. We had four games: an obstacle course, Stomp the Goombas, musical bricks, and a pinata.
In the obstacle course, the kids had to dodge King Boos, then jump over Piranha Plants, climb up the slide and then slide down it, and return the way they came, jumping the plants and dodging the Boos. We had the kids run the course one at a time, for safety. When they finished, each got a prize.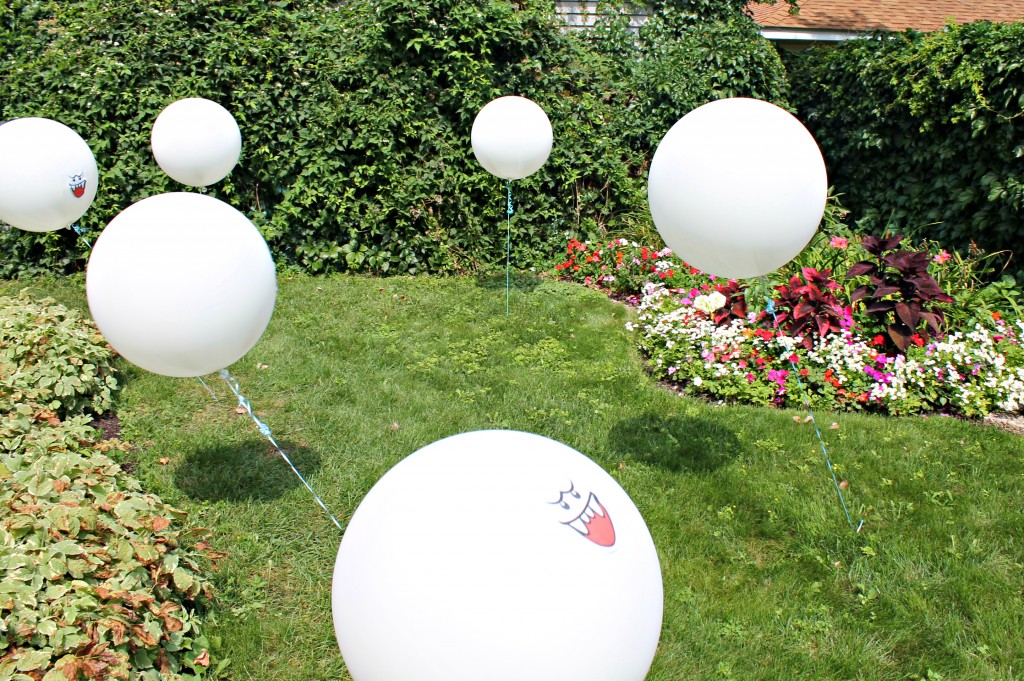 The King Boos are extra large balloons filled with helium. I printed, (image search again), cut, and taped on the faces, then we staked them to the ground with eye hooks. It was really windy, which was perfect: the kids really had to duck and dodge.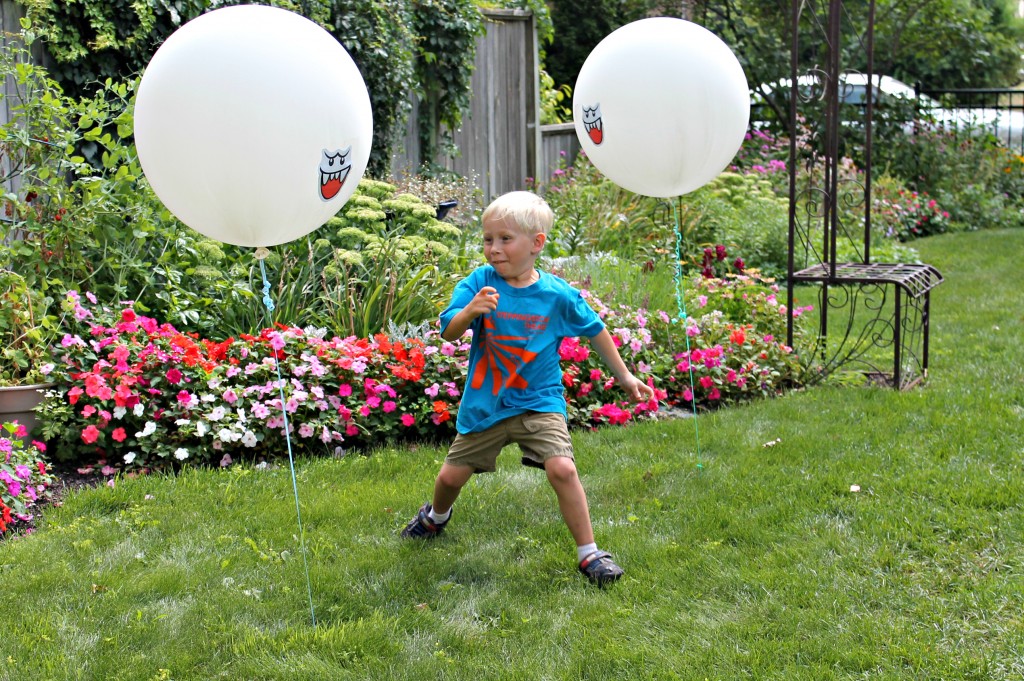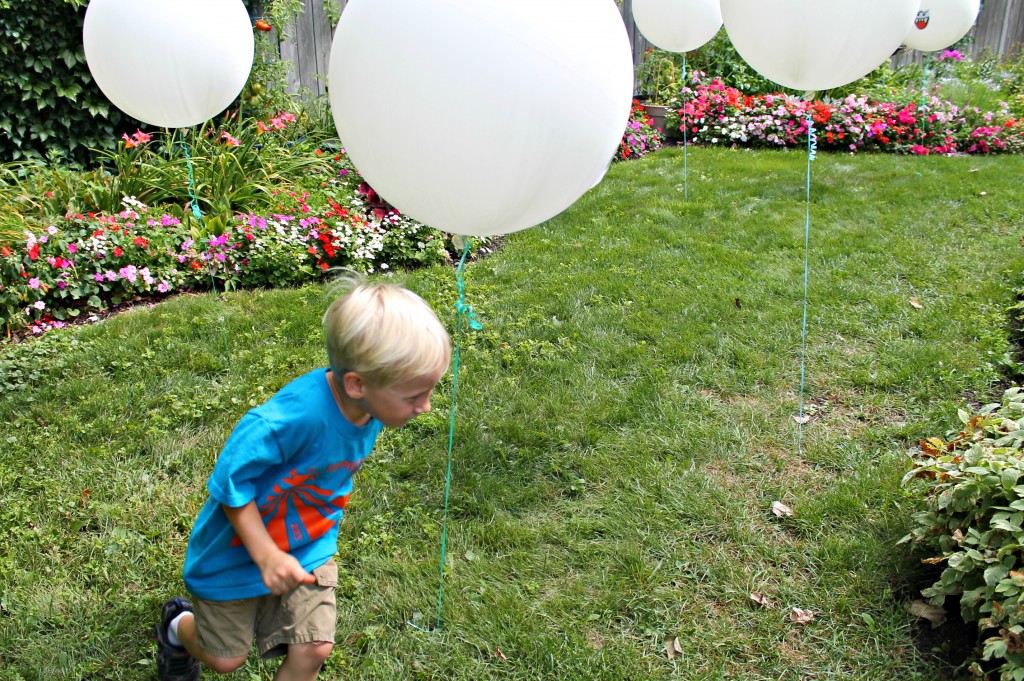 Noah was extremely serious about this. King Boo is a bad guy.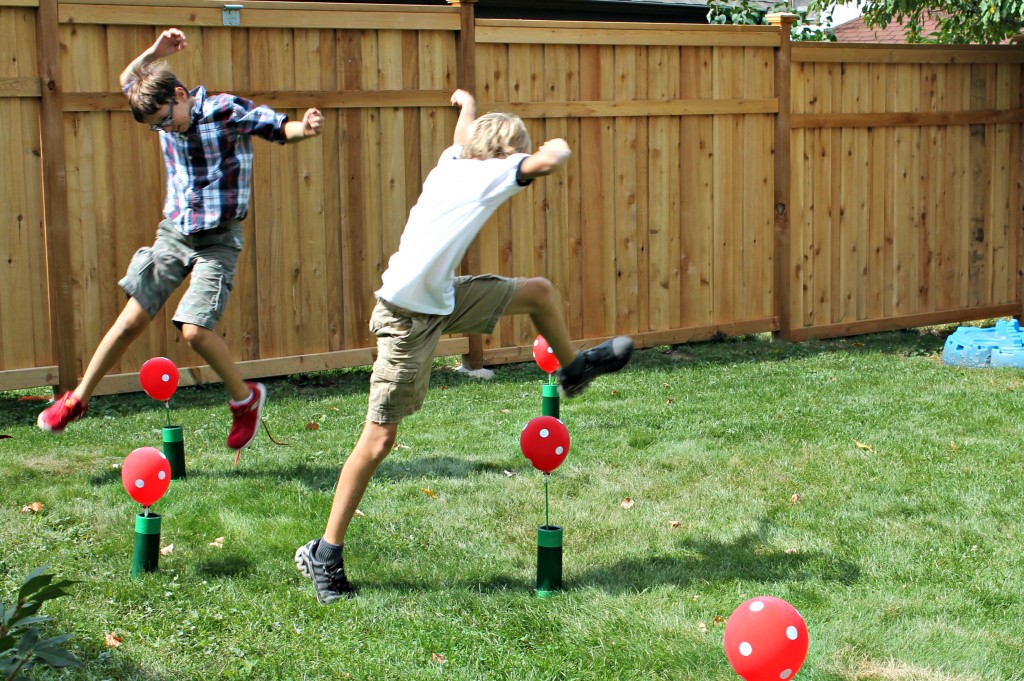 Owen and his friend Jack were my party helpers. Here they demonstrate how to leap over the Piranha Plants.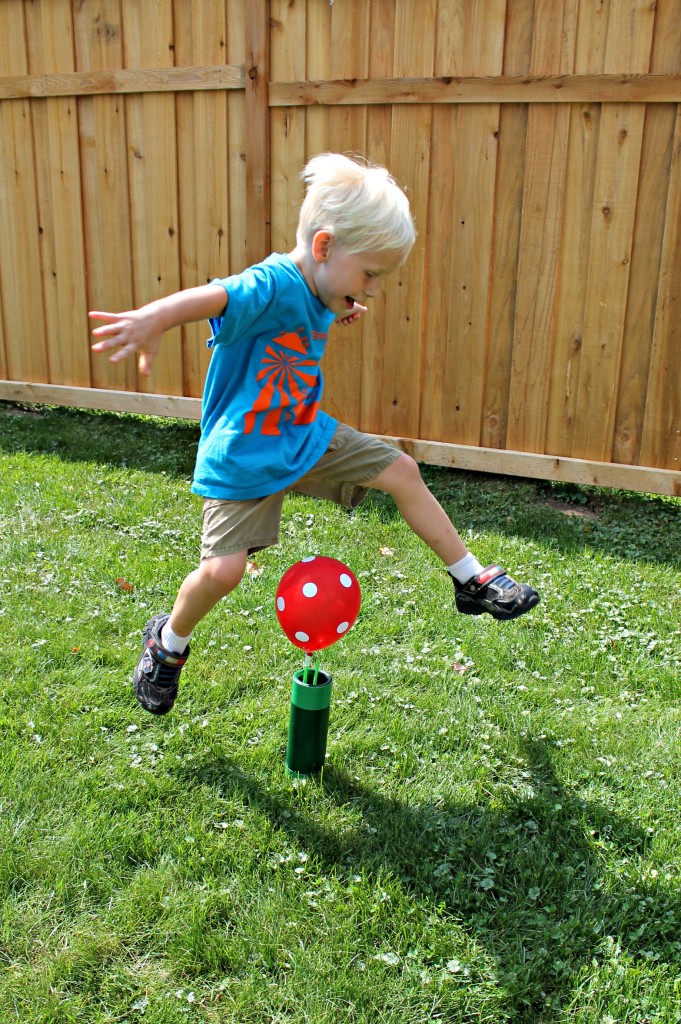 Noah had no trouble with this.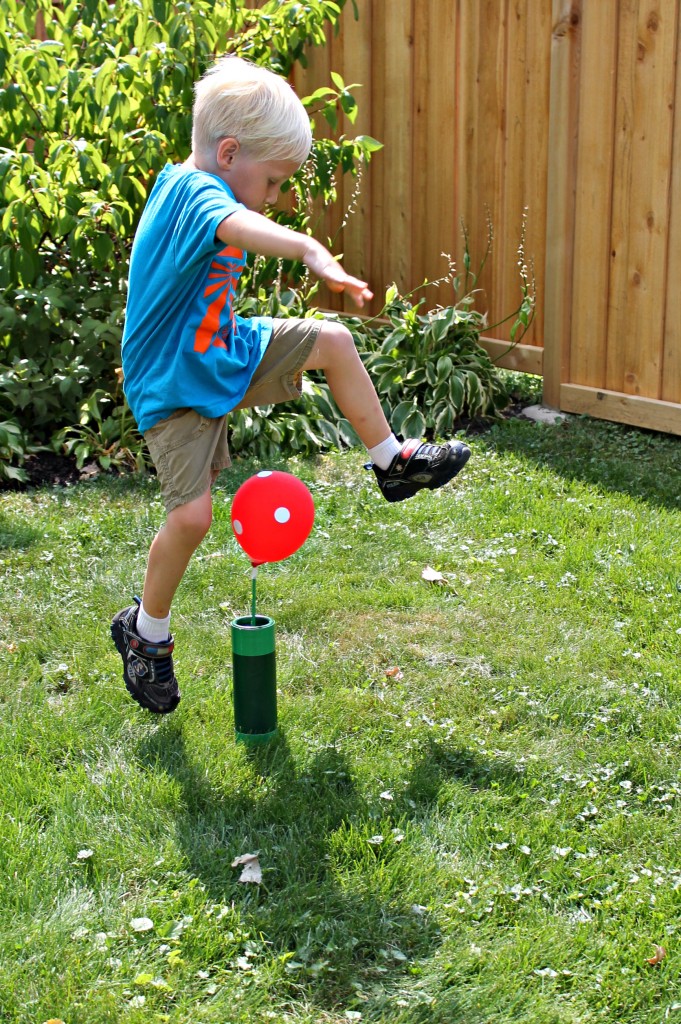 Stomp the Goombas is just running around stomping on balloon Goombas until they pop, which is tons of silly fun and you need LOTS of balloons. We played the Mario theme while they did this.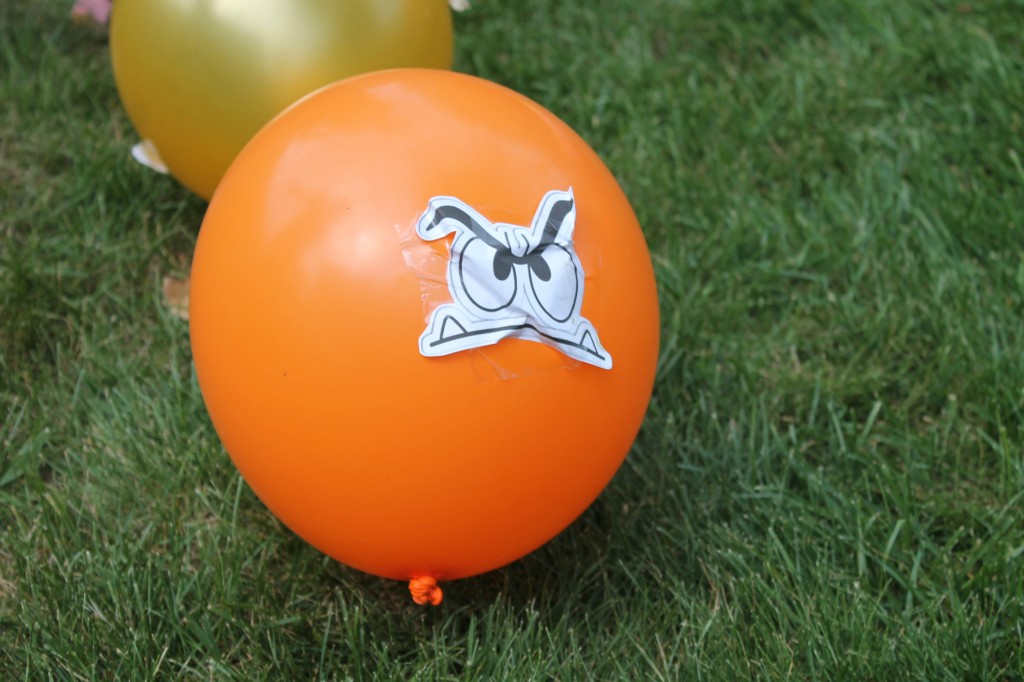 More balloons, more image search, more print, cut, and tape.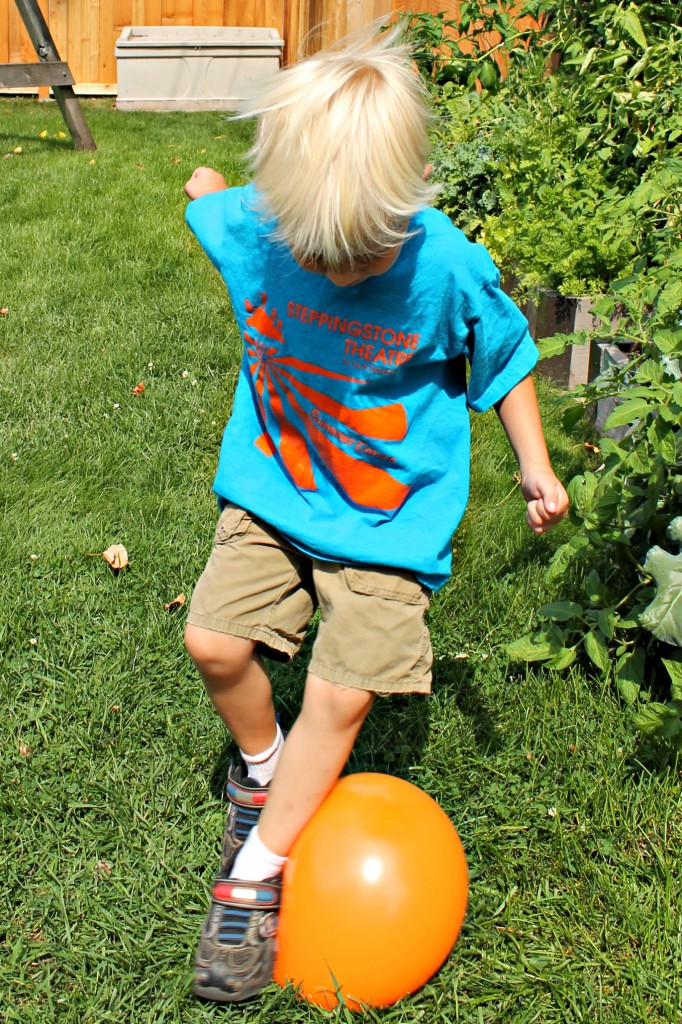 I snapped this one second before he fell down. You can see it coming.
Musical blocks was played just like musical chairs, using the blocks from the backdrop (after I had taken all the photos I wanted to!). The everybody-wins adjustment for six-year-olds was that when you got out, you got to pick a prize. Only one kid caught on that you actually want to lose!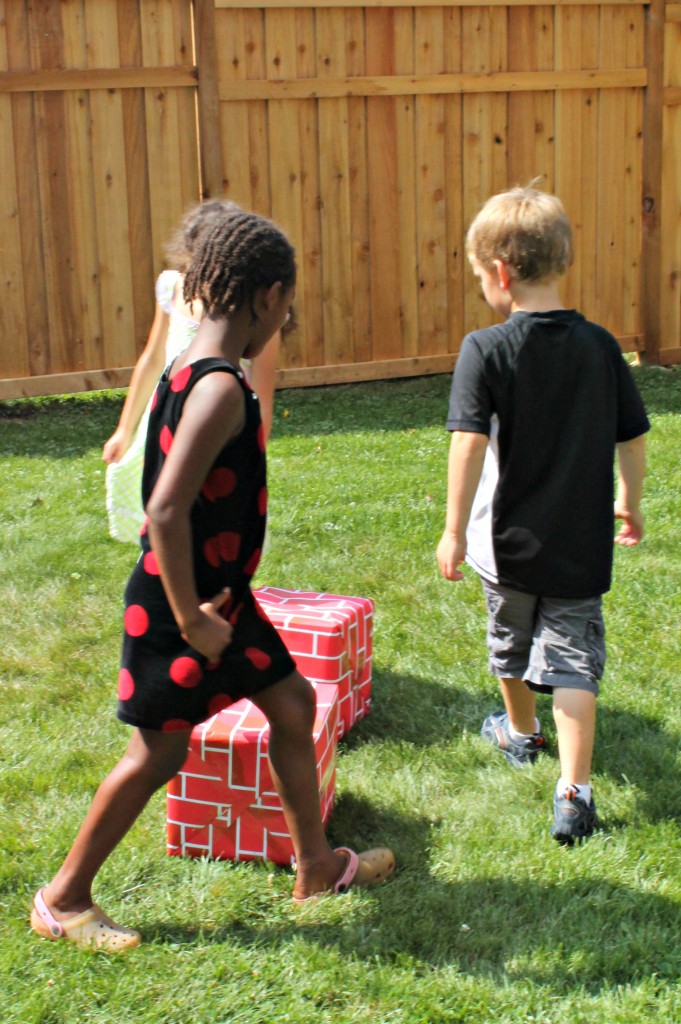 Down to the final three!
I made the pinata out of the same boxes as the blocks, with one side cut away, then wrapped in brick paper. The kids punched it like Mario would and it was surprisingly hard to break. It took a punch from Owen to finally break through.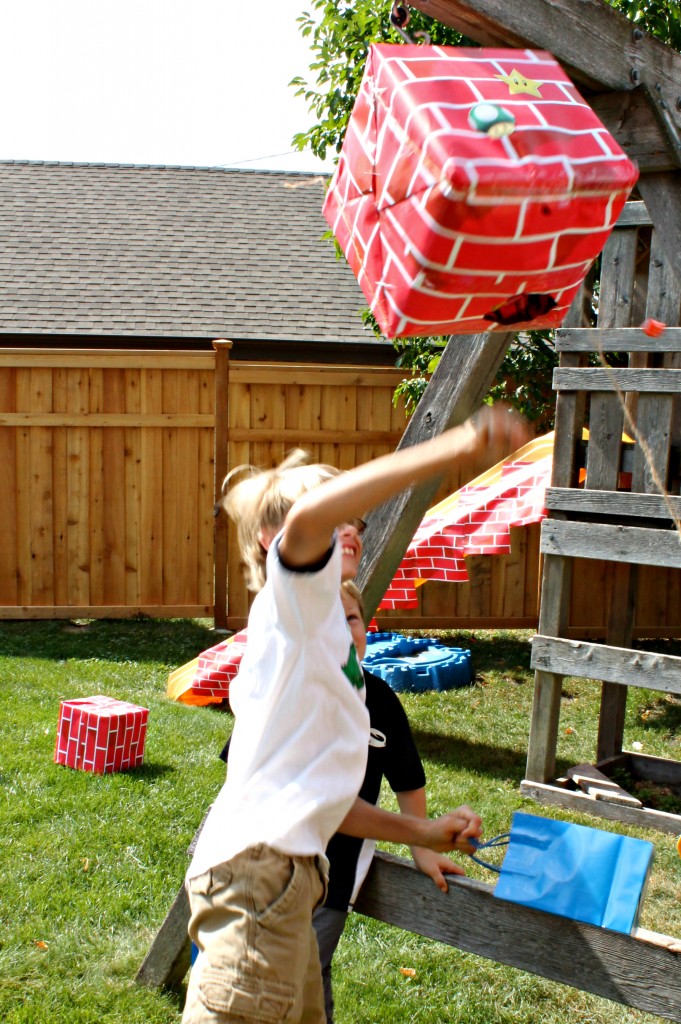 Almost! One Starburst flying out. Two more punches and candy rained down!
Super Mario Brothers Party Favors
When the party was over, the kids left with their candy bags, a Mario favor box (filled with things Noah chose, like Craisins, soda-flavored lip balm, and mustache whistles), and each child chose a gold coin to cut down and take home.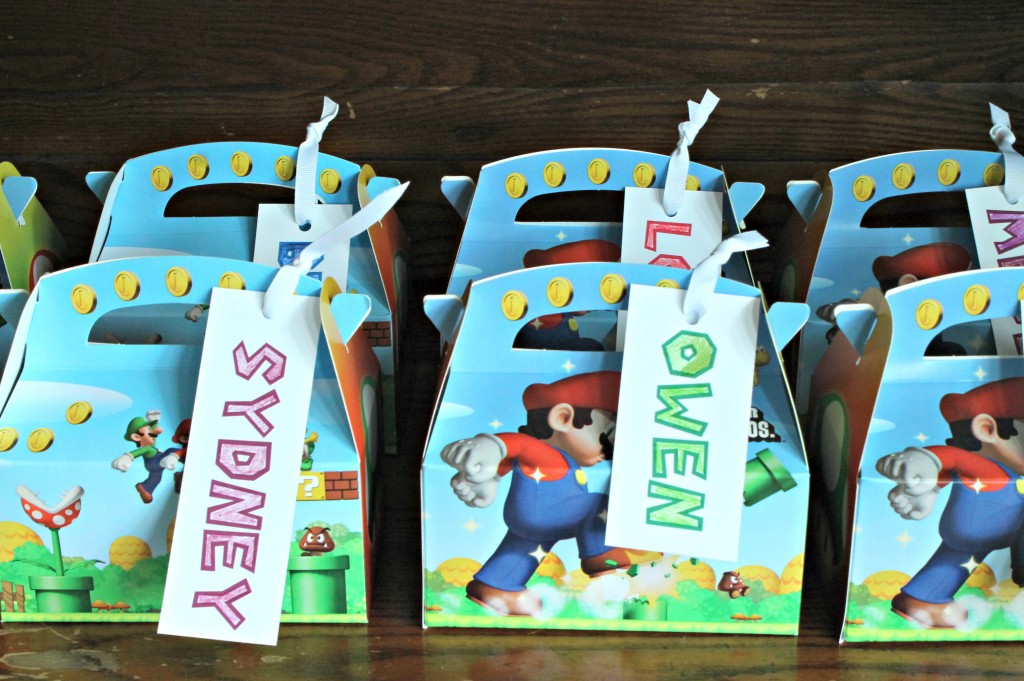 Super Mario Brothers Party Tutorials
For those really interested in how-tos, here are some photo tutorials for the things we made for the party.
How to make floating gold coins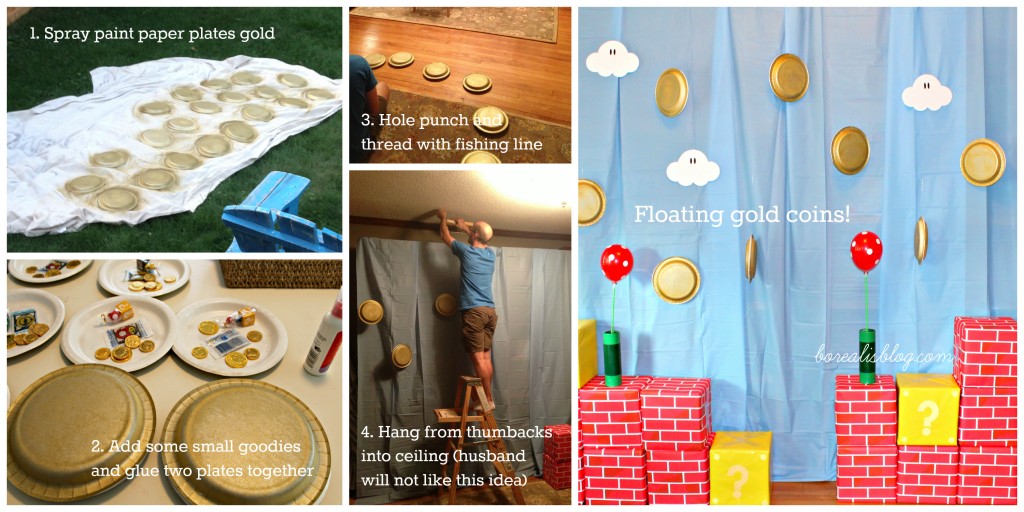 These are made with the cheapest white paper plates available and spray painted with metallic gold paint. The coins were filled with chocolate coins and a tiny Super Mario Brothers figurine, found on Amazon. I used hot glue to glue them together. My husband said he was "dubious, to use a Tim Gunn phrase" that it would work to tack them to the ceiling and not leave a mark. But he did it anyway and it turns out I was right.
How to make a Super Mario Brothers photo backdrop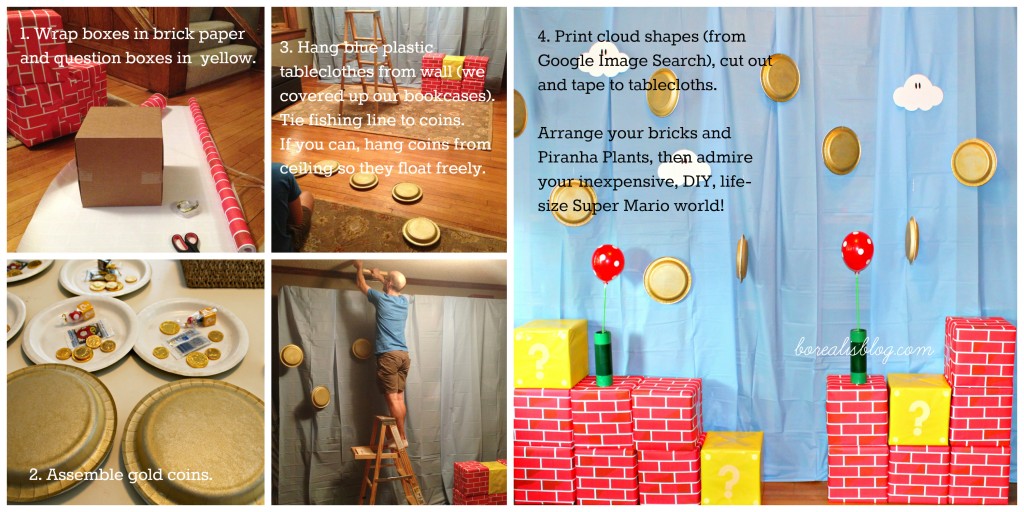 I ordered a pack of 10X10 boxes from Uline to ensure multiple squares of the same size. (I will be wrapping gifts in these for a long time.) The brick paper came from Shindigz, and the yellow wrapping paper is from Target. I got the blue plastic tablecloths from Party City. We used three to cover our two large bookshelves. I googled Super Mario Question Block and got the question mark image, which I printed on yellow paper and cut out. The rivets are made with a circle punch. Again a quick image search yielded the clouds, which were just printed, cut, and taped to the tablecloths.
How to make balloon Piranha Plants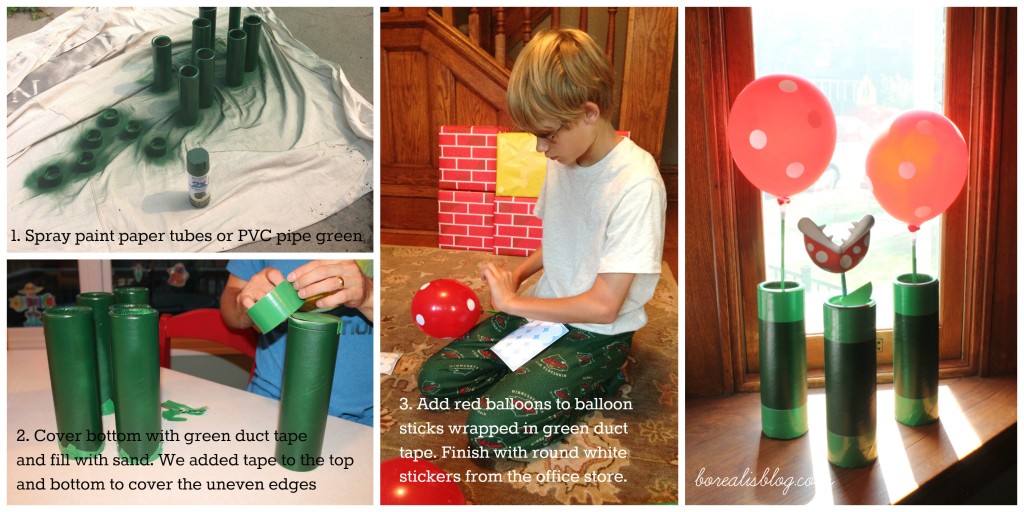 I made two kinds of Piranha Plants: balloons in a tube of sand for the obstacle course, and paper ones in PVC pipes for decoration. I got the large paper tubes from a salvage art supply store called ArtScraps. If you are from the Twin Cities, always check this out first for supplies for parties or crafts. In their bulk bins, all you can fit in a bag is $5, plus you are recycling. My new party favorite, balloon sticks, also make these work.
How to make Piranha Plant cupcakes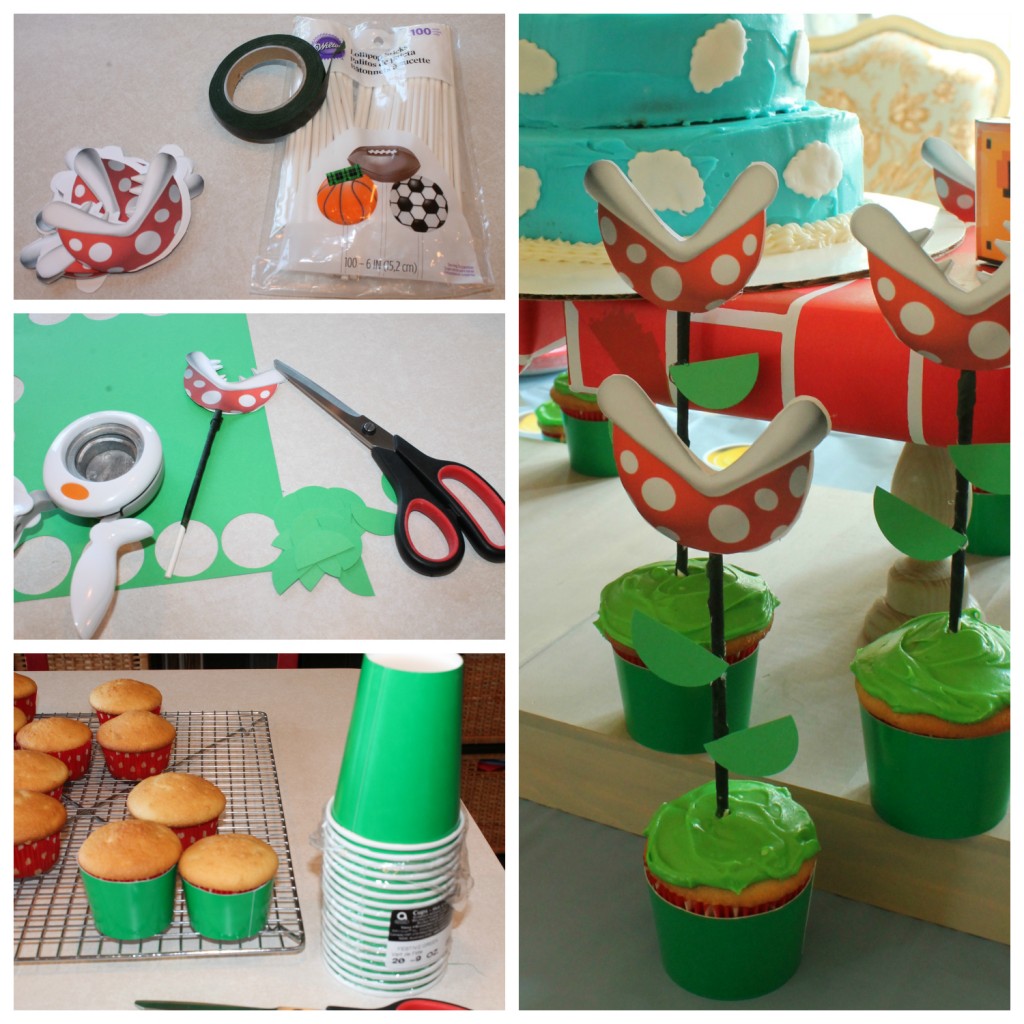 I printed twelve copies of a Piranha Plant image for the cupcakes. (Remember to flip half of them horizontally so when you put a set together they match up.) I wrapped candy/cake pop sticks in green tape and glued a stick between the two plant images. I punched out some circles of green, cut them in half, and glued them on for leaves. I put the cupcakes into a green paper cups I had cut down to size, frosted them in green, and stuck in the plants. Done. Easy.
How to make balloon Goombas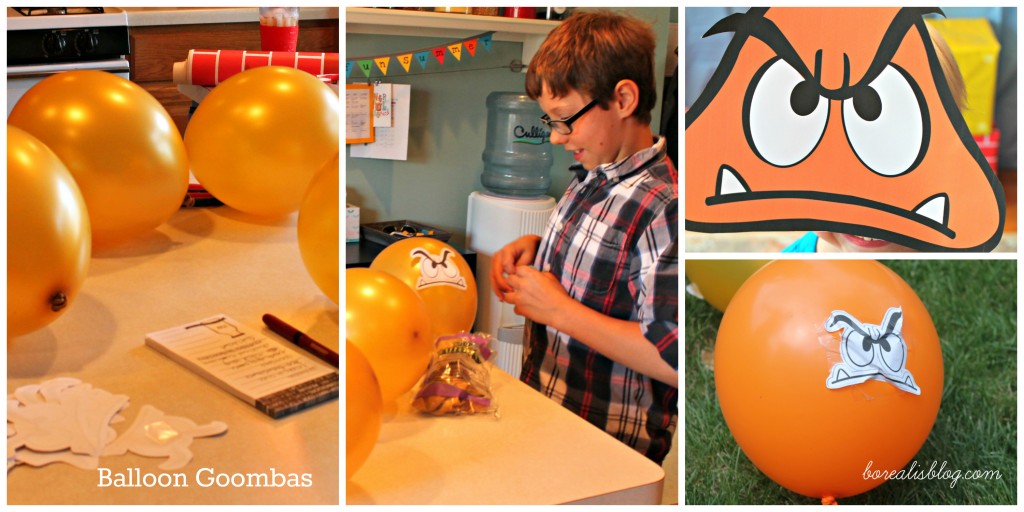 This needs very little explanation. Google "Goomba face," print it, cut it out (more TV), and tape on balloons. I didn't take photos of the King Boo balloons in progress, but it is the same concept. I used extra large round while balloons for the Boos.
Super Mario Party supplies (where to get what you need)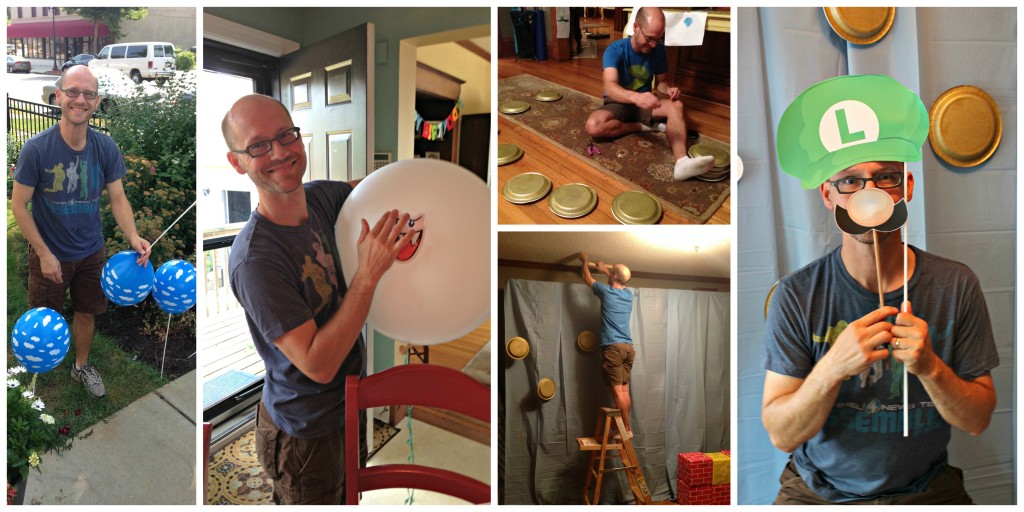 It's extremely helpful to have a good sport husband when DIY-ing a party. 
Decor
Favors
Downloads
Party Store/Other
Paper plates (white, inexpensive)
Blue plastic tablecloths
Green paper cups
Red balloons, gold/orange balloons
PVC pipe and caps
Green duct tape and/or washi tape
Green and white card stock
Gold and green spray paint
Fishing line
Round white stickers