Breanne's Picks
A cooking class at Cooks of Crocus Hill. 
Learn new summer grilling techniques, cross making homemade bread off your life-list, or get some new ideas for quick weeknight dinners. Treat your mom to a cooking class and go along with her to make it an outing as well. I've done this for both my mother and mother-in-law and we've always gotten way more out of the class than we expected. Most classes are $69 per person.
When I was reviewing Beth Dooley's Minnesota's Bounty: The Farmers Market Cookbook, I couldn't help but think it'd make a great mother's day gift. Throw in a tote bag for her to take to the market to round out the gift. $30 + $10.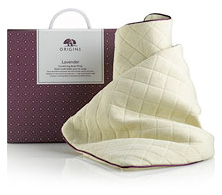 Origin's Bedtime Hug. This comforting body wrap, scented with lavender, lemon and orange, can be warmed up in the microwave and then wrapped around your shoulders or whatever needs it most. It's the perfect relaxing treat because it's quick (just a minute or two in the microwave) and reusable, so you don't have to save it for a special occasion. $42.
Jen's List
This weekend I went to the HAMMS event and found several new Minnesota designers, artists, and shops I think will become favorites, especially this one: Larissa Loden: Vintage Meets Modern.
My friend and I were particularly taken by the map charms, lockets, and bracelets, and we thought out loud, nearly simultaneously, that if husbands had a clue, this bracelet would be a perfect Mother's Day gift.
All orders are custom, so you can get charms for where you met, where you got married, your honeymoon, where your children were born, significant trips together — anything that means something to her. Or, a locket with your current home, and photos of your kids inside. Get one for your mom of all the cities her kids live in. Honestly, this is the best idea ever. I might order one for myself. $60.
If any of the mothers in your life (Scott, are you reading this?) are Katniss Everdeen fan girls, Larissa Loden also makes some sweet arrow jewelry, like this bracelet and earrings. Each $25.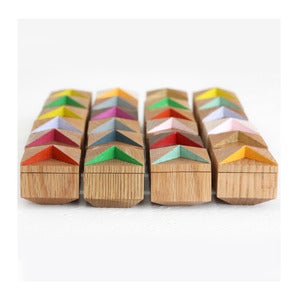 Also found at the HAMMS event was Oh Dier — fun and interesting home items and cool kid stuff made of recycled wood. I really wanted a block Paul Bunyan for the lake, but I showed remarkable restraint. I do think this cool ring box would be a great Mother's Day gift for a stylish mama. It's the perfect place to store the pipe-cleaner ring the kids made. $45.
My kids and I are going to make these seeded paper flowers for the grandmas. Cute, creative, and at once consumable (less stuff) and renewable (flowers). Grandmas, if you are reading, please pretend to be surprised.