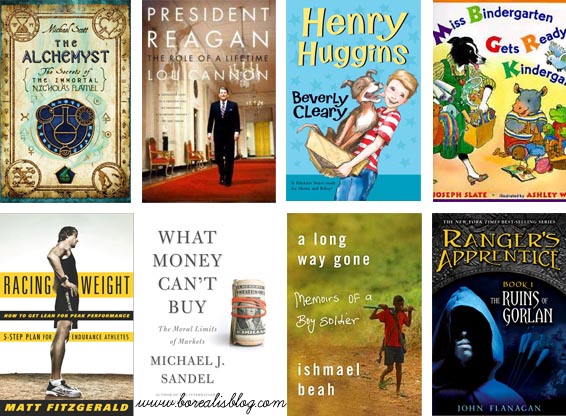 It's summertime and the living is easy . . . or so they say. Our family is actually very busy with camps, lessons, training, traveling, and oh, that seasonal business we own (more on that later).
Nonetheless, I can't help but make a summer reading list, in the same way I want to buy school supplies each fall. (Before I had kids, I would buy backpacks and supplies for charity simply for the joy of new crayons and pencils.) I've collected a list for myself, and helped the boys with theirs. We may be just as busy as ever, but we're going to be busy with books, too.
In-training, heart attack-surviving, political-junkie, feminist mom-of-boys:

My list is all over the place, covering how to lose some weight while marathon training (really, I don't need this extra 15 along for the 26-mile ride), hopefully some new ideas for potty issues, a few current affairs nonfiction books I read reviews of and ordered before I forgot the titles, more living-with-heart-disease research, and the latest in my study of presidential biographies, Ronald Reagan. And for the three days that my husband is out of the country and my boys are at grandma's, I think I'll read the Hunger Games and 50 Shades of Grey trilogies. I can't be expected to make dinner or care for children with books like that around!
For the Harry Potter-loving, adventure-seeking 10-year-old:

You know how you finish a series and you just miss it so? We've been trying to find something to fill the Harry Potter void all year, and we've had some hits and misses. (A sad miss for me is he didn't love the Madeleine L'Engle books as I did.)
We've finally landed on the Ranger's Apprentice series by John Flanagan (thank goodness there are 10 of them!) and the Secrets of the Immortal Nicholas Flamel series of six novels by Michael Scott. Hopefully that will keep him satiated for the summer, though he's already on book 4 and 3 respectively.
For the almost-kindergartener, wants-to-be-like-his-brother 4-year-old:
Oh, Beverly Cleary, we love you. Her stories are the perfect chapter books to start reading to a young child. We just finished the Mouse and the Motorcycle, and there are two sequels. From there we'll move to Henry Huggins, Ribsy, and Beezus and Ramona. It is fun for me to revisit the stories I loved as a child and read to Owen years ago (not to mention moving on from some of the much-reread picture books). Noah is so proud of his chapter books; now he's just like Owen!
We will also read from the great books of the kindergarten preparation genre, like Miss Bindergarten Gets Ready for Kindergarten, If You Take a Mouse to School, and the Magic School Bus, inspired by this list of "50 Books Your Child Should Read Before Kindergarten." The list is a fun way to narrow down the selection process at the library!
What do you think? Please comment and add your summer picks to the list!