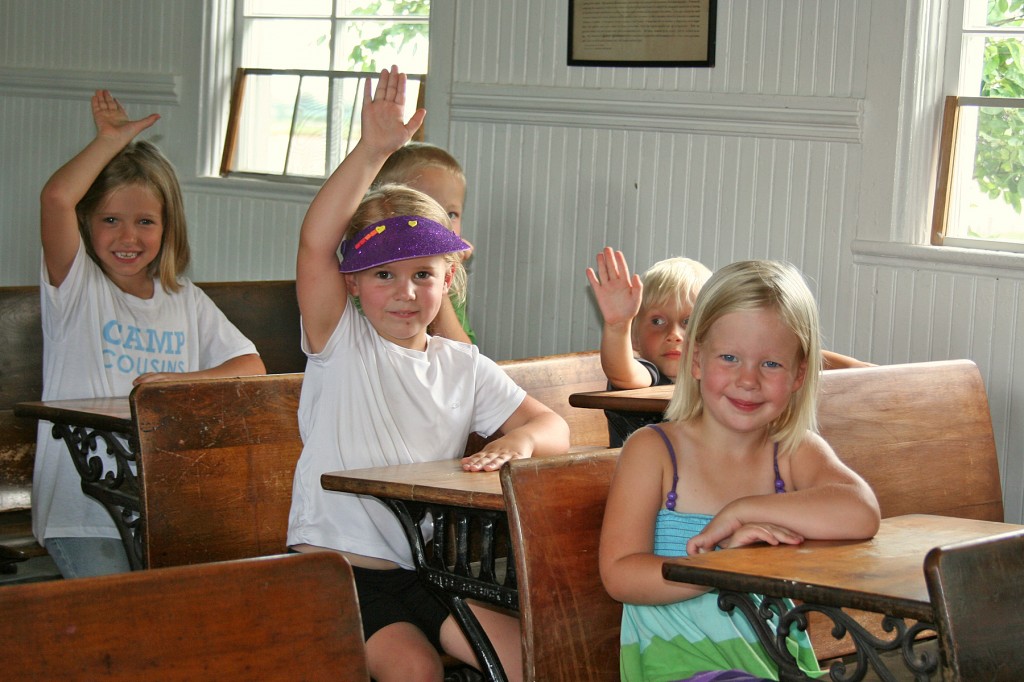 How many times did you read the Little House on the Prairie series? Ten, twenty? I don't remember my total times through the nine books, but so many scenes are perfectly vivid in my head: Ma making cheese, Jack turning around three times in his bed and then dying, finding baby pickles and saltines in the surveyor's house pantry, the bull falling through the dugout roof, the social where Laura and Mary ate maple sugar candy cooled in the snow, Pa getting stuck in a blizzard and eating the Christmas candy, Mary beading by memory like she learned in blind school.
If you know what I'm talking about or ever wished you were Laura or Mary or Carrie or Grace, take your kids to the Gibbs Farm Museum of Pioneer and Dakotah Life in Saint Paul. For just a couple hours you can see and touch life on the prairie without leaving the city.
This week is "Camp Cousins" at my house – the annual visit of the younger set of Thorson cousins. Five cousins, ages 4-7, Aunt Jenny, Uncle Scott, and this year, our first Junior Counselor, 12-year-old nephew Isaiah, amuse ourselves and spend time together, summer-camp style.
Today's camp field trip was my first visit to the Gibbs Farm. Located on the original farm (now surrounded by the University of Minnesota and the city), it features the original farmhouse, a replica of the sod house dugout, the original barn, native prairie, crop gardens, animals, Dakota tipis and bark lodge, furs and implements and artifacts, a replica General Store that looks just like Oleson's Mercantile, and a one-room schoolhouse complete with writing slates, an organ, and dunce caps.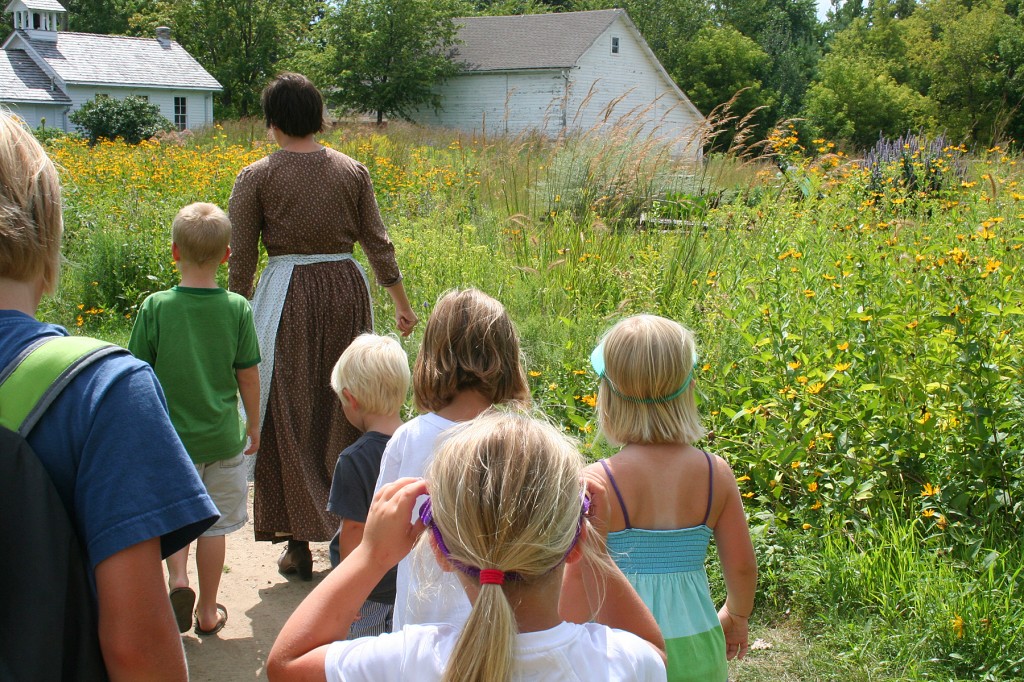 There were perhaps a total of 12 other people there, so the kids had plenty of time and space to roam, see, and touch (probably more than they should have) — and learn from a personal tour guide in floor-length calico, an apron, and ankle books. It was a perfect match for this age group and a great way to spend the day.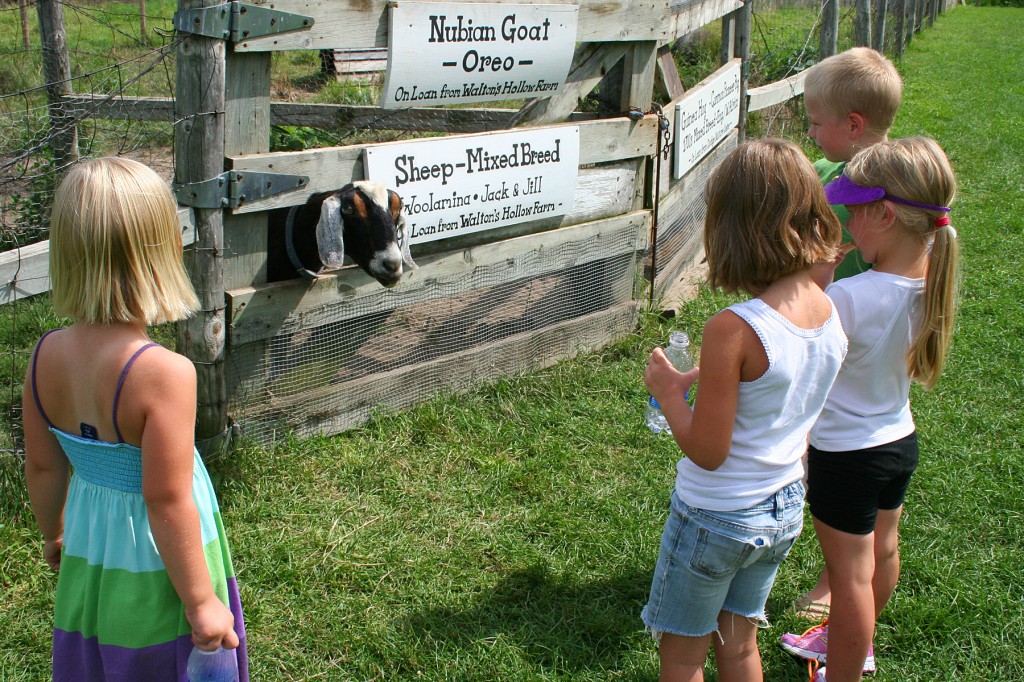 If you go
The Gibbs Museum is open Wednesday-Sunday from 12:00 p.m. to 4:00 p.m. from Memorial Day Weekend through Labor Day, and weekends 12:00 p.m. to 4:00 p.m. during September and October.
Tickets are $8 for adults and $5 for kids (ages 3 – 16). There's also a little gift store with candy like Nellie used to flaunt, and like all good museums everywhere, you exit through the gift shop. Give each child a quarter and you'll be all set.
Wish I had known
Gibbs Museum also offers day camps like Summer Schoolhouse (yes, please!), Dakota Discovery, and Pioneer Life, Work, School, and Play. Oh, how a couple little girls way back in the '70s would have loved these camps!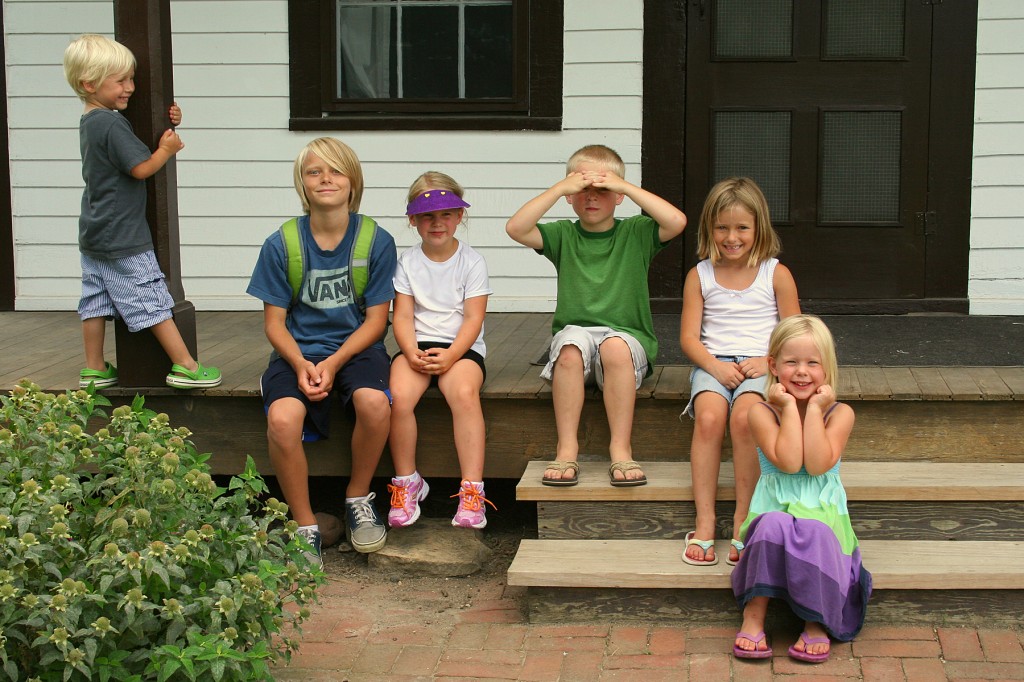 My campers. If you are going to host a summer camp for your little ones, I highly recommend hiring a junior counselor. He carries snacks and water and reminds them not to touch, over and over again. His best quote of the day: "You tell them to do something and they don't listen!"