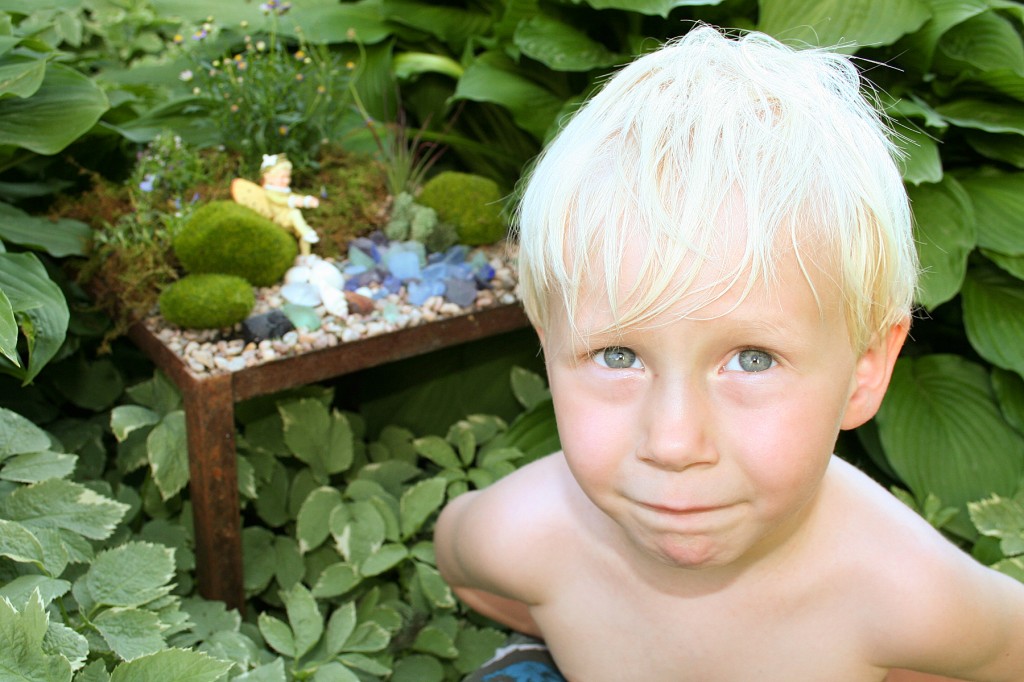 My littlest sprite and his fairy, um, I mean sprite, garden.
My house sits on a lot-and-a-half and for an urban home that means a huge yard. But since I have two boys, a play structure, a sandbox and must preserve enough space to play baseball, I don't have a lot of space for a vegetable garden. And I want one.
Along the side of my house I planted – 10 years ago – an enormous perennial flower garden that pretty much takes up that whole space, so I'm left with two little raised boxes next to the garage. Because I'm usually a CSA and farmer's market kind of girl (did you know you can get coffee, a doughnut, and handmade soap there too? And don't get me started on the flowers!), I've never worried about getting a "yield" out of those boxes; it was just something for my boys to do. We plant seeds willy nilly (and by plant I mean toss them in and let them fend for themselves) and see what survives.
This year I'm inspired to actually plan for a harvest and grow some consistent crops. As much as I love the farmer's market, I think I'll love gathering a salad out my back door more. Yes, cilantro is only 80 cents at the store, but I never have it when I want it and if it were right there in the garden, I'd be that much closer to guacamole. Noah will eat a brussels sprout off the plant when he's out playing, but won't touch with a 10-foot pole at the dinner table. So it just seems like a good idea.
Back to the space constraints. Thanks to Pinterest (honestly, how did we research or plan anything before Pinterest?), I have lots of ideas. After pinning and reading and online shopping (ooo, three of my favorite things in one sentence), I've come up with this plan:
Buy upside down planters for my tomatoes and hang them from the garage rafters. (My husband investigated this and concluded that some McGyvering will be necessary to bear that much weight. He's totally stoked.)
Build a second level to my raised boxes so the plants in the front don't shade the ones in the back.
Rip out some perennials and make room for some veggies and herbs tucked among the flowers. (I have such romantic visions of this; we'll see how it works — and looks — in real life.)
Try the popular gutters-turned-vertical-garden DIY project that's all over Pinterest on one of my fence panels. This will be for lettuces and radishes and similar shallow plants. Again my vision is that I'll keep replanting to keep the greens coming all year long. And again, we'll see.
People in Minnesota are pretty much nuts about their gardens; we actually spend the most per capita in the country on plants and supplies for our growing season, which can be a short as three months or as long as six, and as a born-and-bred Minnesotan, I'm very excited to get started on this project. I plan to share more about it here, so in the grand tradition of project blogging, here are some before photos.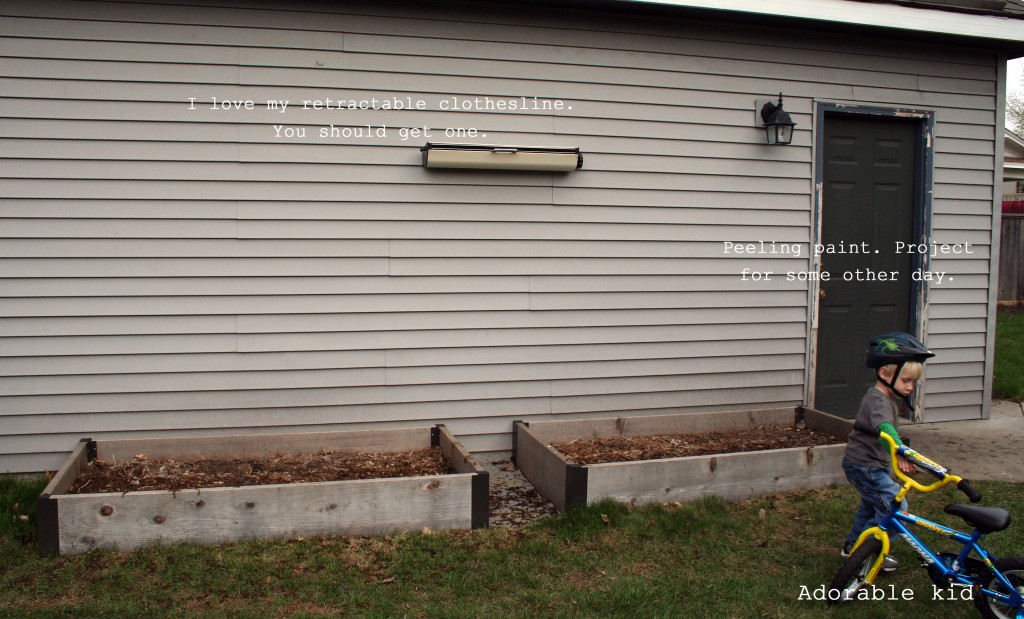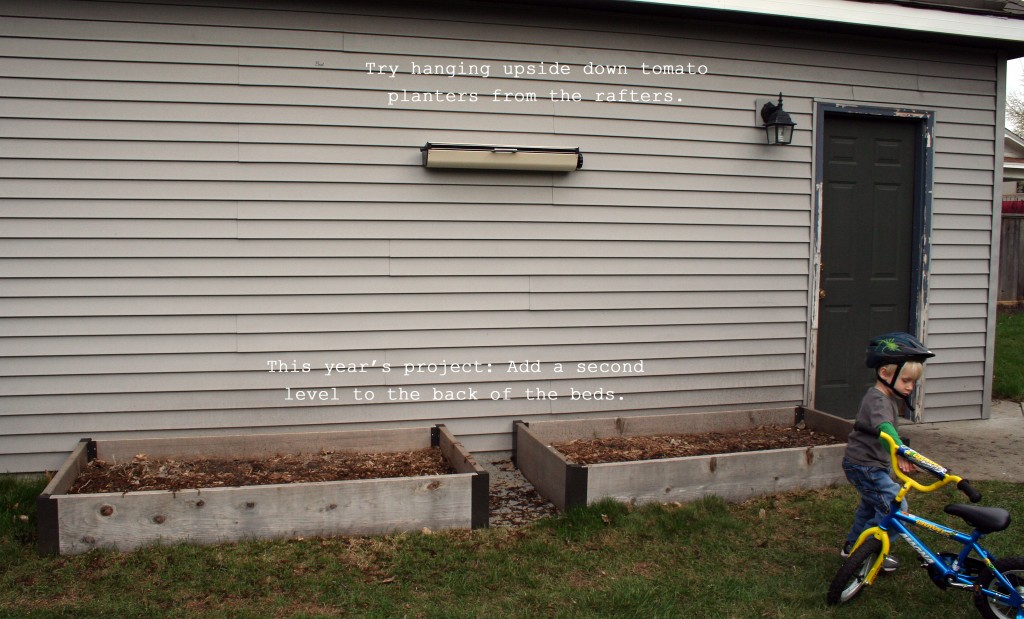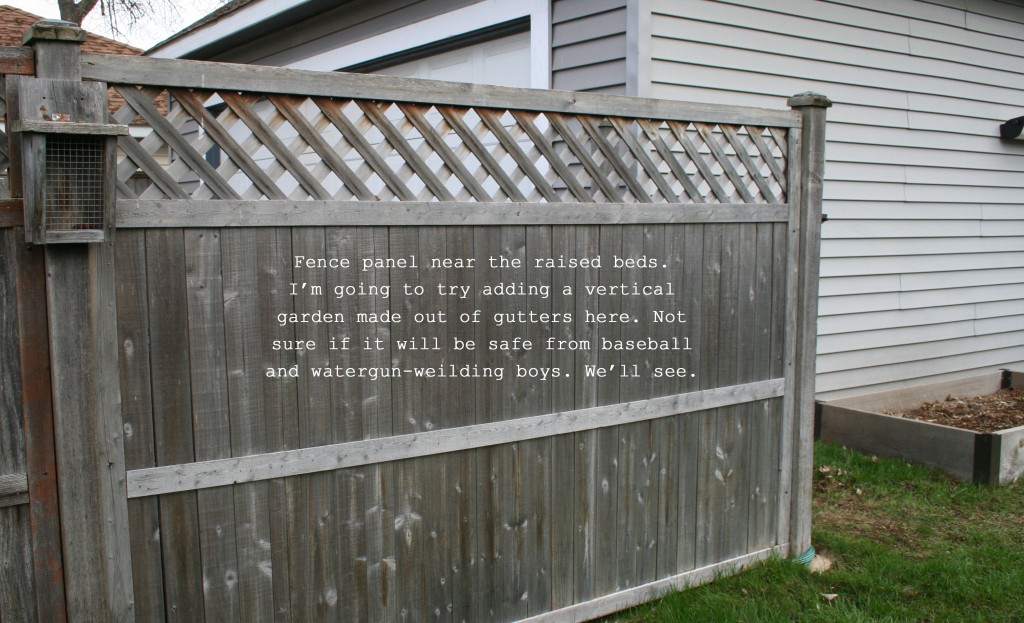 Please keep in touch to find out if this works, and check out my Pinterest board for more urban gardening inspiration.