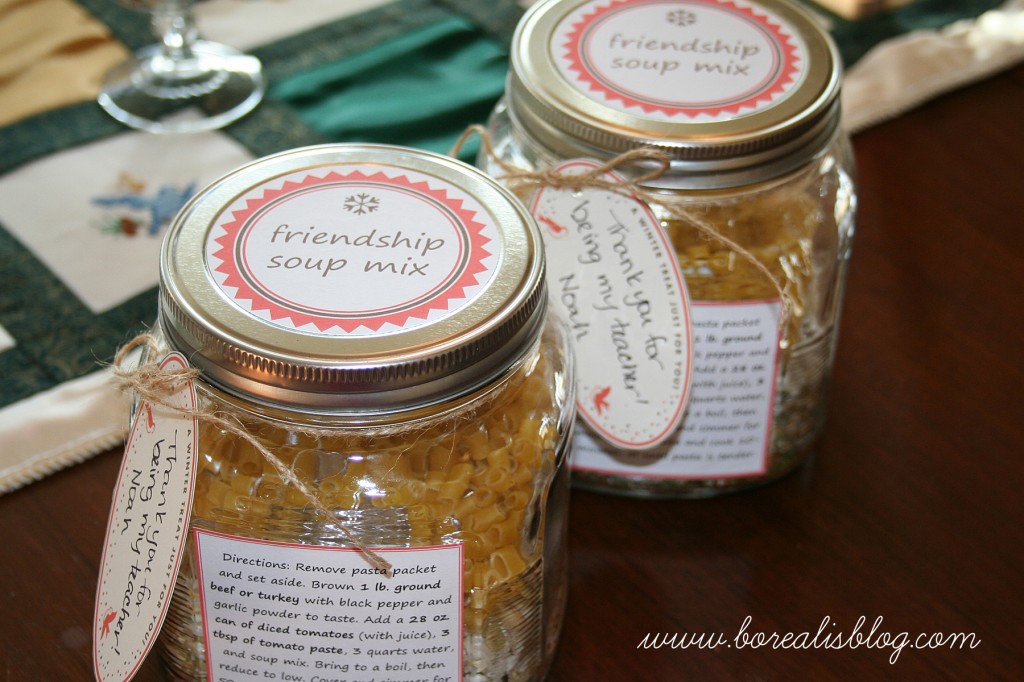 I mentioned last post that Noah is not a project or craft kind of guy, so when it came time for him to work on his Christmas gifts, our options were limited.
Fortunately, soup mix in a jar is a very popular gift and recipes abound for them. I was suspicious, though, as I read through them. Sure, the jar might look cute and feature readily available ingredients and with all those beans and peas and grains it must be good for you, but does it actually taste good? I don't want to give a food gift that isn't delicious.
This one is, in fact, very good and has become a tried and true gift. Many recipients have asked for the recipe, and I make up extra batches for myself for those days I don't really have a dinner plan and the last thing I want to do is go to the grocery store.
So here's my gift to you: an easy gift for little hands to make and tastes good too.
1/2 cup dry split peas
1/3 cup beef bouillon granules
1/4 cup pearl barley
1/3 cup dry lentils
1/4 cup dry onion flakes
2 tsp. Italian seasoning
1/2 cup uncooked white rice (I use Basmati)
2 bay leaves
1/2 cup uncooked small shape pasta.
In a 1.5 pint jar, layer the peas, bouillon, barley, lentils, onion flakes, Italian seasoning, rice, and bay leaves. Wrap the pasta in a little bit of plastic wrap and tuck on top. Seal the jar.
Attach a label to the jar with the following instructions:
Directions: Remove pasta packet and set aside. Brown 1 lb. ground beef or turkey with black pepper and garlic powder to taste. Add a 28 oz. can of diced tomatoes (with juice), 3 tbsp of tomato paste, 3 quarts water, and soup mix. Bring to a boil, then reduce to low. Cover and simmer for 50 minutes. Add pasta and cook 10-15 minutes, or until pasta is tender.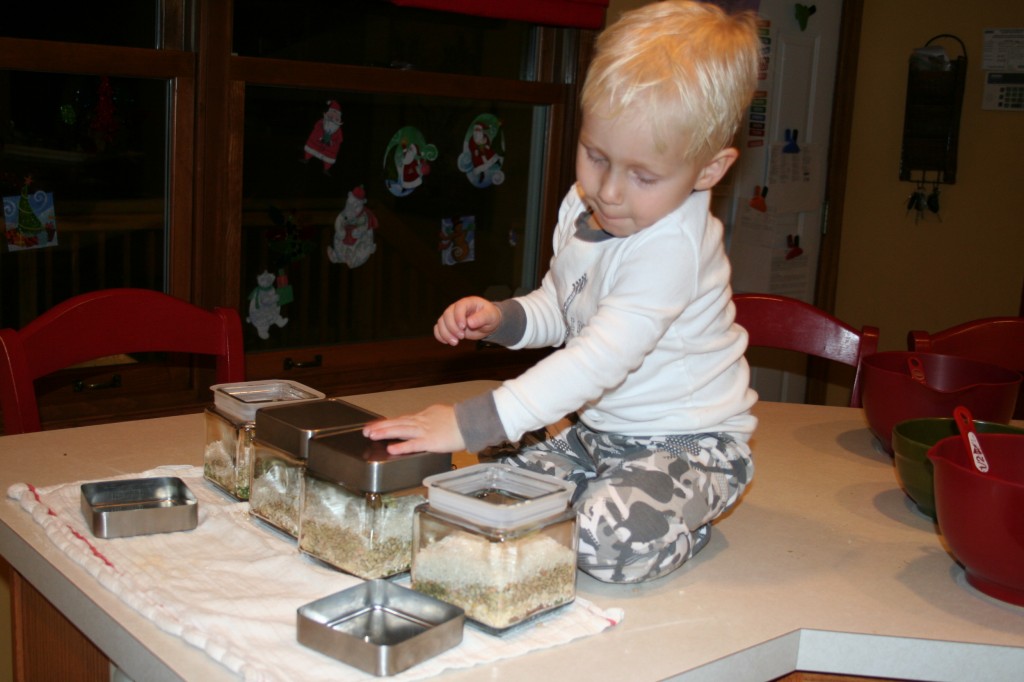 Noah, age 3, working on his soup jars in his pjs after a bath. The best part of the gift was when he helped his aunts and uncles and grandparents open them, and then announced: "Issoup, you hafta cook it." Everyone still says that when they make soup.
Update!
I've added a PDF of the labels I used for my jars last year. The jars are the smallest size cracker jar available at Target, so these are sized to fit that jar. The original label design is from Lovely Design; I just added my text and then made the directions label to match.