We spent Mother's Day weekend in the garden, finally executing some of the urban and vertical gardening ideas I had planned out in March. Here's an update on our garden progress.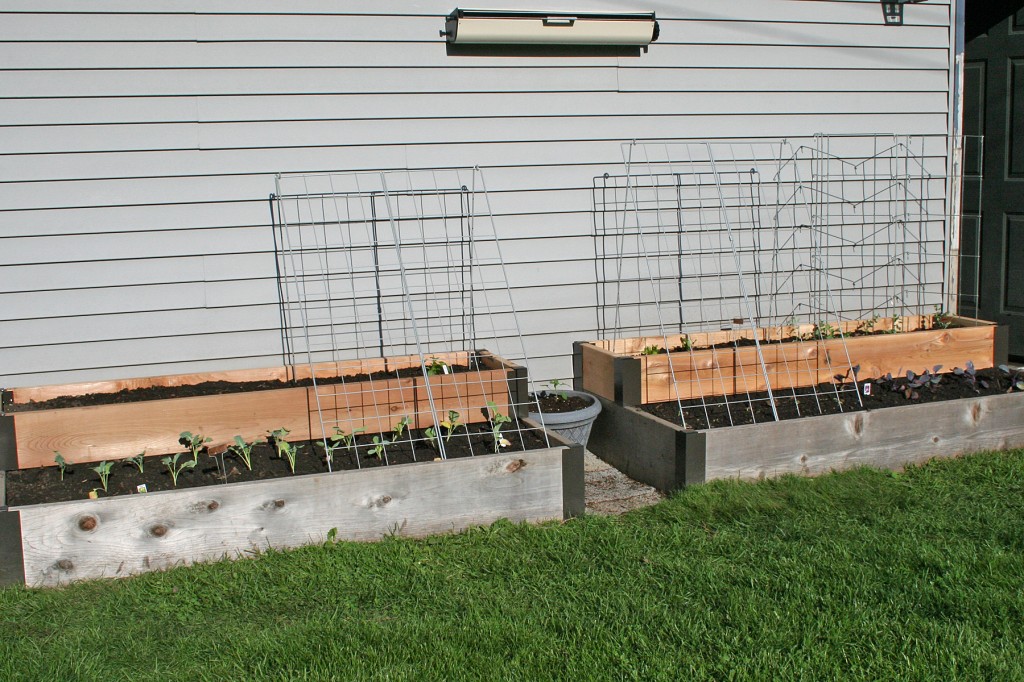 The second level on the raised beds look great and add a lot of usable space. I got the leaning trellises for zucchini and cucumbers at Gardener's Supply Company. You are supposed to plant lettuces underneath the trellis because they like the shade. I love the idea of this tidy way to grow vining plants in a small space! The pea fence is also from Gardener's Supply. Also planted in these beds: carrots, broccoli, cauliflower, Swiss chard, red cabbage, spinach, and red peppers.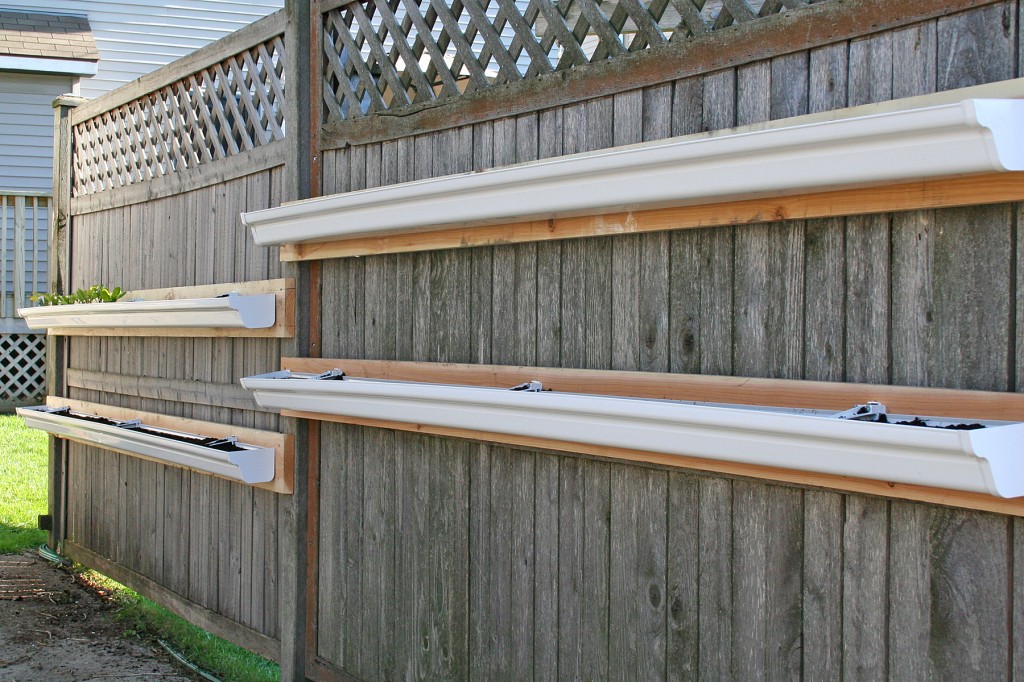 The gutter gardens are up! How cool are these? They have been planted with arugula, spinach, romaine, radishes, and leaf lettuce.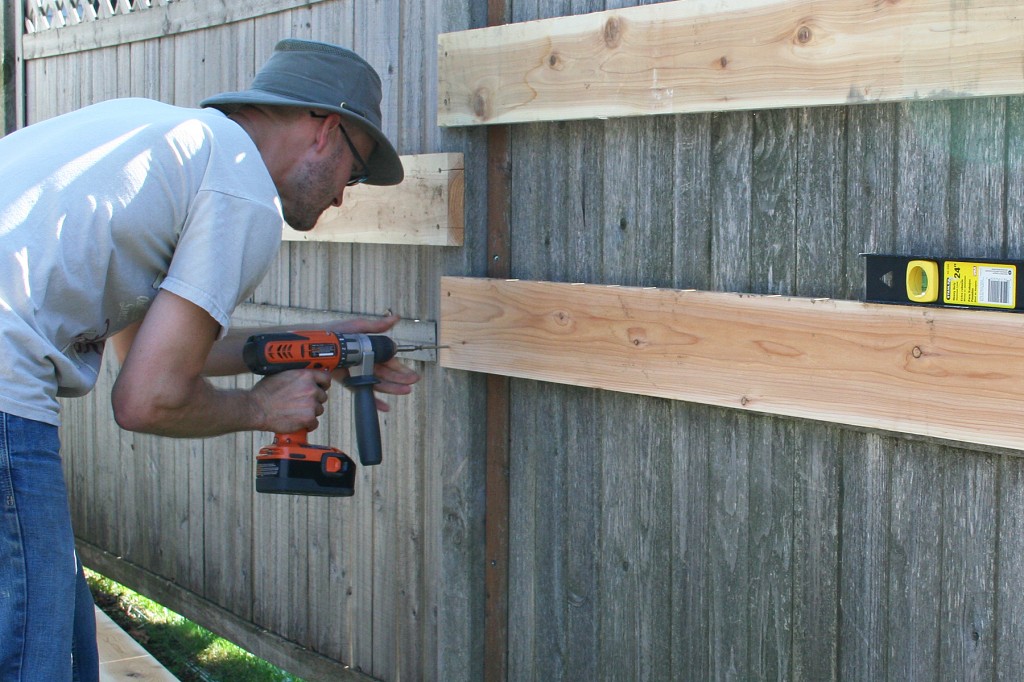 We started with cedar 1 X 6 boards mounted to the fence to reinforce it. (And by "we" I mean Scott.) We didn't think our fence could hold the weight of soil and water without extra support.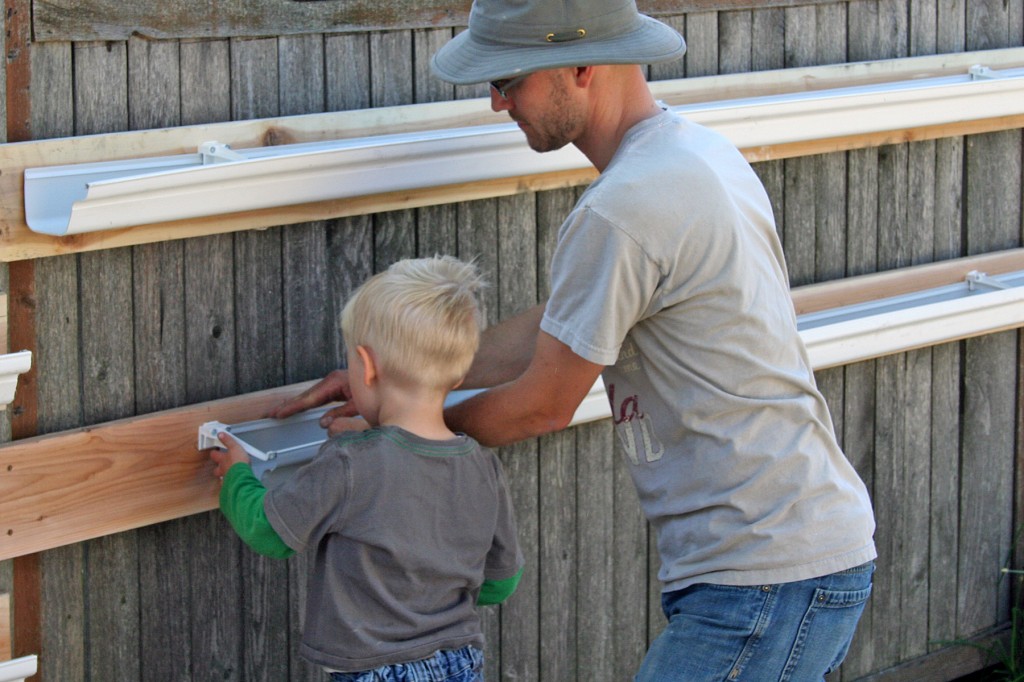 We mounted the vinyl gutters on the boards according to the directions for hanging gutters. (They come with brackets that you install first, then slide the gutters on.) Then added the end caps to keep the dirt in and make it look finished. All these materials can be found at any building center and are very inexpensive. Noah is, as always, a huge help.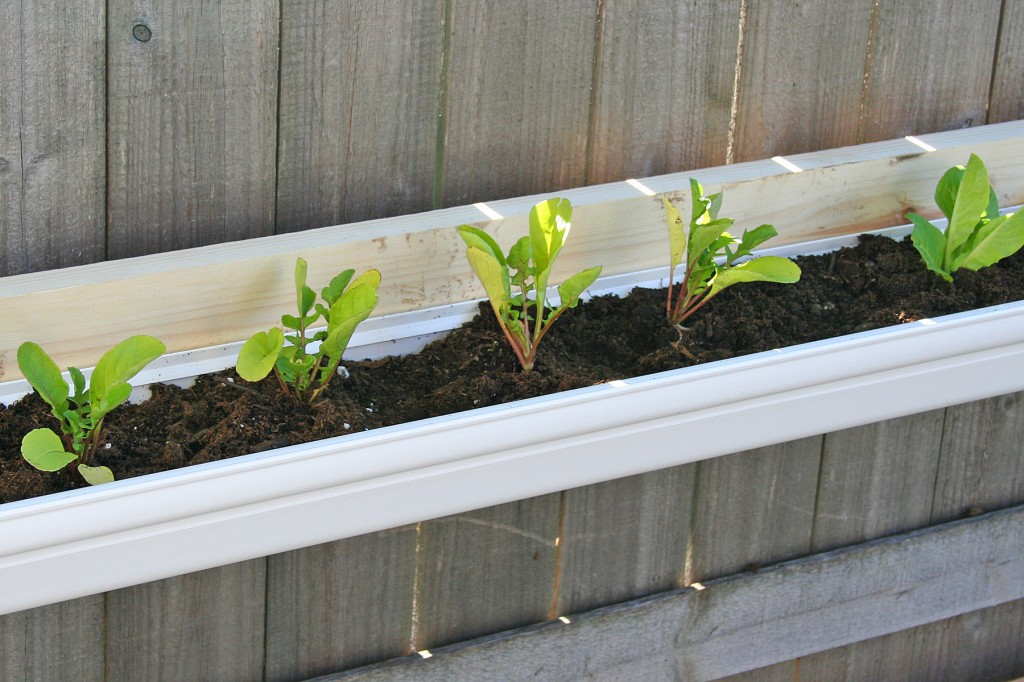 Cute little arugula in the dappled sunlight.
And now for the Real Truth . . .
We forgot to drill drainage holes so after the first heavy rain, this is what my oh-so-clever gutter planters looked like: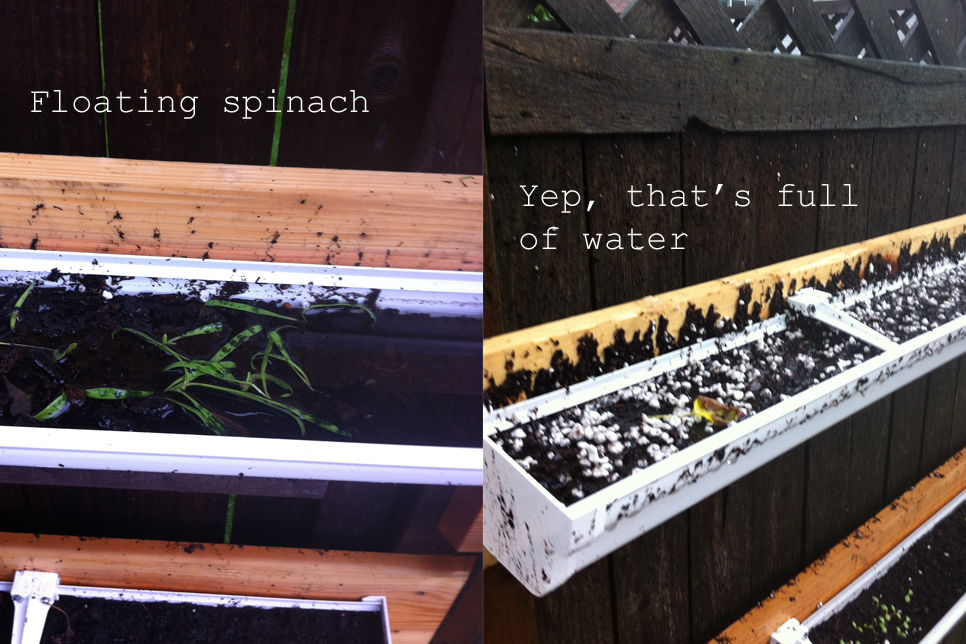 We have since drilled some holes and it appears that spinach is reviving, and the lower level planters are doing just fine. But the ones on top take the brunt of a heavy rain and look messy and lose a lot of soil. I realize now that when I saw this idea online the person had installed them on her house, which probably has eaves and gutters and thus protects these shallow planters from the deluge. So, time will tell if the plants on top make it. Or we'll be out there designing and installing a little protective roof, which, really, would be pretty silly. (Again, thank goodness I signed up for that CSA. If we were depending on me for produce . . . well . . .)
In other Real Truth news, I think I got the wrong varietal of peas because they appear uninterested in climbing the fancy fence I bought for them. The rabbits ate all my green bean plants, so there will be no charming archway covered in bean vines. (Oh, the visions of photos of my boys picking beans off the arch!) The rabbits also ate all my cilantro, half the radicchio, and at least two lilies and a rose bush down to the dirt. Have I mentioned how much I hate rabbits? And, the spinach and kale seeds I planted in the flower garden washed away in that same gully-washer and are either growing the grass somewhere or lost forever. The good news is that I can get rid of the marigolds I planted to protect my garden produce. They clearly fell down on the job, and they are ugly flowers wrecking my vista. Bye-bye.
What is working are the tomatoes, eggplants, and herbs planted in pots and then placed throughout the garden. I think this is the way to go next time!
Whither progress?
Read all the posts about this summer's urban garden adventures!
Garden Dreams
Making plans for charming and functional urban vegetable gardens in the city
Plant, Ready, Plan
I abandon my plans to meticulously research seeds and just plant willy-nillly with my four-year-old
In the Garden, Waiting
It's so hard to wait til it is safe to plant, so in the meantime I tear out perennials to make way for my veggies.