Jen's makeup routine was in a rut before becoming a stay-at-home-mom, and that status change hardly improved matters. Breanne needs to look like the professional she is and feel great in five minutes flat, since her toddler and soon-to-be newborn don't exactly leave a lot of time for fussy routines.
So when we were invited to a Macy's/Lancome makeover event for bloggers with makeup artist Alex Sanchez, we were both excited to try something new. It was a fun experience and definitely a pick-me-up. (Check out our sass levels in the before-and-after shots!)
We learned a few things to share with you, too. 
Breanne's Makeover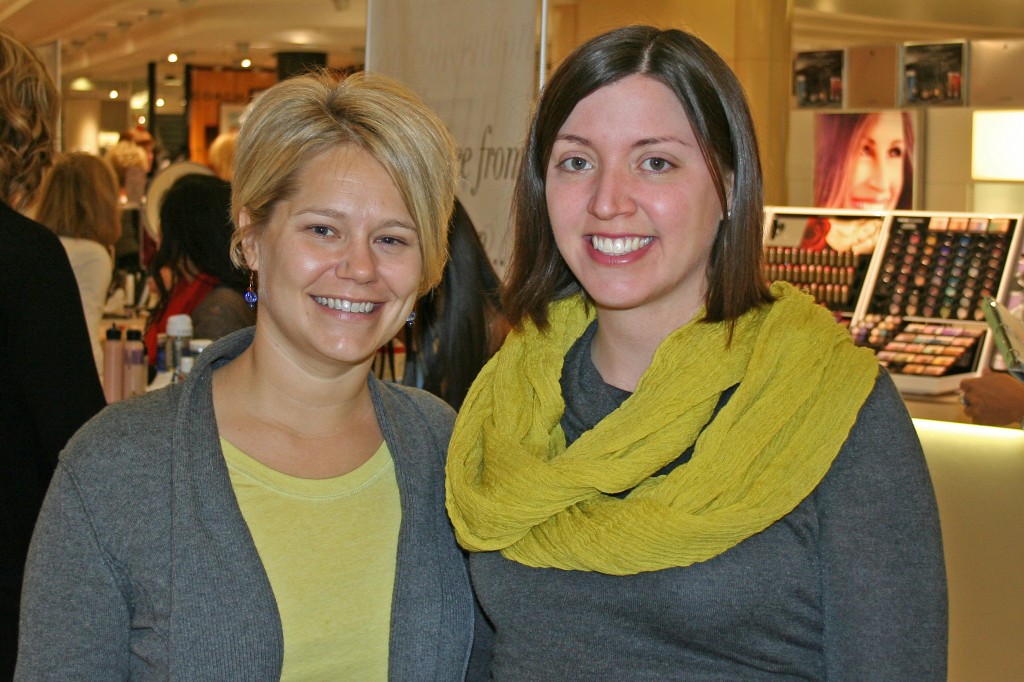 I really want to blame the lighting on this one for why we both look so pale, but since the lighting is the same for both photos, I guess that's how we looked! We both agreed to come mostly fresh faced. We did not agree to dress alike; that was an accident!
The stylists asked what my beauty goal was and I said what I'm sure they hear all day long: "Quick. Easy. Five minutes." With my pregnant belly I felt I had more of an excuse for makeup laziness, but I still felt bad because they are such amazing artists and I was asking for the equivalent of fast food. But they had some good tips: my stylist Ruth reminded me of the existence of tinted moisturizer, which provides light foundation coverage, moisturizer, and sunscreen all in one. (Although we agreed that my moisturizer needs exceeded what this one product could offer — my winter pregnancy skin is DRY! I love not having to worry about acne anymore, but I need to be more diligent about moisturizing).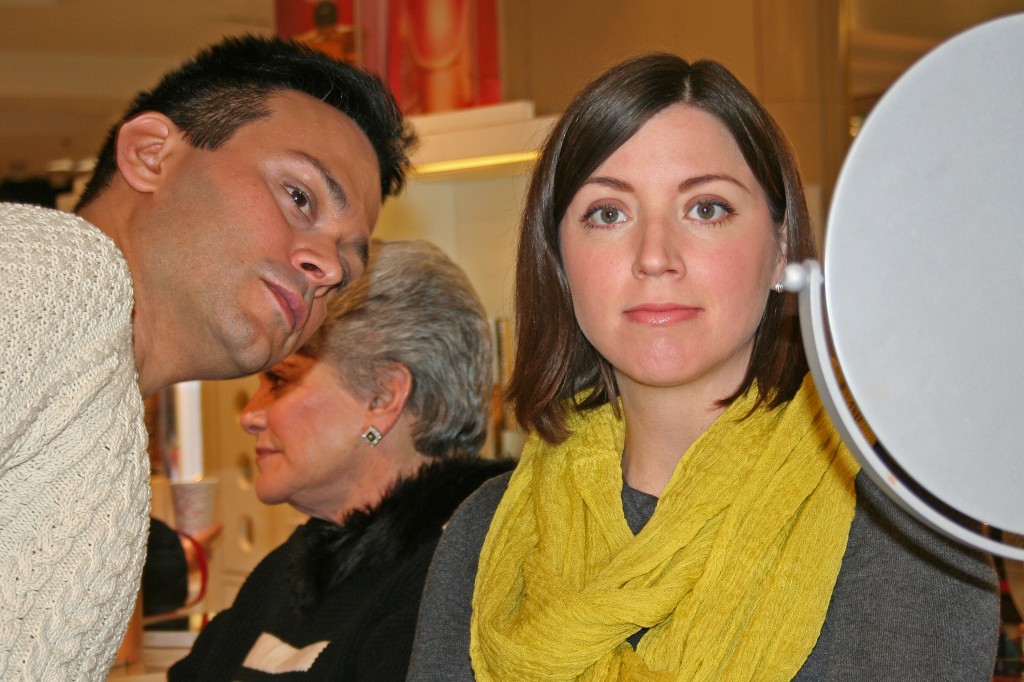 Alex did my gorgeous eye makeup in just three products (and about two minutes!). Mascara, eyeliner (applied on the top lid only from midway to the far corner), and gel eyeliner used as shadow (in Bronze Couture). His use of gel eyeliner as shadow had the other stylists nodding in admiration, and I liked how easy it was to use — a quick application with a brush and it created that longed-for smoky smudgy look. This is a routine I could handle.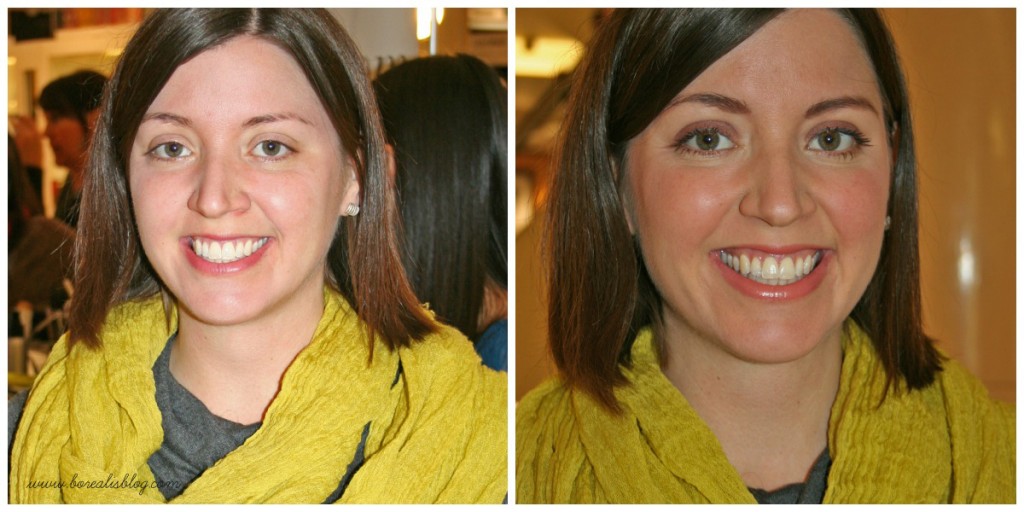 My favorite products:
Brow pencil – I've never used this before and couldn't believe the difference. Check out the before and after again – vavoom! And it's definitely an easy product to use for an amateur like me. (Lancome Le Crayon Poudre in Taupe)
Blush – I was surprised when my stylist brought out the blush because it was lighter and pinker than I usually wear. But I loved it and the natural glow it gave my (pale winter) face. (Lancome Blush Subtil in Sheer Amourose)
Lipstick – It's a little hard to tell from the photos where I'm smiling (because my lips disappear), but the nude lipstick they picked out for me was fantastic. Alex said it was his favorite nude — not pasty, not too coral — and that it looked good on everyone. (Lancome Rouge in Love 200B). The lipstick had a great creamy texture that coated nicely like lip balm but also had staying power. Nude lipstick is an ideal pick-me-up for a rushed mom — easy to apply and maintain.
Jen's Makeover
One thing's for sure: I really need to wear more makeup. Even though we planned to come makeup-free, I couldn't resist a little tiny bit of mascara. Oh and my tinted moisturizer, and maybe a teensy, tiny bit of concealer, and then some lip gloss.
And still, this is what I looked like: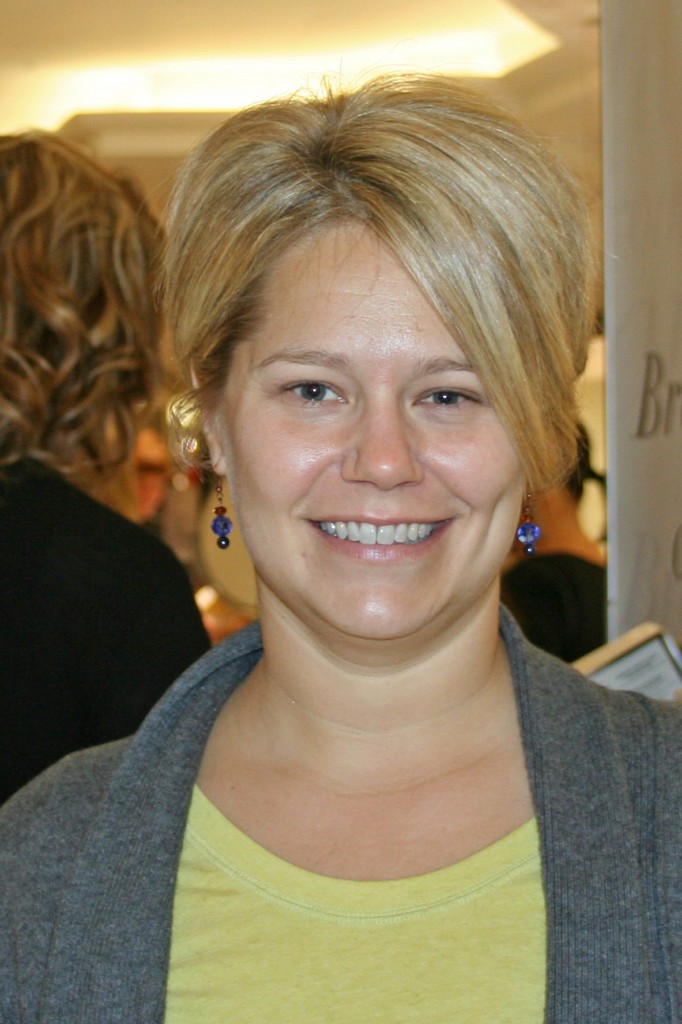 Benjamin, my makeup artist, asked me the same question as Breanne received: what was I looking for? I said I've had it with these wrinkles on my forehead, but that concern was promptly dismissed as irrelevant. We are not going to think about that right now, he said. What is it you want to know how to make up? Your eyes, your lips?
I said I always fail at blush but that I had the eye thing pretty well down. Tell me, he said. What do you do? So I explained.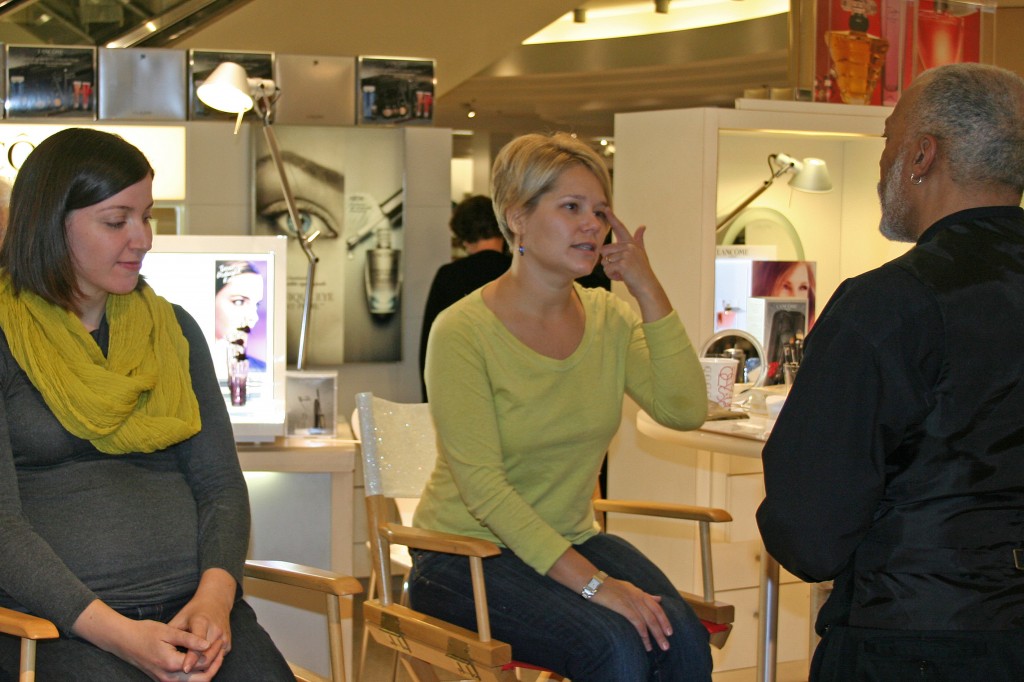 And then I learned that I'm doing the eye thing exactly wrong. As in "your eyes are small and deep. That's exactly the wrong thing to do."
Okay, then, proceed. My face is but a blank canvas. Once I acquiesced to his authority, Benjamin seemed happier and cheerfully explained what he was doing along the way. He even coated me with some kind of wrinkle serum, probably because he could see what I meant about those forehead wrinkles.
He redrew what he'd done on a paper face and wrote down all the color names and products. This I love; I would never remember it otherwise.
Here is what I learned: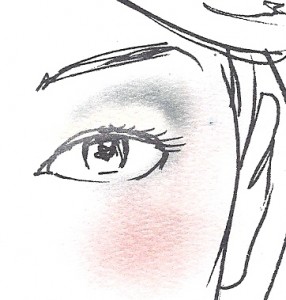 If you have small, deep eyes like me, put the light color on the lid and brow line, and the dark color just above the crease. Use the same dark color as eyeliner under your eye, but don't line the top lid. This is truly the opposite of what I've been doing for about 10 years.
Eyebrow pencil is your friend. Benjamin allowed that I had nice eyebrows (thanks to the constant vigilance of the best stylist ever, Danielle, not natural beauty or anything), but even I could see that filling them out a bit helped open up my eye. I loved it so much it was only thing I bought (for now, though I may have to go back for that lipstick).
I am very pale. I should never, ever touch bronzer, or I will look like a pumpkin. His words!
Contrary to everything you've ever read, it is not true that as you get older you should not use powder to set your makeup. This was welcome news as I have missed my powder; it just evens everything out so nicely. Benjamin says as long as you don't use talcum-based powder, it will be fine.
I must use blush. (See above, very pale.) But only if I use it properly. This instruction comes from Alex, the makeup artist who was headlining the event. (Benjamin and many other artists did our foundation, concealer, serums, and some eye makeup and then left us prepared for Alex to do his magic. They stood by to assist him and "chart" – again, their words. It put to mind Katniss's prep teams.)
Alex was very nice, listened to me, and made conversation, though he did startle me a little when he asked me what my skill level with makeup was. Um, I stammered, I think I'm pretty good — I mean, what do you say to someone who's an expert? I did follow quickly, again, with my blush concerns, and he said blush failure was a common mistake. His rules for blush: not any lower than your nose and not any farther in than the outermost edge of your mouth. The conventional wisdom of smiling and dusting your apple-cheeks will result and blush too close and too low. He also put the blush way up the sides of my cheekbone toward my outer brow. It seemed weird and too bright but grew on me pretty quickly. (Another tip from Benjamin: If it seems like too much makeup, squint at yourself in the mirror. If you can still see your makeup, it is enough. If you can't, add more. Makeup settles after about an hour, so what it looks like right away is not how it will stay all day.)
After Benjamin and Alex worked their makeup magic, I did look really good and I think I can do most of it on my own. We'd all be better off if I did.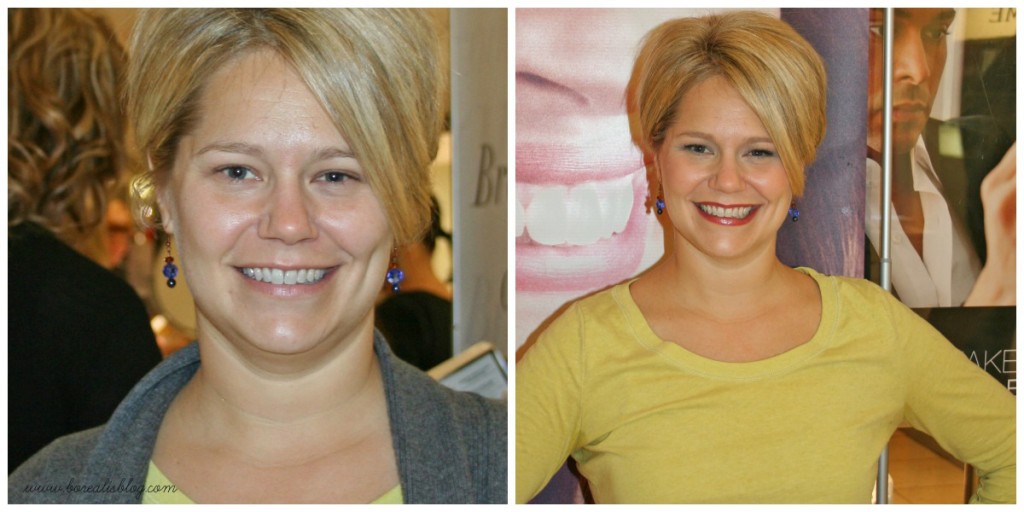 Thank you to our amazing stylists and to Macy's and Lancome for their fun hospitality and gift bag of goodies! We are so thankful for Stacie of Stacie Sayz So for setting up the event and inviting us! And thank you to Twila of Pop Culture Parent for connecting us with Stacie.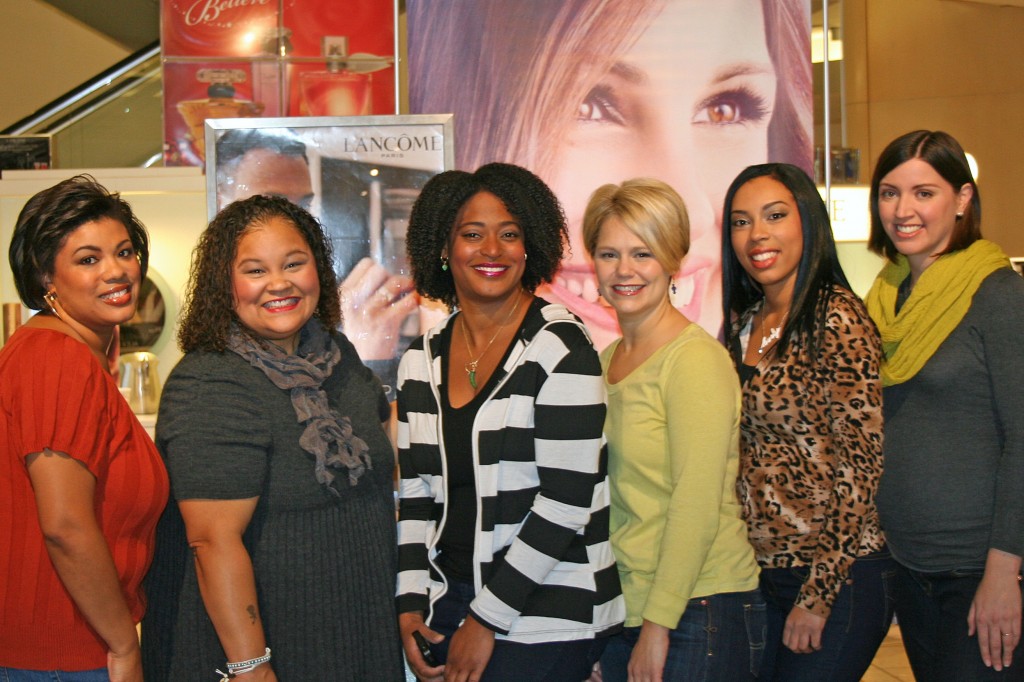 Here we are with beautiful blogging women Stacie, Shannon from Her Cup Runs Over, Twila, and Kayvona of Lip Gloss Agenda. It was great to meet you all!