I'm not a very good gift giver. I'm well intentioned but insecure, and too often imagine my gift accumulating dust in a closet. So I tend to opt for gifts that can be consumed (food or beverages, or experiences, like cooking classes or spa gift certificates). When I do give things I try to give something homemade or a photo gift. And now that I have a kid (who has adoring grandparents and great-grandparents) I opt for photo gifts more and more.
In honor of our Mother's Day giveaway, here's my favorite sites for ordering photo gifts:
Pinhole Press is my go-to place for high-quality photo gifts. The grand- and great-grandparents got sweet notepads for Christmas, and I ordered the framed photo collage of nine photos for my husband's birthday, to capture the photo essay he took while running with Beatrice last summer. I also made a photo collage for my dad for Father's Day featuring 12 photos of him holding a sleeping Beatrice — my dad has a gift for putting babies to sleep!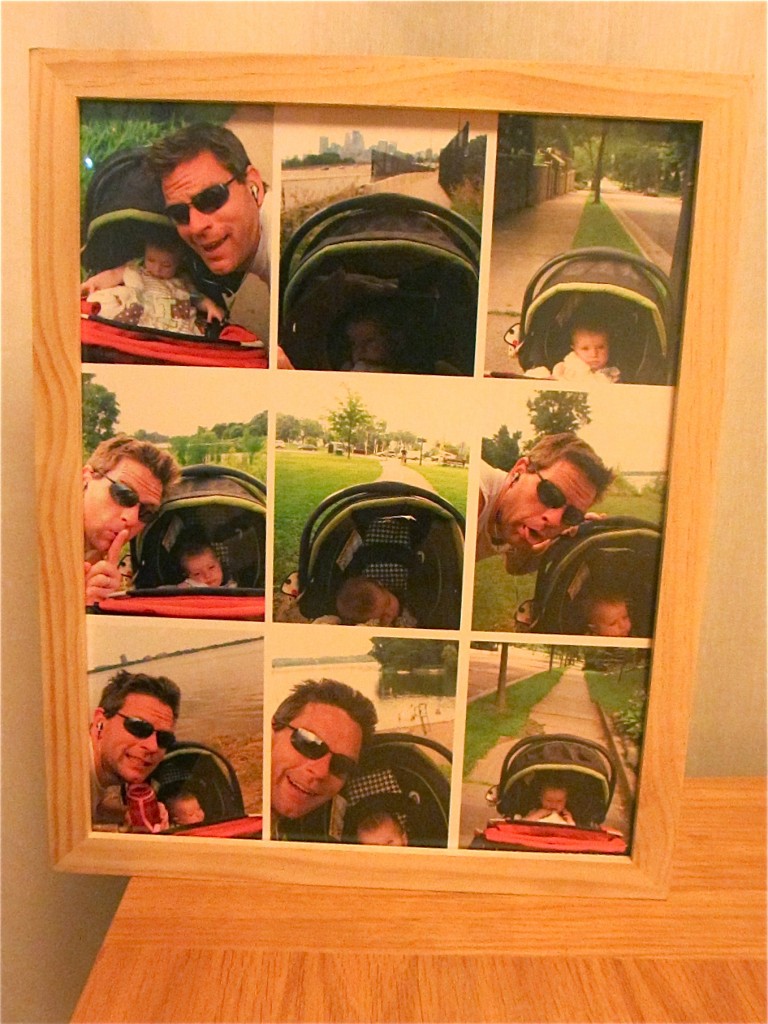 Adam's collage, documenting a series of photos he took while on a run with Beatrice. It's basically her awake by Lake of the Isles, asleep by Calhoun (and through a pit-stop at the Calhoun men's bathroom, which I omitted), drowsy by Cedar, and waking up on the way home.
One of most genius items they offer is a set of small magnets that you can personalize with pictures of your loved ones (and their accompanying first initial). Beatrice is likely getting a set of these for Christmas!
Shutterfly is well known for their easy-to-create photobooks. Their design options have really improved in the last year and they have more theme templates, like an alphabet book for kids that I created for Bee's first birthday. (A is for Auntie Helen, B is for Boompa, etc.)
I think their photobook quality is adequate but not archival; for a step up check out Blurb. Jen has ordered their ornaments (the pewter ones are nice quality) and has given calendars as grandparent gifts since 2004.
She also gave luggage tags featuring cute grandsons to her in-laws, who travel all the time.
Mpix is on my list to try, based on recommendations from others. It has fun products like ornaments and personalized growth charts.

And before your order your gift, clean up your photo using PicMonkey, a great free photo-editing site that's fun to use. Touch up your highlights, make yourself look thinner, make a collage . . . the options are amazing. They have great how-tos as well, such as how to great your own photo gift tags.
Psst – We're accepting entries for our Mother's Day Photo Giveaway through Friday, May 18. As of this post, only a handful of people have entered. So the odds are good! Don't you know a mom who could use a free photo shoot with her kids, and a free album and 16 x 20 print? Nominate her now!
P.S. from Jen
I have used Shutterfly for several years and I love it for the ease of use and flexibility of designs. In the last two years, the calendar designs in particular have improved a lot, and I love that it saves all my birthdays and anniversaries from year to year. My sons are the only grandchildren on my husband's side of the family, so I can't lose with a gift featuring them!
I also have made several small photo books for my boys, their friends, and my nieces and nephews, usually after a birthday party, visit, vacation, or just when we've done something fun and I am excited about my photos (like a weekend at the lake with friends or the Halloween weekend cousin extravaganza with my brother's kids we had here two years ago). My boys love their photo books and read them often; what kid wouldn't love a book starring himself?