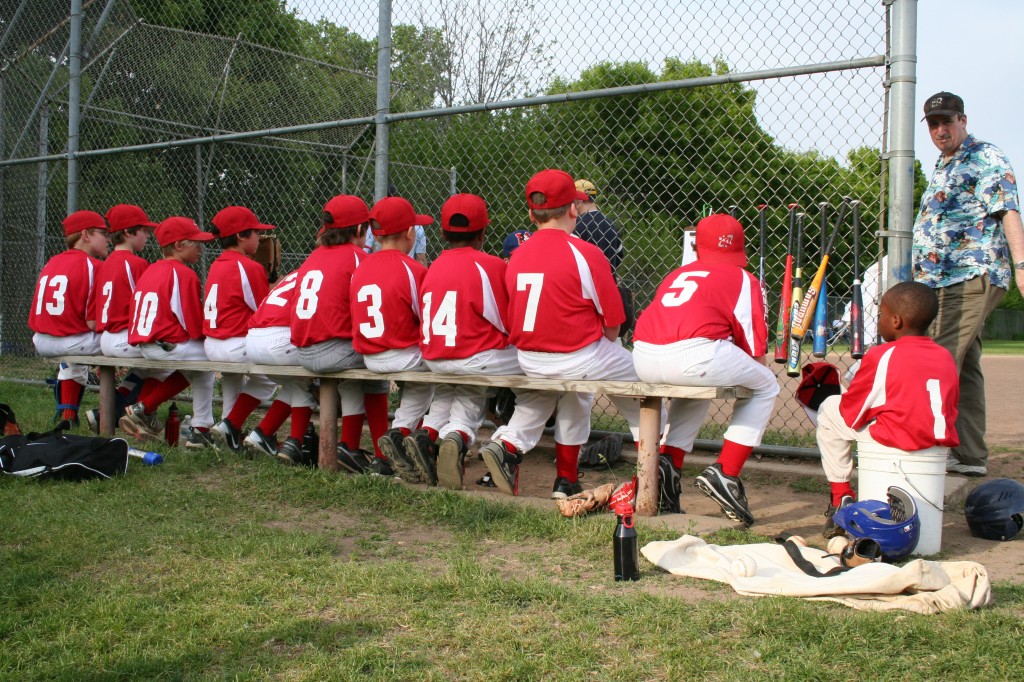 It's February, and for parents everywhere that means it's time to register for summer camps, summer sports leagues, and all manner of enriching activities that often double as child care for the summer and certainly protect against constant requests for electronics privileges. If you know this drill, you know you'll soon be sitting by the computer on opening day of registration, trying to make sure you get that certain week — or that practice day schedule — the one that makes the whole thing fall into place.
Newspapers and magazines around here designate large sections of editorial and ad space to camp directories. There are hundreds of options for your kids and the choices are overwhelming, so I assembled a panel of experts (e.g. my friends) and asked where they send their kids. Here are our collected favorites.
Science Museum of Minnesota
The heavyweight of Twin Cities summer camp offerings: The Science Museum. The catalog is huge, the venues varied, the topics attractive to kids, and the money (not cheap) at least feels well-spent, as they actually learn something while they are having fun.
I like the full day hours and generous early drop off and late pickup policies. Owen has been attending camps here for years. Highlights for him have been robotics, film-making, and animation.
The catalog is posted on a pre-announced date, and registration opens earlier for members and non-members. This is one that you need to be on top of, or you won't get the week you want. Registration opens March 5.
SteppingStone Theatre
Both my boys love camps at SteppingStone. Noah attended Camp Caldecott (for 3 1/2 to 5 year olds) last summer and I was so impressed with that program. The staff was incredible, he thoroughly loved it, and he learned a lot. He still talks about it.  I'm really amazed at what little ones can and will do with patient and creative guidance.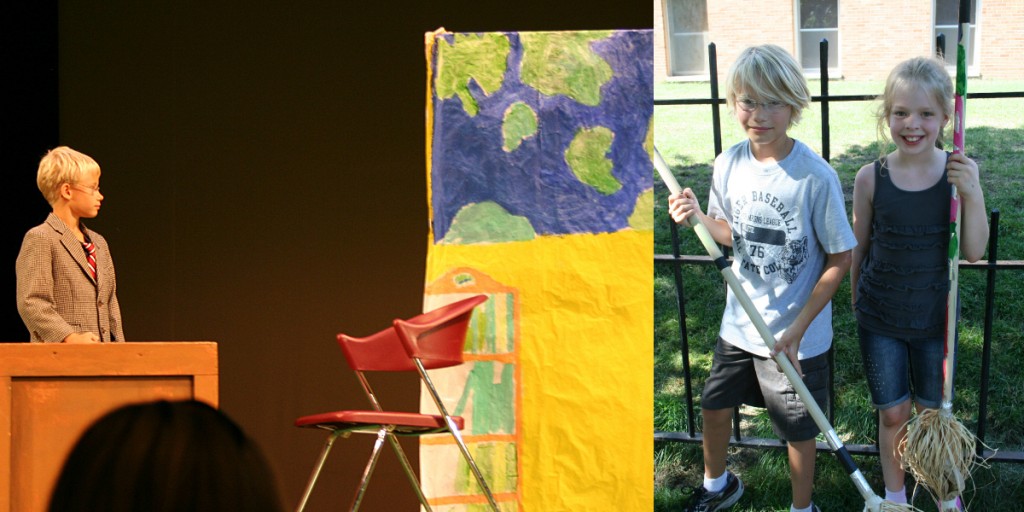 Owen has been going to SteppingStone for many summers. He's progressed through Create-a-Play (grades 1-3) to Step-on-Stage (grades 4-6) and this year will enter Actors Workshop (grades 7-10). Each session has fun themes like Harry Potter, Minecraft, The Frog Prince, Dr. Seuss, Where the Wild Things Are, and more. Afternoon sessions (making for a full day) build skills, such as dance, singing, magic, beat-boxing, music, set building, puppetry, accents, improv, and even Quidditch and stage combat, both highlights for Owen.
Sessions are two weeks, which I really like, and full day, with an inexpensive after care option that you can use as you need it (for that one day you and your spouse both have late meetings). Sessions end with a performance that the children wrote, choreographed, built sets and made the costumes for, and rehearsed and directed. I'm always amazed and how much they've learned, and how seriously they take it. I'm even more in awe of the people who spend their summers teaching their craft to kids.
The Warner Nature Center
The Warner Nature Center is affiliated with the Science Museum, but offers its outdoor day camps on 600 acres of undeveloped woodland, marsh, lake, bog and grasslands in the St. Croix River Valley.
Owen has a tough time choosing his camp from the great offerings: he's tried junior naturalist and outdoor survival so far (they cooked and ate crickets!). This year he's debating between sailing and digital photography.
A van will pick up your kid at the Science Museum and return them for an added charge. It's a nearly 1 hour trip morning and afternoon so the money seemed well worth it. These are full day camps as well.
Camp Ihduhapi
I doubt you can go wrong with any YMCA camp, but I chose this one for Owen three years ago on a recommendation from a friend who went there as a child and teen and is now on their board.
Camp Ihduhapi is overnight summer camp like you remember it (either from actual experience, or from watching The Parent Trap). Cabins with no plumbing, family-style dining hall, flags and bugles, campfires, singalongs, swimming, canoeing, sailing, horseback riding, cabin and dining hall chores, the canteen. Owen absolutely loves it.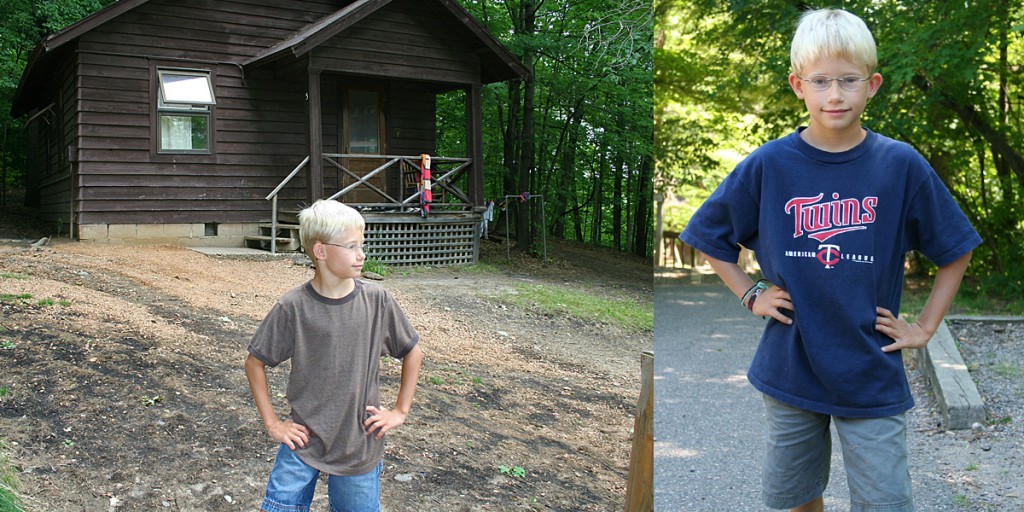 Choose from traditional camp or a focus area, such as Outdoor Challenge (think climbing, ropes courses), sailing, or horseback riding. It's about 1 hour from the Twin Cities in Loretto, Minnesota, but set in the woods and on the lake and feels like the real outdoor deal.
Other YMCA day camps recommended by friends:
Camp Daycroix in Hudson, WI (with bus pickup sites all over the east metro)
Camp Streefland in Lakeville (with bus pickups all over the south metro and Minneapolis) One parent says: "They always come back dirty and tired, which is what I consider a successful day at camp."
Camp Kici Yapi in Prior Lake (with bus pickups throughout Minneapolis and west metro)
Language Sprout
Just down the street from me is Language Sprout kids' language academy. Last year Owen took Spanish classes offered by Language Sprout on location at his school. I discovered last summer that they do day camps, and since it is truly a half block away from my house Noah will be trying this one this year for sure, and possibly Owen too, if it works with his busy pre-teen schedule.
Camps are two-week sessions, either half or full day, in Chinese, French, or Spanish. See class and camp schedule here.
ArtStart
ArtStart Summer Immersion was recommended by a friend and it looks so great that I was disappointed to discover Owen is too old for this option. (There is a teen camp option that that also looks very cool, but that conflicts with his already-full calendar of tweendom.) Noah is old enough for the little ones' A Start in the Arts program, so we may test it out that way.
ArtStart aims to create "an adventure through the arts to every continent in the world . . . [through] interdisciplinary arts programming." This year, kids can choose from classes in textiles, clay, mixed media, puppetry, drawing, painting and more, all focused on "Native Voices of the Americas" from Inuit to Incas. This full day camp is held at the school at Mt. Zion Temple on Summit Avenue. There is aftercare available as well.
Minnesota Institute for Talented Youth
Held at St. Paul Academy/Summit School or Macalester College for two-week, day-long sessions, the Minnesota Institute for Talented Youth offers "academic enrichment for bright and motivated students." Kids pick from a catalog of cool classes, one in the morning and one after lunch. Quote from the mom who recommended this one: "it was awesome!"
Campers must apply to get in — write an essay! get a teacher recommendation! —  but I think Owen will be sufficiently motivated by the course offerings, which include "The Art and Science of Special Effects," "Crimes and Clues," "Lego Robotics," "Creating Cool Chemistry,"and "Kids on Broadway." It's pretty much made for him.
Unleashed: Humane Society Camp
This is a cool one that I had no idea existed. Recommended by a friend whose daughter loved her experience there last year, Unleashed is an animal-themed summer day camp at five Animal Humane Society locations (Buffalo, Coon Rapids, Golden Valley, St. Paul, and Woodbury).
Kids entering grades 3-10 spend their week learning about and interacting with animals, going on field trips, and completing service projects that benefit the animals. Registration is open now, and space is limited.
Highland Groveland Recreation Association
The big little league in St. Paul: HGRA kids are everywhere. HGRA offers soccer, t-ball, baseball, and track from ages 4-19, played for fun, fitness, and learning, not for field time or stats (though they do require older kids to take it seriously or be benched).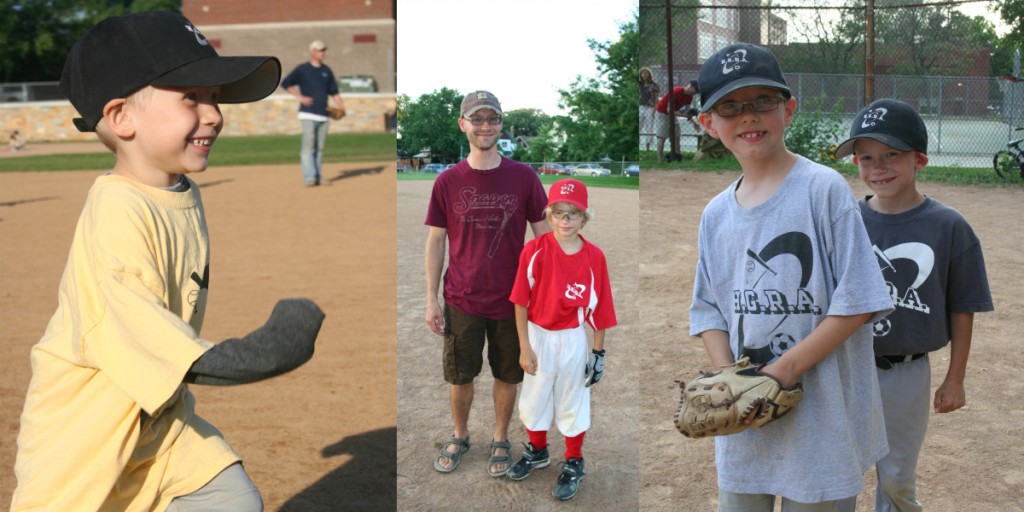 We've been going to HGRA games since Owen was 4 years old (2005) and I'm guessing we have at least 10 more years in our future. Good thing a neighborhood baseball game on a summer evening in St. Paul is such an enjoyable experience: the coaches are parents and volunteers, player families trade off bringing post-game snacks, and there's always someone I know at the game. (Bonus: several fields are near Snuffy's Malt Shop on St. Clair and Cleveland.)
Owen is in baseball this year; Noah is in his second year of t-ball and will also start soccer.
HGRA also offers competitive track during the late spring and summer. Registration is open now and leagues are filling up fast.
(One more photo, because it's too cute to leave out.)

St. Paul Urban Tennis
This is such a cool program with a great civic story. For a very low fee (or up to full scholarship), kids get a real tennis program — one hour lessons every day Monday-Thursday for seven weeks. Plus, each week the players focus on a different life skill, such as responsibility, honesty, and teamwork, because "it's not only about tennis, it's about life!" Players can also participate in a contest to see who logs the most reading hours during the session.
There are also team opportunities for the older kids. (I took lessons from SPUT myself last summer too but the adult beginner program is much less intense.) Courts are throughout St. Paul, and lesson times run all day. Registration is open now.
These parent-approved options are just a few of the many available in and around the Twin Cities. What are your family's favorites? Please share and link in the comments!