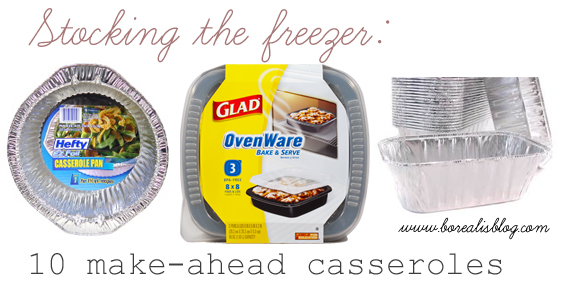 There's nothing like pulling a complete meal out of the freezer and having dinner ready in an hour or less. No prep, no pans, and just a few dishes.
A few tips for successful casserole reheating:
Defrost the casserole overnight and all day (while you are at work) in the fridge, or all day on the counter (if using a full 8X8 pan).
When you're ready to bake it, cover it with tin foil until it's warm throughout, then remove the foil to finish it up and let it brown up on top. Since frozen casseroles take longer to bake, this prevents the top from getting too brown or dried out.
I've provided cooking times, but you'll have to judge by eye since  a thinner casserole will cook faster than a thick one, or extra water from the freezing process may change cook times. A casserole is done when it is nicely browned on top and bubbling on the sides.
Always let a casserole sit for 10 minutes before cutting into it. It needs time to set up and cool a little.
Here are some of my favorite tested-and-tasty make-ahead casserole recipes. (And my apologies for no photos — we are good cooks and great bloggers, but we are not food bloggers so we just eat our food and forget to photograph it!) Also, if you haven't already read our general make-ahead tips, check it out for advice on the freezing process and containers.
Read on for the recipes.
Stuffed Shells
It's really good. Don't judge the cottage cheese; it works here. This recipe will make at least three 8X8 pans.
1 med. onion, diced
3-4 cloves garlic, minced
1 lb. ground beef or ground turkey (you can leave out for a vegetarian dish)
1 jar spaghetti sauce (I use a spicy red pepper variety)
1 15 oz. can tomato sauce
1 cup cottage cheese
4 cups mozzarella cheese, divided
3 eggs (or one egg and two whites)
¼ cup chopped fresh basil (or, if you don't have any, a couple big spoonfuls of prepared pesto)
¼ tsp. each salt and pepper
1 box jumbo shells pasta
For sauce: saute garlic and onion. Add ground beef or turkey and brown. Add spaghetti and tomato sauce and simmer for 30 minutes.
Cook shells and stuff with: 3 cups mozzarella, cottage cheese, basil, eggs, and salt and pepper. Spoon sauce on bottom of large casserole, lay manicotti over and cover with sauce. Sprinkle remaining 1 cup mozzarella over top (add Parmesan if desired).
Cook at 350 for an hour. Let stand 10 minutes before serving.
Baked Mac and Cheese
I made this not-healthy, truly best-ever version for Breanne when Beatrice was born. You will get two very full 8X8 pans, or three thinner ones. Or try foil mini loaf pans for 1-2 servings.
2 c. elbow macaroni
2 ¼ c. grated sharp Cheddar or Colby
2 tbsp butter
2 tbsp flour
2 cups whole or skim milk
½ medium onion, minced
1 bay leaf
¼ tsp paprika
Salt and pepper taste
½ tsp. truffle oil
1 tbsp. butter
½ cup breadcrumbs
Cook noodles, set aside. Melt 2 tbsp butter in large sauce pan over medium-low heat. Whisk in 2 tbsp flour and cook, whisking all the time, for 3 minutes. Gradually whisk in milk, then stir in onion, bay leaf, and paprika. Simmer gently, stirring often, for 15 minutes. Remove from heat and stir in cheese, salt, and pepper. Mix in noodles, and pour into buttered casserole pan.
Then, melt remaining butter and stir in breadcrumbs and truffle oil. Spread breadcrumbs over the top of the macaroni. Bake at 350 for 30 minutes; let stand 5 minutes before serving.
Spinach Quiche
Quiche is Breanne's favorite meal for households with new babies, because it's delicious hot or cold. Grab a fork and the pie tin and you're ready to go! This makes one pie pan.
2-4 tbsp. butter (adjust amount to your preference)
3 cloves garlic, chopped, or 1 1/2 tsp. garlic puree in a jar
1 small onion, chopped
10 oz. package frozen chopped spinach, thawed and drained (or kale or any dark greens you have around)
4 oz. can sliced mushrooms, drained
6 oz. package herb and garlic feta, crumbled
8 oz. shredded Cheddar cheese
9 inch unbaked deep dish pie crust*
4 eggs, beaten
1 cup milk
1/4 tsp. salt
fresh cracked pepper
Preheat oven to 375 degrees. Melt butter over medium heat and saute garlic and onion until lightly browned, about 7 minutes. Stir in spinach and mushrooms, and season with a few grinds of pepper. Spoon mixture into pie crust.
Whisk together eggs and milk, and stir in salt, 1/2 cup of the cheddar, and all the feta. Pour into the pastry shell and gently stir to make sure it combines. (It will seem like it is going to overflow.)
Bake in preheated oven for 15 minutes. Sprinkle top with remaining cheddar cheese, and bake an additional 35 to 40 minutes, until set in center (mine took the full 55 minutes). Allow to stand 10 minutes before serving.
*I distrusted the original recipe's directions to put the quiche filling in the shell unbaked. So she baked it half way first. The edges of the quiche turned out very dark brown, but not burned, and the crust cooked on the bottom, so it worked out. Proceed according to your risk tolerance.
Turkey Tetrazzini
This is rich, creamy, and super-satisfying. A great dish to bring new parents or anyone in need of true comfort food. You will get two 8X8 pans out of this recipe.
1 recipe Creamed Turkey (see below)
1 ½ tbsp butter
8 oz. sliced mushrooms
8 oz. spaghetti
½ c. slivered almonds, toasted
½ c. grated Parmesan cheese
Cook spaghetti. Melt butter in small pan, then cook mushrooms in butter for about 5 minutes. Mix almonds, mushrooms, and spaghetti into Creamed Turkey. Pour into greased casserole and top with Parmesan cheese. Bake at 400 for 25-35 minutes.
Chicken Pot Pie
You could use individual small foil pans and make several one-person meals with this recipe. Just like the old Stouffers. Except not, because it is homemade and way tastier.
1 packaged pie crust dough
1 recipe Creamed Chicken (see below)
2 tbsp butter
1 medium onion, chopped
3 medium carrots, peeled and sliced ¼ inch thick
2 small celery stalks, sliced ¼ inch thick
4/3 c. frozen peas
3 tbsp. minced fresh parsley
Melt butter on medium high heat, add vegetables and cook, about 5 minutes. Stir vegetables into creamed chicken or turkey mixture (above), and add peas and parsley. Pour into greased pan and form pie crust dough over the top. Bake at 400 for 25-35 minutes.
Chicken and Wild Rice Casserole
For true Minnesotans. Canoe brand canned wild rice is perfectly good and makes this fast and easy. Two 8X8 pans.
1 ½ tbsp butter
8 oz. sliced mushrooms
1 recipe Creamed Chicken (see below)
3 cups cooked wild rice or a blend
½ c. chopped walnuts or pecans, toasted
1/3 c. dry breadcrumbs
2 tbsp. grated Parmesan cheese
1 tbsp. melted butter
Cook mushrooms in butter for about 5 minutes. Stir into Creamed Chicken mixture, along with rice and nuts. Pour mixture into buttered casserole, then mix melted butter, breadcrumbs, and Parmesan together and sprinkle on top. Bake at 400 for 25-35 minutes.
Creamed Chicken or Turkey
To make the recipes above, you need to first make Creamed Chicken or Turkey. Once you master this, you can make your own easy casseroles: add any starch, some veggies, top with a little cheese or breadcrumbs, and you've got something from-scratch delicious that will freeze beautifully for a future cold and busy night.
1 ½ lbs chicken/turkey breast*
2 c. chicken stock
4 tbsp butter
1/2 cup flour
1 ½ cups whole milk, half and half, or light cream (I have made perfectly fine white sauce with skim, but of course this will taste better)
2-3 tbsp sherry (optional)
Lemon juice
Salt and pepper
2-3 pinches ground nutmeg
Cook chicken in stock (add enough water to cover chicken) until done, about 8-12 minutes. Remove meat, shred or chop, and set aside. Reserve 2 cups of the cooking liquid (you might want to strain it.)
Melt butter in large saucepan over medium-low heat. Whisk in flour and cook, whisking constantly, for 1 minute. Remove from head; add chicken stock and whisk until smooth, then whisk in milk or cream. Return to heat, increase to medium. Bring mixture to a simmer, whisking almost constantly. Scrape sides of pan and whisk again to break up lumps. Bring to a simmer again and cook 1 minute longer. Add meat, sherry, and lemon juice, salt, pepper, and nutmeg to taste.
*You can also use cooked or leftover meat. Just skip the first part of the instructions and start with the butter/flour step.
Shepherd's Pie
For some reason, freezing the potatoes works fine here (though I have had potato fails on other recipes). This is meat-and-potatoes, rib-sticking goodness. This makes two 8X8 pans, or try foil mini loaf pans for 1-2 servings.
3 tbsp vegetable oil
1 medium onion, chopped
1 carrot, peeled and chopped
1 celery stalk, chopped
1 lb ground beef or turkey, or leftover cooked meat
1 tbsp. flour
¾ c. beef or vegetable stock
1 tbsp chopped fresh thyme, or 1 tsp dried thyme
1 tbsp chopped fresh rosemary, or 1 tsp dried rosemary
Pinch of ground nutmeg
Salt and pepper to taste
1 pkg instant mashed potatoes (I use herb and garlic flavored), or you can make your own
2 tbsp cold butter, cut in small pieces
Melt the butter and cook vegetables until soft, about 15 minutes. Increase the heat to medium and brown the beef or ground turkey. Spoon off excess fat. Add the flour and cook, stirring, for 2-3 minutes more. Add stock, herbs, and spices. Reduce the heat to low and simmer until thickened, about 5 minutes. Pour into casserole, then spread mashed potatoes over. Scatter the cold butter over the top. Bake at 400 until potatoes are browned, 30-35 minutes.
Tarragon Chicken and Broccoli Noodle Casserole
An interesting twist on the classic chicken-noodle casserole, thanks to fresh herbs, black olives, and Swiss cheese. Two thinner 8X8 pans, or one lasagna size pan.
1/4 cup butter
1 medium onion, chopped fine
1 cup sour cream (if you try Greek yogurt, let us know how it freezes)
1 cup milk
1 cup shredded Swiss cheese (which, according to Julia Child, is one of three worthy cheeses. Guess the others?)
1/2 cup grated Parmesan (please do not use anything coming from a green can)
2 tbsp chopped pimentos (yep, from the jar)
1 tbsp finely chopped fresh tarragon, or 1/2 tsp. dried
Salt and pepper to taste
1/4 lb. egg noodles
3 cups cubed cooked chicken
10 oz. frozen chopped broccoli, thawed and squeezed dry
1 cup black olives, sliced
1/2 cup dry breadcrumbs
2 tbsp butter, melted
Melt the 1/4 cup butter over medium-low, then add the onion and cook for 2 minutes. Add sour cream, milk, cheeses, pimentos, and tarragon and stir until melted and smooth. Season to taste with salt and pepper.
Combine the noodles, broccoli, chicken, olives in a buttered casserole. Pour cheese sauce over the top and stir a little. Combine bread crumbs with remaining melted butter and spread over top. Bake at 350 for 35-40 minutes.
Tuna Noodle Casserole
I don't care how much of a foodie you are. This is just. plain. good. From the Joy of Cooking. Two 8X8 pans.
4 tbsp unsalted butter
3/4 cup thinly sliced mushrooms (or more if you want)
1/4 cup finely diced red bell peppers
1/4 cup finely chopped onions
1/4 cup flour
2 1/2 cups milk
3/4-1 cup grated Cheddar
2 6 0z cans water or oil-packed tuna, drained and flaked
2 cups cooked egg noodles
1/4 cup minced fresh parsley
salt and pepper to taste
1/2 cup dry unseasoned bread crumbs
2 more tablespoons butter, melted
Melt 4 tbsp. butter in a medium saucepan until bubbly. Add vegetables and cook, stirring occasionally, until veggies are tender, about 5 minutes. Add flour and cook for 1 minute. Remove from heat and whisk in milk. Return to the heat and cook, whisking a lot,  until the sauce comes to a boil and thickens. Remove from heat again and add cheese. Stir until melted, then add tuna, parsley and salt and pepper. Place cooked noodles in your casserole pan (butter it first or spray with Pam), then pour sauce over. Stir a little to coat noodles, then top with breadcrumbs mixed with melted butter. Bake at 375 for 25-35 minutes.
Check out the rest of the posts in the Stocking the Freezer series:
Top tips for make-ahead meals
Sauces
Breakfasts