Welcome to Clickery, a weekly feature where we share things we like because maybe you'll like them too.
Breanne's Links
Got my first Postagram postcard today. Seems like a fun way to easily send quick postcards to friends.
Excited to start my new mom group for second time mamas at Amma Parenting Center next week.
It's -12 degrees out today. Thank goodness for this genius product, baby is surviving the sub-zero temps in style.

Jen's Links
Today is National Wear Red Day! Please join me in wearing red and raising awareness of heart disease in women. Then, watch and share this video by Elizabeth Banks called "Just a Little Heart Attack." I can tell you from experience that everything she does here — however funny or ridiculous it seems — is pretty much true.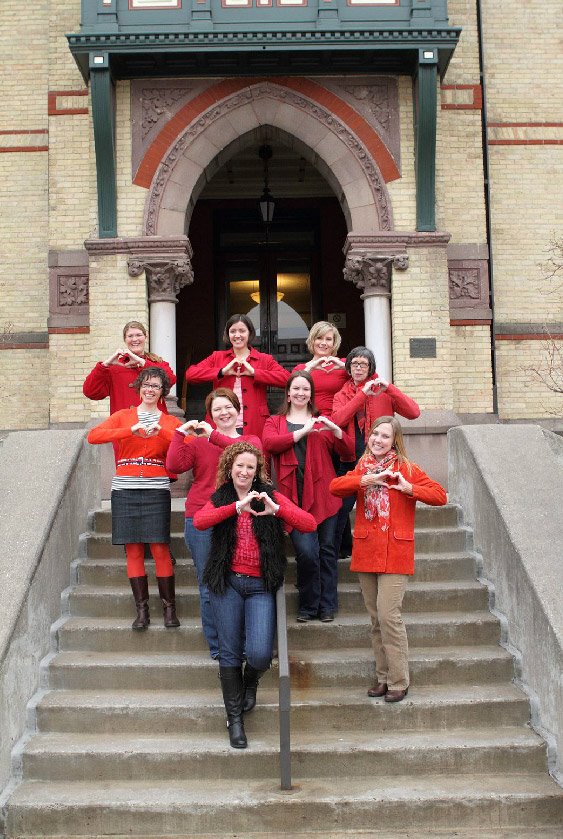 My wonderful former colleagues sent me this photo
of them together on Wear Red Day last year.
Job searching is on my mind, since Noah went to kindergarten last fall. I think this infographic about using social media to present yourself as a candidate is worth a look.
The strategies women use to succeed in school might not serve them as well in the workplace. Check out the Harvard Business Review's article "Women Need to Realize Work Isn't School" and see if you recognize yourself.
At least January's over, but there's plenty of winter left. The gardening catalogs are coming every day, taunting and tempting me to try even more schemes than last year (of which several were, well, fails). One thing I know for sure, I'm making some of these drawer knobs painted as toadstools that I found on Natural Kids to add to the boys' fairy and gnome garden collection. These are a sure win, even for me.