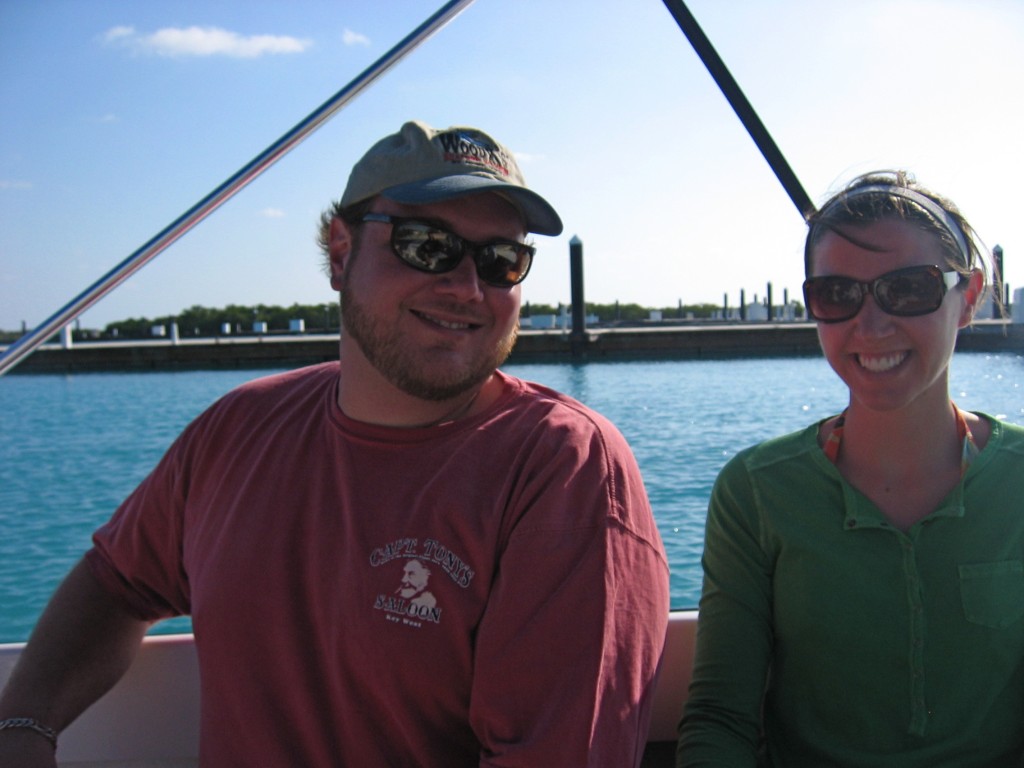 Me and my big brother heading out on a snorkling/kayaking trip in Turks & Caicos.
As my brother casually wrapped up telling me about his ice fishing trip on Lake of the Woods a few weekends ago, I realized how superior his adventuring skills are to mine. I would have blogged that trip to pieces, turning it to a huge adventure post, and for him it was just another weekend.
Jen and I strive for adventure, but at this point in our lives kind of suck at it. Sure, we get out and take risks, but our passports are stiff and new and our impromptu trips are nonexistent (Well, Jen did take a last-minute trip to the campground with her four nieces and nephews for four days when her brother had a heart attack, but it's not quite the same thing.)
My brother, on the other hand, has adventures so often I don't even think he recognizes them as such anymore — they are just life. It's time that I admit that my brother has cornered the market on being "the adventurous one."
We all have the running tally who owns what position in the family. My brother reminded me of this when I started running marathons, that I was honing in on his territory as "the athletic one." (He played football in high school and college; the only letters I earned in high school were from debate and speech). He has always been more outgoing; I've always done better at school. But sometime after high school and college, things changed. After graduating he worked as a bartender in the Caribbean island of St. Thomas for two years, and then moved to North Carolina, while I settled back in my hometown.
Here's the kind of things my brother does:
Goes to Puerto Morelos, Mexico with some buddies to catch an exclusive reunion show of his favorite band. When he can't score tickets to the resort-only event, he rents a boat and convinces the driver to dock just off shore. By the third night of performances he's the envy of the regular concert goers and has made a Panic fan out of the boat captain.
He doesn't just go the Widespread Panic's Halloween concert in New Orleans (or Chicago, or wherever it happens to be that year), he makes sure he and his buddies show up properly attired.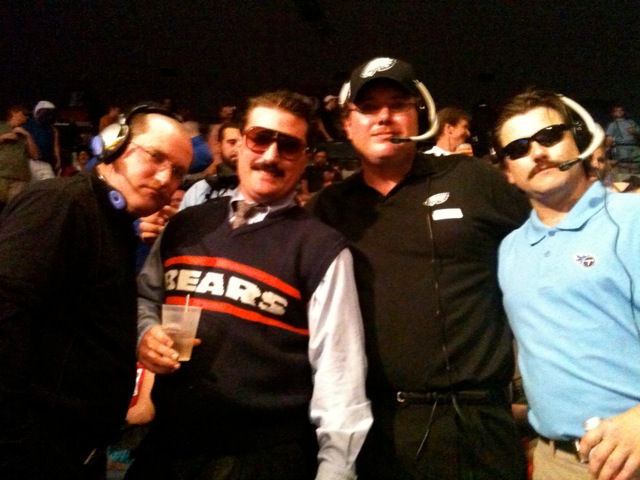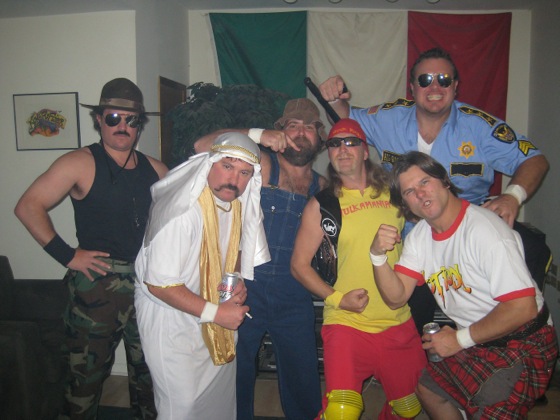 If there's a legendary event going on in town, here's there. Last-minute Prince concert series? Let's go crazy. Vikings game held during a blizzard at the U of M's outdoor stadium after the Metrodome collapsed? Tailgated it. Trendy new hard-to-get-in restaurant? He knows the bartender. The man got me Lululemon gear before they even had a Twin Cities store because he knew someone who was working on the front end of their local expansion.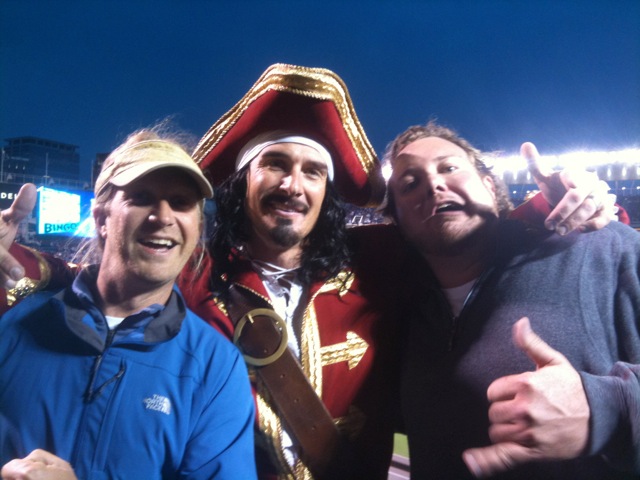 The one time a year the Captain comes to the Captain's Deck at the Twins game? My brother is there, and gets a picture with him.
I'd be easy to say "But he doesn't have kids!" but there's more to it than that. My brother has some specific skills that make him excellent at adventuring, such as:
He's always game for a road trip, and has a high tolerance for spending time in the car. Bonus: he actually prefers to drive at night.
He's a night owl. He's always the last one up and has never, ever, wimped out on something claiming that he's tired. Sure, he's not up for breakfast, but how many memories are created over egg bake?
He values trips and vacations enough to spend money on them, and doesn't cheap out halfway. He truly works to play and makes the life he wants to live happen.
He's up for anything. He doesn't have to be a big Prince fan to see the appeal of catching an exclusive limited engagement at a local jazz club. While he prefers nice hotels and spa massages, he'll sleep in his car (or a tent) if the situation calls for it. The first time he went camping in the Boundary Waters he jumped in and went for a week. An out of town wedding? He'll help set up and close it down. He went on a golfing trip once, and he doesn't even golf.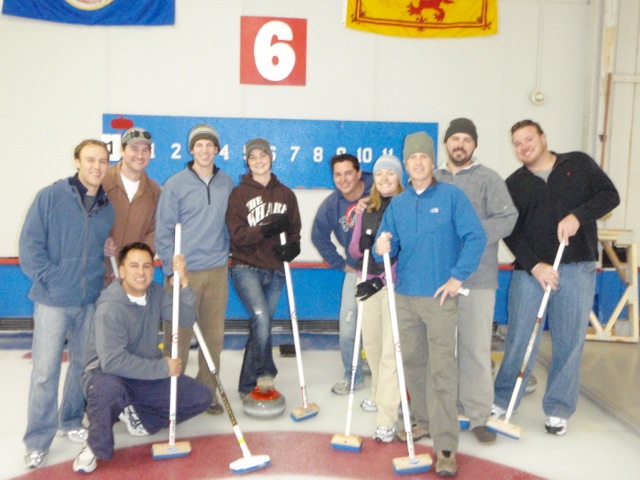 My brother curling with friends, another example of his up-for-anything attitude. This one resulted in a broken nose, but that wouldn't keep him from doing it again.
While I wish I were half as adventurous as he is, I'm happy to admire him for who he is and emulate him when I can. And I'm particularly grateful that my daughters get such a fun uncle. Who else will take them to concerts? Who else will they call when they crash the car and are too scared to tell mom and dad? He's the perfect guy to encourage them to take their own adventures, and to inspire them with his easygoing and fun-loving spirit.
When I shared this post with him to make sure it was OK, he said, "You know the most important adventure in my life is Beatrice and Blythe, right?" The girls are so lucky to have such a great uncle, and I'm so lucky to have such an awesome brother.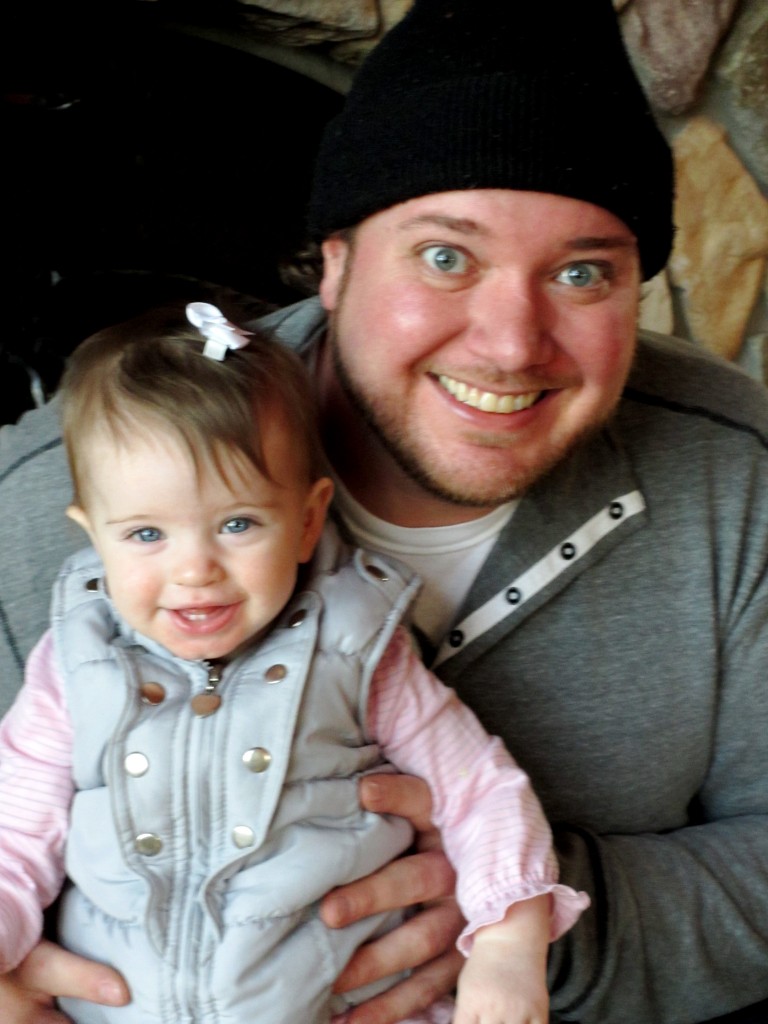 My brother and Beatrice.