I can't believe I'm even posting about the little first birthday party we threw for Beatrice on this site, alongside Jen's elaborate and exceptionally awesome affairs. You know how Jen felt inadequate posting about her Anna Maria "adventure"? Well I feel the same about parties. I tend to think small, telling myself that having just the right amount of few touches is classy. Either that, or I'm supremely lazy.
But I also want to write about the party because it's a good "here's the real story" experience.
So: here you go: Gorgeous pictures of Beatrice's party.
Happy birthday girl with presents, charming her grandparents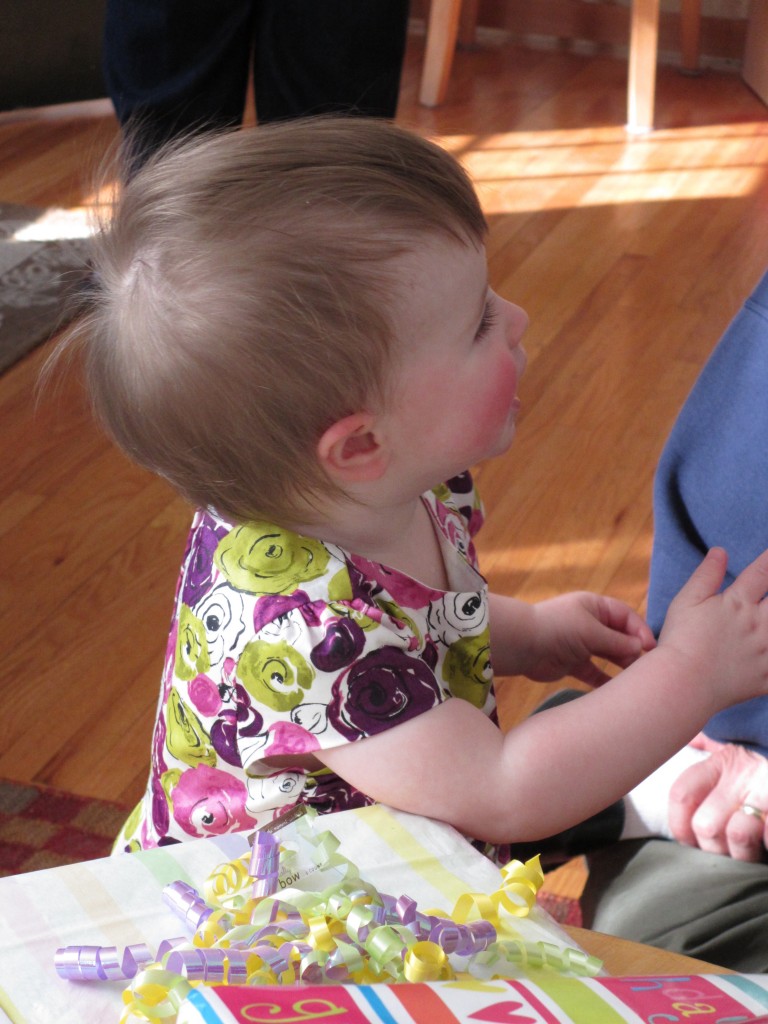 Happy mom and baby, celebrating the amazing year. (And check out that weather – mid-70s for an early March birthday!)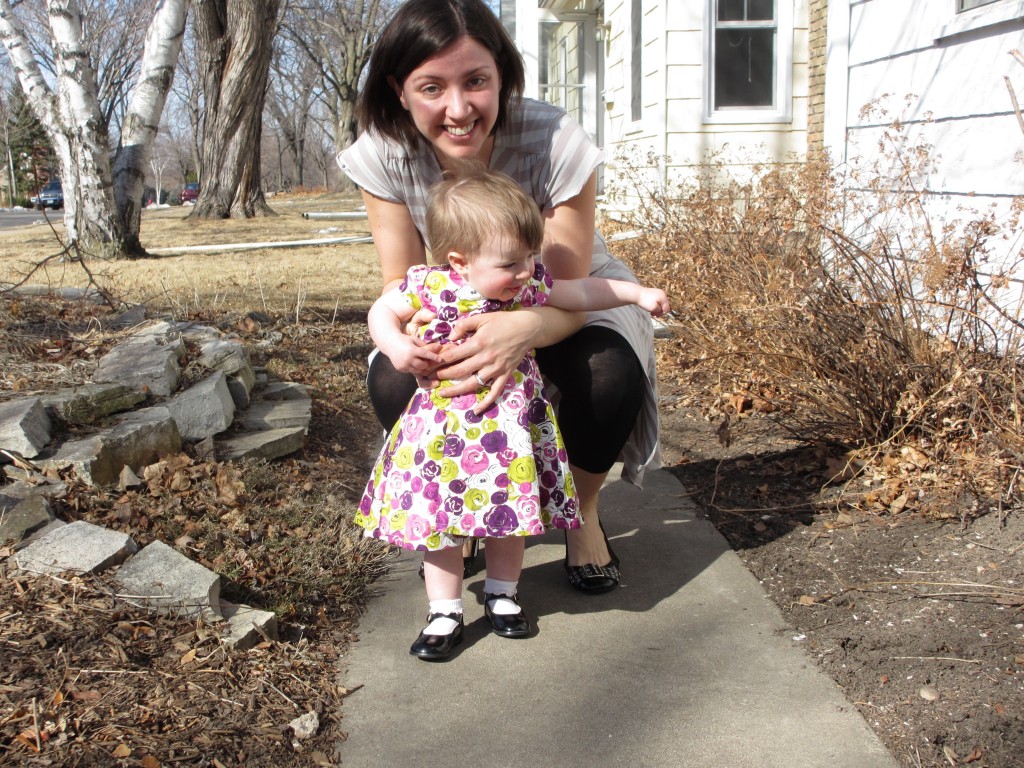 Pretty food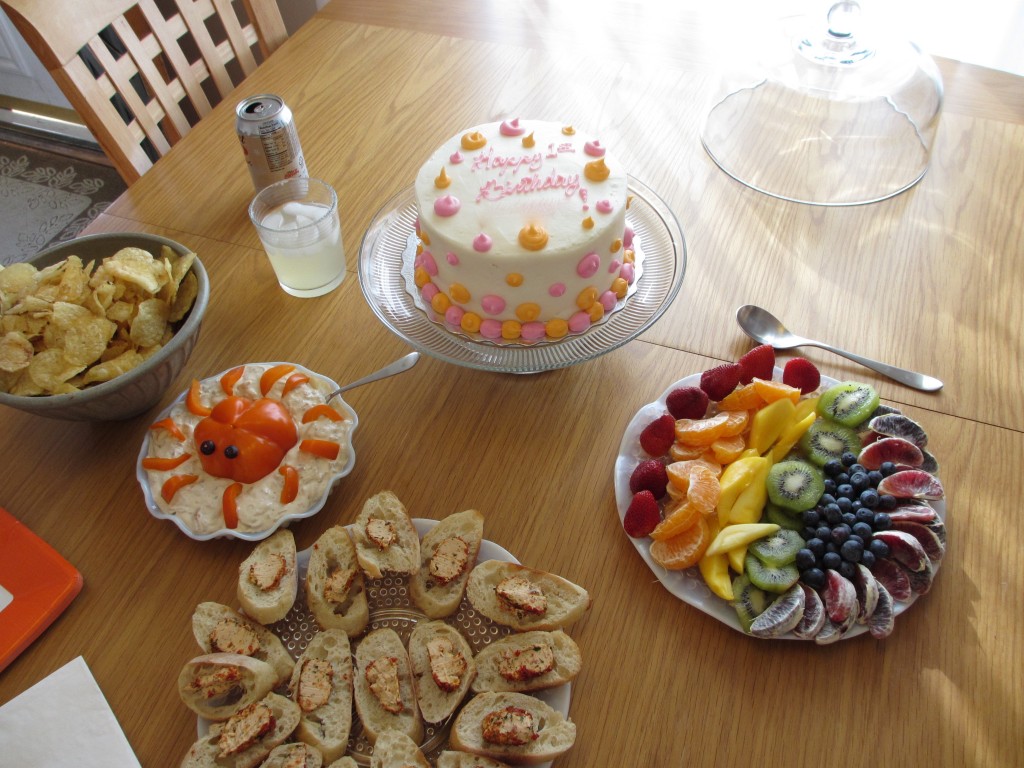 And then: the real story
This is a picture my brother snapped of us as we were doling out the cake. As you can tell, we're enjoying ourselves oh so much.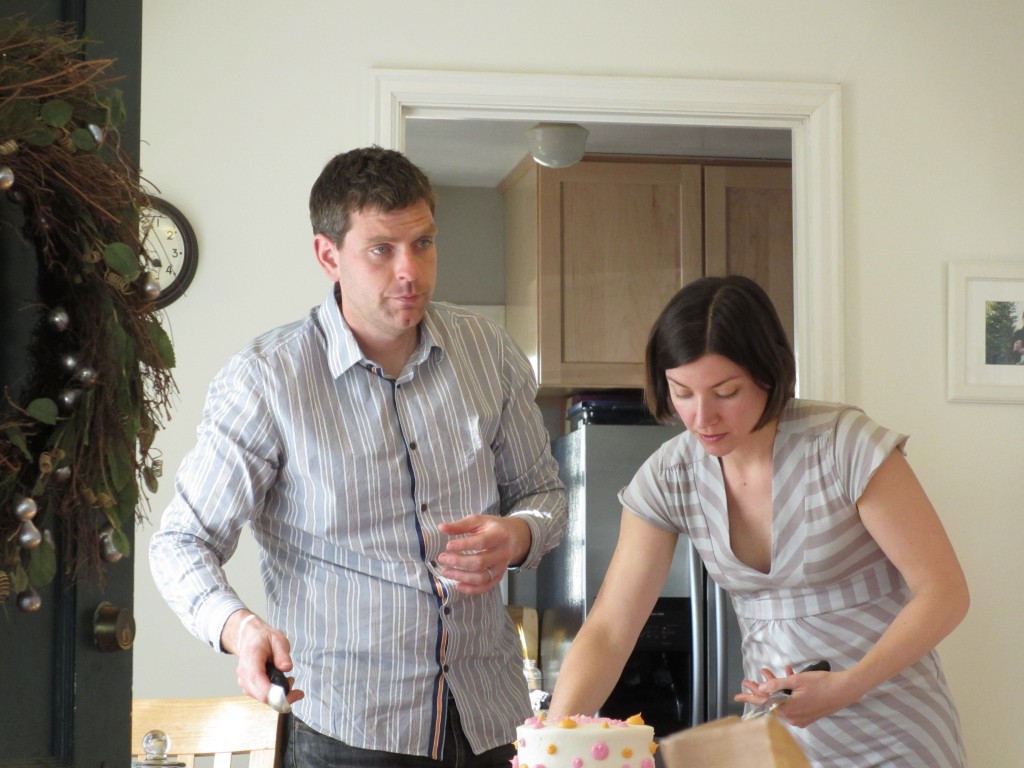 The day started at 5:20 a.m., when Beatrice woke up an hour early.
By 8 we were at the grocery store picking up her cake and the food for the party. Rookie mistake: we left the decision of what we were going to make until we were wandering the aisles of Byerly's. Indecision, crabbiness, exorbitant prices — yes, it was a funfest.
The rest of day I spent kicking myself for not realizing how long it'd take to clean and set up. Finally a half hour before the party we were set and went outside for a photo shoot. Beatrice whined and kicked and made it clear that she should have had another nap. I begged Adam to take her for a short (calming) drive while I finished up the tasks.
Within minutes the family arrived en masse, our tiny home felt even tinier, and Adam and a still fussy Beatrice returned home. The party commenced, and two hours later, wrapped up. Truly, it was fine. The grandparents had a wonderful time. Bee seemed happy. But when everyone left we gratefully shut the door, threw our frosting covered girl into the bath, and were in our PJs by 5:45 p.m.
That the day was more work and less play was OK in the end, because we'd spent the day before also celebrating her birthday, and it was truly  perfect: Happy family of three, thrilled girl, a day of one-year-old delights like the Children's Museum, the library, and a park.
Here's a few more "real truth" outtakes.