I stumbled on a fun new blog this week called "Pintester," wherein the author tries out Pinterest pins and shares the results, good bad, and ugly. It's very funny.
I wasn't really setting out to be a Pintester with my urban vegetable garden projects, but I have indeed produced a Pinterest fail with my gutter gardens.
Behold, the lovely garden that captured my Pin, imagination, and a middling amount of my time and money.
Her gutter garden: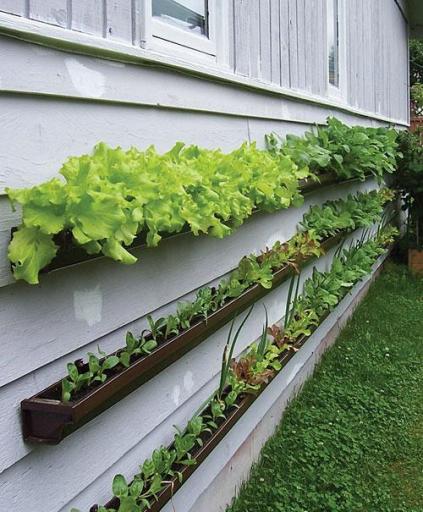 My gutter garden: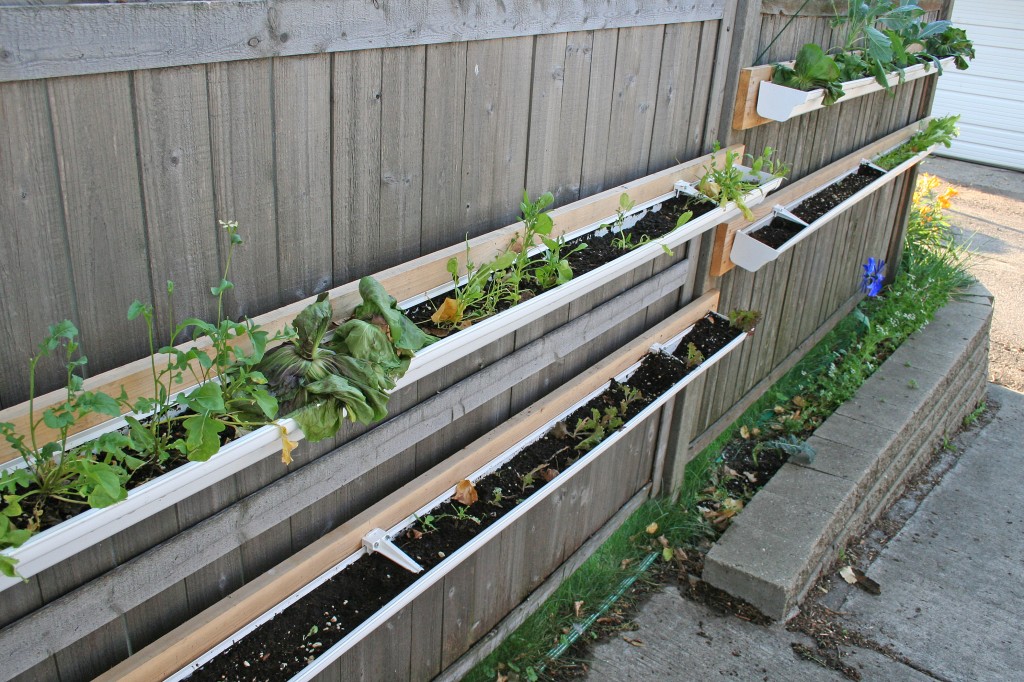 Sigh. It's hard to know where to start, really.
First it was the rain, but we solved that problem. Then it was the squirrels, digging away merrily and leaving carnage in their wake; I'd come home to find plants suffocating on the driveway. Useless blue whirlygiggy things did nothing to frighten them and they laughed and scoffed at the cayenne and red pepper I shook all over. I've actually replanted once, but the @#$* squirrels kept right on digging up and the seeds didn't have a chance. Then, what few scragglers managed to survive began to appear gnawed. Rabbits! How the hell did they get UP there?
I give up.
Horrid vermin aside, there are other reasons why this is hard. Salad greens and herbs are delicate crops. They need a lot of water, pruning, and replanting.  You should eat them small and tender and replant seeds every week to ensure a constant crop. They need vigilant protection from vermin. They are, in short, a lot of work — work I'm sure the the other gutter gardener did and I, to be honest, did not. (And she probably has a dog too. From what I've read dog = no rabbits and squirrels.)
From now on I will be getting my salad from my farm share or the farmer's market. And when the farmer tells me the armful of lettuce I'm buying is $2, I'm just going to give her a $20. Now I know what it is really worth.
P.S.
There is some better garden news . . . my tomatoes and eggplants love their pots, and the planter box is growing like crazy. The plants are now too mature for the rabbits (who are too busy feasting on my gutter planters to care), so they are actually growing. The whole project is not a total fail. Yet.