Every year for the last four years we've gotten our Christmas tree from a tree farm. This is something I'd always wanted to do, but when we had babies and were both working we just opted for the greenhouse, where it is warm, quick, and they shake, bag, and tie your tree to your car for you.
But that wasn't much of an experience, so in 2009 we found Krueger's Christmas Trees in Lake Elmo and have been going ever since. Owen is the self-appointed tree-selector, and he always does a good job. Sometimes there is snow, sometimes not. There's a charming cabin-style warming hut (in which I took a magazine-worthy photo of two hipster couples on an afternoon adventure), a teepee with a fire (and sometimes, a guide explaining Native American life in the area), a campfire, free hot cider, and on the weekends, Santa Claus (though Noah did not really buy it; the real Santa couldn't possibly be here!).
It's only 20 minutes from our house and really doesn't take more than a half hour to find and cut our tree. Saws and sleds for dragging your tree — or your kids — are provided. Each tree comes with a crocheted lace snowflake ornament that I imagine to myself is handmade by someone named Krueger, they sell wreaths and garland and tree toppers as well, and oh, and they shake, bag, and tie your tree to your car for you here, too.
An easy Christmas adventure!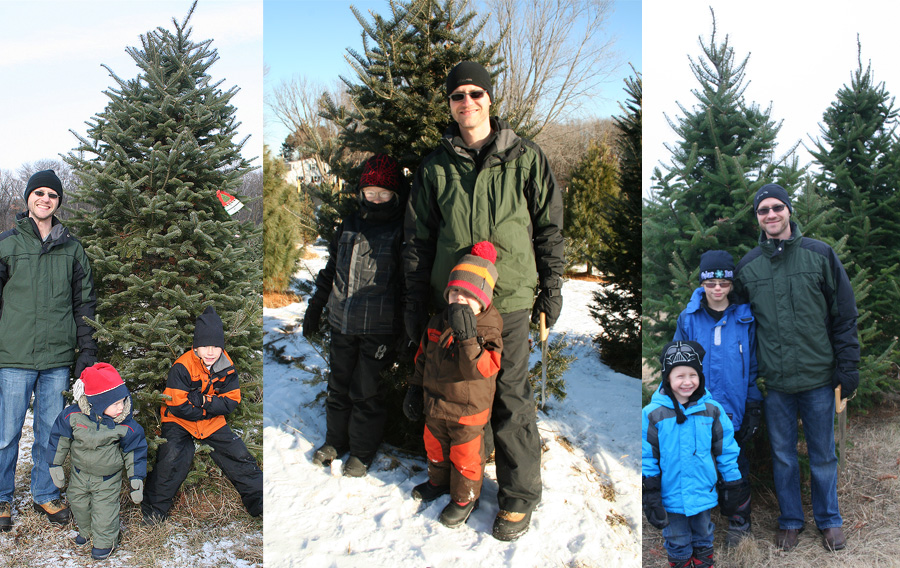 What I love about these photos is their growth-chart quality.
The tree size and Scott don't change; the boys do.
If you go
Kruegers Christmas Trees is located in Lake Elmo, Minnesota, just east of Saint Paul.
The farm is open from 9 a.m. to 9 p.m. Friday through Sunday, and noon to 9 p.m. Monday through Thursday.
Santa Claus is there from noon to 4 p.m. on Saturdays and Sundays.
The farm also offers wagon rides (and if they see you struggling to drag your tree back to your car, they will pick you and your tree up!) and a nature walk.
If you want to make a day of it and include brunch or lunch, the Lake Elmo Inn (voted Twin Cities Top 10 Restaurants and Twin Cities Best Brunch) is very close by, or try the Machine Shed, just off I-94 on Innwood. We never seem to have enough time for eating, though. We need to hurry home to decorate the tree!