There are hundreds of adorable Advent calendar ideas out there. This post, however, is not about how to make the cutest. one. ever. Instead, it's about making the Advent calendar work for you.
I have been doing Advent calendars for my boys for three years; this year is the fourth. I started it on a whim, got excited about cuter executions in the subsequent years, and last year put a decent amount of effort into attempting to create paper trees that, well, look exactly like party hats if you don't use all green paper.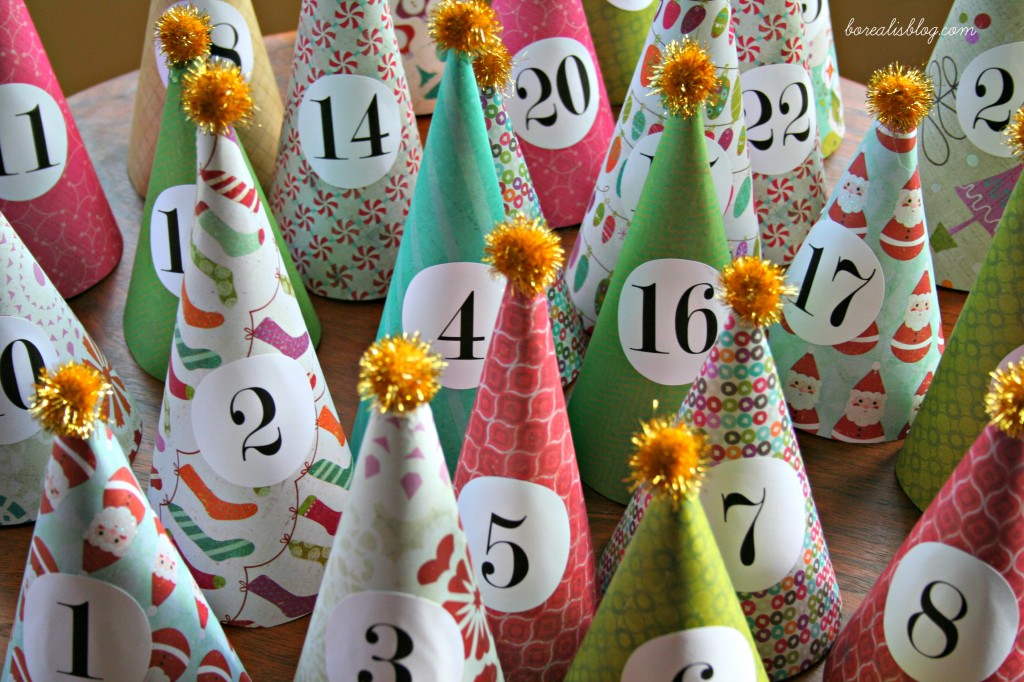 What I realized this year, though, is that what I was actually doing with the calendar was setting expectations for my kids — and a schedule for myself — during an especially busy and stress-prone season. And that it worked.
My little party hats weren't just decor that confused visitors (really, I had several questions), they were on my team, on my side, helping me to manage the tasks and expectations of the season. They were too much work for the results, but they were making it work.
I don't put many trinkets in the calendar — just slips of paper that indicate what Christmas-related thing we'll be doing that day. (And yes, on the rare day we don't have something we need to do, there is a small prize — Tic Tacs, soda-flavored Chapstick, a Lego Minifigure.) The boys' favorite is when I put a clue inside the day's envelope, bag, or tree/party hat — the clue leads to another and another and they get to run all over the house trying to figure it out.
Getting this all done by December 1 means that I need to have my plan for all our traditions (baking, tree, shopping, visits, parties, wrapping, Sunday School program) done by then, and that I know what gifts we will be making and when I'll need the supplies in the house when we all get home because we have about 1 hour between homework, dinner, and bed.
This is a good thing. Advent calendar = Mom's big ideas meet real deadlines.
Our calendar days say things like "Go shopping with Dad!" and "Wrap your presents tonight" and "Finish wrapping your presents tonight!"  — all things we would do anyway because they need to get done. But put through the magic childhood blend of surprise and tradition, all of this becomes fun — something to anticipate, something they want to do, something they can do — not something they have to do, or worse, that Mom does for them. And if the day's offering is not as exciting as a treasure hunt or a new Lego guy, the disappointment of the morning is long gone by evening, and there's no surprise about the night's agenda.
Advent calendar = kids countdown of fun meets expectations management.
So if you wanted an excuse to make one of those adorable Advent calendars on Pinterest (or, let's be honest, buy that ridiculously perfect one the Starbucks marketing geniuses are tempting me with) but the last thing your house and your kids needs is two dozen more little junky toys on top of the already too-much season, give this a try. Let us know if — or how — it works for you.
Inspiration to get you started
This is what was in the calendar two years ago: 20 different holiday things that are either easy, free, at-home, or we were going to have to do anyway. The other days were little treats or trinkets; if your children are young enough, a Hershey's Kiss would be excitement enough. For older ones, little practical things like flavored Chapstick, quarters, hair ties, or tiny nail polish bottles work too.
Write your letters to Santa Claus
We're going shopping with Uncle Mark, Aunt Tami, Aunt Kimi, Grandma, and Grandpa to buy gifts for a family that needs them. (A fun idea my husband's family had two years ago.)
Go present shopping with Dad
Make Chex Mix after school
Start making your Christmas gifts
Go Christmas shopping with Mom
Tonight we'll get out the decorations
Finish making your Christmas gifts
We are going to the Christmas tree farm today
Today's the day we make Spritz!
Wrap your gifts after school today
Make some Ranch Oyster Crackers today. (This is a snack that we only make at Christmas. Why, I'm not sure, but it is rare enough to generate huge excitement. Think bag of crackers + Ranch packet in your oven.)
Decorate Christmas Cookies
Finish wrapping your gifts after school
Family Movie Night!
Make Gingerbread Houses
Sunday School Program!
Christmas Vacation Starts Today! Movie Night!
We're going to see the Best Christmas Pageant Ever today.
It's Christmas Eve! Church at 4 p.m. and then to Grandma and Grandpa's house!
Oh, and one more thing
Whatever your design, do not seal your calendar days. You need the flexibility to move things around, in case a late meeting or extra holiday party or chance to have wine with your girlfriends or you just-cannot-holiday-prep-tonight comes up. Keep an extra trinket to swap for making gingerbread houses and no one will the wiser. (Put the kit you bought from Michaels in the freezer for next year; it will keep. Ask me how I know.)