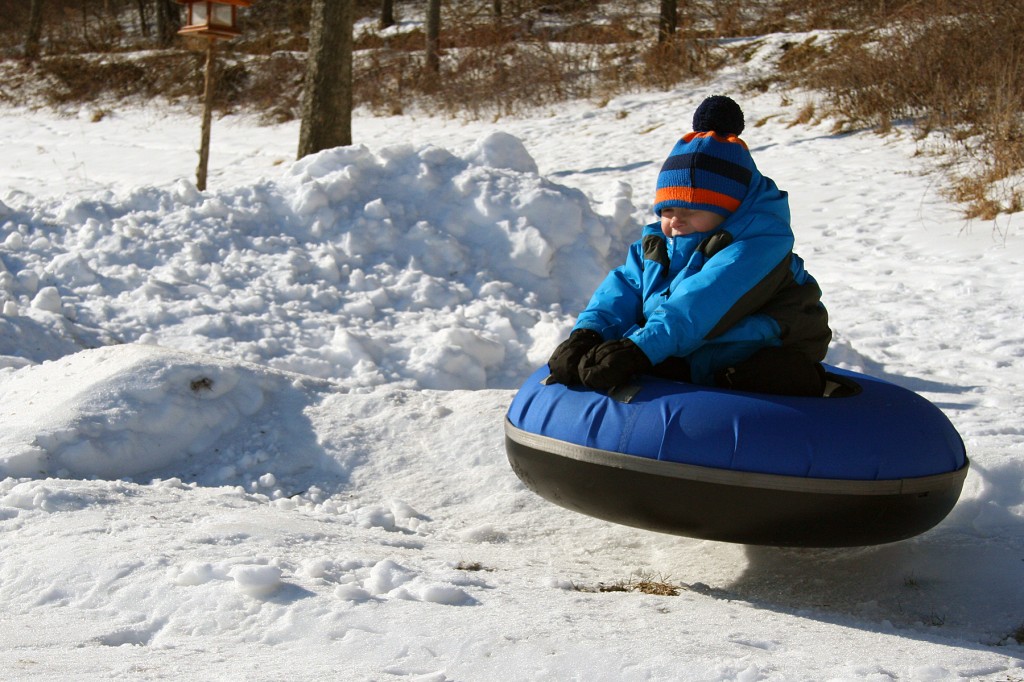 One of my absolute favorite mom jobs is outfitting my boys with proper winter outerwear. And by proper I mean really high-performance, Minnesota-worthy, yet totally cute and stylish snowsuits, boots, hats, mittens, and gloves. Nothing but the best, warmest, toughest, and kid-friendliest will do.
I know my boys couldn't care less. (They've never been even the slightest bit cold, so why would they know to appreciate it?) I do it for myself. I remember buying my oldest son's first snowsuit and coming home, so excited, to show my husband. It made me feel like a real mom, that somehow buying this snowsuit was really, really important, that I could protect him, just a little bit, from the world out there. Ten years and at least a dozen pairs of boots later, I feel the same way.
Coats and Snow Pants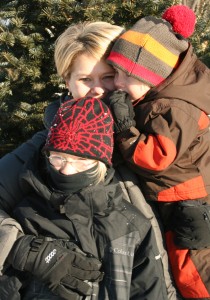 My favorite sets for little kids are made by Columbia. They have great color combinations, cute designs, but most importantly, seriously high performance gear for even the littlest sizes. This was especially important with my older son, who, born prematurely, was wearing a size 18 months when he was 3. A three-year-old needs more outdoor freedom than a baby bunting can provide!
I prefer the snow pants and coat combos (often sold in a set) to the all-in-one, so they can wear the coat separately. I also love that Columbia snow pants are made with a fleece vest on top for added warmth and soft cuddly cuteness. Velcro straps make it easy for little ones to try to dress themselves.
For my older son, who now needs to look cool, not cute, we've transitioned to Spyder brand snow pants. These are pants-style (not bibs) and made for skiing and snowboarding. The embroidered spider logo looks cool but he stays super warm. This year he's wearing a Columbia jacket, in gray and black, with his black Spyder pants.
A digression about those cool snowboarding coats: unless you are a boarder, you risk looking like a poser wearing those coats. For this reason we've stayed with basic black Spyders and Columbia, and did not venture into Burton territory. This is serious when you are a 10-year-old boy.
Hats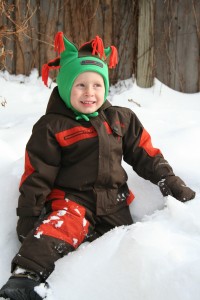 I think the best hats are Spyder or Obermeyer for big kids, and Obermeyer or Columbia for the little ones. These hats are tough, warm, and look both cute and cool. Columbia always has nice accessories in the same color palettes as their coats, and their fleece baby and toddler hats are the perfect size and weight with Velco under-the-chin closures.
Obermeyer and Spyder are super warm, with cooler, big-kid styles.
Mittens and Gloves
There's not much more frustrating than baby mittens (though Columbia, again, has some nice fleece options for the tiniest hands, and I love Smartwool too). Yet toddler mittens have them beat. Toddlers want to use their hands. They want to take their mittens off. They lose them. They can't get their thumbs in the right place. They put their hands in puddles, with mittens on. You forget them at home and you've already driven to daycare.
Columbia, again to the rescue. Their toddler mittens are the best I've found. Totally warm, totally washable, with a long zipper so you can open the mitten completely up to help them get their thumbs in the right place. Made of the same performance outer, lining, and padding as older kid and adult gloves. And usually only about $20. I always bought two pairs. One for home, one to leave at daycare (along with an extra hat, and for a few years, even duplicate boots).
The only drawback to these mittens is they don't make preschool sizes, so for my younger son we switched to Obermeyer mittens in a similar design (Velcro, not zippers) as my favorite Columbias. They didn't come in as many colors and were more expensive, but they are working perfectly. My older son has graduated to Spyder ski gloves.
Boots
When I was a kid, I walked to school in a blizzard uphill both directions in Moon Boots with a bread bag put inside the lining. (Who here had Moon Boots? Mine were hot pink and grey, so cute!). I vowed that my kids would never have wet or cold feet.
Lands End wins hands down for best toddler boots. The Snow Flurry and Snow Plow styles have gotten us through many winters. Lots of colors, super wide easy Velco opening, warm, sturdy, and water-proof.
I also really like Kamik brand boots – similar in construction to Sorel boots (anyone from "up north" knows what Sorels are; my sister wore white Sorels to her New Year's Eve wedding in Duluth) – but in more kid sizes and styles than Sorel, for about the same price to slightly less. (I have found Kamiks at Fleet Farm. Anyone else know what Fleet Farm is?)
A bit about cost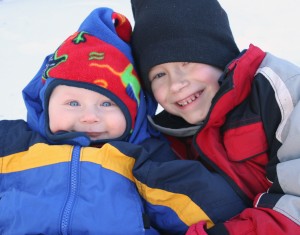 Obviously, these are pricey performance brands, and I have invested plenty in my kids' winter wear. However, there are deals to be had. Columbia, for example, is carried at Herbergers, which has amazing sales and coupons. My younger son just grew out of his last year's snowsuit, so I got him a new Columbia coat at Herbergers, originally $150, for $30. Lands End also has great sales on boots, both very early season and late season.
If you can, buy a new snowsuit at the end of the season (which in the crazy alternate reality that is retail, is apparently now). I got Owen's Spyder snow pants and Columbia coat for 60% off at Dicks Sporting Goods last year in February. I just guessed that he'd be up two sizes by then. Because snow pants are held up by big clunky boots, they can be plenty long. I also buy coats and snow pants big and count on using them for two seasons. A little too big the first year, a little too small by the following March, but warm all the way through.
Since these are high-end performance brands, they do not wear out. Any mom of boys knows that their clothes do not last to hand-me-down; rather, they simply disintegrate. But Noah has worn several of his brother's winter ensembles, and that's after his cousin wore them too. I've never bought a pair of boots for Noah, and sent several pairs off to cousins and friends. Nothing has ever worn out. So if you are a Ebay shopper or garage saler and you see these brands for a good deal, snap them up. Your kids will be warm and your budget will stay healthy.
Where to buy
Get your little-kid Columbia suit at Herbergers, because it is going to be a great deal. If they don't have the matching hat and mittens, search online. REI and Cabelas carry kids Columbia gear.
Get your boots at Lands End, Winterkids.com, or even Fleet Farm.
Get the best selection of totally cool and cute hats at Winterkids.com
Get Columbia and Spyder brand gear for bigger kids at Dick's Sporting Goods. REI has Columbia too.
Get great kids long underwear and Smartwool for your kids at REI. (Buy a membership, you're going to be buying gear for a long time!)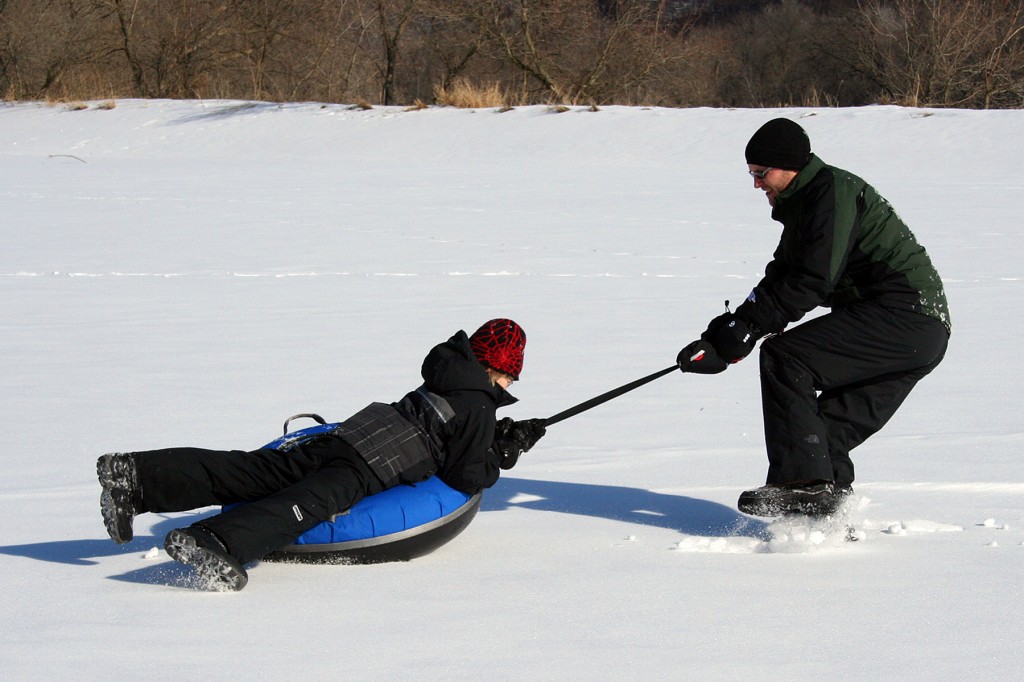 P.S. from Breanne
I'm just a new mom so I don't have the street cred yet, but my favorite winter gear go-to place is Polarn O. Pyret. POP is a Swedish company that makes gear in accordance with the philosophy "There is no bad weather, only bad gear." Beatrice rocked the infant helmet hat all winter, and it was everything you'd ever want in a baby hat (fleecy inside, windproof outside, secure chin strap, cute!). Don't be afraid of the prices – they have great sales! They also do gender neutral really well, for those who want gear with maximum hand-me-down flexibility.
And yes, I get the same deep motherly pride when buying Beatrice winter outerwear. My husband is similarly flabbergasted.