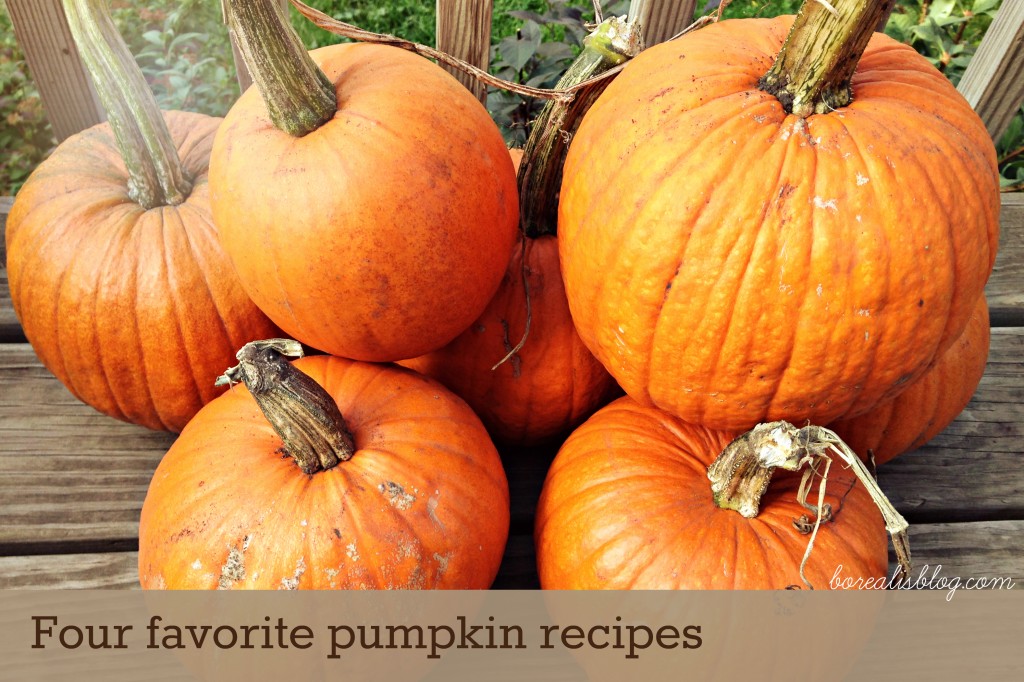 Memes are funny because they are true, and this one made me laugh out loud. While I am not a pumpkin spice latte drinker, I am a white girl wearing yoga pants at this very moment and I do like fall. (Image found here, or all over Pinterest.)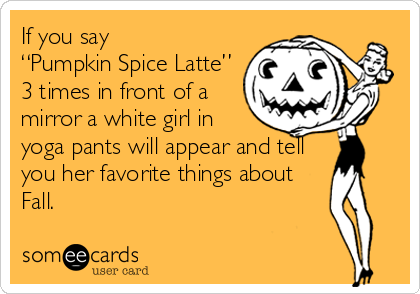 So here's my (possibly inevitable) entry into the fall-loving, pumpkin-everything mania — a four of my favorite pumpkin recipes.
Pumpkin Fondue
This is savory, boozy, and delicious. The original recipe from Eating Rules calls for brie, but I substituted light cream cheese and reduced the amount of gruyere to make it healthier. I'm sure the brie would be fantastic, but this was really delicious and much lighter.
1 clove garlic, smashed
1 3/4 cup crisp-style hard apple cider (or non-alcoholic apple cider if you prefer)
3/4 cup fresh pumpkin puree
1/4 tsp. dry mustard
1/4 tsp. cayenne
1/4 tsp. pumpkin spices (see below)
1/2 tsp. sea salt
2 Tbs. flour
1 oz (about 1/4 cup) grated gruyère cheese
4 oz light cream cheese
1 tsp. fresh lemon juice
In a medium sauce pan combine the garlic, apple cider, pumpkin, mustard powder, cayenne pepper, mixed spices, and sea salt. Whisk occasionally until well combined then cook over medium heat until it just comes to a boil. Reduce the heat to medium-low.
While the mixture is heating combine the flour with the cheeses and toss to coat. Add the cheeses to the pumpkin mixture in three installments, whisking until the cheese is melted before adding the next addition. Whisk in the lemon juice then pour into a fondue pot or a heat-proof serving bowl that has been warmed.Serve with bread, apples, and pears.
Pumpkin Spices
Yields 2 tablespoons
1 Tbs. cinnamon
1/2 tsp. allspice
1/4 tsp. nutmeg
1/4 tsp. cloves
1/8 tsp. ground ginger
Pumpkin Pancakes
I first had these at a girls weekend of high school friends several years ago. I started making them for winter breakfasts at holidays and my kids and nieces and nephews all love them.
1 1/2 cups skim milk
1 cup pumpkin puree
1 egg (or 1/4 cup egg beaters)
2 tablespoons vegetable oil
2 tablespoons vinegar
2 cups all-purpose flour (or white whole wheat flour – I used King Arthur's)
3 tablespoons brown sugar
2 teaspoons baking powder
1 teaspoon baking soda
1 teaspoon ground allspice
1 teaspoon ground cinnamon
1/2 teaspoon ground ginger
1/2 teaspoon salt
In a bowl, mix together the milk, pumpkin, egg, oil and vinegar. Combine the flour, brown sugar, baking powder, baking soda, allspice, cinnamon, ginger and salt in a separate bowl. Stir into the pumpkin mixture just enough to combine.Heat an electric griddle to 350. Pour onto the griddle, using approximately 1/4 cup for each pancake.  I serve these with real maple syrup and chopped pecans.
Pumpkin Muffins
I make mine using Smitten Kitchen's recipe. I made three dozen last Sunday; they were gone by Tuesday. (Owen eats four at a time.) I make these ahead to keep in the freezer for the holidays.
Pumpkin Cinnamon Pull-apart Bread with Buttered Rum Glaze
Yes, you read that right. Buttered rum glaze. My first success at a yeast dough, thanks to Sunny Side Up in San Diego. Time-consuming but, according to Owen, "epic."