I remember a long time ago at some college party someone asked the group to answer: "what progressive cause don't you care about?" (This may have been what passed for a drinking game in my crowd. Good progressive-activist, triple-majoring, newspaper-editing students, we.)
That was easy: the environment. I just couldn't get my back up over trees in the same way I could over, say, patriarchal hegemony. Sure, I tossed my Diet Coke cans into the right recycling bin, but beyond that I just didn't care.
So my growth as a progressive environmentalist has been slow. It started with plastic food storage bags. I used to scoff at (and be slightly embarrassed by) my mom washing out and reusing bread bags. But eventually, in my own home, it just seemed silly, even wrong, to throw them out after one use. I wash my Ziplocs now, though I've resisted buying one of those drying racks, instead draping wet bags over the olive oil bottle, pepper mill, and wooden spoons in the crock.
Years ago, my husband installed a pullout rack under the sink that holds both a garbage can and recycling bin, and we dutifully recycled everything that St. Paul picked up curbside. I later bought reusable school lunch sandwich and snack bags (I like Lunchskins because they go in the dishwasher) and aluminum water bottles for the family. We traded bottled water for a Culligan cooler (and yes I know, that's still not ideal; it takes fossil fuel to bring me that water and keep it perfectly chilled).
Once you start eliminating waste, though, you see more and more needless trash. Inspired by my sister-in-law, I made several dozen cloth napkins out of cute clearance fabrics for every-meal use. (And then my fabulous-sewist sister-in-law gave me a huge set for my birthday, from cute, designer, sure-to-not-have-been-on-clearance fabrics.)
I even got rid of my paper towel holder and now have a basket with a huge stack of Ikea dish towels on the counter. I have more laundry, but less trash. And just today I found these DIY plastic-lined but washable fabric bowl covers on Pinterest; imagine doing away with Saran Wrap too!
Despite all this progress, I own, but never use, several large reusable grocery tote bags and washable mesh fabric produce bags you are supposed to bring to the store. I seem never to be able to remember these, sitting in their neatly organized bin in the back of my van. Consequently, there are approximately 3,000 grocery bags in my basement; at least they are paper.
A couple weeks ago, Owen was reading an Earth Day article about a family of five who fit an entire year's worth of trash in a three-liter jar. (I couldn't fit one day's worth of trash in there!) He asked me if we at least brought our own bags to the store. I lied and said I did, and felt properly chagrined. I vowed to never forget my bags again. Then I forgot again. And again. And today.
The next day, or at least that week, the annual Ramsey County "how to recycle everything" booklet arrived in the mail. I do read this every year and I think this year it was improved dramatically. It explained what to do — and where to take — everything that you might need to dispose of but that the city does not pick up. Since Owen is our recycling sorter — and environmental conscience — we used the guide to improve our recycling center with labels and descriptions so he could sort the expanded list of recyclables on his own. He's proud that he was the catalyst for this change, and so far, it isn't hard to get him to complete this chore.
As for me, I've progressed from tossing everything but soda cans in the trash, to washing plastic bags like my mother, setting up a family recycling center, and driving all over the county to properly dispose of my yogurt tubs, extra medications, light bulbs, and plastic wrap.
I think it is fair to say I care.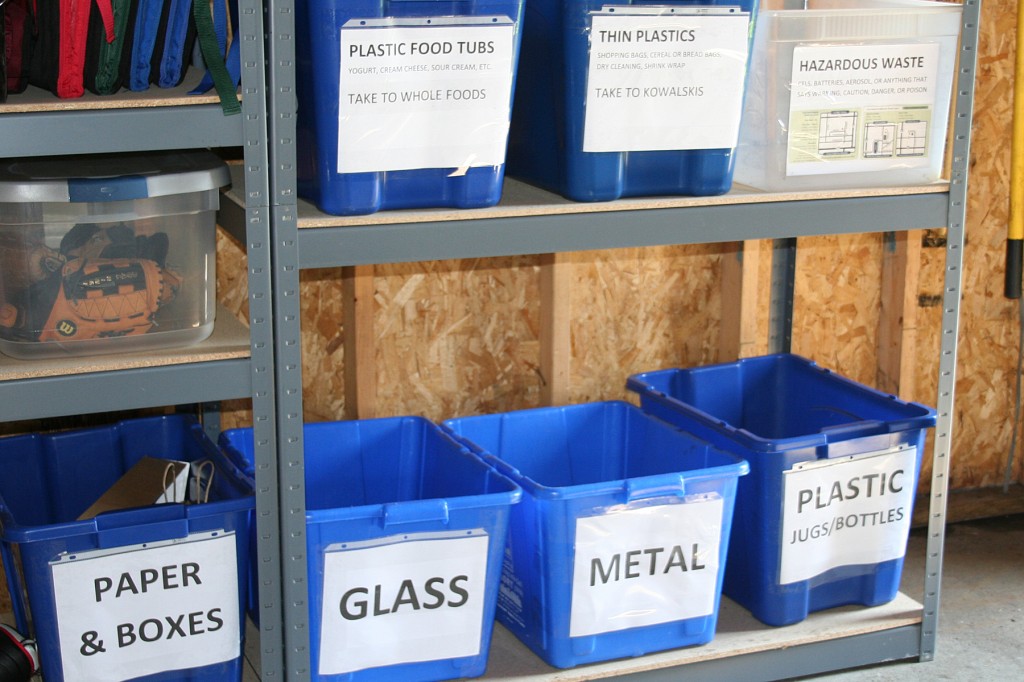 I was pleased to learn that thin plastics, such as shrink wrap, dry cleaning bags, cereal liner bags, shopping bags — and those produce bags I keep having to use because I forgot mine — can be taken to Target, Cub, Kowalskis, and several other locations. Whole Foods will take plastic food tubs, which is great, because we go through a lot of Greek yogurt and St. Paul still does not pick those up curbside. My 3,000 handled paper shopping bags went to ArtScraps, where I sheepishly mumbled something about not forgetting my shopping bags ever again as they tried to find room for them all. But then I forgot, again, the very next day. Sigh.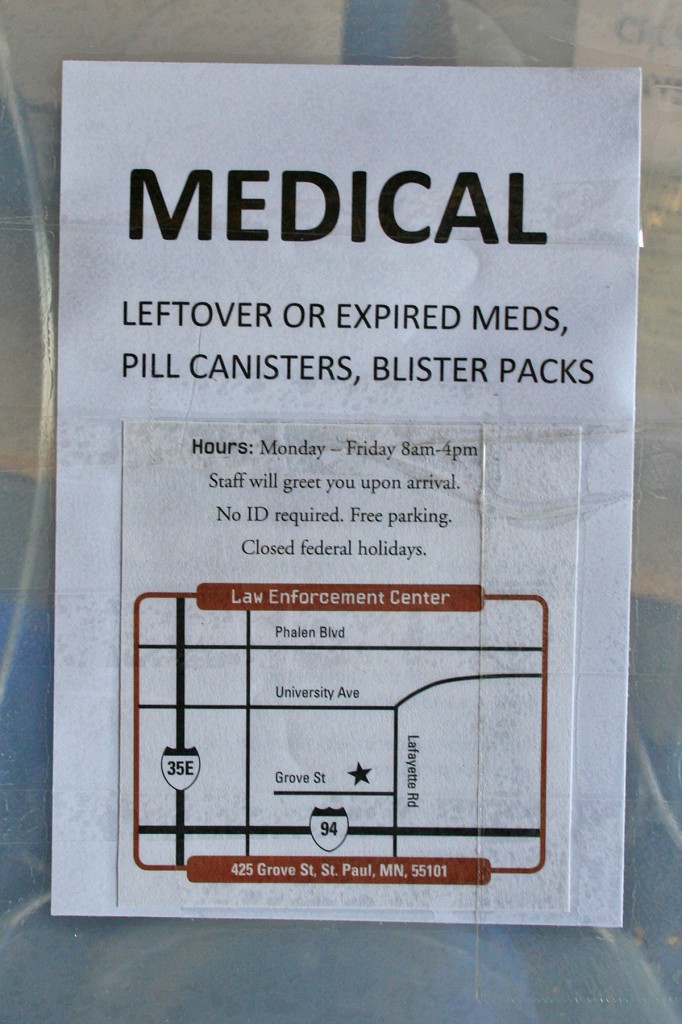 This never occurred to me before but makes perfect sense: Don't throw extra meds in the trash. They are either potentially dangerous to someone else, not good to have seeping into the groundwater, or could be stolen and used improperly. These you bring to the Sheriff's Office. Since I take a dozen and then some pills a day, we have plenty of this kind of recycling.
This is also a closer example of my labels. I just cut the drop off location map and hours out of the recycling booklet and taped it to my label. On the larger bins, the paper is slid into a sheet protector and then taped to the bin.