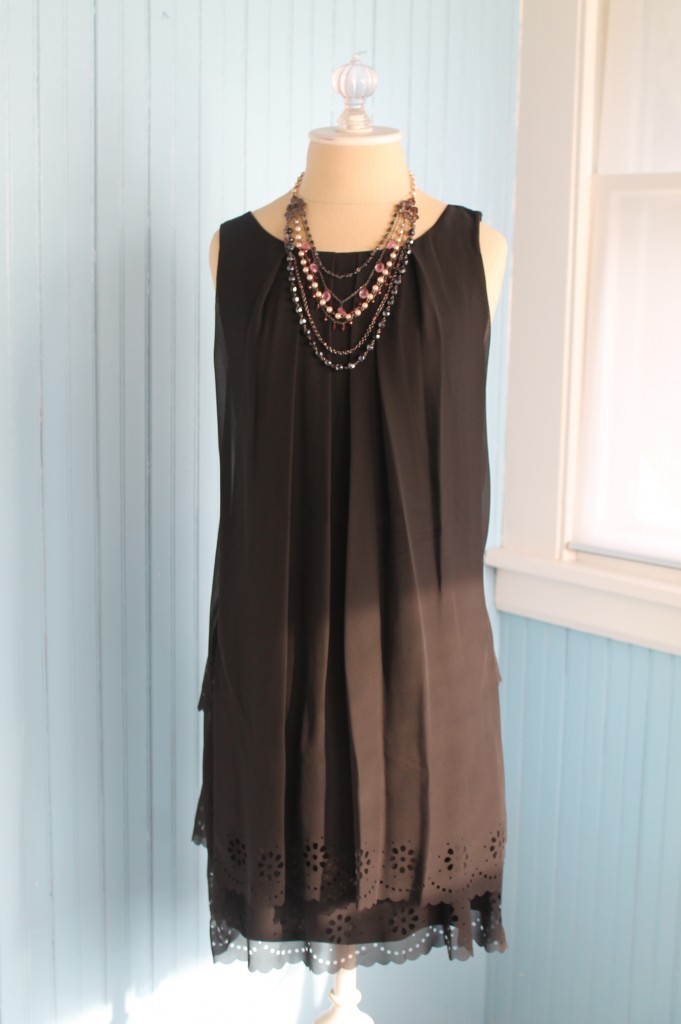 Dress – Macy's
Necklace – unknown
Tiered layers are really flattering.
Remember when my friend Allie taught us how to pair colors in fresh ways? And how to mix patterns and cardigans and belts? And urged us to get some accessories in metallic, fluorescent, leather, or wood?
Allie's post was the first in our fashion series, where we ask our always-stylish friends to explain their secrets, to share their formulas for looking good without fuss. Today we bring you our friend Kristen, who makes frequent appearances on Borealis. (See Christmas is not for wimps and The Pursuit of Happiness and lots of brilliant stuff on her blog.)
But lest you think Kristen is just a pretty writer: she is also not only pretty herself but also has fabulous fashion sense. I have never not seen her looking good.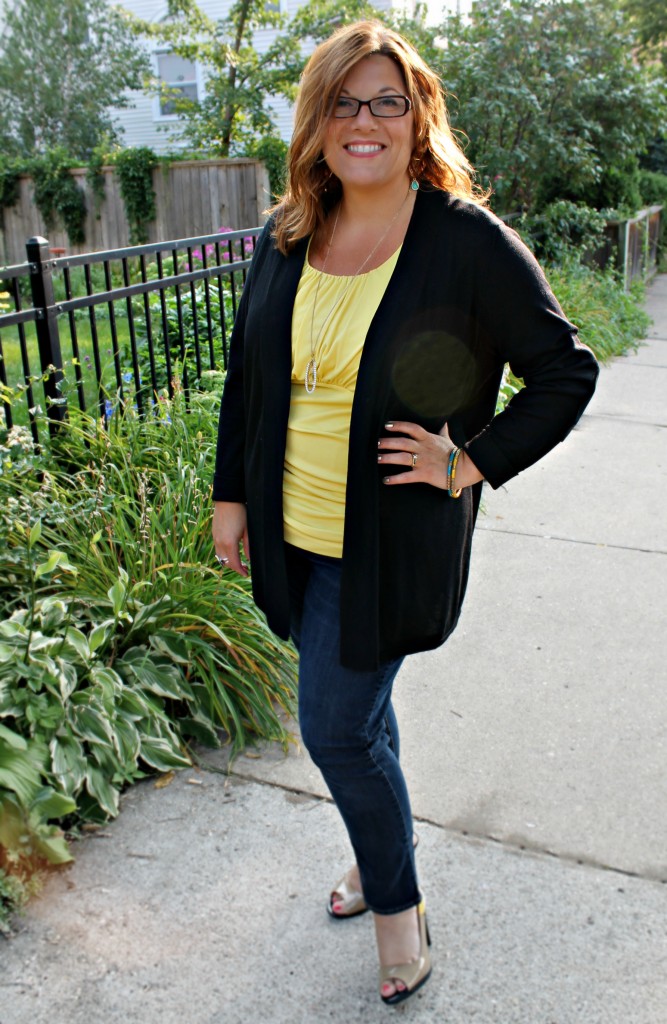 How does she do it? Read on!
What are your wardrobe go-to staples?
My black cardigan, oh how I love you. Black trench, jeans, interesting shoes, and a good ring. I was more of a blazer gal, but my job is more casual now and I'm trying not to dress too old (which I think has been a mistake for me).
I always wear earrings. Ninety-nine percent of the time I wear silver hoops in this perfectly oval shape, just the right length, that can be slept in. I never take them off. I have tried to mix it up this summer but my skin just disintegrates the finish off cheap jewelry. On occasion I'll cover it with clear nail polish, which buys me a little more time, but not much. It's a bummer.
I love statement rings. I didn't know until I read the best fashion book ever, What  you wear can change your life from the original What Not to Wear ladies, Trinny and Susannah, that I could pull off big rings. But while short, I'm not tiny-boned, so it works. I try to pick rings that push my style out of the box, since some of my staples are a bit snoozy.
I love bangles and long necklaces work better with my curves. I have no neck. Chokers or short necklaces are not allowed. Ever. It hurts me to think about all those turtlenecks I used to wear. Criminal.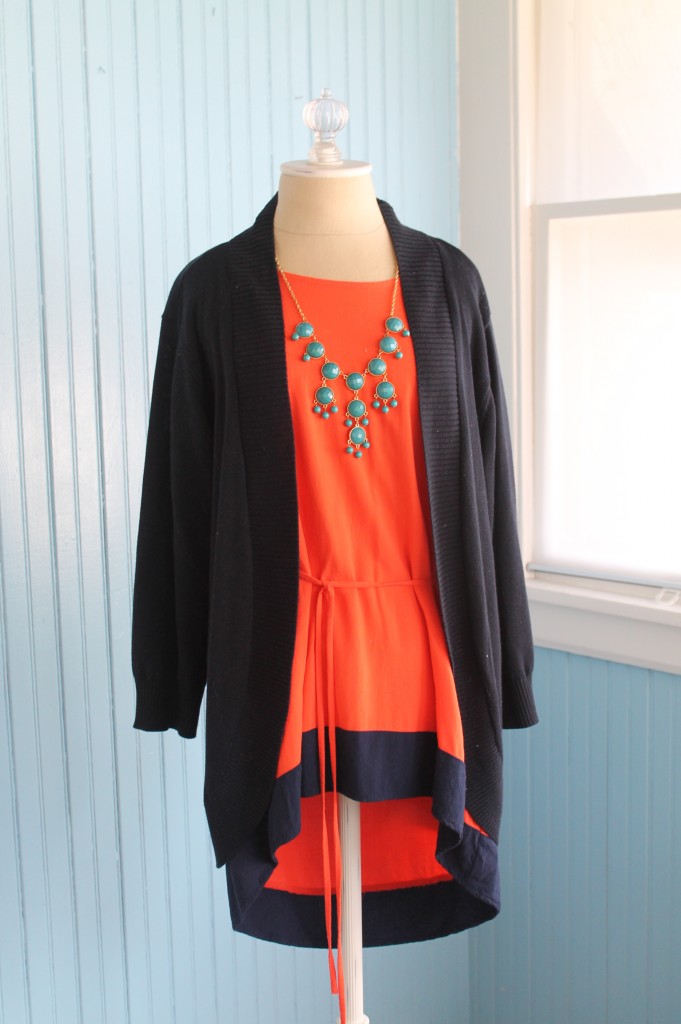 Shirt – Target
Sweater – Marshalls
Necklace – New at Elite Repeat
The big horizontal stripe only works if
I wear dark jeans that make it disappear.
What do you spend good money on?
Because I pay a lot of attention to fit, most of my wardrobe is middle of the road (like Macy's, Herbergers), so my spending a lot would be a boutique piece or a Talbots staple. I do have my clothes a long time, so pieces I know I'll wear until they disintegrate (like black cardigans), or pieces I fall in love with, or things that fit perfectly are the ones I'm willing to spend more on. Even shoes, which I love, I'm hard on, so I can't justify paying too much. I'm a big coupon user.
I really do tailor things and try to be creative. I found a double-breasted coat that had details I loved, but I don't need double breasted. My tailor turned it into a single button closure. I recently added elbow pads to a favorite sweater with worn elbows and it looks like one in J. Crew.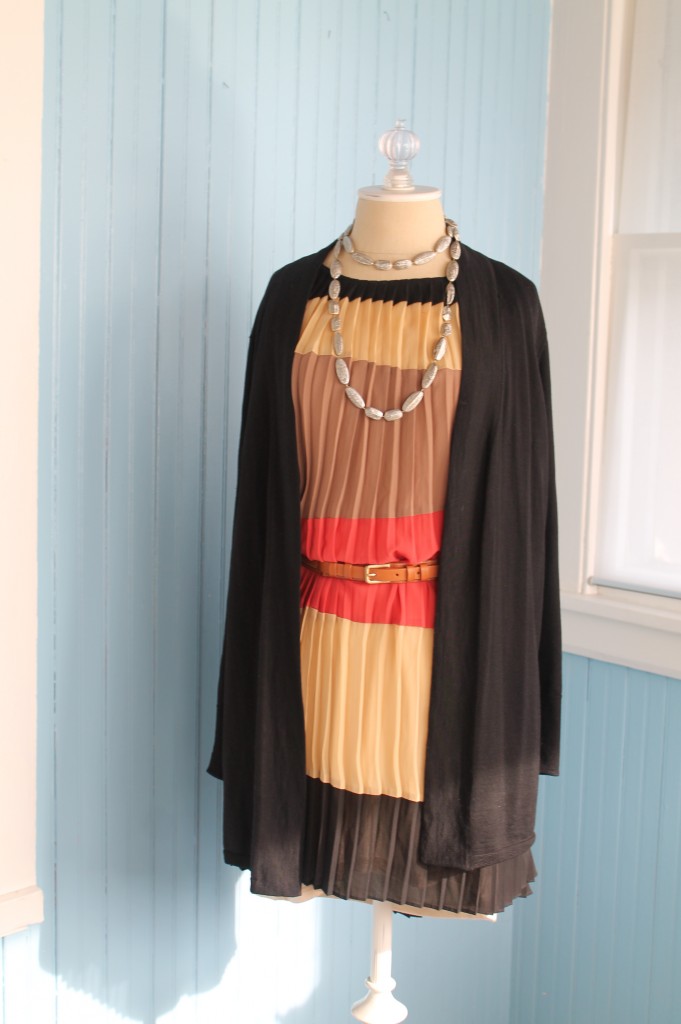 Dress – Poppy Togs
Sweater – Talbots
Belt – Talbots
Necklace – Patina
What do you skimp on?
Bottoms. With a few exceptions, my skirts and pants are not pieces anyone will remember, nothing I'm excited to buy, and I seem to be able to find them inexpensively. I don't love them either way – so why spend a lot? I found a classic skirt style at Target that was fully lined and really worked for me, so  I bought it in multiple colors and sizes.
What new trends are you loving?
The cropped (or not cropped) skinny pants with flats. Who knew? In addition to being short, I'm also short-waisted. The upside is that my legs are longer proportionally and better to highlight than my middle, so these work well and look cute with heels or flats.  I have been wearing heels or wedges every day for a long time, but have found some wedge flats that still read flat. I love the combo.  And of course, after I found a brand/style I liked, I went online and ordered two more pairs so I have a black, a brown with shiny copper hardware, and a gold sparkle. There are also a lot of sheer tops that are flowy without being Mrs. Roper. Again, nice for layering.
Peplums seemed promising but were generally terrible. After many attempts (my eyes are burning) I did find one in an amazing turquoise that works. But not a go-back-to style for me.
I do love the faux-leather accents on tops and dresses and have seen them at all price points. I have my eye on an especially interesting black dress at Primp that has a perforated faux leather hem, which is a subtle but interesting detail.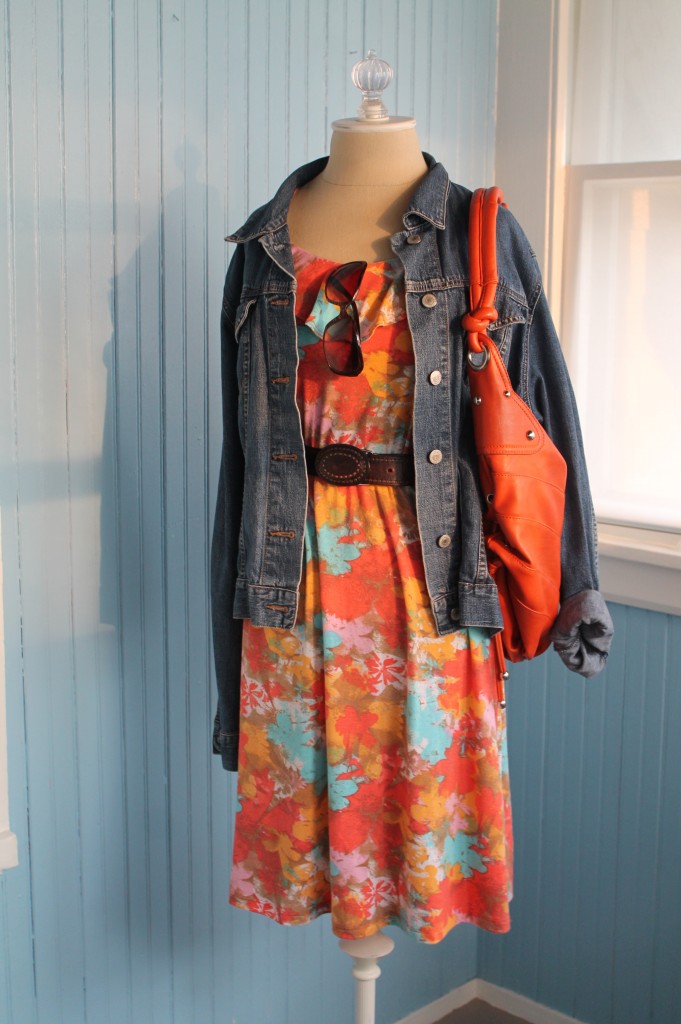 Dress – Target
Jacket – Lands End
Belt – Eddie Bauer
Purse – Patina
Takes a sundress into fall just
by adding the jacket (and boots later).
What will you never wear or what do you avoid?
I hate tennis shoes and rarely ever wear them in public (or at home) and I never leave the house in sweats or really any athletic gear which looks ridiculous on me. I never wear flip flops. I can't wear heels that are too high or I look like I'll tip over. No short necklaces. Nothing tight in the mid-section. I try to make sure I mix up casual and dressy. I will wear a puffy vest (cause it's a puffy vest) but always with cooler boots and maybe a scarf.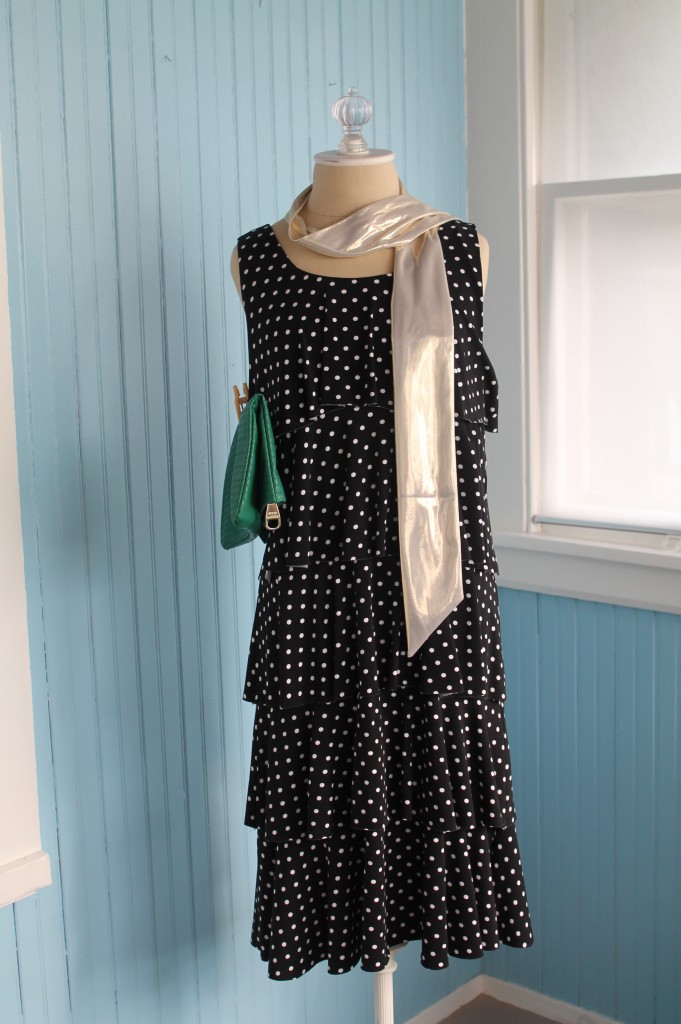 Dress – Herbergers
Scarf – Thrift
Purse – TJ Maxx
Again with the tiers.
What's your secret for looking pulled together in the heat of summer?
(Because Kristen always looks fresh when the rest of us are sodden.)
(Laughs) Well, I think it's the same as the rest of the year.  My makeup routine is the same every day and makes me feel kind of "ready for the day." My husband hassles me about my prep on a day we're cleaning or something, but I don't care.  So I think there's a certain amount of polish that comes from that. My nails are always done.  I had a manicure done at Juut (Aveda then) a long time ago and I watched the technician like a hawk.  I bought everything she used and after years of practice, I am mighty good. I have trouble justifying having them done, because I usually think my manicures are better.
I think, ironically, that layers help. I am what I like to call a petite husky and I hate hot weather, so the season when people wear the least amount of the clothing is a challenge. I am unwilling to look bad for the sake of comfort. So, I'm always on the lookout for cool layers. I found an awesome tissue weight cardi at Primp and bought it in two (okay three) colors.  I love dresses a lot and they are a pretty easy way to look good and stay cook. And seriously, add cute shoes and a couple of bangles to anything and you'll look put together. I think the key in the summer is to have a few things that you just keep going back to. That way it's still easy, you know you love them, and you know it looks good.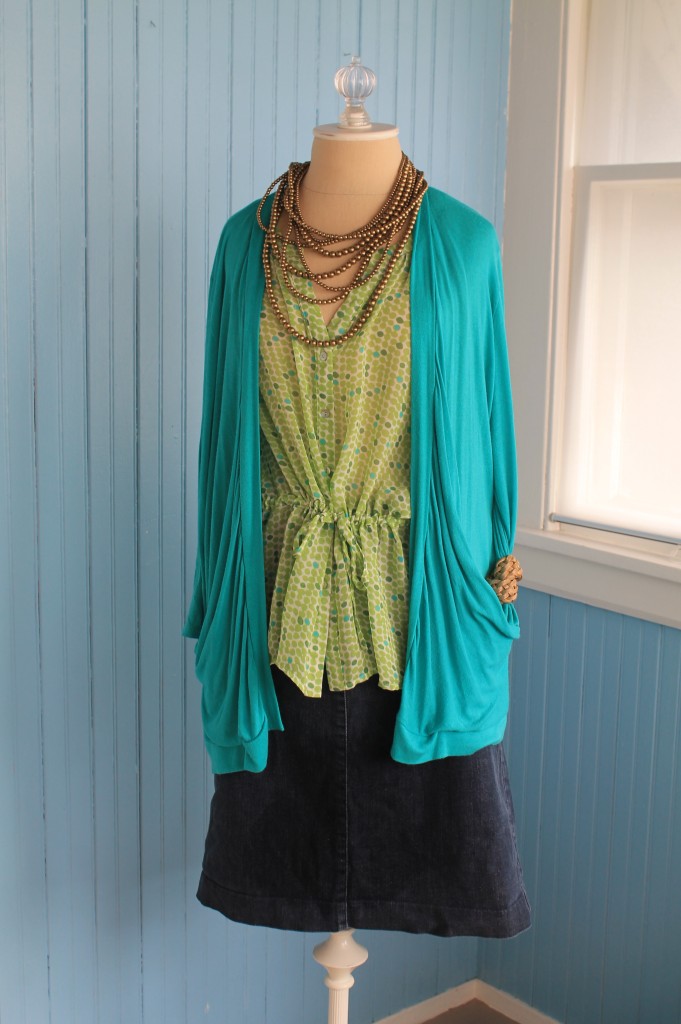 Sweater – Primp
Shirt – TJ Maxx
Skirt – Talbots
Necklace – Hot Mama 
How would you describe your sense of style?
That's a tough one. I am dressier than most of my friends but it doesn't bother me at all. I strive for polish, a little drama, and lately I've needed to young-it-up a bit.  I love color and get depressed if I wear too many neutrals. If it were television influence I'd say the Good Wife meets Nashville with a touch of Downton Abbey accessories. (Seriously, I got this coat with a fur collar that makes winter worth it.)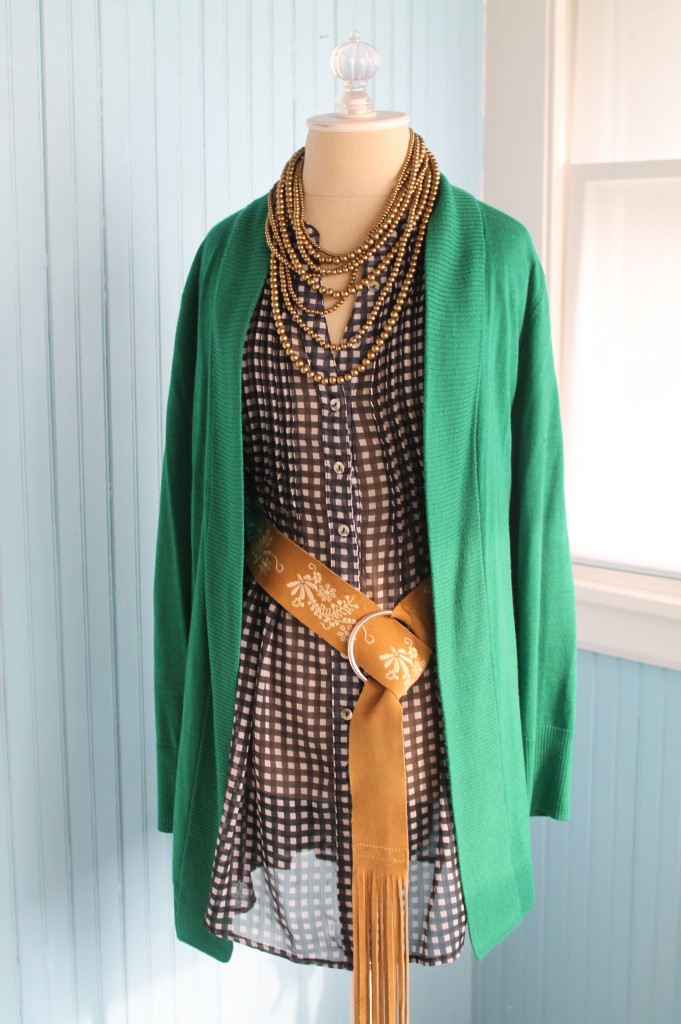 Shirt – Macy's
Sweater – Talbots
Belt – Thrift
Necklace – same, Hot Mama
What's your secret for never looking short despite being so?
I do wear heels or wedges a lot and even an inch or two really makes a difference. Even my flats aren't really flats (my son calls them my non-flat flats) as they do have an inch wedge on them.
Proportions probably. I like knee-length or shorter skirts paired with jackets or longer sweaters or pants with shorter tops. I also try to keep longer lines (boots, tights, skirts the same color). While I do wear ankle length pants, I acknowledge that longer boot cuts are more flattering and make for better balance. And you have to stick with what works. I cannot ever, ever, wear waist length tops or calf length anything. Terrible. Coats that are too long are also bad. I feel like confidence in dressing helps too – I'm not one to want to shrink away from boldness, so that might influence my perceived height.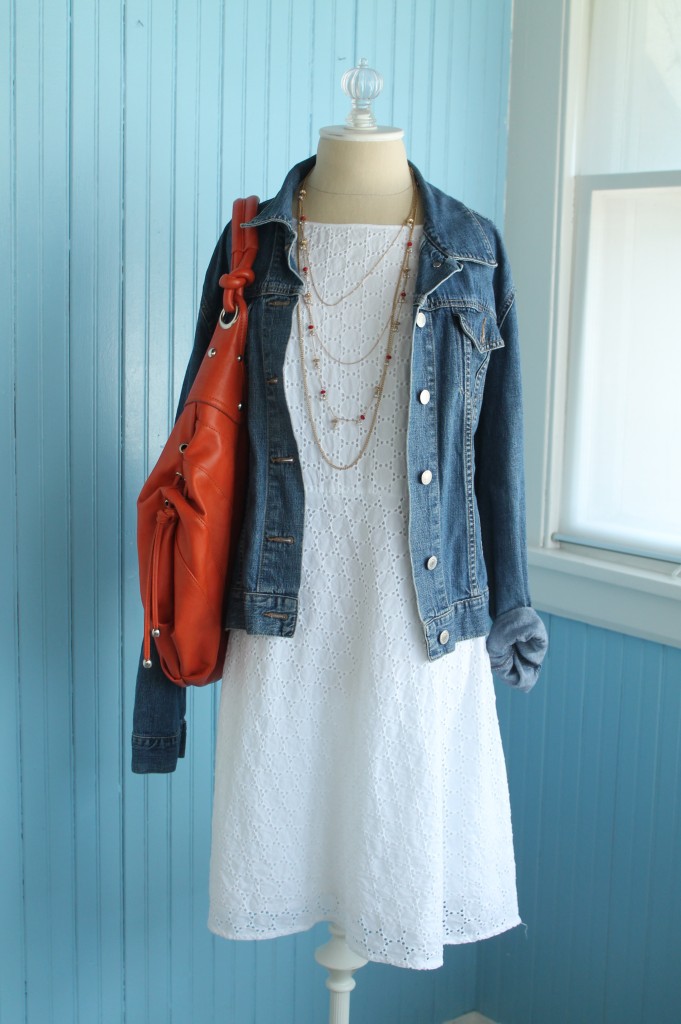 Dress – Lands End
Jacket (repeated) – Lands End
Necklace – Patina
Purse (repeated) Patina
The seaming on the waist is helpful if you don't have one.
Where are your favorite places to shop?
It sounds so boring, but department stores like Macy's and Herbergers, and Talbots for tops. Sometimes I score at Lands End and J Jill. I do like to go to local stores like Bibelot, Hot Mama, Primp (being real careful of too-youngish clothing), Patina for scarves, and Poppy Togs for fun accessories. I also like Silpada for jewelry. I go often and scope things out and if I find one thing I love, I'm happy.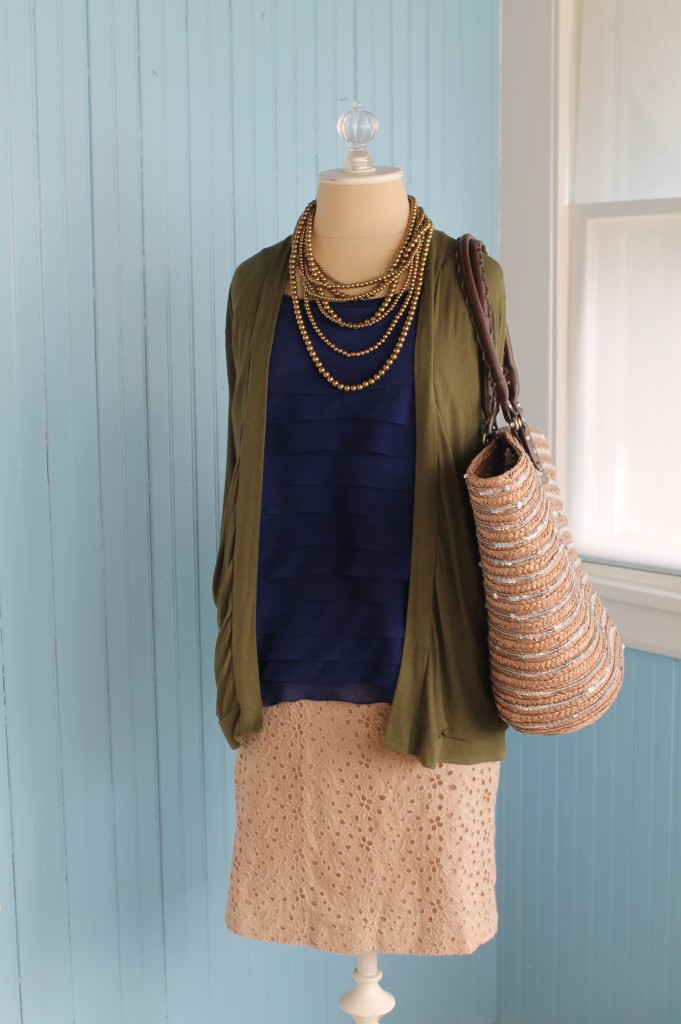 Shirt – TJ Maxx
Sweater – Hot Mama (same as blue one)
Skirt – Talbots
Bag – Target
The top has yet again more tiers. I like the texture variety in
this one from the eyelet skirt and the sparkles on the bag.
What is the biggest fashion mistake you think most people make?
Not trying very hard. Being too boring or sloppy. Or hoochie, I can't abide by hoochie.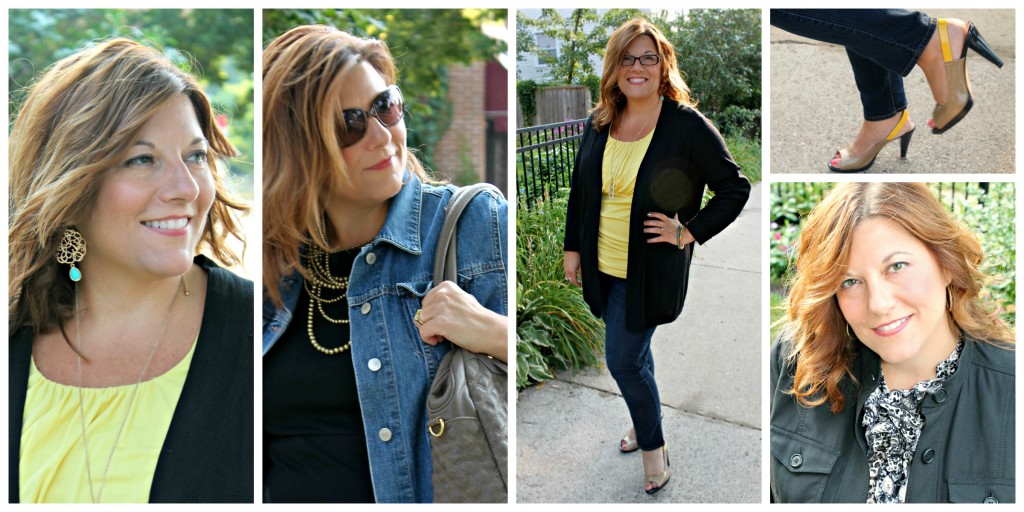 Thank you so much Kristen! All of your pretty pics makes me want to go shopping! Or maybe pay you to go shopping for me. Keep on looking gorgeous, girlfriend.