Naptime beckoned, and I had just one more email to write before I could answer its call. A few more words, then done — my email to author Beth Dooley sent, and I closed my laptop, rolled over, and closed my eyes as Blythe snoozed nearby. My email echoed in my ears as I nodded off… then I groaned, rolled over, and opened the laptop again.
I had just written (to a writer!) that one of her recipes "peaked" my interest.
(It should have been "piqued.")
But her response ("Oh geez! No worries! (I love this dialogue!)"), couldn't have been more gracious, and her same thoughtfulness is evident in her new cookbook, Minnesota's Bounty: The Farmers Market Cookbook (University of Minnesota Press, photos by Mette Nielsen).
Reviewing her cookbook for the Mix (the Twin Cities Natural Food Co-ops' bimonthly publication,) sounded like a fun little project during maternity leave, and a great excuse to cook up something fresh and delicious for a change. (The article will publish next month).
Although Beth and I just exchanged emails she seems like my kind of person (Like Amanda and Sheryl, we are on a first-name basis in my mind). I already loved her book, Savoring the Seasons of the Northern Heartland with Lucia Watson. Her approach to farmers markets is not careful planning and complex recipes, but rather picking up whatever looks good and having the confidence (with her book's help) that you can take it home and cook up something delicious. Her recipes won't send you to little known grocery stores picking up unpronounceable ingredients and they don't have any unnecessary steps.
Also, her approach for farmers markets is to start by grabbing a cup of coffee. Indeed.
For the review I whisked up some maple mustard vinaigrette, which was the kind of perfectly balanced dressing you find at good restaurants but I struggle to replicate at home. (Maybe because I followed her recipe exactly instead of meddling, balking at the amount of oil like I usually do).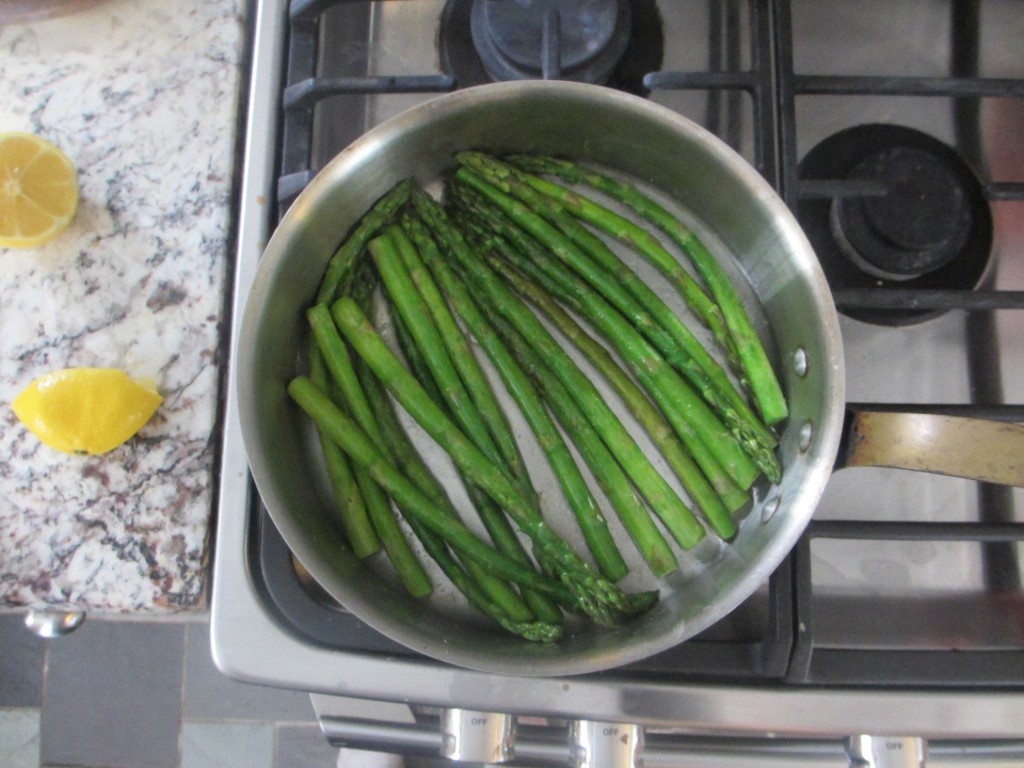 The pan-roasted asparagus was quick (under 10 minutes) and delicious. I'm always wary of steaming asparagus and getting distracted, but pan roasting is pretty foolproof.
I busted out my mandolin for slicing up the radishes for her pea and radish salad (and my fancy gloves). The recipe has you gently boil the snap peas for a few minutes to bring their crispness level from mouth-shredding to pleasantly refreshing.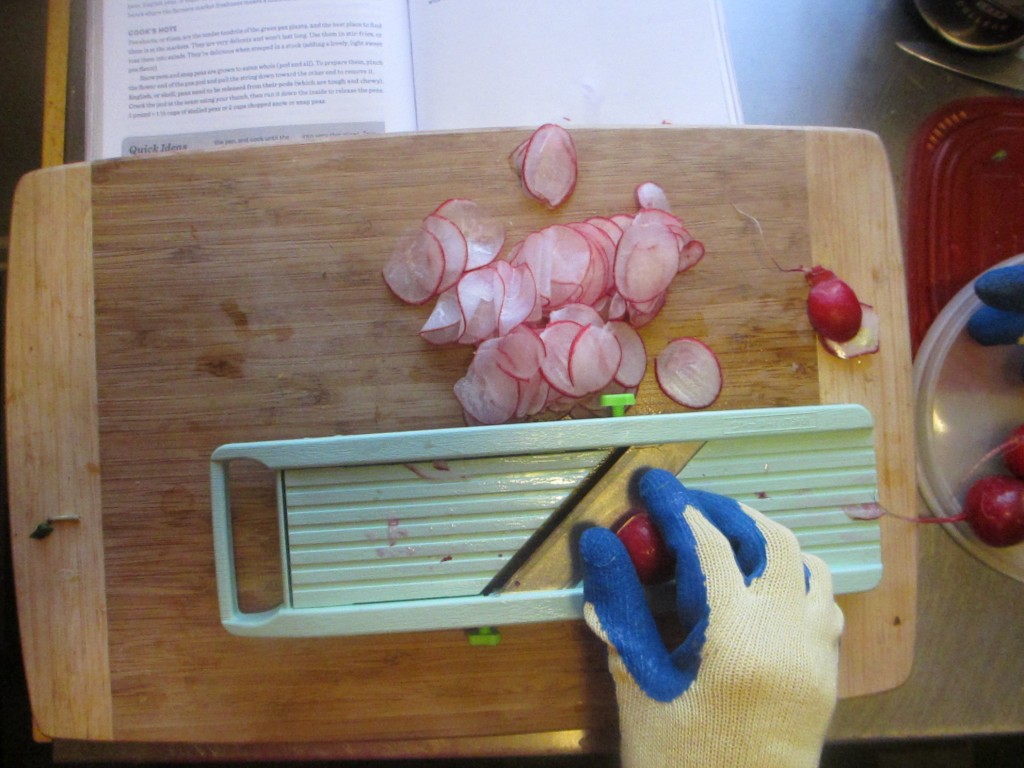 Having never found a rhubarb recipe I've really loved (besides making it into a beverage), I was eager to try (and pronounce) her recipe for rhubarb pandowdy, which consists of a satisfying layer of maple-syrup glazed rhubarb topped with a thick, buttery crust.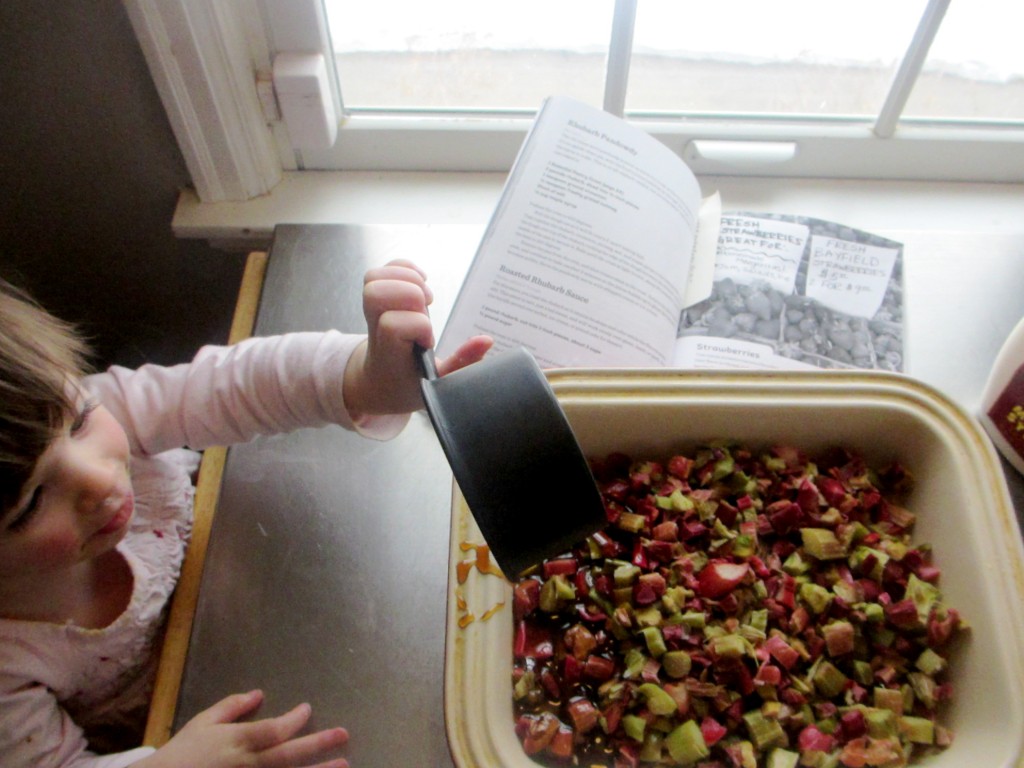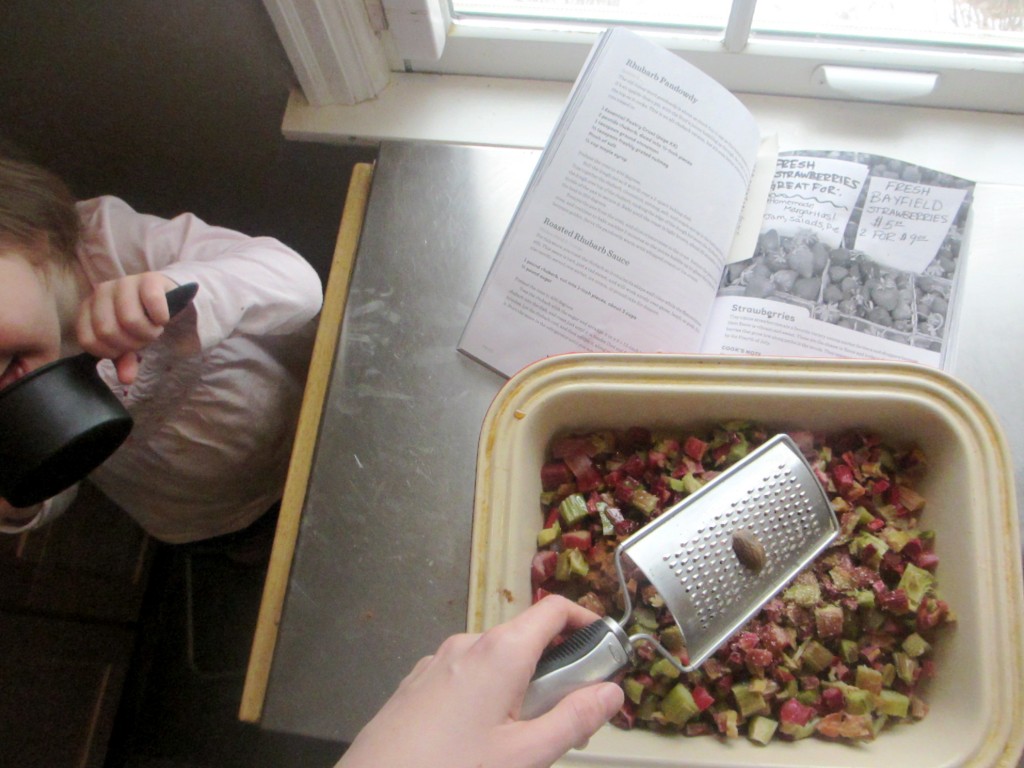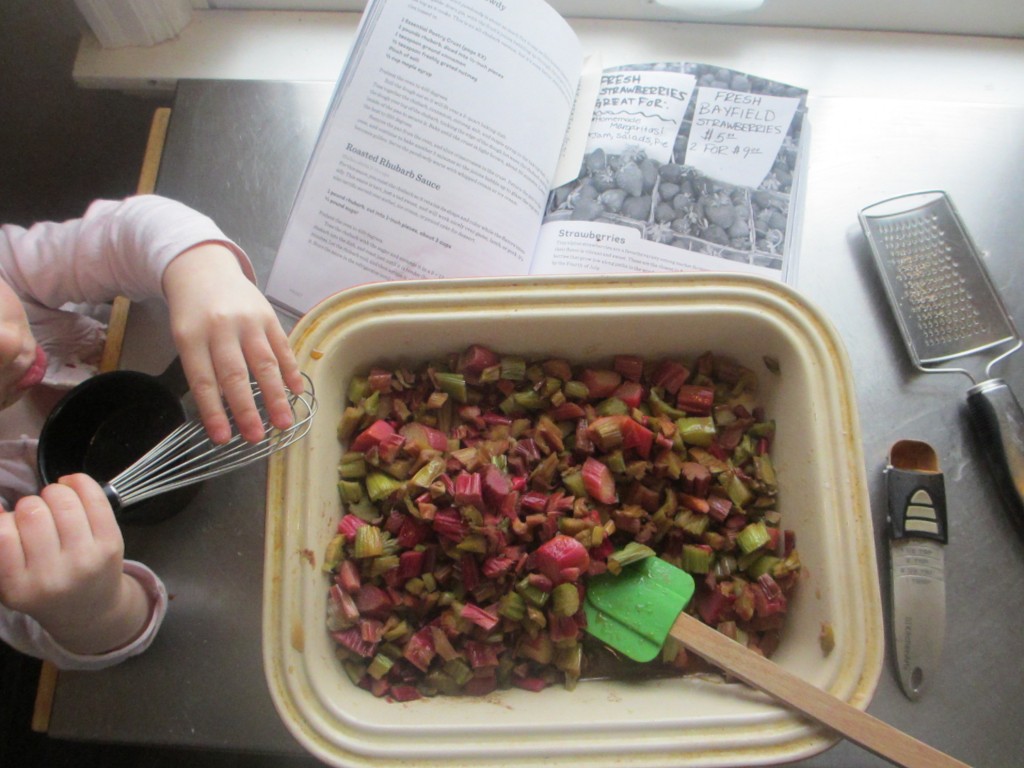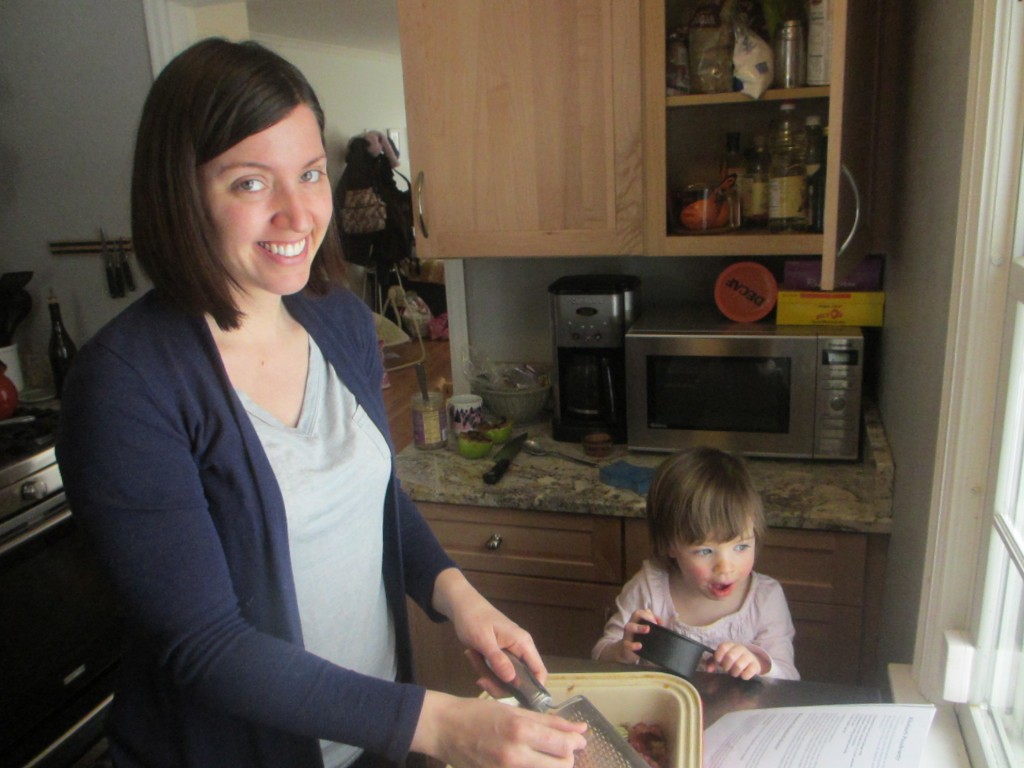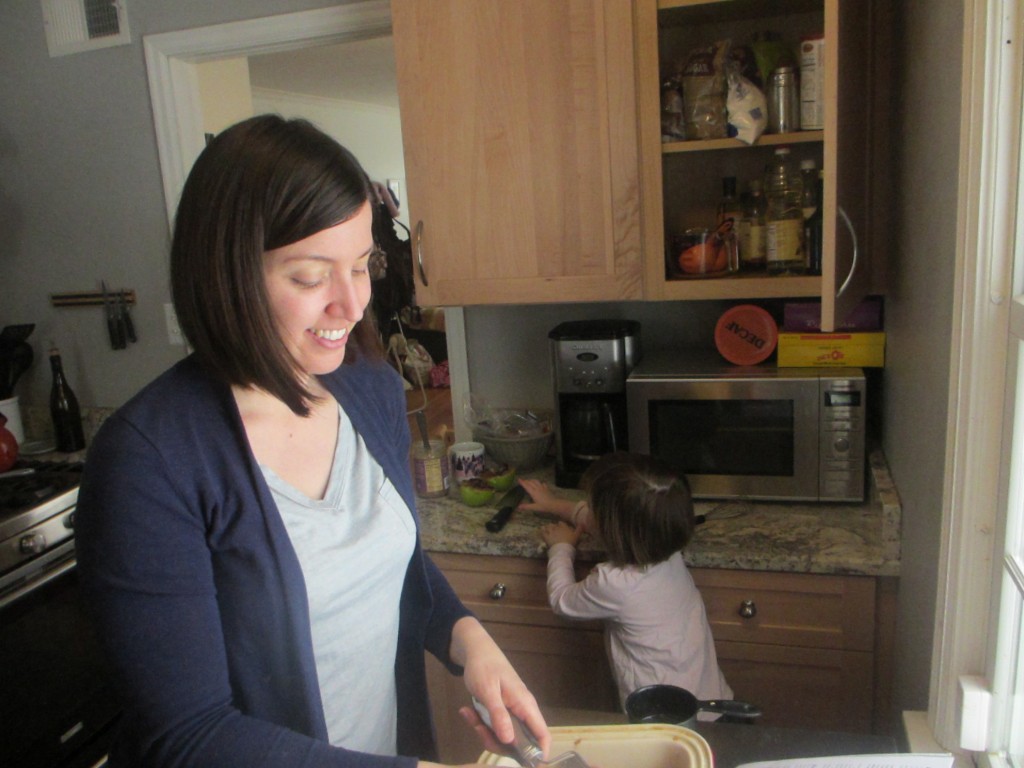 And here's a real truth outtake — Beatrice going for the knife. (She's really going for the raisins on top of Adam's apple snack.)
The hardest part of writing the review was sticking to the recipe. If I was going to review a recipe I had better make it as intended, so I dutifully picked up sunflower oil for the salad dressing (skipping our go-to olive) and carefully weighed out two pounds of rhubarb for the pandowdy.
But I'm in good company with Beth, who writes in the book's introduction that "I don't like recipes. Period. This may seem odd coming from a cookbook author. But the truth is that a recipe is really no more than a guide."
Last summer I found my farmers market home (Golden Valley's Market in the Valley), and now, armed with Beth's book, I have the confidence not to worry about whether I'm buying the right thing or fear that my enthusiasm will turn into a chore I don't have time for.
Bring on summer!