A few weeks ago Scott had to be gone all day on a Saturday and the boys and I did our usual lounging around in pjs all morning. Before noon they were restless and bickering and tattling and I'd had enough. That's it, I said, we're outta here. Now.
I'd seen the announcement that the Guinness Book of World Record's world's largest Lite Brite was going to be lit at a family event at St. Paul's newly refurbished and reopened Union Depot. Low-key and low-stakes entertainment, it was free, close, and I'd been wanting to see the depot. Perfect.
First, though, we needed lunch, and I was in no mood to cook it. I've mentioned before that Noah is about the pickiest eater I've ever encountered, so going out to eat usually means going somewhere he might eat, limiting the options down to about two (and then he doesn't eat what we order him anyway). So I decided that I was going to eat what I wanted. He could just not-eat anywhere and foodie-in-training Owen would be up for anything.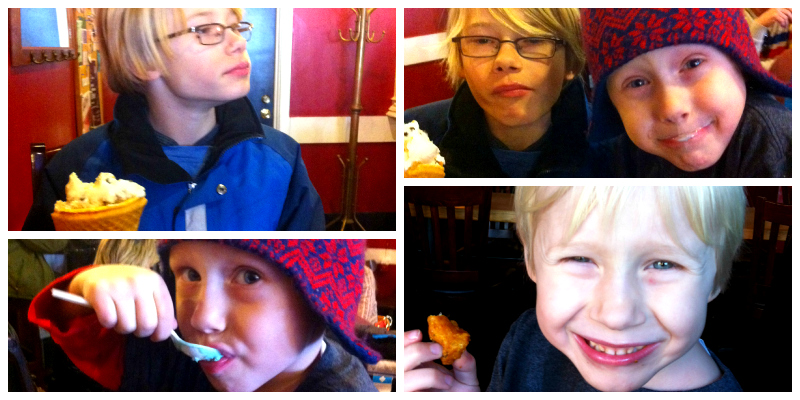 I announced in an unusually cheerful way (so unusual that I kind of freaked Owen out a little bit) that we were having an eating adventure and that boys with good attitudes at the India House restaurant would get ice cream at the next-door Grand Ole Creamery. Noah tried hard to manage his panic as we surveyed the buffet: chana masala, palak paneer, dal, beef vindaloo . . . and then we saw the cucumbers. Yes! Cucumbers! He chose those. Emboldened, I suggested the fried fish (sauceless), and the heavens parted and he said yes. Noah the picky is eating at an Indian restaurant. This is going to be a good day.
(Owen was rightly exasperated as Noah tried to convince him to try the fish, declaring condescendingly that he needed to work on having a good attitude about new foods. Right, as if Owen has not been a witness to Noah's thrice-a-week dinner-table meltdowns while cheerfully eating tofu curry and salmon with caramelized onions. I'm the oldest sibling; I understand the urge to slug your little brother at this point. He did not, though. He wanted that ice cream.)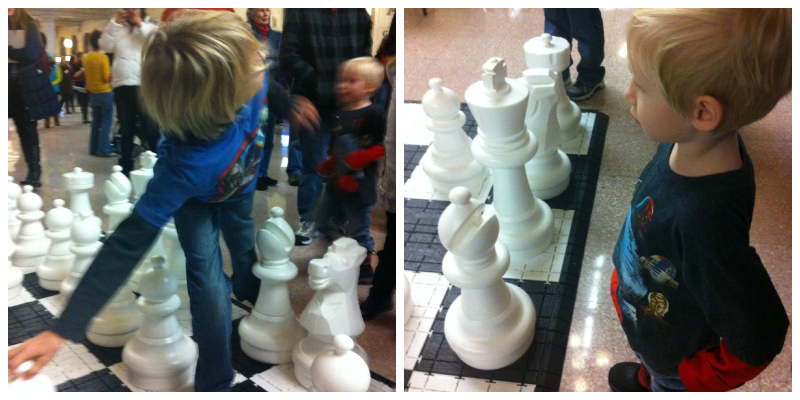 The Lite Brite lighting party was sponsored by the St. Paul Foundation as a kickoff to its "Forever St. Paul" program. It was simple and fun, featuring huge, kid-size games like Jenga, checkers, Connect Four, and chess, St. Paul restaurants and food trucks, and the lighting of the 596,000-piece installation. The boys were most riveted by the chess game and waited through three other games before getting their turn.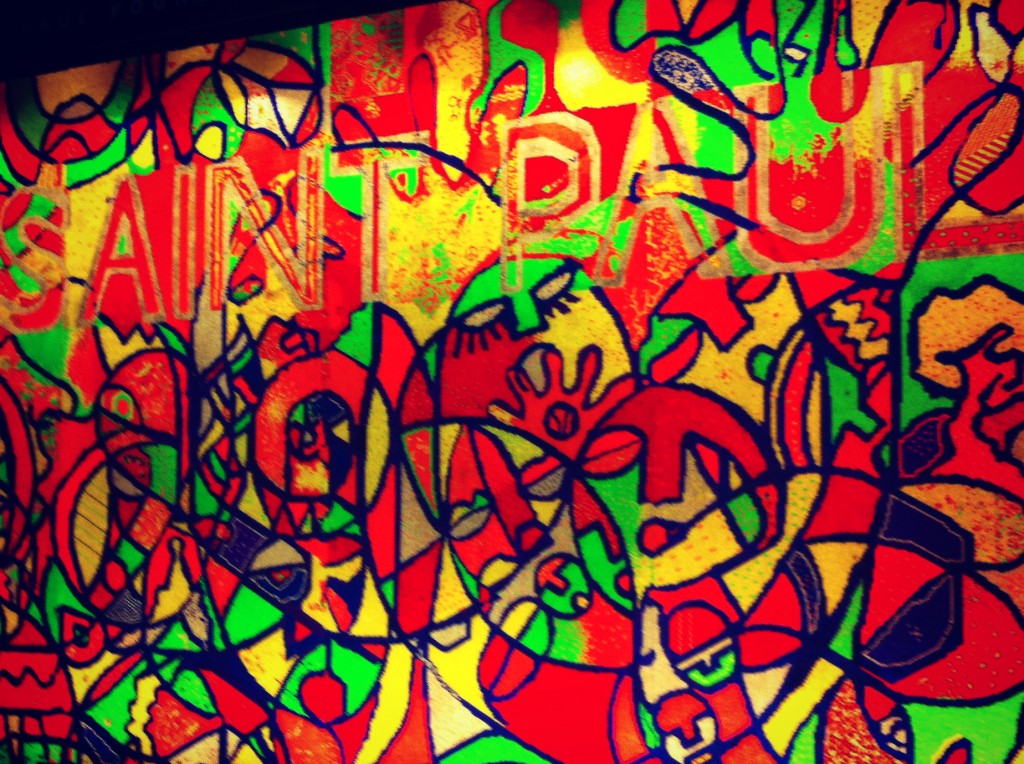 We stayed long enough to eat dinner (El Burrito Mercado tamales for me and Owen, popcorn for Noah) and see the Lite Brite lit. This was so important to Noah that he sat through 25 minutes of civic-leader speeches to see them flip the switch. (Wow — he's 5.) We poked around the depot a bit, I tried to interest Owen in the cool details preserved from when the depot was built (I did not succeed but made him pose nonetheless), and got home just in time for bedtime. Totally worth getting out of our pjs.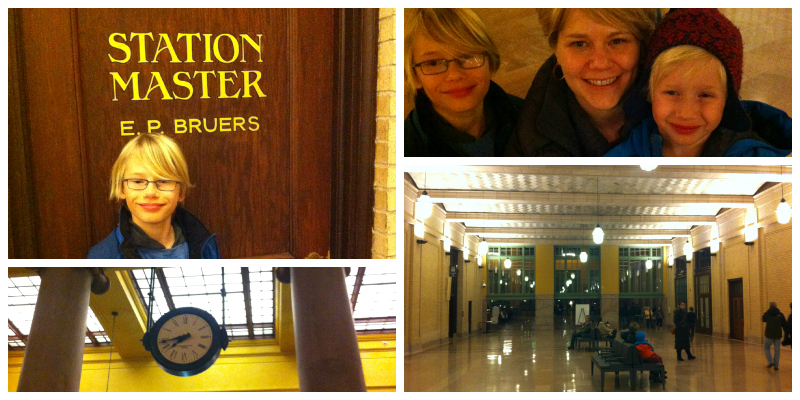 If you go
The Union Depot is hosting a series of free game nights for the next four Wednesdays, breaking out that big chess set, giant Jenga, Connect Four, and other games again. (And, if you want to try an eating adventure, have dinner at Christos Union Depot and get a free glass of wine.)
The series starts tomorrow night, Wednesday, March 13 and is held from 4-8 p.m. It might be just what you and your late-winter, stir-crazy kids need.