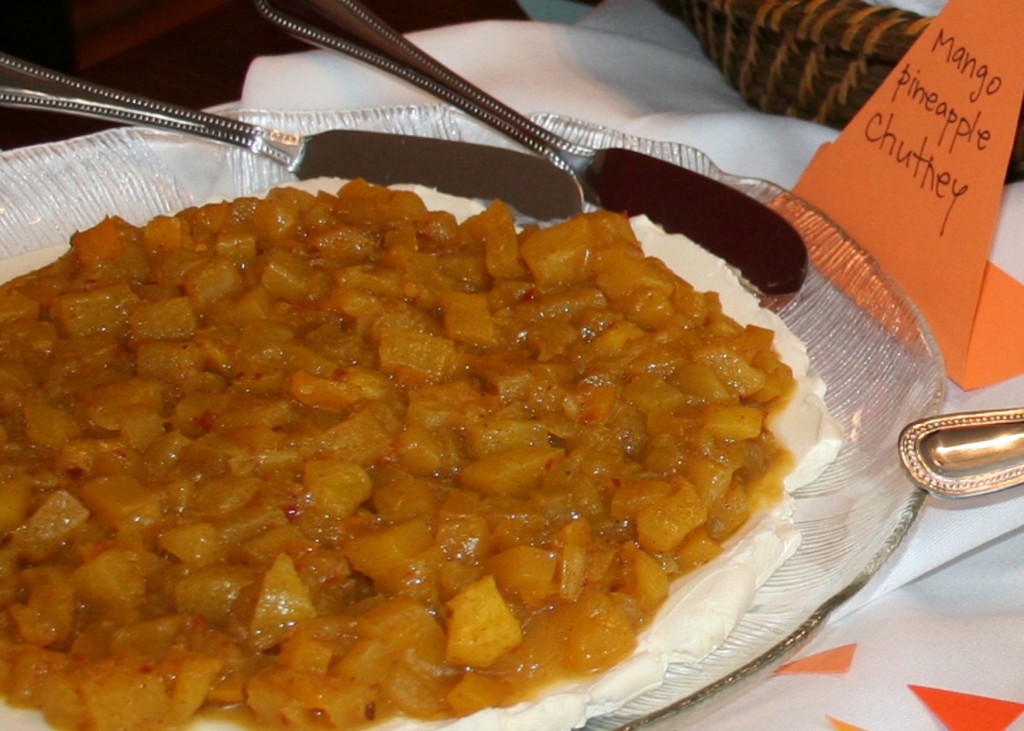 I like to host parties and I have a reputation for being a good cook. And while I can execute a recipe well, I think what I am actually good at is recipe selection. Thus I have accumulated a long list of party favorites.
So if you are done wrapping and shopping and are now planning for the gatherings you are hosting or the dishes you are bringing, here are a few of my very favorite appetizer recipes. Enjoy!
Mango-Pineapple Chutney
2 tablespoons vegetable oil
1 tsp. red pepper flakes
1 large sweet yellow onion, minched
4 inch piece of fresh ginger root, peeled and minced (or 1 tbsp. minced ginger in a jar)
1 large yellow bell pepper, diced
3 large ripe mangoes, peeled, cored, and diced
1 small pineapple, peeled, cored, and diced
1/2 cup brown sugar
1 1/2 tbsp. curry powder
1/2 cup apple cider vinegar
8 oz. cream cheese, room temperature
Heat the oil in a large saucepan over medium heat. Add red pepper flakes and cook until it starts to sizzle, then stir in the onion. Reduce heat to low and cover and cook until onions are soft, about 20 minutes. Uncover, increase heat to medium, and add the ginger and yellow pepper until you can smell the ginger (about 2-3 minutes). Add remaining ingredients and bring to a simmer. Cook for 30 minutes, stirring occasionally. Makes about 3 1/2 cups of chutney.
Spread the block of cream cheese on a plate, cover with the chutney, and serve with crackers. (This is reasonably spicy but you can adjust red pepper to fit your preference.)
Easiest Cheese Fondue
This is from Real Simple, when they used to have a feature called "Fake it, Don't Make it," which I admit I miss. (My favorite best-ever meatloaf recipe is from the same column.) This is seriously easy and seriously good. No one will know your secret.
1 garlic clove; halved
½ cup white wine
Jar of alfredo sauce
8 oz. shredded Swiss cheese
1/8 tsp ground nutmeg
1 tbsp brandy
Rub garlic inside pot; discard. Bring wine to boil. Reduce heat and add sauce, cheese and nutmeg. Stir  constantly until cheese is melted. Add brandy.  Serve with cubed bread, apples, and pears.
Ridiculously Good Bean Dip (That's Super Bad for You) 
This is what's known affectionately as "man dip" in our family, because men love it for obvious reasons. But even the foodiest among you will eventually cave and try this and come back for more. It's bad for you and contains ingredients (Velveeta?) you would otherwise never, ever buy. But do it just this once.
1 lb ground beef (I have also used ground turkey, not that that makes this healthy or anything)
11 oz. can condensed cheddar cheese soup
16 oz. can refried black beans (at least you can get nonfat of these)
16 oz.jar picante sauce (Don't get good/fancy salsa. This must be Pace Picante sauce.)
12 oz. jar sliced jalapeno peppers (the pickled, nacho kind)
½ pound Velveeta, cubed
Place ground beef in a large, deep skillet. Cook over medium-high heat until evenly brown. Drain beef and place in a large, heavy saucepan with condensed cheese soup, refried beans, picante sauce, jalapeno peppers and processed cheese food. Cook on high until boiling, then reduce heat to low. Stirring constantly, cook until mixture is melted and bubbly. Serve with tortilla chips. This can sit in your crock pot all day and just get yummier. And spicier. This is way spicy, so put in less jalapenos if that's an issue.
Rosemary Roasted Olives
Here's one that is healthy and not cheese-based. Yay!  This is also easy, tasty, and impressive.
3 1/2 cups olives, drained (any kind you like; I use kalamata)
1/4 cup dry white wine
2 tbsp. orange juice
2 tbsp. olive oil
2 cloves garlic, minced, or 1 tsp. garlic puree
4 springs fresh rosemary
2 tbsp. fresh parsley, chopped
1 1/2 tbsp. fresh oregano, chopped
4 tsp. orange zest
1/4 tsp. crushed red pepper flakes
Preheat oven to 375. In a 9X13 baking dish, stir olives, wine or vinegar, orange juice, oil, and garlic. Nestle the rosemary in the olives. Bake for 15 minutes, stirring halfway through. Remove and discard the rosemary, then stir in the herbs, orange zest, and red pepper flakes. Let cool to room temperature. You can make this easier by substituting dried parsley and oregano, about 1/3 of the amount for fresh. The rosemary, however, must be fresh.
Winter Fruit Salsa 
Another healthier option that is different enough to get you some attention. I've seen cinnamon sugar tortilla chips at the store lately (I used to make them), so this just got a lot easier!
½ cup chopped sectioned oranges, clementines, or mandarin oranges
½ cup chopped kiwi
½  cup chopped pineapple
¼  cup pomegranate seeds
1 jalapeno pepper, seeded and minced
lime juice (to taste)
1 tbsp. chopped fresh cilantro
Serve with cinnamon-sugar chips.
Hawaiian Meatballs
I found this recipe when planning my sister-in-law's bridal shower; the wedding in Maui called for an Hawaiian menu. These are soooo good, and I don't even really like beef. If you are looking for something heartier and a little fancier than meatballs in bbq sauce in the crock pot.
2 pounds lean ground beef
8 oz. can water chestnuts, drained and finely chopped
2 tablespoons soy sauce
1 tablespoon brown sugar
1/2 teaspoon onion powder
1/2 teaspoon garlic powder
1 cup apricot preserves or jam
3 tablespoons apple cider vinegar
Preheat oven to 400°. Mix together ground beef, chestnuts, soy sauce, brown sugar, onion powder, and garlic powder thoroughly in a large bowl. Form the mixture into 2 tablespoon-sized balls, and place onto a baking sheet.
Bake in preheated oven until no longer pink in the center, about 15 minutes. Stir together the apricot preserves and the cider vinegar, toss with meatballs in a clean bowl, then return to baking sheet, and bake for an additional 5 minutes. You can keep these warm in a crock pot: double the sauce, bake the meatballs with half the sauce, then add the second batch of sauce to the crock pot with the meatballs. Add a little water during your party if they seem to be drying out.
Texas Caviar
Again, a bit different and healthier that your average party fare. This one is really spicy, but really fun. It's the copious amount of black pepper that makes it work; don't skimp!
1 large jar picante sauce (again, do not go for your fancy foodie brand, it's Pace all the way)
2 cans (16 oz.) black-eyed peas, drained and rinsed
1 can (16 oz.) white hominy, drained and rinsed
1 c. diced green bell pepper
1 c. chopped white onion
1 c. chopped green onions
1 c. chopped fresh tomato
½ c. finely chopped fresh cilantro
¼ c. chopped jalapeno peppers
2 tbsp. coarsely ground black pepper
2 tbsp. ground cumin
1 tsp. sugar
1 tsp. salt
Mix it all up at least 24 hours before serving and let marinate in the refrigerator. Serve with tortilla chips. Oh yeah, this one is also very spicy (I sense a trend here). You are warned. Another tip: if you happen to have some left, this makes a great base for huevos rancheros or bean burrito filling.
Best for Last: Best Ever Artichoke-Brie Dip
This is not hyperbole; it is indeed the best-ever. This recipe is originally from a book called "Christmas Cheer" that my grandmother gave me years ago. I've adapted it slightly, but it remains my most-raved-about, most-requested, and widest-spreading recipe to date. I have written it so many times I have it memorized. I used to make a double batch for an office party; we were known to unabashedly stand next to the bowl and clean it out. It's that good.
16 oz. can artichoke hearts, drained and chopped small
8 oz. cream cheese, softened
1 cup mayo
8 oz. Brie cheese, cut into small pieces
3 tbsp. chopped chopped green onion
½ tsp. dried oregano, crushed
½ tsp. salt
½ tsp. cracked black pepper
Preheat oven to 350°. Combine all ingredients and bake 15-20 minutes or until hot and bubbly. Serve hot with crackers or bread.