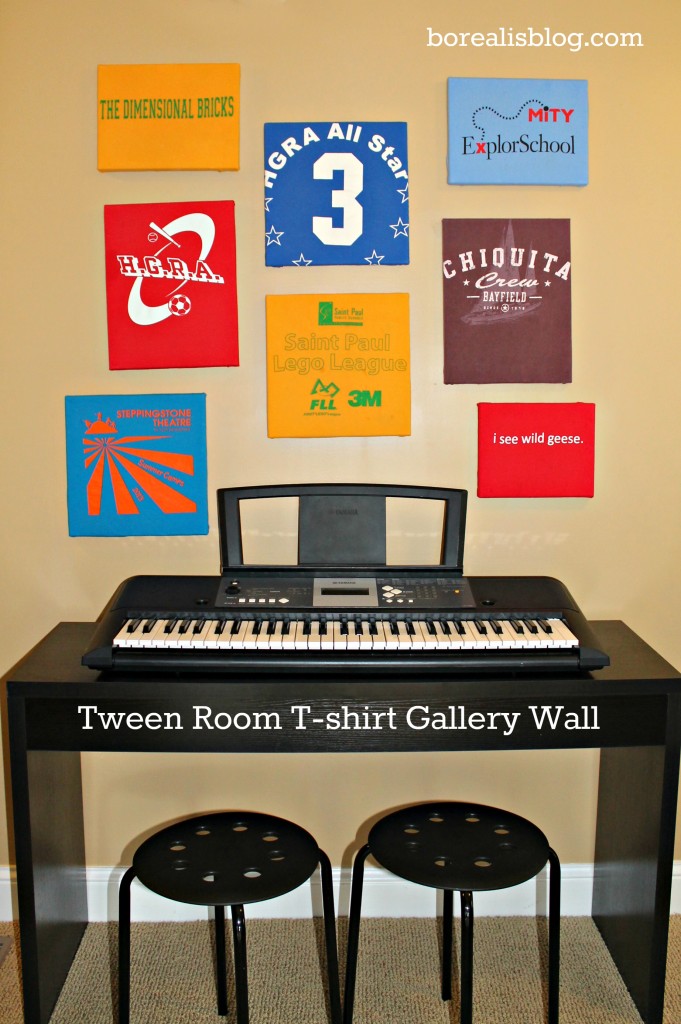 Over the last two weeks I've been redoing my older son's outer space themed bedroom into something more suitable for a soon-to-be-teen boy. It has been really fun, and I promise to show you all the photos soon. (Update: room reveal photos here!)
For now, here's a quick how to, and I mean really quick.
Inspired by a Pinterest pin that led to this post on "The Not So Blank Canvas", I decided to make a gallery wall out of Owen's activity t-shirts — you know, the ones from camp, school, trips, sports, clubs. His drawer was overflowing with them.
The idea is simple: buy a cheap canvas from a craft store, stretch the design part of the t-shirt over it, staple, and hang.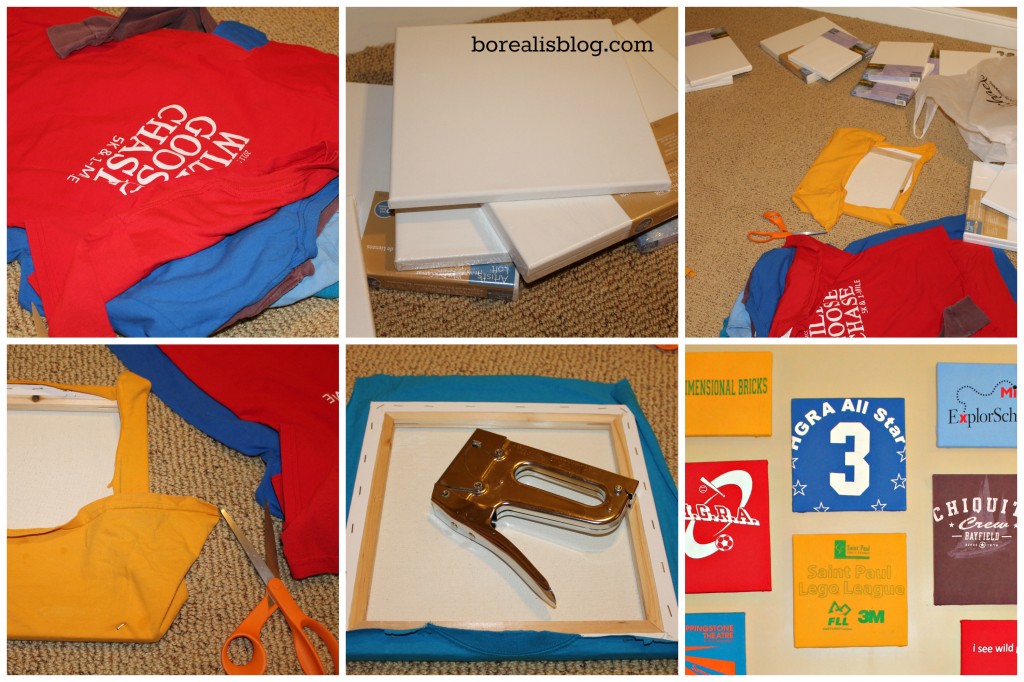 I measured each shirt's design and dutifully wrote it all down so I could get just the right size canvas. Then I went to Michaels and forgot to bring the list. So I just bought a bunch of canvases in random sizes and made it work. This was supposed to be easy and I was definitely not going back to the store again.
I'll let the pictures show you how — yep, it's that simple — but here are a few tips:
Do not be surprised at the number of staples this takes – it's a lot. You are not doing anything wrong.
The stretch in t-shirt fabric is a blessing and a curse. It helps you recover from not-quite-straight stapling, but also requires lots of staples (see above), tugging, and rechecking your design.
I never figured out a good way to fold the corners without a lot of bunching. If you have a better way, please post it!
I just put a nail in the wall and hung the canvases by the frames. This makes them a little wobbly when there's running and thumping (in a boys' room? Never!), so I added some of that picture-stay 3M goo to the corners. That only sticks to the wood, so cut away the excess shirt to leave some showing for this purpose (or for frame bumpers).
I did this while Owen was away at camp and I was a little nervous because some of these shirts are his favorites. But, he loved it and I do too. It provides a lot of personality and color for very little money and time.