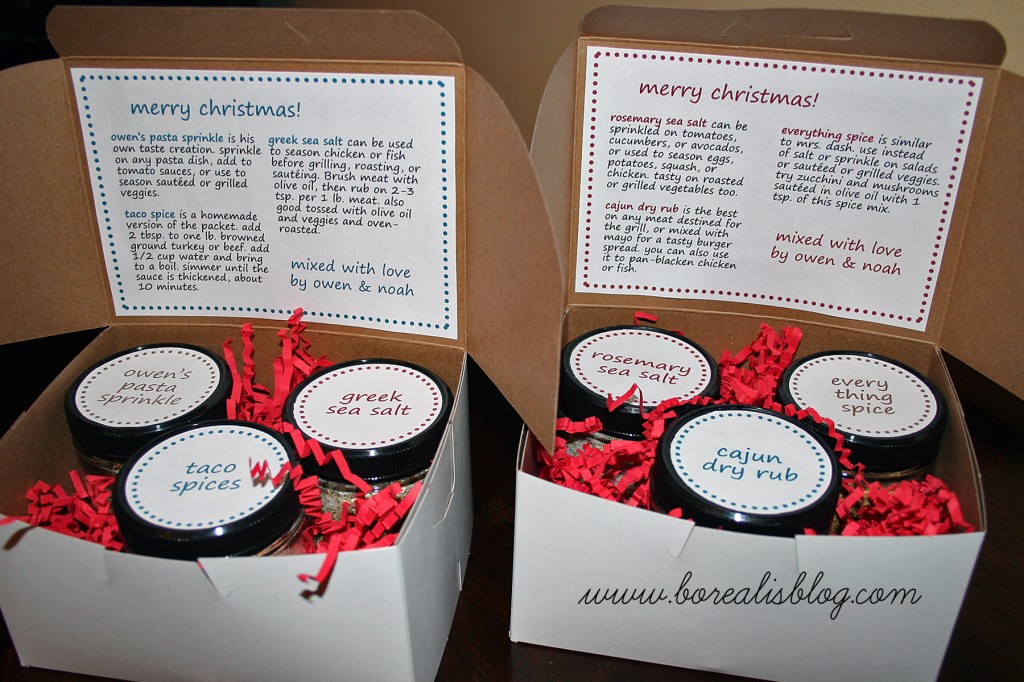 Every year my boys and I make gifts to give their teachers, aunts, uncles, and grandparents. I'm determined that they learn the joy of being thoughtful gift-givers, and they are required to participate in the gift creation process.
Owen has always been a project and craft guy, so it was easier with him. We made a lot of beaded or button ornaments over the years, but we varied a few times: bird feeders, fleece pillows, and one year, some sewing creations of Owen's very own: fleece toys he made filled with catnip for his uncle and aunt with feline friends. I was proud of that one – his idea, his execution.
But along came his brother and the recipient list hadn't changed. That means they likely don't need anymore beaded snowflakes or fleece throw pillows. Time for a new idea.
Noah's first gift-making foray was Friendship Soup in a jar, which was a big hit, especially since he helped everyone open theirs and then announced "Issoup, you hafta cook it." He was three, and it was adorable. This was a good project for him; it required measuring and dumping but no crafting. Unlike his brother, he's emphatically not a craft guy.
Last year we hit on a great gift project: spice mixes. Both boys like to cook, and the project was measuring and pouring, not crafting. Perfect. We found recipes online and in cookbooks, bought supplies in bulk, and the boys split up the mixing tasks, making three different varieties each. Owen's set even included one of his own creations: Owen's pasta sprinkle (similar to Italian seasoning plus garlic, salt, and pepper).
I helped by buying cute jars in bulk and making labels and recipe cards to include. Scott helped by multiplying the recipe to yield 20 jars of each and visiting three different bakeries to find the right-sized box and persuade them to sell us 20 of them. (He felt guilty about this, so at each stop he bought cupcakes!)
We all helped by making a giant but aromatic mixing mess in the kitchen. But it was fun, easy, age-appropriate for both 10- and 5-year-olds, and made a sweet little package for Christmas Day. I also like that the gift is consumable and the jars re-usable. It was well-received at Christmas celebrations, but the real payoff came later, when grandmas and aunts and uncles starting asking for the recipes to refill their jars. It went so well we might reprise it this year, with some new twists.
If you'd like to make your own, or help your kids make a great teacher gift, here's what we did.
The Supplies
I ordered the jars online at Specialty Bottle. I used the four-ounce size at a cost of 68 cents a jar! Since I needed so many, purchasing a case of 24 was perfect. These are the exact same jars you can get at Penzey's for $1.69. If you are not making 20 sets like we were (we have very a large family), you could also collect and recycle any small jars.
We bought most of the bulk spices at Penzey's, which is not inexpensive but very high quality. Owen and Scott did this shopping together. It took them a very long time but they found everything and it turned out to be an adventure. Some spices also came in bulk from Costco.
The red shredded filler is from Michaels. (If you live in the Twin Cities, I've also found this at ArtScraps for a quarter for an entire grocery bag. That's one of those finds that happen if you are there on the right day. No guarantees, but worth a look. You might find jars there too.)
The bakery boxes, designed for two cupcakes or muffins, are from a local bakery. I looked for these online but could only find them in lots of 500 or 1,000, and your bakery is likely willing to sell these to you. I think they charged us $1 a piece, and considering it probably cost them about four cents, it really wasn't a hardship for them (even if you don't buy cupcakes as a peace offering).
The Assembly
You need a food processor, several large mixing bowls, lots of measuring equipment, and a funnel or two. If you can use multiples for measuring and funneling, you'll avoid having to wash in between batches, which is helpful because your tools must be perfectly dry when mixing and pouring spices.
Measure, stir, fill jars. (Noah especially liked using the funnels.) Repeat. It's that simple!
The Recipes
Since these recipes were collected from multiple sources, they all yield different amounts. To make exactly enough, you need to figure out how much your jar holds, how many jars you need to fill, the total amount you need, and then how many batches you'll need of each recipe. You can see why I had Scott do that part. (He made an excel spreadsheet!)
Rosemary Sea Salt
Makes 4 cups 
3 cups sea salt crystals
1 1/2 cups dried rosemary
Whirl the rosemary in a food processor for two minutes to crack it into small bits. Add the sea salt and processor for about 1 minute.
Greek Sea Salt
Makes 4 cups
1 1/3 cups sea salt
2/3 cups dried parsley
1/4 cup dried thyme
1/4 cup dried rosemary
1/4 cup course ground pepper
1/4 cup dried lemon peel
2 tbsp. garlic powder
2 tbsp. dried minced onion
Crush the lemon peel, onion, and rosemary in the food processor until it is in small, uniform bits, then add all other ingredients and give it a quick whirl.
Everything Spice
Makes 2/3 cup
This is similar to Mrs. Dash and is salt-free.
1/4 c. crushed dry onion flakes
4 tsp. crushed dry vegetable flakes (like this blend)
1 tbsp. garlic powder
1 tbsp. dried orange peel
2 tsp. course ground black pepper
1 tsp. dried parsley
1/2 tsp. dried basil
1/2 tsp. dried marjoram
1/2 tsp. dried oregano
1/2 tsp. dried savory
1/2 tsp. dried thyme
1/2 tsp. cayenne pepper
1/2 tsp. cumin
1/2 tsp. coriander
1/2 tsp. dry mustard
1/4 tsp. celery seed
1/4 tsp. citric acid (I found this at Bulk Apothecary.)
dash crushed dried rosemary
Put the onion flakes and vegetable flakes in the food processor and whirl until crushed. Mix with all other ingredients.
Pasta Sprinkle
Makes 1 1/2 cups
1/2 cup dried basil
1/4 cup granulated garlic
1/4 cup dried marjoram
1/4 cup salt
1/8 cup dried oregano
1/8 cup course ground pepper
Mix it up. That's it!  You could add a tablespoon of crushed red pepper flakes if you like a little heat.
Cajun Dry Rub
Makes enough for one 4-0z jar
3 tsp. course ground pepper
3 tsp. salt (use kosher or sea salt)
1 tsp. ground thyme
1 tsp. sweet or hot paprika
1 tsp. dry mustard
1 tsp. ground sage
1 tsp. garlic powder
1/2 tsp. cayenne pepper
Taco Spice
Makes 2 tablespoons*
2 tsp. minced dried onions or onion flakes
1 tsp. chili powder
1 tsp. salt
1/2 tsp. crushed red pepper
1/4 tsp. dried oregano
1/2 tsp. garlic powder
1/2 tsp. cumin
1/2 tsp. cornstarch
This is honestly the best taco spice you will ever taste. Everyone who got it has asked for the recipe. It is quite spicy, so reduce the red pepper flakes if you don't like a lot of heat. To make tacos, brown one pound of ground beef or ground turkey (or saute sliced chicken breast or beef for fajita-style tacos). Add spices and 1/2 cup of water. Reduce heat and simmer for 10 minutes. This also works for black bean tacos, or mix some of it with Greek yogurt for a spicy dip or sauce. Yum!
*It takes a quadruple batch to fill a 4-ounce jar.
The Packaging
Always my favorite part, our packages were simple and cute and seeing them all lined up in a row made me happy.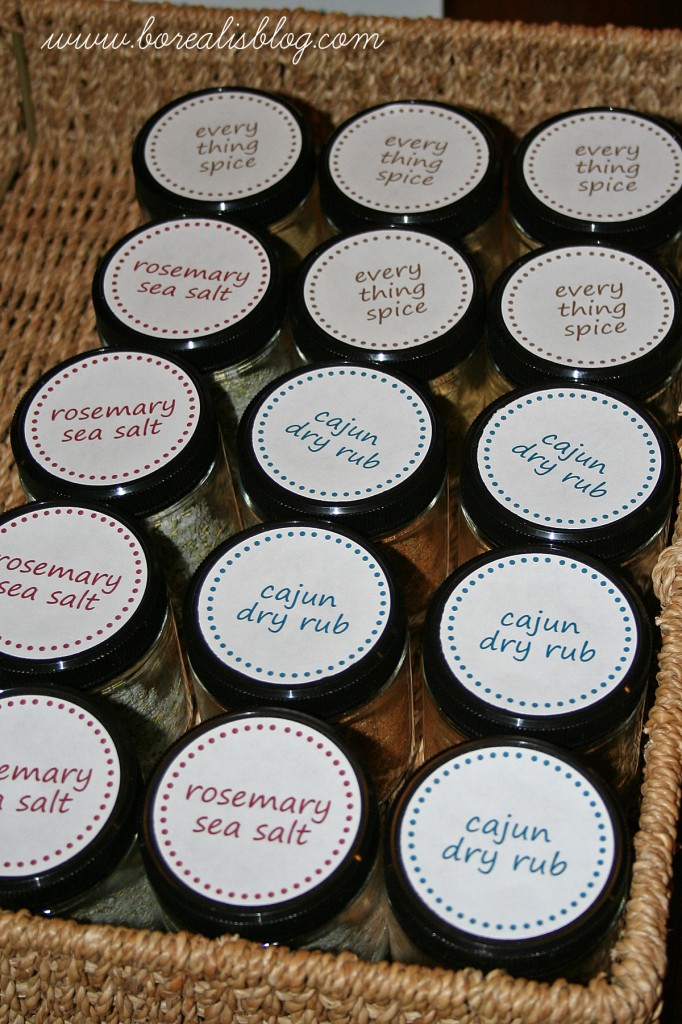 I made labels to fit the tops of the jars, using Publisher and printing on full-sheet label paper* (available at office supply stores). I cut out with a scissors, because craft punches don't cut through sticker paper with wax backing very well. If you are using our recipes, you can download the labels we made.
*I found that the stickers do not hold tightly to the plastic lids on my jars (though they would stick to metal canning jar lids). I had to coat each one with Mod Podge to make it stay. If you have plastic lids, save yourself the money and time of using sticker paper and just print on paper and glue on the lids.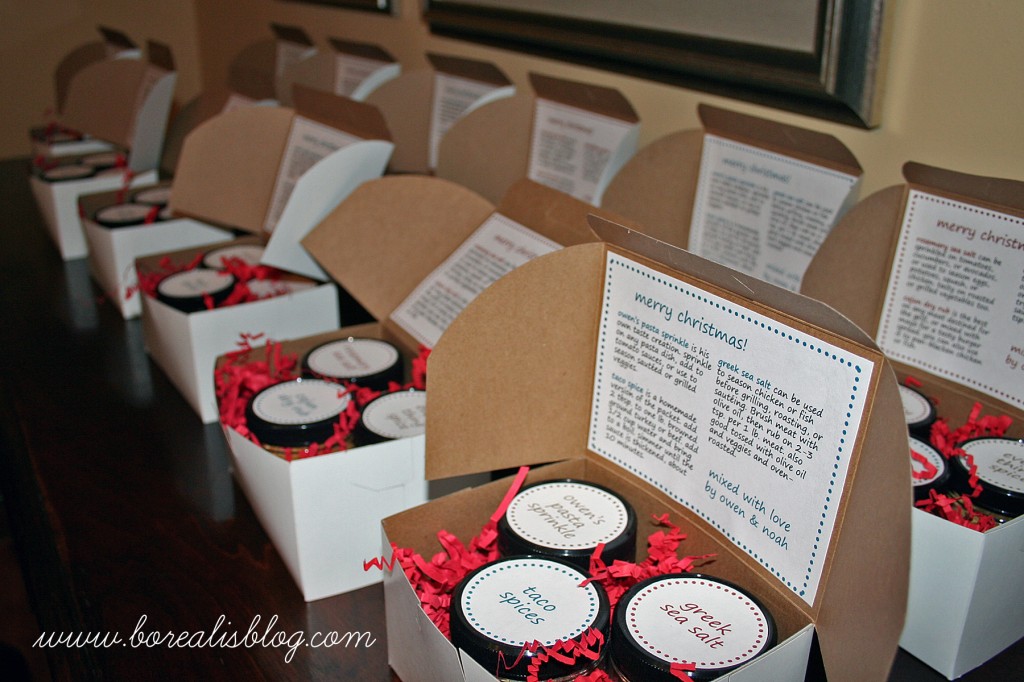 I also made cards to fit on the inside of the box lid that describe each spice mix and what it could be used for, or in the case of taco spice, how to make taco filling with the mix. We printed on white cardstock and glued it on. The cards are on the second page of the labels download.
We wrapped them in all the same paper and topped with button snowman gift tags the boys also made. So much fun!