So if Jen's pooh-poohed her Anna Maria Island trip as unadventurous, wait until you hear about my spring trip.
On the one hand, yes: we traveled with a one-year-old on four, two-hour flights (two each way). We subjected her to nightly two-hour dinners at fancy restaurants. We let her run around in the pool (and I mean run literally: she'd run into the zero-entry pool until she was so deep she couldn't touch, then she'd flounder underwater until we righted her.) We exposed her pasty white Minnesota skin to the hot Bahamas sun. Her one-year molars broke through mid-trip.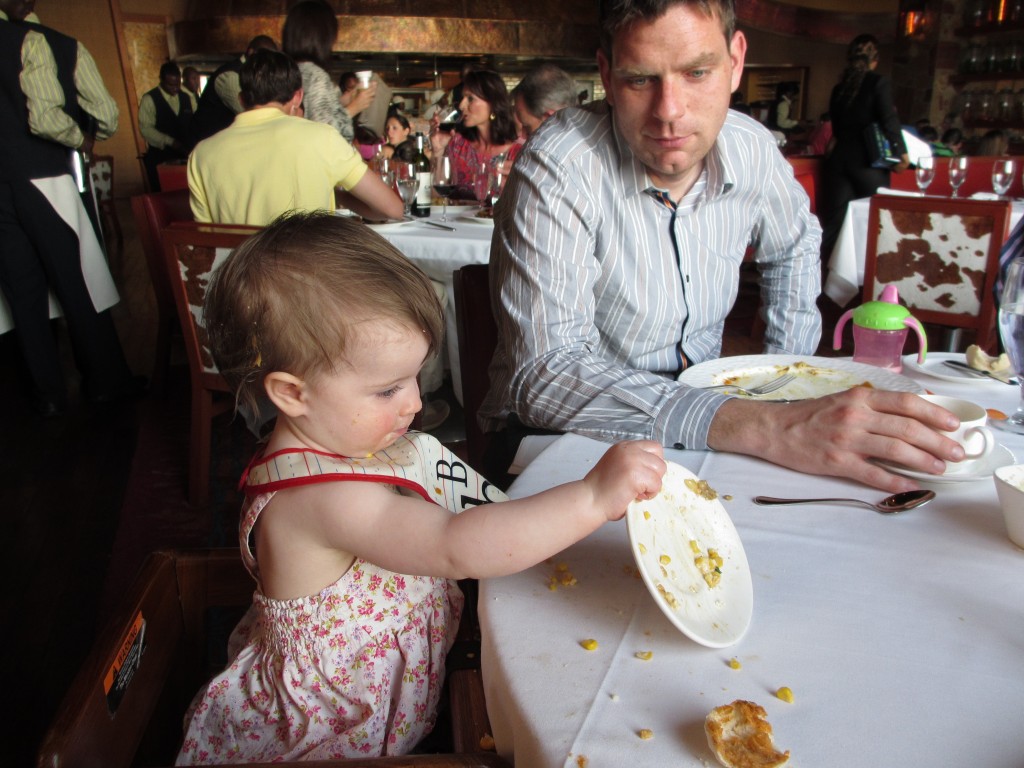 Making a mess at Mesa Grill.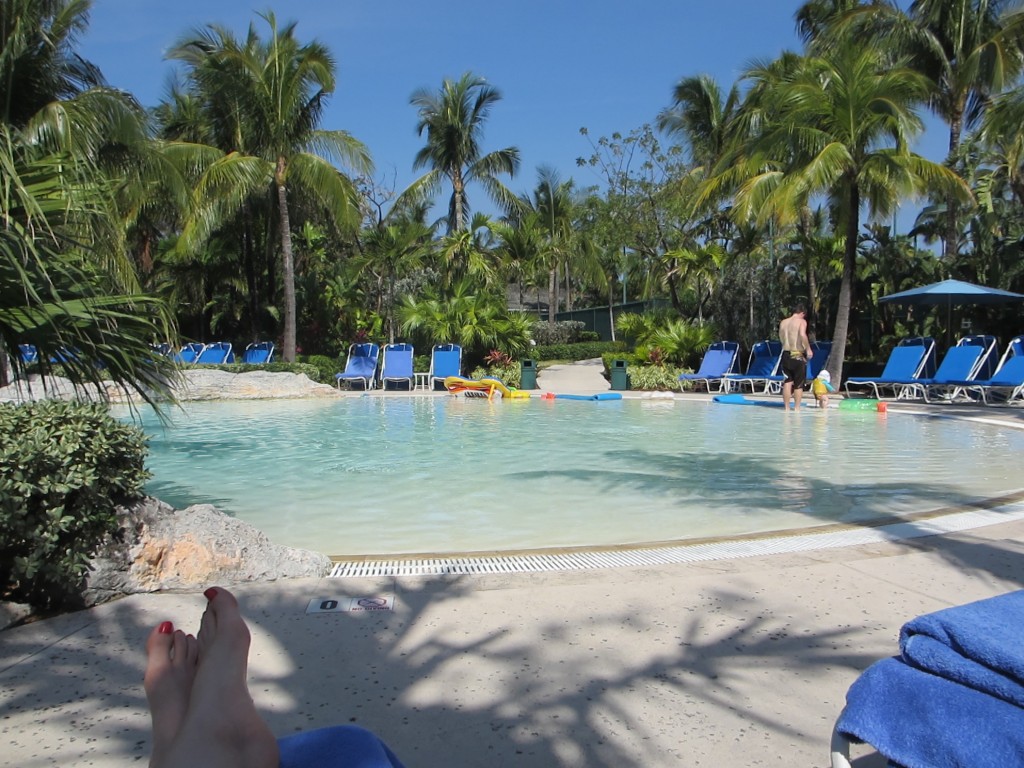 We switched off so one person could be on baby-drowning-prevention duty while the other tried to relax enough to read.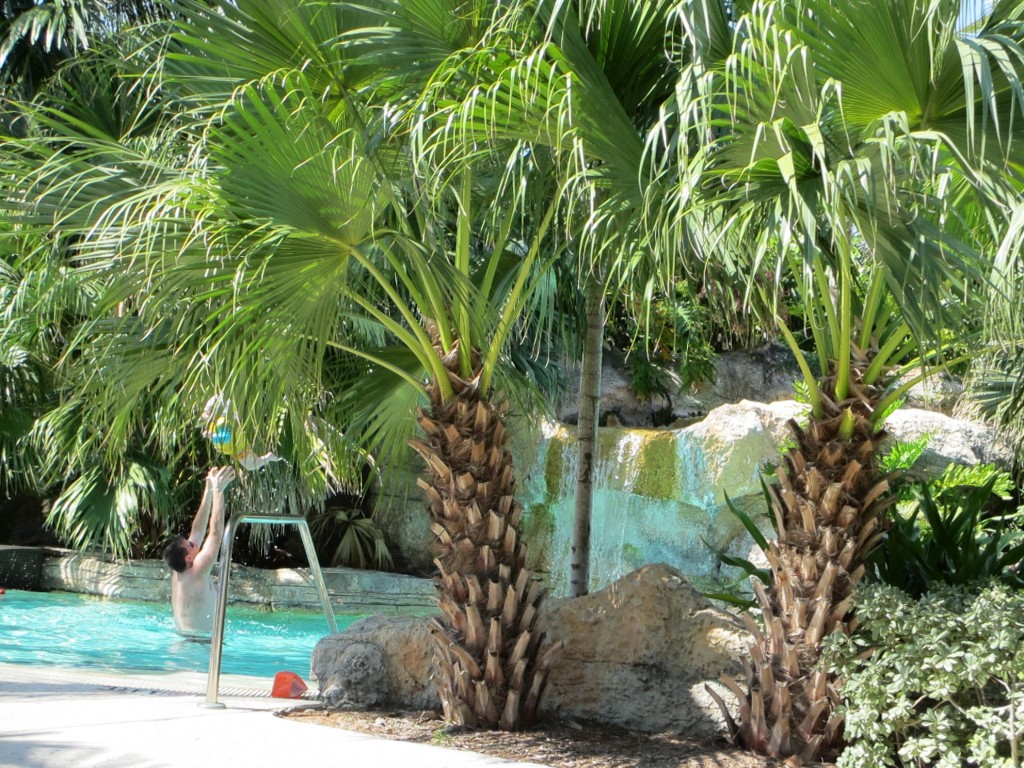 On the other hand: we were at a luxury resort and flew first class (thanks Mom & Dad!). We had 24-7 butler service at our beck and call. Our room was childproofed and contained a crib, diaper pail, stroller, and beach toys, gratis. We had room service and gorgeous breakfasts and lovely men who brought around champagne and chocolate-covered strawberries (and milk and cookies for Beatrice) every evening. Between my parents and brother and us, we had a 5:1 adult:baby ratio.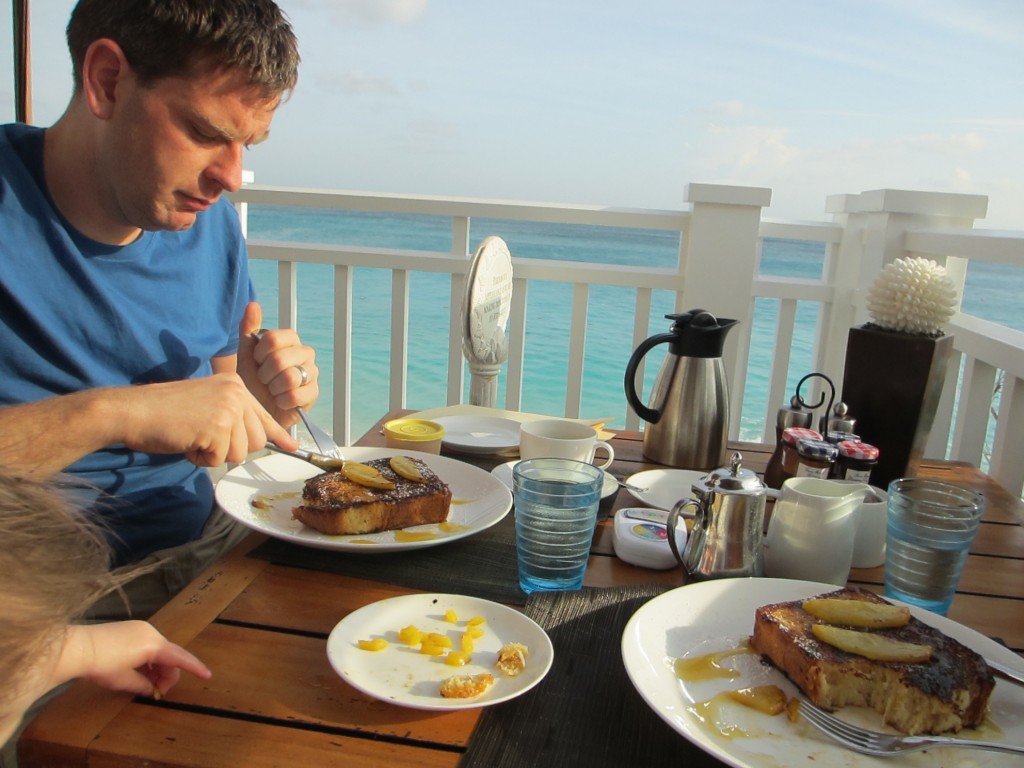 It's not hard to get up at 7:30 when you have this to look forward to.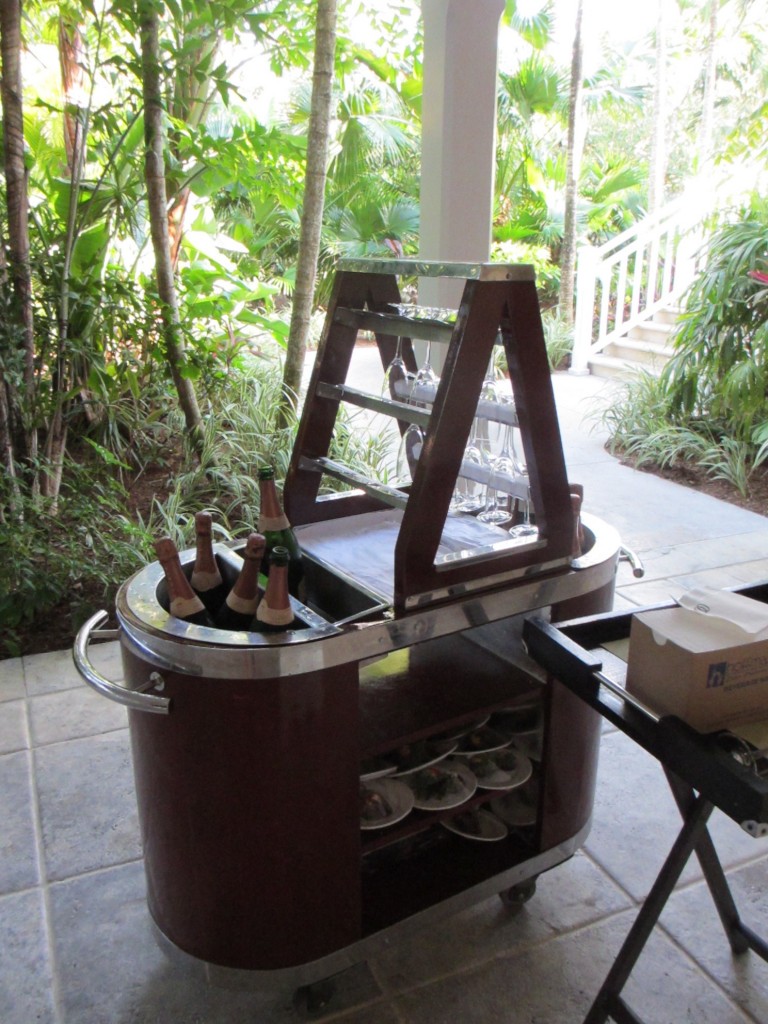 The champagne & strawberry cart. Maybe we should get one of these for the cabin.

It was not the all-out relaxation that previous beach vacation trips have been, but having a baby along definitely upped the laughter and smile quotient. And she was not perfect: I was glad most of our dining was al fresco because this girl gets food everywhere. And while it was very nice of several kind gentlemen to compliment her behavior during our last flight home, there was clearly a whiner in seat 3B.
It was a trip we would have never attempted on our own, but I'm so glad my parents suggested it, because it reminded us how do-able traveling really is with a baby.
A few extra details for those wanting to know more:
1. We stayed at the One & Only Ocean Club on Paradise Island in the Bahamas. I could not recommend it more highly. Everyone, from the waitstaff to the pool staff to our butlers was extremely kind and helpful and were very adept at helping young children (and their parents!) feel comfortable.
2. I'd packed all of these gorgeous itty-bitty suits from the woman I jokingly call Beatrice's benefactor (a friend of a friend who's gifted me about a dozen garbage bags of barely used baby clothes) and on our first day there Adam dutifully wrestled Beatrice into one. Then we stood and stared at her, flummoxed by how to transition from diaper to swim diaper to diaper in that little suit. So we stripped it off and replaced it with the long-sleeved rash guard shirt we'd bought and a reusable swim diaper (another score from the benefactor). And in case you're curious: the reusable swim diaper worked as advertised. No pools has to be evacuated and closed on account of my kid. (Whew!).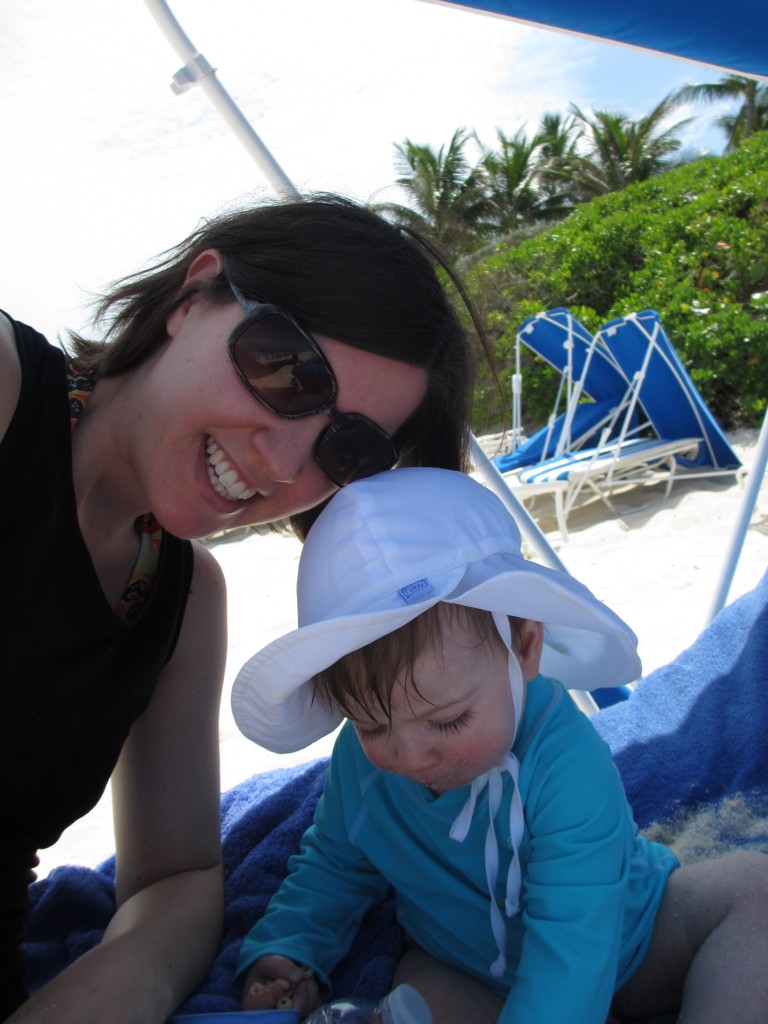 Swim diaper, rash guard shirt, and sunhat, all from I-Play.
3. A combination of Neutrogena Sensitive Skin Sunblock and the sunhat kept Beatrice burn free. (Thank goodness)
4. The locals tipped us off that dunking Bee in the ocean would cure her of her runny nose. (Ocean = giant neti pot?)